About Sedona Sedona is nestled between the massive, fire-hued rocks of Red Rock State Park and the lush gorges of Oak Creek Canyon. The dusty, semi-arid topography is the base for giant, striped monoliths that take on shades from bright red to pale sand and seem to change color with each passing cloud or ray of sunshine. Since most of the rock is sedimentary, the portrait is constantly eroding and changing shape. Verdant Oak Creek Canyon, with juniper and cypress trees lining a clear stream, provides a sharp contrast.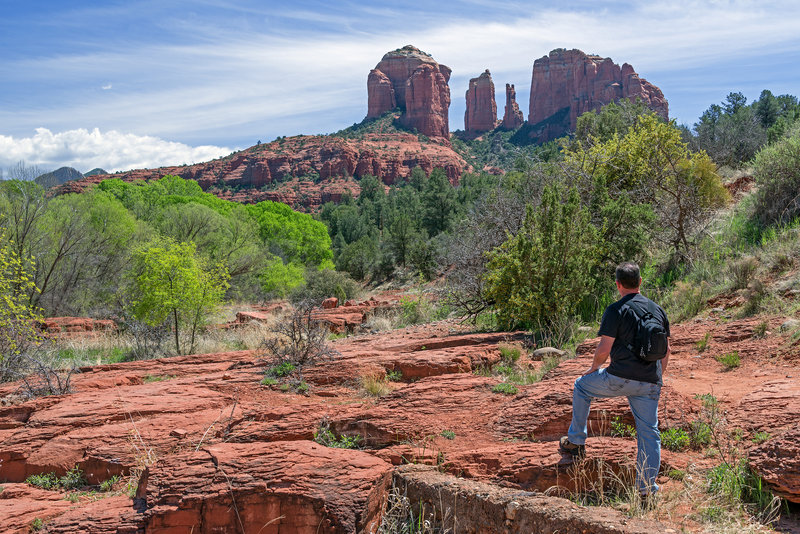 JimVallee/iStockphoto.com
So prominent are the buttes and pinnacles that locals have named them. Some of the more popular rock stars are Bell Rock, Cathedral Rock, Chimney Rock, Coffeepot Rock, Courthouse Butte and Snoopy Rock. Formations in the shape of a castle or merry-go-round also can be spotted. Conveniently, two nuns overlook a chapel. And close by, a submarine surfaces near a mushroom cap.
Sedona's rugged red rocks and canyons have even shared the screen with Hollywood movie stars. The area has served as a backdrop for dozens of Western movies. Some popular titles filmed here include "Angel and the Badman," "Broken Arrow," "Firecreek," "Midnight Run" and "The Quick and the Dead."
Mother Nature was kind to Sedona, blessing her with sharp light, bright blue skies, colorful terrain, picturesque sunsets and animated clouds. Inspired painters, sculptors and other creative souls flocked to Sedona and now call the area home. In 1965 the Cowboy Artists of America, a successful art organization, was founded in what is now Uptown; its goals remain to ensure accurate portrayal of Western scenes in art. An established art colony, Sedona boasts ubiquitous galleries and studios that display residents' artistic endeavors: Pottery, sculpture, paintings and jewelry embody a variety of styles, from Western and Southwestern to modern.
Tlaquepaque Arts and Crafts Village, on SR 179 just south of SR 89A, is a shopping village modeled after a small Mexican village. Notable for its architectural features alone, it houses a theater, a collection of galleries and restaurants as well as a chapel; musicians often perform in the courtyards.
Alongside artists live spiritualists, who embrace the energy set forth by such natural splendor. Sedona is purportedly home to several vortices, specific fields that emit energy upward or inward from or to the earth. First channeled and defined by Page Bryant in 1980, a vortex is said to emanate three types of energy: electrical (masculine), magnetic (feminine) or electromagnetic (neutral). Found at various locations, these natural power fields are thought to energize and inspire.
Sedona is said to contain a curiously high number of vortexes and is one of the few places in the world that possesses all three types of energy. Countless businesses in Sedona specialize in alternative medicine, and many offer vortex or spiritual tours. Visitors may find vortexes at Bell Rock, Cathedral Rock and Boynton Canyon. At Airport Mesa, the attraction is twofold: Guests may locate an electric force as well as a great spot from which to view a spectacular sunset.
The town received its name in 1902 from T. Carl Schnebly, one of the first settlers in the area. Schnebly wanted to establish a post office, yet both names he submitted to the postmaster general—Schnebly Station and Oak Creek Crossing—were deemed too long for a cancellation stamp. At the suggestion of his brother, he suggested his wife's name, and it stuck.
The Schneblys weren't the first ones to reside in Sedona. Ancient cliff dwellings found in the area were constructed by the Southern Sinagua people (Spanish for "without water") around A.D. 1130-1300. Two of the largest cliff dwellings, Honanki and Palatki, still retain a number of pictographs in the shapes of animals, people and various designs.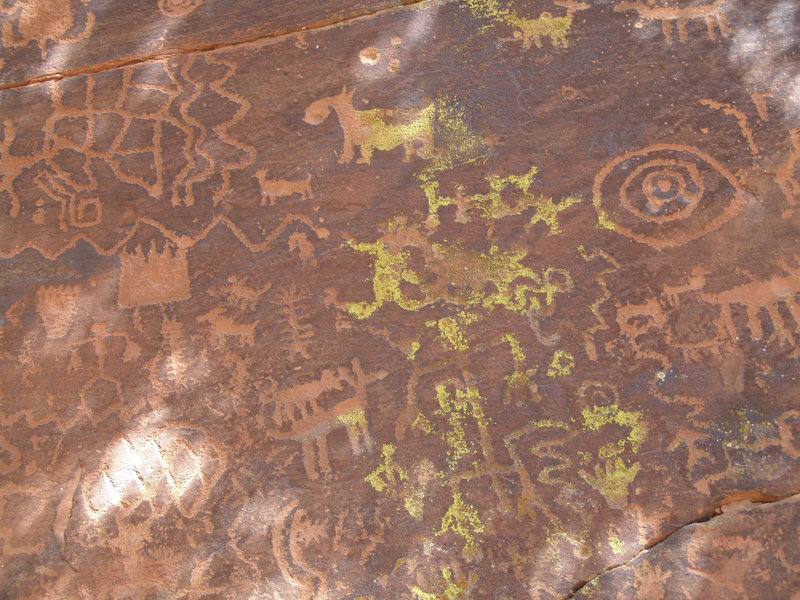 Stills/iStockphoto.com
Sedona is the starting point for hikes and scenic drives through the Red Rock Country. From the vista point on the Mogollon Rim to Sedona, Oak Creek Canyon Drive (SR 89A) winds through the canyon, offering a continuous display of natural beauty, including the area's signature colored rock formations as well as sudden changes in vegetation. Oak Creek flows between 1,200-foot-tall canyon walls toward the red rocks of Sedona.
A Red Rock Pass is required for parking when visiting or hiking the many scenic areas in Sedona. Passes may be purchased at the Sedona Chamber of Commerce. A daily pass is $5; a weekly pass is $15; an annual pass is $20. Federal Inter-agency passes are available at self-serve machines at various trailheads, at the Sedona Chamber of Commerce Visitor Center, the Red Rock Ranger Station Visitor Center and Oak Creek Overlook. Some restrictions may apply; phone (928) 203-2900.
Red Rock Country is just the spot for an exhilarating, hang-on-tight jeep adventure. Guided tours of the backcountry are offered by Red Rock Western Jeep Tours ; phone (928) 282-6667 or (800) 848-7728.
Great West Adventure Co. provides transportation and tours to the Grand Canyon and the Hopi Reservation as well as scenic tours of Sedona via 14-passenger buses; Colorado River rafting trips also are available. Phone (928) 204-5506 or (877) 367-2383.
Visitor Centers Sedona Chamber of Commerce and Tourism Bureau 331 Forest Rd. Sedona, AZ 86336. Phone:(928)282-7722 or (800)288-7336
ShoppingArt galleries and restaurants intermingle with specialty shops at Tlaquepaque Arts and Crafts Village, just south of Uptown on SR 179. Oakcreek Factory Outlets, 7 miles south on SR 179, offers 16 outlet stores. Other areas featuring galleries and shops are Hillside Sedona, Hozho Center and along SR 89A near the Village of Oak Creek.
Things to Do Arizona Safari Jeep Tours
Honanki Southern Sinagua Cliff Dwellings
Palatki Ruins and Red Cliffs Rock Art Site
Recreational Activities
Hot Air Ballooning Northern Light Balloon Expeditions
Jeep Tours (Self-driving) Barlow Jeep Rentals