Introduction
Home of the instantly recognizable Gateway Arch, St. Louis epitomizes the American spirit of exploration and expansion in all sorts of ways. Geographically, it was the door to Lewis and Clark's groundbreaking westward journey. Charles Lindbergh's milestone solo flight across the Atlantic in the "Spirit of St. Louis" reflected mechanical achievement. And cultural adventure powered the 1904 World's Fair and Scott Joplin's ragtime music. With its prime location near the Mississippi and Missouri rivers and because it was visited by so many people headed West, St. Louis has welcomed diverse groups of people and cultures—including French-Canadians, New Orleanians, Germans, Irish and Italians—and ultimately has given back a soulful blend of music, sports, industry and ethnic traditions.
Because of the city's vital role in westward expansion, history is cherished. Memorials and museums inform visitors of St. Louis's past, but if you're not a history buff, fear not. Art galleries; gardens; two professional sports teams; an array of theaters; a zoo; the St. Louis Symphony; and many shopping possibilities, including the exquisite Romanesque-inspired Union Station, provide satisfying substitutes. Your visit to St. Louis will remind you the city was a gateway to pioneers headed West with dreams of success, and it will become your gateway to exploring the past of an American city with one of the most vibrant of histories. Along the way, you'll discover it's also your gateway to a mighty good time.
In Depth
What do Judy Garland, Nelly, Joe Garagiola, Pierre Laclede and Provel have in common? The movie star, the rapper, the baseball player, the French fur trader and the cheese all have a St. Louis connection.
Back in 1764, Laclede established a trading post on a bluff 18 miles south of the mouth of the Mississippi and Missouri rivers. With a surrounding area rich in natural resources and the river providing an easily navigable link to New Orleans, this new settlement seemed destined for success.
And prosper it did. After being governed by Spain and France the United States acquired the town in 1803 as part of the Louisiana Purchase. Lewis and Clark set off from nearby St. Charles on their 1804 trip to the Pacific. The arrival of the Zebulon M. Pike in 1817 inaugurated the steamboat era.
The 1904 World's Fair—held at Forest Park, the crown jewel of the city's parks—celebrated the Louisiana Purchase centennial and put the city in the world spotlight. (This is the Judy Garland connection; in the film "Meet Me in St. Louis" Garland plays a 17-year-old whose family is leaving St. Louis for New York and will miss the extravaganza.) The fair introduced and popularized food items that have achieved who-hasn't-had-one status, among them the hot dog and the waffle cone. And from this beginning comes the city's reputation for regional specialties.
Provel? This mild and creamy blend of Swiss, provolone and cheddar cheeses is the defining ingredient in St. Louis-style pizza, which has a thin, crackery crust, a sweet tomato sauce and finely chopped toppings, that is then cut into square or rectangular slices.
Another specialty is toasted ravioli, a Sicilian concoction of pasta squares encasing meat or cheese, given a twist by being breaded and deep fried. In St. Louis, "toasted rav" typically has a ground beef filling and a sprinkling of Parmesan cheese on top and is served with a side of marinara sauce.
All things Italian are found on the Hill, one of St. Louis' best-known neighborhoods. Even the fire hydrants are painted the colors of Italy's flag. In addition to primo Italian groceries, bakeries and restaurants, the Hill is noted for two baseball giants—Yogi Berra and Joe Garagiola—who grew up on Elizabeth Avenue.
The city claims some famous music exports, too. Besides Nelly, the St. Louis area produced such luminaries as Chuck Berry and Miles Davis. Their brass stars are embedded in the sidewalk on Delmar Boulevard with other cultural contributors, collectively making up the St. Louis Walk of Fame.
Then there's the city's architectural facets. Head over to Lindell Boulevard and prepare to be impressed by the turn-of-the-20th-century brick and stone mansions and the Cathedral Basilica of Saint Louis, a massive Romanesque building. At the foot of Ashley Street along the downtown riverfront is the Ashley Street Power House, a squat building standing in stark contrast to its most prominent neighbor, Lumière Place. This glitzy casino/hotel complex is the latest salvo in an ongoing effort to re-establish downtown as a place to live and play.
But perhaps the most well-known symbol of the city is the 630-foot-tall Gateway Arch, which is the symbolic starting point for the arduous trek across the American West undertaken by countless 19th-century pioneers. Taking the tram to the observation room at the top for views of the city is a necessary sightseeing pilgrimage.
By Car
As befits the Gateway to the West, a network of major interstate highways flows into St. Louis, bringing goods and people from all points of the compass. From the east come I-55, I-64, I-70 and US 40; all these highways converge at the Poplar Street Bridge to pour into the downtown area and through the western suburbs as I-64/US 40 (the Daniel Boone Expressway).
I-55 approaches from the south and I-44 from the southwest; I-70 enters from the northwest to combine in the downtown area with I-55. A bypass route is formed by I-270, with connections to I-70, I-64, I-55, I-44 and I-170. I-270 becomes I-255 southeast of the city before connecting with I-64 and I-70 to the east in Illinois.
Street System
Streets in downtown St. Louis follow a basic grid pattern complicated by a system of one-way streets. Numbered streets run parallel to the Mississippi River; numbers begin at the river and run westward. The north-south dividing line is Market Street.
After a complete stop, a right turn on red is permitted unless otherwise posted. Driving during rush hours, generally from 7 to 9 a.m. and 4 to 6 p.m., should be avoided.
Parking
On-street parking is controlled by meter, but your chance of finding a space where and when you want one is slight. Many commercial lots and garages are in the downtown business core and around Memorial Plaza; several multilevel garages are in the vicinity of Busch Stadium as well. Rates average $2 per hour for the first 5 hours, $4 for 6 to 13 hours, and $8 for 14 to 24 hours. For stadium events, day or night, the charge is $5-$20.
Rates for parking near the Gateway Arch are $1-$2 for the first 20 minutes, then $1 per 20-30 minutes after that; $16-$20 maximum per day. Additional parking, which costs from $3 to $5 per day, can be found at private lots on the landing.
Sales Tax
The sales tax rate in the city of St. Louis is 8.49 percent. The city's lodging tax is 14.9 percent and there is a rental car tax of 7.82 percent.
Police (non-emergency)
(314) 231-1212
Time and Temperature
(314) 321-2222 or (636) 441-8467
Hospitals
Barnes-Jewish Hospital, (314) 747-3000; Missouri Baptist Medical Center (Town and Country, Mo.), (314) 996-5000; St. Alexius Hospital, (314) 865-7000; St. Anthony's Medical Center, (314) 525-1000; Saint Louis University Hospital, (314) 577-8000.
Air Travel
Lambert-St. Louis International Airport (STL) is on I-70 in the northwestern section of the metropolitan area. Taxi fare from the airport is usually about $40. The area's light-rail system, MetroLink, originates at the airport and culminates at Scott Air Force Base in Shiloh, Ill.
Rental Cars
Hertz offers discounts to AAA members; phone (314) 426-7555 or (800) 654-3080.
Rail Service
The Amtrak terminal, (800) 872-7245, is at 430 S. 15th St.
Buses
The Greyhound Lines Inc. terminal, (800) 231-2222, is at 430 S. 15th St.
Taxis
Cab companies include St. Louis County Cab & Yellow Cab, (314) 991-5300 or (314) 993-8294; and Laclede, (314) 652-3456 or (314) 403-7000 (to request a taxi via text message). All cabs in St. Louis are on the meter system. Base fare is approximately $2 to $3.50 for the first mile, with a rate of $2 to $2.50 per mile. The base fare goes up $1 for each additional passenger. A fuel surcharge of at least $1 also is added to the fare, and there is a $4 surcharge for airport pick-ups.
Public Transportation
Metro, the public transportation system—which includes MetroBus, the MetroLink light-rail train and the Metro Call-A-Ride para-transit van service—transports passengers throughout the St. Louis metropolitan area. The base bus fare is $2; $1 (ages 5-12, ages 65+ and customers with disabilities). Exact cash fare is required. A MetroLink one-ride ticket is $2.50; $1.25 (ages 5-12, ages 65+ and customers with disabilities). A 2-hour system pass (with transfers) is $3; $1.50 (ages 5-12, ages 65+ and customers with disabilities), or $4 from Lambert Airport. Weekly and monthly passes also are available. For route information, current fares and hours of system operation contact MetroTransit Information Mon.-Fri. 7-7; phone (314) 231-2345, or (618) 271-2345 in Illinois.
flickr/Missouri Division of Tourism
What to Do in St. Louis
Stroll through Soulard Farmers Market (730 Carroll St.) and participate in a tradition with origins dating back to 1838. This is reputedly the oldest farmers market west of the Mississippi River, and with that little historical tidbit, you'll treasure your purchases even more. If you're there in February, you have several fabulous events to choose from, including the
Soulard Mardi Gras
and the
Cruzan Rum Taste of Soulard
.
Ride the tram to the top of
The Gateway Arch
(at Memorial Drive and Market Street) for an extraordinary view of St. Louis and the Mississippi River.
Spend some time inside the Catholic
Cathedral Basilica of Saint Louis
(4431 Lindell Blvd.). You'll discover impressive religious imagery created with more than 41 million individual pieces of glass, marble and stone.
Go to
City Museum
(750 N. 16th St.) without any preconceived ideas, except to be wowed. Some of the exhibits are even on the roof. Just be sure to allot plenty of time for this crazy, one-of-a-kind adventure since you'll have to find your way around the mazelike structure, built by artisans using recycled and found materials, without a map.
Explore
Laclede's Landing
(710 N. 2nd St.) to get a feel for old St. Louis. This nine-block historic district, complete with cobblestone streets, marks St. Louis founder Pierre Laclede's original settlement. You'll marvel at the wonderfully preserved mid-19th- to early 20th-century warehouses that now feature bars, nightclubs, restaurants and offices.
Canvass The Hill, the city's Little Italy. The district is bounded by Manchester, Columbia and Hampton avenues and South Kingshighway Boulevard. Pick up some imported products to take home with you as you peruse the meat markets, bakeries and specialty markets. Be sure to schedule your visit around a meal; there are a variety of Italian restaurants worth patronizing.
Tour the
Anheuser-Busch Brewery
(at 12th and Lynch streets) and see the famous Clydesdales. The company's origins date to the mid-19th century, so this is definitely a St. Louis institution.
Check out the St. Louis Walk of Fame along Delmar Boulevard, in the Delmar Loop neighborhood. It's entertaining as well as educational, with brass stars and biographical bronze plaques embedded in the pavement paying tribute to St. Louis area notables both past and present.
Join in some local team spirit at the
Cardinals Hall of Fame and Museum
(601 Clark St.) at the
Ballpark Village
near
Busch Stadium
(700 Clark Ave.). If you're there during the season, be sure to catch a game and see the team. Even if you don't love baseball, the village is a huge entertainment complex with food, drinks and fun.
Relive the city's celebrated musical past with a trip to the
Scott Joplin House State Historic Site
(2658 Delmar Blvd.). The ragtime composer and his wife, Belle, had a second-floor flat in this beautiful brick structure, which is simply furnished to reflect their early years. A player piano belts out tunes from the ragtime era.
Attend a performance by one of America's oldest symphony orchestras, the St. Louis Symphony. Powell Hall (718 N. Grand Blvd.), the former 1925 St. Louis Theatre, has been the symphony's home since 1968.
St. Louis Travel with Kids
Under 13
Myseum
(283 Lamp and Lantern Village) combines scientific learning and fun with exhibits such as the Dual Super Radar Slide, Magnetic Wall Ball and Vertical Wind Tubes. Kids can create faces with forensics software or pretend to be paleontologists in the Dino Dig exhibit. There's a place for fine arts, too: where kids learn about sound and music through some unconventional materials.
The
Saint Louis Zoo
(1 Government Dr.) is home to more than 600 species of animals. Immerse yourself in the Rivers Edge exhibit to see hippos and black rhinos. Grizzlies and gorillas inhabit The Wild Zone, while lions and tigers prowl in Big Cat Country. See meerkats, tree kangaroos and insects in the Discovery Zone. Pet lovers can enjoy wagon rides and cuddle baby bunnies, chicks and piglets at
Purina Farms
(500 William Danforth Way in Gray Summit). Meet horses, cows, chickens and sheep and swing on a rope in the Animal Barn & Hayloft Play Area and watch rescued dogs demonstrate their athletic skills in the Incredible Dog Arena.
Sip a frosty mug of root beer and savor American fare while watching sodas being bottled on a restored 1940s bottling line at
Fitz's
(6605 Delmar Blvd.). Try one of the seasonal flavors or specially labeled bottles if you're there in the fall (Pumpkin Pop), the summer (Happy 4th of July) or St. Patrick's Day.
The Magic House, St. Louis Children's Museum
(516 S. Kirkwood Rd.) features hundreds of hands-on exhibits and fun things to do. Catch fish or fix a car in the Children's Village, become a detective or try out the Oval Office. Wee ones can ride a toddler-size boat or climb in the Peekaboo House in a special space for infants, toddlers and their grown-ups.
Teens
Board an egg-shaped pod for a ride to the top of
The Gateway Arch
(at Memorial Drive and Market Street). The views through a row of windows stretch up to 30 miles away on clear days, taking in downtown St. Louis, Busch Stadium to the east and the mighty Mississippi River to the west.
"Bake" your own custom-designed shirt, shorts or other wearables in minutes at Baked T's (6368 Delmar Blvd.). The bakery-themed shop will package your finished design to look like cookies, doughnuts or cupcakes.
The
Endangered Wolf Center
(6750 Tyson Valley Rd. in Eureka ) offers the opportunity to learn about and interact with several species of wolves through tours, programs and events. Work alongside the animal trainers who care for wolves, swift foxes and African painted dogs, or practice your photography on a special tour of the wooded enclosures.
All Ages
Baseball fans visiting any time of year can tour
Busch Stadium
(700 Clark Ave.) for a close-up look at the home of the Cardinals. View the field from the radio broadcast booth or the Cardinals dugout, and see the World Series trophies in the Champions Club. After the tour, take a break at Ted Drewes Custard (4224 S. Grand Blvd. and 6726 Chippewa St.). Locals have lined up for Ted's rich and creamy frozen treats here since 1930.
Kids from 8 to 80 can slide, crawl and climb through
City Museum
(750 N. 16th St.), an eclectic mixture of playground, fun house and architectural marvel constructed entirely from recycled and found materials.
Join the 150,000 spectators who turn out every September to see 70 world-class balloon pilots take to the sky in the
Great Forest Park Balloon Race
. Festivities begin Friday with the Balloon Glow at Central Field in
Forest Park
(5595 Grand Dr.), followed by fireworks. Children's activities and live entertainment lead up to the impressive race launch on Saturday.
With more than 100 rides, shows and attractions,
Six Flags St. Louis
(4900 Six Flags Rd. in Eureka) is packed with fun things to do for the entire family. Match wits against Lex Luthor in the 4-D Justice League: Battle for Metropolis or experience gut-wrenching 50-mph drops on American Thunder. Find fun for little ones in Bugs Bunny National Park, cool off in Hurricane Harbor or take a break and see a show.
Shopping in St. Louis
Our No. 1 tip for a rewarding St. Louis shopping experience: zero in on the neighborhoods. This is a spread-out city of many separate communities, each with its own distinct character. Here's a quick rundown that can help you plan your shopping strategy.
The Central West End, just north and east of Forest Park, was created in the flush of expansion and prosperity that followed the 1904 World's Fair. Today it's one of the city's most pleasant shopping destinations, a neighborhood of stately turn-of-the-20th-century homes, ornate lampposts, streets lined with giant oaks and lots of sidewalk cafés for people-watching when the weather's nice.
Euclid Avenue is thick with specialty shops, pubs and restaurants. Peruse the selection at cozy Left Bank Books (399 N. Euclid Ave.), then wander through the once-abandoned auto repair warehouse now occupied by Bowood Farms (4605 Olive St.), a combination garden center, greenhouse and café that's a lush respite from the concrete jungle.
Another trendy district is the Delmar Loop. The six or so blocks of Delmar Boulevard between Kingsland and Des Peres avenues form the heart of The Loop. It's a shopping, dining and nightlife destination with a lively street life courtesy of neighboring Washington University. The district's name comes from the streetcar turnaround, or loop, that runs through the area. The vintage electric trolley's 2.2-mile fixed-track links the Delmar Loop to Forest Park with 10 stops along the way. From University City Hall, the trolley travels along Delmar Boulevard turning at DeBaliviere Avenue to the Missouri History Museum. Trolley cars run daily every 20 minutes. A 2-hour pass is $2; $1 (ages 65+ and the physically impaired); free (ages 0-5 with adult supervision). An all-day pass is $5; $2.50 (ages 65+ and the physically impaired); free (ages 0-5 with adult supervision).
Eclectic is the keyword here. Vintage Vinyl (6610 Delmar Blvd.) has a discriminating collection of CDs, DVDs, LPs, T-shirts and posters. Next door is Sunshine Daydream , an all-purpose head shop (incense, candles, more T-shirts). Browse art galleries like the Compônere Gallery (6509 Delmar Blvd.) and the Craft Alliance Center of Art + Design (6640 Delmar Blvd.). For handcrafted jewelry, locally made art and Mexican Day of the Dead dolls, check out Phoenix Rising (6331 Delmar Blvd.).
The Hill, south of Manchester Avenue between Hampton Avenue and S. Kingshighway Boulevard, is an old, established residential neighborhood with a gaggle of great Italian restaurants and specialty food markets. The shelves at J. Viviano & Sons (5139 Shaw Ave.) are loaded with jars of black olive paste, cans of anchovy-stuffed olives, bags of lupine beans, almond confetti candy and blocks of Parmigiano-Reggiano ("the crown jewel of cheeses"). Girasole Gifts & Imports (2103 Marconi Ave.) sells ceramics, jewelry, handbags and gift items; a miniature replica of the Italian Immigrants statue (which stands across the street in front of St. Ambrose Catholic Church) is an appropriate Hill souvenir.
South Grand is one of the city's more ethnically diverse neighborhoods, and that's reflected in the shops and restaurants that line the eight-block stretch of S. Grand Boulevard between Crittenden Street and McDonald Avenue. Bali Cargo Company , (3203 S. Grand Blvd.) has genuine Balinese goods, including furniture, art and jewelry. Shop for Indian spices, Japanese eggplants and green tea ice cream at Jay International Food Co. (3172 S. Grand Blvd.) or contemplate a tattoo or piercing from one of the friendly folks at TRX (3207 S. Grand Blvd.).
South of downtown is Cherokee Antique Row, centered along Cherokee Street between Nebraska Avenue and DeMenil Place. In addition to antique stores and art galleries this city neighborhood has some interesting specialty shops. One of the best is Retro 101/Cherry Bomb Vintage (2303 Cherokee St.), a treasure trove of vintage stuff (think "mod" '60s furniture, funky costume jewelry, vintage clothing and kitschy bar accessories). There's more nostalgic browsing at Bella (1934 Cherokee St.), two buildings loaded with an eclectic range of antiques, collectibles, arts, crafts and housewares.
You can't miss Union Station, the hulking, red-roofed, turreted former train terminal that stands downtown on Market Street (between 18th and 20th streets). Stop by the Hard Rock Cafe for a look at memorabilia like a custom-built Peavey bass played by former Van Halen member Michael Anthony, then scope out their line of T-shirts, pins and gifts.
The city has a couple of worthy destination malls. Upscale Plaza Frontenac, just south of I-64/40 at the intersection of Clayton Road and Lindbergh Boulevard, caters to well-to-do St. Louisans with the only Saks Fifth Avenue and Neiman Marcus stores in town, along with trendy retailers like Tiffany & Co. and Louis Vuitton. The atmosphere here is elegant throughout; even the seating areas and restrooms are smartly stylish.
West County Center, at I-270 and Manchester Road in Des Peres, is a major mall anchored by JCPenney, Macy's and Nordstrom. Among the more than 150 other retailers are familiar names like Ann Taylor, Brooks Brothers and The North Face. Anchors at the Saint Louis Galleria, I-64 and S. Brentwood Boulevard, are Dillard's, Macy's and Nordstrom, plus some 165 additional stores and boutiques.
Westport Plaza, in a mixed-use office complex just off I-270 and Page Avenue in the western burbs, is more a place to relax after shopping since it has pick-me-ups like Starbucks and the St. Louis Bread Co., a variety of casual and higher-end restaurants, happy hour hangouts and pubs with live music.
Bargain hunters head for St. Louis Outlet Mall, SR 370 (exit 11) and St. Louis Mills Boulevard. With more than 100 outlets—everything from Old Navy and The Children's Place to Burlington and Bed, Bath and Beyond—there's something for everyone. Refuel with a Wetzel's pretzel.
Missouri farmers supply St. Louis farmers markets, and one of the best reasons to visit is for the cornucopia of locally grown fruits and veggies. The markets are also good places to pick up locally produced cheese, eggs, honey and baked goods. Shoppers in the know arrive early to snap up seasonal goodies like berries and heirloom tomatoes. And of course it's fun to just wander around soaking up the sights and smells.
The granddaddy of them all is the Soulard Farmers Market (south of downtown at the corner of 7th and Carroll streets), which has been in business in one form or another since 1779. If you're a first timer go on Saturday morning, when this big, bustling market is at its busiest and best. Shaped like a giant "H," it has stall after stall of produce—fat melons, baskets of grapes, just-picked zucchini—as well as butchers, bakers and vendors selling everything from balsamic black bean dip to aromatic soaps. It's open Wed.-Thurs. 8-5, Fri. 7-5, Sat. 7-5:30, year-round. Hint: Street parking is not plentiful and also metered, and regulations are strictly enforced; park in the free lot across 7th Street from the market.
Much smaller but equally appealing is the Kirkwood Farmers Market in downtown Kirkwood (150 E. Argonne Dr. at Taylor Avenue). Fresh, locally grown produce varies by season; in summer look for ripe peaches grown in Missouri's "boot heel," and ask about the recipe for turning them into a scrumptious peach pie. The Tropical Moose ("Tro Mo" to its loyal customers) snow cone stand sells the icy treats in more than 50 different flavors. The market is open from mid-April to late September (Mon.-Fri. 9-8, Sat. 8-5, Sun. varies by vendor), but Saturday mornings offer the best selection. In October it morphs into a pumpkin patch, stays open longer hours (daily 9-8) and has lots of activities for kids. From mid-November to December 24, the Christmas Market is open daily 9-9.
And if your sweet tooth demands satisfaction, do as many longtime residents do and head for Lubeley's Bakery & Deli (7815 Watson Rd. in South St. Louis). Family-owned Lubeley's has been in business for more than 75 years, turning out St. Louis specialties like the super-sweet gooey butter cake, German treats like stollen and custom-made, multitiered wedding cakes. A fresh-out-of-the-oven caramel pecan roll and coffee to go is as good a way as any to start your day.
Smaller-scale shopping with a healthy dollop of historic charm prevails in nearby St. Charles. If you're into antiques, crafts, gifts and collectibles, put St. Charles' Main Street at the top of your day-trip list.
St. Louis Nightlife
Begin an evening on the town with drinks at the Rooftop Terrace Bar , eight stories above Delmar Boulevard at the top of the luxury boutique Moonrise Hotel (6177 Delmar Blvd. in The Loop). A hip crowd lounges on fancy white couches or mingles at the patio under what is reputedly the world's largest rotating man-made moon, snacking on marinated olives while nursing a glass of wine or a classic cocktail. A bonus is the view of the downtown skyline and the Arch in the distance, a nice backdrop for a sunset or later when the lights of the Delmar Loop twinkle below. Phone (314) 721-1111.
Another place to kick off an evening is Cielo , a restaurant and bar on the eighth floor of the Four Seasons Hotel St. Louis (999 N. 2nd St., adjacent to
Lumière Place Casino & Hotels
). The setting is swank—elegant flower arrangements, a roaring fire on freezing winter days, and an outdoor patio with canopy beds and a great view of the Arch that's perfect for people-watching on warm summer evenings. The atmosphere helps take the sting out of pricey drinks like the vodka pear mojito.
The casino offers plenty of flash for a night out. In addition to the usual table games and a poker room, some 2,000 slots feature the latest in video technology. Nonsmokers take note: The smell of smoke hangs pretty heavily in the air. You also can hit Lumière Place for dinner. Enjoy an upscale meal at The Wok, scarf down a plate full at The Kitchen Buffet & Bistro or sip a beer and catch a game at Ozzie's Sports Bar & Grill. Phone (314) 881-7777 for the casino.
The vibe is similar at the
Hollywood Casino St. Louis
(777 Casino Center Dr. in Maryland Heights). There's a poker room with more than 20 tables, 31 Black Jack tables, six roulette tables, five craps tables and 2,100 slots, and there are nonsmoking areas. The casino's Boogie Nights club has dancing Friday and Saturday nights. Among the dining options here is Charlie Gitto's, a branch of the celebrated Italian restaurant. Phone (314) 770-8100 for the casino.
Laclede's Landing
(710 N. 2nd St. on the banks of the Mississippi) is an area of eateries, bars and entertainment venues occupying former warehouse buildings.
For live music, The Loop is tops. Rock, pop and blues bands jam it up several nights a week at the Duck Room , inside the Blueberry Hill diner (6504 Delmar Blvd.). For schedule information phone (314) 727-4444. Pop, rock, acoustic and metal bands and comedians, including some big names, perform at The Pageant (6161 Delmar Blvd.). Patrons can chill out at the venue's Halo Bar before and/or after the main show. The Halo Bar also has live performances and DJ sets most nights, and there's no cover. For concert info phone (314) 726-6161.
Local scenesters congregate at Pin-up Bowl (6191 Delmar Blvd.), a lounge where the bartenders whip up killer martinis and specialty cocktails in outlandish colors. The kitschy décor includes display cases full of vintage bowling and pin-up paraphernalia. There are eight lanes here as well, but if you're serious about the game this is not the place to work on your delivery. Phone (314) 727-5555.
In the Grand Center arts district, Jazz at the Bistro (3536 Washington Ave.) is an intimate jazz club where you can have dinner and catch local talent as well as name acts. Reservations for music performances are recommended; for tickets phone the box office at (314) 571-6000.
Two downtown watering holes are especially popular for live music. BB's Jazz, Blues and Soups (700 S. Broadway) brings top jazz and blues musicians to town. Memorabilia adorns the walls of this old brick building. Within spitting distance of BB's is The Beale on Broadway (701 S. Broadway). Down-home blues is the music of choice here, with dashes of R&B, old-school soul and roots rock. Phone (314) 436-5222 for BB's or (314) 621-7880 for The Beale on Broadway.
Off Broadway (3509 Lemp Ave. in the Cherokee-Lemp Historic District) is basically a dive bar, but it's also one of the best spots in the city for live music. Acts run to folk, alt country, blues and rock, plus the occasional tribute show (Jerry Garcia, Gram Parsons and the like). This is also a good place to catch up-and-coming local bands. Another plus: The smoking area is outside. The Focal Point (2720 Sutton Blvd. in the suburb of Maplewood) provides a casual showcase for folk and acoustic performers, local singer-songwriters and bluegrass musicians. The eclectic offerings extend to poetry slams and folk dancing. Phone (314) 328-4810.
The Moolah Theatre & Lounge (3821 Lindell Blvd. near the St. Louis University campus) is housed in a renovated, Moorish-style brick building that was once the Moolah Temple, a meeting place for the Shriners. The screen is huge, and the theater has a beautiful ceiling dome. A full bar and a retro eight-lane bowling alley downstairs encourage hanging out afterward, but arrive early to snag one of the comfy leather sofas that make up the front rows. Phone (314) 446-6868.
Is there a better way to spend a summer evening in St. Louis than attending a Cardinals game at
Busch Stadium
? A stone's throw from the Arch, the ballpark is invariably packed with die-hard Cards fans cheering on their team. So grab a dog and a couple of bags of peanuts and take a seat under the stars. Evening home games usually start at 6:15. Single game tickets can be purchased at the 8th Street ticket windows, located just north of Gate 3, Mon.-Fri. from 9 a.m. until 2 hours after game time; to charge by phone call (314) 345-9000.
Note: RFT (Riverfront Times), a free newsweekly available all over town, has arts and entertainment listings.
St. Louis Performing Arts
The St. Louis Symphony, founded in 1880 and one of the oldest symphony orchestras in the nation, performs from mid-September to mid-May in Powell Hall, 718 N. Grand Blvd. This stately building has an elegant foyer resembling the royal chapel at Versailles. Free tours are available by appointment in-season; phone (314) 286-4104. The symphony also presents a series of concerts geared to ages 5 through 12; phone (314) 534-1700 for ticket and schedule information.
Acoustically renowned Sheldon Concert Hall, 3648 Washington Blvd., presents a variety of concerts; phone (314) 533-9900.
There's no better place to see a musical under the stars on a warm summer evening than The Muny, the city's beloved outdoor theater in Forest Park. The Muny's first performances—of William Shakespeare's "As You Like It"—were given in June 1916 on a grassy hillside between two large oaks. Today this 11,000-seat outdoor amphitheater offers a 7-week summer season of Broadway classics, musical adaptations of hit movies and other entertainment. Stroll the Walk of Fame dedicated to venerable Broadway stars and composers. Free seats at the top of the house are available on a first-come, first-served basis beginning at 7 p.m. For show and ticket information phone The Muny box office at (314) 361-1900, ext. 550, or MetroTix, (314) 534-1111.
Traveling Broadway shows, concerts and headlining entertainers are presented at the Fabulous Fox Theatre, 527 N. Grand Blvd. Public tours of the ornate interior are offered Tuesday, Thursday and Saturday at 10:30 a.m.; phone (314) 534-1678 for additional information. For ticket information phone MetroTix at (314) 534-1111.
The Tivoli Theatre (6350 Delmar Blvd.) dates from the era of grand old movie palaces and includes independent and foreign-language movies as well as the latest Hollywood offerings on its three screens; display cases are filled with movie memorabilia, vintage posters line the walls and yes, there's an orchestra pit and a plush burgundy curtain.
During its heyday, everyone from Rex Harrison to Twisted Sister appeared at the grand old Kiel Opera House, downtown at 14th and Market streets. Two decades after closing in 1991—and following a thorough renovation and refurbishment—this Art Deco landmark reopened in 2011 with a new face and a new name: the Peabody Opera House. The venue hosts theatrical performances, pop music and comedy stars, and sports and special events. For event information phone (314) 622-5435.
The Hollywood Casino Amphitheater, on Riverport Drive in Maryland Heights, is a 20,000-seat venue where concerts are scheduled April through September; phone (314) 298-9944.
The Repertory Theatre of St. Louis ("The Rep") is the city's leading professional theater company; phone (314) 968-4925. They give performances in the Loretto-Hilton Center for the Performing Arts, 130 Edgar Rd. on the Webster University campus, which also is the home of the university's Conservatory of Theatre Arts, (314) 968-7128, and the Opera Theatre of St. Louis, (314) 961-0644. The Opera Theatre's pre-opera informal picnic dinners on the scenic grounds are especially popular; guests may bring their own picnic baskets or purchase a boxed supper.
Dance St. Louis, (314) 534-5000, regularly gives performances September through April at the Fabulous Fox Theatre, the Grandel Theatre and the Touhill Performing Arts Center. Dance, music and drama are presented at the Edison Theatre on the campus of Washington University; phone (314) 935-6543. Stages St. Louis offers musical theater productions June through October at the Robert G. Reim Theatre, at the Kirkwood Community Center; phone (314) 821-2407.
The Touhill Performing Arts Center, on the campus of the University of Missouri-St. Louis, offers concerts, opera, comedy and dance year-round; phone (314) 516-4949 or (866) 516-4949. Chaifetz Arena, on the campus of St. Louis University, is a multipurpose arena featuring concerts, family shows and sporting events; phone (314) 977-5000.
The St. Louis Black Repertory Company offers theater and dance presentations December through April in the Emerson Performance Center at Harris-Stowe State University and the Edison Theatre at Washington University; phone (314) 534-3810.
At the Ivory Theater, St. Louis Shakespeare features classic works by the bard August through October, plus a spring production; phone (314) 361-5664. During the month of June, Circus Flora captivates audiences during its one-ring circus performances with a theatrical flair in a red big top tent; for information phone (314) 289-4040.
St. Louis Sports & Recreation
Major League Baseball's St. Louis Cardinals were founded in 1882 as an American Association team called the St. Louis Brown Stockings. The team has had an enviable record in recent years, winning multiple National League pennants since 2004 and the World Series in 2006 and 2011. The 2014 team also advanced to the National League Championship Series as Central Division champions.
Both World Series clinchers were played at home in
Busch Stadium
in front of more than 46,000 enthusiastic local fans. Other fun facts about this retro-style ballpark that opened in 2006: It hosted the 80th All-Star Game in 2009 and sells more than 540,000 hot dogs over the course of a season.
The design incorporates wide concourses, elevators and escalators between levels and excellent spectator sight lines, as well as dramatic views of downtown and the Gateway Arch. A statue of Cards slugger Stan "the Man" Musial stands at the arched 8th Street entrance. Before the game, kids can play interactive games, step up to the plate in batting cages and enjoy other family-friendly activities at the Family Pavilion. For general stadium information phone (314) 345-9600.
Across the street from Busch Stadium, the first phase of
Ballpark Village
opened in spring 2014. The retail and entertainment complex features shops, restaurants, live music stages and nightlife venues. The four-level Cardinals Nation Restaurant & Bar includes the
Cardinals Hall of Fame and Museum
, where true fans can immerse themselves in the team's history.
The Frontier League Western Division's River City Rascals play minor league baseball at CarShield Field in O'Fallon, about 35 miles west of downtown St. Louis; phone (636) 240-2287.
The St. Louis Blues of the National Hockey League take to the ice October through April at the Enterprise Center, 14th and Clark streets; phone (314) 622-2500.
Gateway Motorsports Park in nearby Madison, Ill., offers marquee motorsports events, including NHRA National, Indy Car Championship, stock and sports car events; phone (618) 215-8888. Fairmount Park in nearby Collinsville, Ill., offers Thoroughbred racing April through September; phone (618) 345-4300.
Note: Policies concerning admittance of children to pari-mutuel betting facilities vary. Phone for information.
There are many golf courses throughout the area, including a public course at Ruth Park, 8211 Groby Rd., and three public courses at Forest Park.
Horseback riding is available at A.P. Greensfelder Park, north of I-44 on Allenton Road in nearby Pacific. The Wayne C. Kennedy Recreation Complex, on Wells Road, and Edgar M. Queeny Park, between Mason and Weidman roads, offer ice-skating and tennis. The complex also offers swimming. Ice skating is popular at the Steinberg Skating Rink in Forest Park.
The St. Louis Riverfront Trail, originating at Laclede's Landing, is an 11-mile bike path running along the Mississippi River. Bike trails also wind through Forest Park. Rentals and guided park bike tours are provided by City Cycling Tours; for information phone (314) 616-5724.
Bird-watching opportunities are plentiful during spring and fall at Confluence Point State Park in West Alton; a short interpretive trail leads to the point where the Missouri and Mississippi rivers merge.
Carriage Tours
The St. Louis Carriage Co., 1000 Cerre St., offers 15-minute, half-hour and 1-hour horse-drawn carriage tours of the downtown area nightly (weather permitting). Carriages depart from the Gateway Arch, The Old Spaghetti Factory at Laclede's Landing and the Hyatt hotel on Chestnut Street. Pickups from downtown hotels and restaurants also can be arranged. Phone (314) 621-3334 for a complete list of pickup locations. Brookdale Farms also provides nightly carriage tours of the downtown area; phone (636) 938-1005.
Driving Tours
"Day Tours from St. Louis," a 44-page booklet detailing 10 trips within a day's drive, and a St. Louis points of interest map are available to AAA/CAA members free at any AAA service office in the St. Louis area.
Helicopter Tours
Fostaire Helicopter Tours, based at the St. Louis Downtown Airport in Sauget, Illinois, covers various sections of St. Louis, focusing on major industries, waterways and other points of interest; phone (314) 421-5440 or (618) 337-4440.
Walking Tours
The St. Louis Walk of Fame preserves the city's historical and cultural legacy by honoring the accomplishments of individuals with St. Louis connections. A brass star is engraved with the person's name, and an accompanying bronze plaque provides a brief biographical summary. More than 150 sets of stars and plaques are embedded in the sidewalks of The Loop, an area of shops, galleries and cafés along Delmar Boulevard. Among the honorees are Maya Angelou, Josephine Baker, Chuck Berry, William Burroughs, Miles Davis, the 5th Dimension, Redd Foxx, Joe Garagiola, John Goodman, Betty Grable, Ulysses S. Grant, Kevin Kline, Charles Lindbergh, Agnes Moorehead, Nelly, Marlin Perkins, Joseph Pulitzer and Shelley Winters.
Two gripping films related to the memorial and the history of the West are shown throughout the day, and tram rides take visitors to the top of the Arch for a view of the city.
Note: Summer is the busiest season, but hours are also extended in the evening. Purchasing tickets in advance gives you more flexibility in choosing your tram ride time. Also allow at least 30 minutes to get through the security checkpoint at the Arch entrance.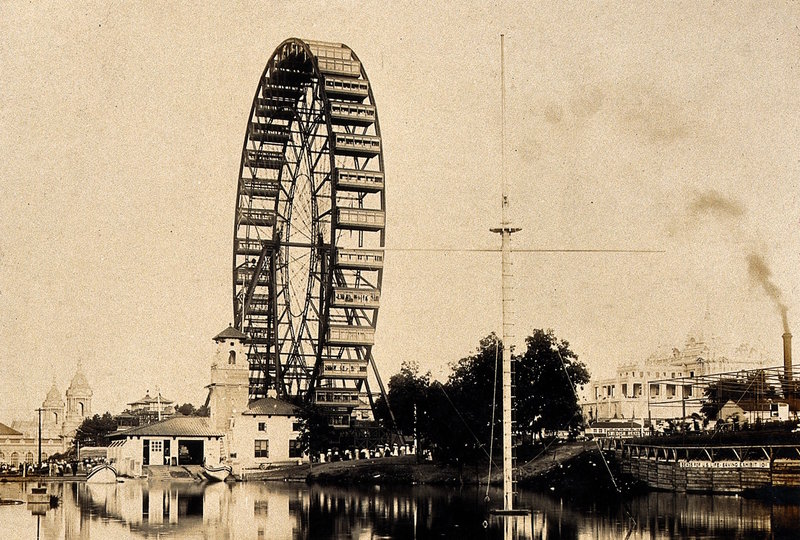 Wikimedia Commons/Wellcome Images
The 1904 World's Fair
In 1904 Americans marked the 100th anniversary of the Louisiana Purchase, the land acquisition President Thomas Jefferson secured for America that doubled the size of the United States. To celebrate the momentous centennial, St. Louis hosted the Louisiana Purchase Exposition, better known as the World's Fair.
The event ran from Apr. 30-Dec. 1, drawing an estimated 20 million people to the fairgrounds at
Forest Park
and to part of Washington University's campus. The 1944 musical "Meet Me in St. Louis" captured on film the excitement and pride St. Louisans felt at the fair's arrival.
The fair was a noteworthy architectural, culinary and organizational feat, bringing international acclaim to St. Louis. Almost every state contributed an exhibit to the fair, as did many foreign countries. Indoors and out, Americans were introduced to new cuisines, international art, exotic animals and such bold new conveniences as electricity and the automobile.
Many structures and statues were relocated elsewhere after the fair's close, and many buildings intended as temporary fixtures were torn down. But fortunately not all was taken from the host city; several major buildings and various examples of memorabilia stayed behind.
Two key structures stand today. The
Saint Louis Art Museum
functioned as the fine arts pavilion. The bronze cast of St. Louis the Crusader outside the museum is based on the plaster original that greeted visitors at the fair's main entrance. A renovated version of the Flight Cage, a walk-through bird cage provided for the fair by the Smithsonian Institution, is at the
Saint Louis Zoo
.
In addition to structural icons, souvenirs and memorabilia have been preserved. A collection of some 1,200 items is displayed at the
Chatillon-DeMenil Mansion
. Postcards, steins, pins, sheet music, fans, decorative boxes and commemorative dishware are among the fair-related treasures showcased on the mansion's third floor. And one of the larger decorative items ended up in an unlikely spot—the
Anheuser-Busch Brewery
, where a chandelier from the French pavilion hangs above the Clydesdale stables.