Impressive Views, Endless Activities
Vancouver has won many accolades as one of the top cities in the Americas, and for very good reasons. Set against a backdrop of majestic snowcapped mountains, the city lies on a peninsula that juts into the Pacific Ocean. This spectacular setting allows for a plethora of outdoor adventures, including skiing, sailing, hiking, scuba diving, fishing and more.
Explore Vancouver's diverse neighborhoods, ranging from trendy Yaletown to dynamic Gastown to Granville Island with its farmer's market, where more than 150 vendors vie for your attention with sourdough baguettes, homemade goat cheese, spicy sausages and crisp apples. If you're in the mood for fine dining, indulge in fresh regional seafood, a Vancouver specialty, at one of the city's first-rate local restaurants.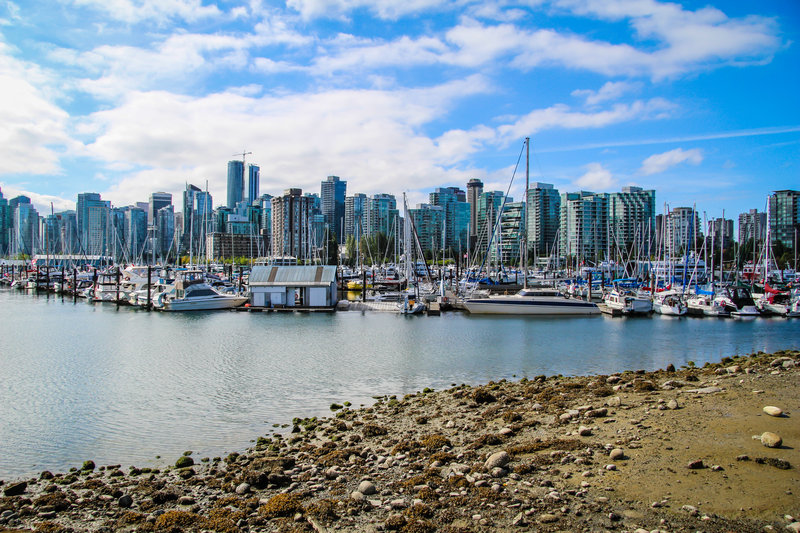 AAA/Diana Beyer
Must-sees include Stanley Park and Grouse Mountain. Stanley Park is a veritable oasis with its beaches, gardens, trails and splendid views of the waterfront, while the view from a gondola atop Grouse Mountain will leave you breathless. For a memento of your trip, shop for Indigenous art at local galleries. With all that Vancouver has to offer, your most difficult task will be choosing what fun things to do during your visit.
Getting There
By CarHwy. 1 (Trans-Canada Highway) and hwys. 1A and 7 are the major east-west routes to Vancouver. To reach downtown on the Trans-Canada Highway, use the First Avenue exit or continue to Hastings Street.
Hwy. 99 to S.W. Marine West becomes the major downtown artery, Granville Street. Before becoming a city street, Hwy. 99 begins its journey as I-5 at the Mexican border and crosses through California and the Pacific Northwest; beyond Vancouver it continues beyond Whistler to meet Hwy. 97, the main north-south route.
Getting Around
Street SystemAll streets and avenues in downtown Vancouver are named; many are one-way. Outside the business section, east-west avenues are numbered beginning with First Avenue, and north-south streets are named. Addresses begin at Ontario-Carrall streets for all east-west numbering and at Powell-Dundas streets for all north-south numbering.
The downtown peninsula is connected to western Vancouver by the Burrard, Granville and Cambie bridges and to North Vancouver and West Vancouver by the Lions Gate and the Iron Workers Memorial (Second Narrows) bridges.
Rush hours are 6-9:30 a.m. and 3-6:30 p.m. Right turns on red are permitted after a stop, unless otherwise posted; drivers must yield to pedestrians and vehicles in the intersection and to city buses pulling into traffic.
Some intersections in the metropolitan area have a blinking green light. This is used when there is a stop sign, not a signal, on the cross street and allows pedestrians or bicyclists to turn the main street's light red so they can go through the intersection safely. When driving on a cross street, you must wait for a gap in traffic before you proceed.
ParkingOn-street parking, controlled by meter, is restricted on many thoroughfares during rush hours; violators' cars will be towed. When parking at a meter, you can pay by credit card, coins or even by phone if you download the PayByPhone mobile app; phone (604) 909-7275 for information. Off-street parking is available in lots and garages at rates ranging from $1.25 per half-hour to $11 or more per day. Parking in a school zone between 8 and 5 on any school day is strictly prohibited unless otherwise posted.
Public TransportationTransLink, Metro Vancouver's regional transportation authority, offers an integrated system utilizing bus, rail, SeaBus, cycling paths and roads to points throughout Vancouver and all suburban areas. Conventional buses and electric buses link tourist destinations, transit exchanges and SkyTrain stations; phone (604) 953-3333.
SeaBus is a passenger-only ferry that crosses Burrard Inlet, connecting downtown Vancouver with the North Shore, a destination popular with those in search of adventure travel. The downtown Waterfront terminal connects with buses and the SkyTrain. The Lonsdale Quay terminal connects with an extensive North Shore bus network.
SkyTrain, Vancouver's light-rail rapid transit system, runs from Waterfront Station through downtown Vancouver to the suburbs of Burnaby and New Westminster and across the Fraser River to the suburb of Surrey. SkyTrain is one of the longest and oldest automated, driverless light rapid transit systems in the world and has three lines. The 19-kilometre (12-mi.) Canada Line connects downtown with Richmond and Vancouver International Airport and has 16 stations, including stops at Vancouver City Centre, Olympic Village, Broadway-City Hall, Marine Drive, Vancouver International Airport and four Richmond locations. The train ride from downtown to the airport takes 26 minutes. The Expo Line and Millennium Line connect downtown with the cities of Burnaby, New Westminster and Surrey.
Trains operate every 7 to 15 minutes Mon.-Fri. 5:22 a.m.-1:16 a.m., Sat. 6:50 a.m.-12:30 a.m., Sun. 7:16 a.m.-12:16 p.m. Fares are the same for any TransLink service and a single fare covers travel for up to 90 minutes across Metro Vancouver. A 1-zone fare Monday through Friday until 6:30 p.m. is $3, a 2-zone fare is $4.25 and a 3-zone fare is $5.75; for ages 5-13, students ages 14-19 with a valid GoCard and ages 65+ a 1-zone fare is $1.95, a 2-zone fare is $2.95 and a 3-zone fare is $3.95. The fare for weekdays after 6:30 p.m. and Saturday, Sunday and holidays for all zones is $3; for ages 5-13, students ages 14-19 with a valid GoCard and ages 65+ the fare for all zones is $1.95. A trip from the airport to any destination adds an additional $5.
Every SkyTrain station has information panels. A 1-day pass, available from SkyTrain and SeaBus ticket machines, Safeway food stores and 7-11 stores, costs $10.50 and covers all zones; for ages 5-13, students ages 14-19 with a valid GoCard and ages 65+ the cost is $8.25. If you pay by cash on buses, exact change is required. Phone (604) 953-3333 daily 6:30 a.m.-11:30 p.m. for more information.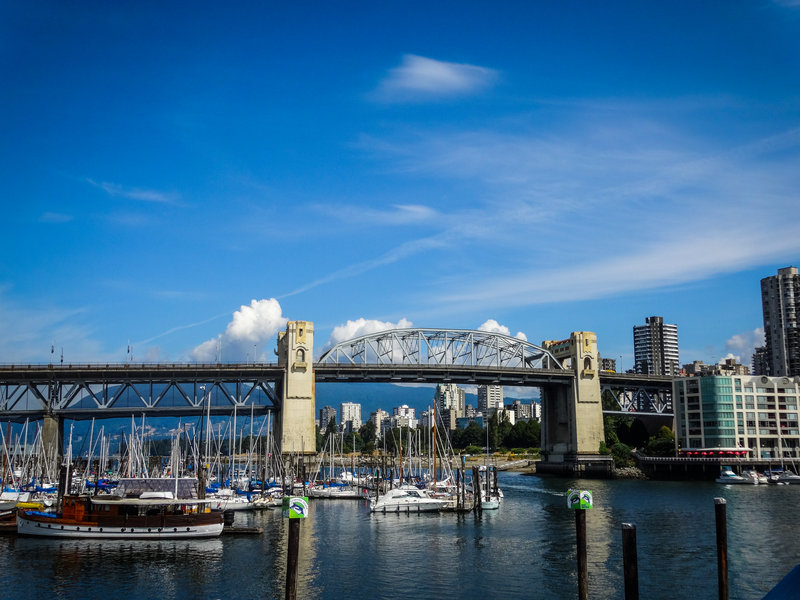 AAA/Diana Beyer
The little blue False Creek Ferries provide service from the West End of downtown to Granville Island, with stops at fun places to go like Yaletown, Plaza of Nations, The Village (Science World), Spyglass Place, Stamps Landing, David Lam Park, Granville Island, the Aquatic Centre and the Maritime Museum, departing between every two minutes and every 15 minutes, depending on the route and time of day. Tickets cost $3.50-$11 one-way, $9-$17 round-trip, and $16 for a day pass, with discounts for ages 4-12 and ages 65+.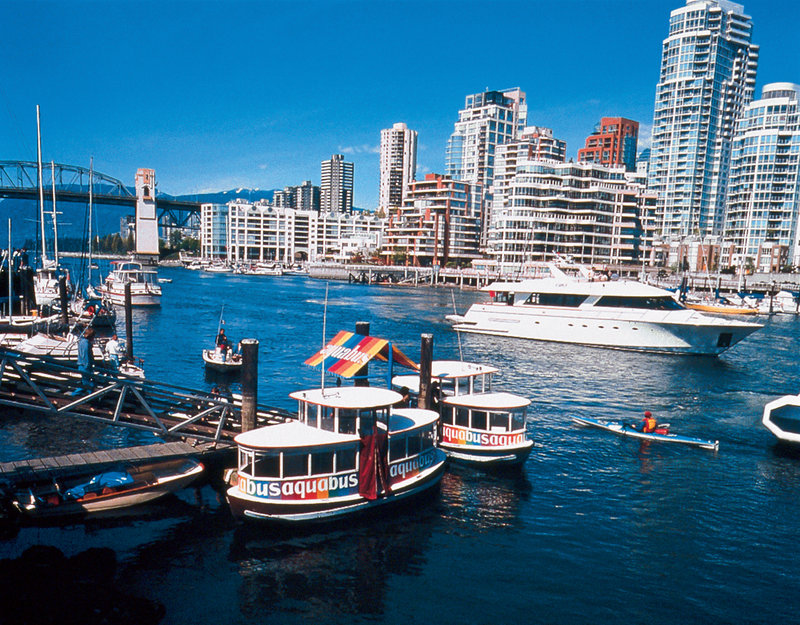 Courtesy of Vancouver British Columbia
Aquabus Ltd., (604) 689-5858, provides ferry service with departures every five minutes between Hornby Street, Granville Island, David Lam Park, Stamps Landing, Spyglass Place, Yaletown, Plaza of Nations and The Village daily 7:07 a.m.-9:07 p.m. Times vary according to destination. Fare ranges from $3.50-$6 one-way or $25 for 20 tickets, and $16 for a day pass, with discounts for ages 4-12 and ages 65+. Aquabuses are equipped to carry wheelchairs and bicycles.
Daily bus service between Vancouver International Airport and Whistler is provided by Pacific Coach's YVR Whistler SkyLynx. Passengers can be picked up and dropped off at major Vancouver and Whistler lodgings; reservations are required. Phone (604) 662-7575 or (800) 661-1725 for information or ask your AAA travel agent about vacation packages. To reach the airport from Vancouver by public transit, take Bus 90 B-line from Burrard station to Richmond Centre, then transfer to bus 424 to the airport.