Big City Lives Up to Big Reputation
"Make no little plans. They have no magic to stir men's blood," advised one of Chicago's leading architects nearly a century ago. Chicagoans listened. You can't visit the Windy City today and find much that's small about it.
Skyscrapers stretch toward the heavens—four are more than a thousand feet tall—while shorter buildings loom large as unrivaled works of art as much as architecture. Lake Michigan, that sparkling inland sea, laps at the city's doorstep along 29 miles of shoreline adorned with spacious parks, marinas and public beaches that offer a wealth of things to do. Venerable museums house treasures, both natural and manmade, in such profusion that even the most determined sightseers can't manage to see every painting, sculpture, fossil or living specimen on display. Nearby restaurants offer a variety of cuisines to savor. And even the most dedicated shoppers can't hope to browse all the glitzy boutiques, department stores and vertical malls along downtown's Magnificent Mile within a single visit.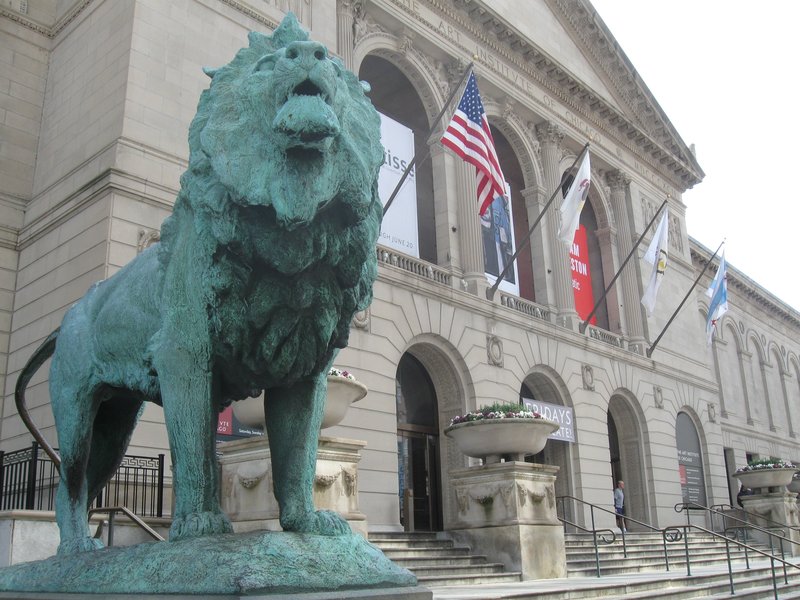 AAA/Greg Weekes
Wandering among its intimate neighborhoods or encountering that famous Midwestern friendliness, you might briefly forget you're in one of the world's biggest cities, but only briefly. Reminders of Chicago's immense scale are everywhere, and you will probably be overwhelmed by this destination city at first. But if you're looking for blood-stirring magic, this is the place for your next trip or vacation.
Getting There
By CarThe primary route into Chicago from Milwaukee and other lakeside cities to the north is I-94. In the northern suburbs it divides; the eastern segment (Edens Expressway), still marked I-94, joins the John F. Kennedy Expressway, which enters downtown Chicago. The western leg, called the Tri-State Tollway, is numbered I-294; it forms a circumferential expressway around the city's west edge and ends at I-80.
From Madison and Rockford, I-90 (Jane Addams Memorial Tollway) is the main highway. In the northwestern suburbs it intersects I-290, which curves southeast and continues into Chicago as the Eisenhower Expressway. Near O'Hare International Airport, the Jane Addams Memorial Tollway intersects I-294, where it becomes the John F. Kennedy Expressway (I-90) as it heads into the city.
From the west direct access to Chicago from the Aurora area is via the Ronald Reagan Memorial Tollway (I-88). Once inside the I-294 belt it becomes the Eisenhower Expressway (I-290). I-55 comes from Bloomington and other points in central Illinois; in the Chicago area, it is called the Adlai Stevenson Expressway. A major transcontinental route, I-80 passes to the south of Chicago and provides several connections into the city via I-55, I-57, I-90 and I-94. I-355 (Veterans Memorial Tollway) runs through the southwestern and westerns suburbs and connects with I-80, I-55, I-88 and I-290.
The major routes from the south are I-94 (Bishop Ford Freeway), I-57 and I-90 (Chicago Skyway—toll). All three connect with the Dan Ryan Expressway (I-90/94), which leads into the city center. On the Indiana outskirts of Chicago, I-90 and I-80 form the Northern Indiana Toll Road, which is the main route to the city from the eastern seaboard; I-94 provides access to the city from Michigan.
Chicago's Loop, once defined as an area of the city encircled by the "L" elevated rapid transit line, now lends its name to the core downtown area.
Air Travel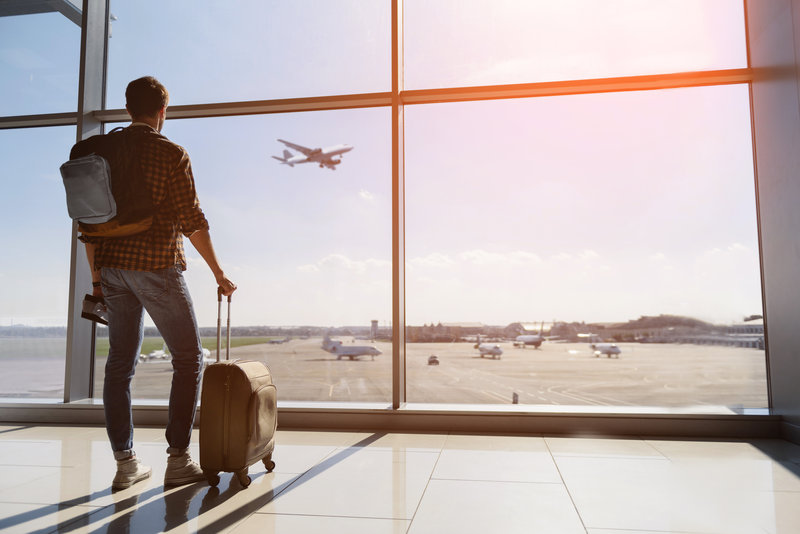 iStockphoto.com/YakobchukOlena
O'Hare International Airport (ORD), 17 miles northwest of the city proper, is one of the world's busiest, averaging some 103,000 passengers and 1,200 flights a day. The three domestic terminals service most major carriers and offer plenty of amenities for travelers as well. The international terminal is host to more than 40 airlines from around the world and is linked to the domestic terminals via the Airport Transit System. When you plan your travel, allow yourself plenty of time to negotiate the airport.
The only highway exit is via I-190 E., which connects with I-90 (Kennedy Expressway) directly east of the airport. I-90 E., a southeasterly route into the city proper, intersects I-294 a short distance east of the I-190/90 junction. I-294 leads north to Wisconsin and south to Indiana. Another option for going downtown is the locals' choice, which saves tolls but involves some highway number changes: I-90/I-94/I-94 E/I-90 E. Allow plenty of time for traffic, which is always a factor in getting around greater Chicago.
The Chicago Transit Authority (CTA) provides 24-hour service between O'Hare and downtown on the Blue Line, a 45-minute ride via rapid rail. Departures occur approximately every 15 minutes from the lower pedestrian tunnel level of Terminal 2. The fare is $5. Purchase a Ventra Card or a 1-day or multiday unlimited-ride pass from the CTA vending machines; turnstiles do not accept cash. CTA also provides rapid rail service between O'Hare and Midway International airports (at the Clark/Lake stop, transfer for free to the Midway-bound Orange Line during its hours of operation); phone (312) 836-7000 for details.
Midway International Airport (MDW) is only 8 miles southwest of the downtown core. Five airlines offer low-fare, point-to-point service to several domestic and international cities. Midway's passenger terminal building, with its three concourses, offers a number of amenities for travelers.
Exit Midway via the airport roadway system, which intersects SR 50 (Cicero Avenue) along the airport's eastern edge. The most direct route downtown is on SR 50 north to I-55 north (Stevenson Expressway), then northeast to I-90/94 W. (Wisconsin) and east on Congress Parkway.
One of the most convenient ways to travel downtown Chicago is via rapid transit service on the CTA Orange Line. Elevated trains take travelers from Midway to the heart of the city in approximately 30 minutes. Visitors can board the train about every 15 minutes at the terminal just east of the airport building. The fare is $2.25. Ventra Cards and unlimited-ride multiday passes are available at station vending machines.
GO Airport Express, (888) 284-3826, provides buses to and from O'Hare and Midway to many downtown hotels, McCormick Place, Navy Pier and certain city and suburban neighborhoods. One-way fare from O'Hare to the Loop is $34; round-trip $62. One-way from Midway to downtown is $29; round-trip $52.
Airport trips from downtown are on average $32-$58 to O'Hare and $27-$48 to Midway. There's generally no charge for baggage or credit card use, and tipping, though optional, is appreciated for good service. Shared rides to downtown and McCormick Place are available with each passenger paying a flat fee. Wheelchair accessible vehicles also are available at Midway and O'Hare.
Getting Around
Street SystemIn driving around Chicago, as well as in approaching it, you should know where you are going and exactly how to get there. Plan your route in advance, particularly in regard to expressway interchanges.
Most Chicago streets follow an orderly grid running north-south and east-west. The few exceptions to this rule are outside the Loop—as downtown generally is known—and include N. Clark Street, N. Lincoln Avenue, Clybourn Avenue, Grand Avenue, Hyde Park Boulevard, Elston Avenue, I-90/94, N. Milwaukee Avenue, W. Ogden Avenue, S. Blue Island Avenue, S. Archer Avenue, S. Chicago Avenue and Lake Shore Drive.
State Street is the east-west bisector; Madison Street divides north from south. The intersection of State and Madison streets in the Loop is ground zero for the street numbering system; all addresses begin at this intersection. The uniform numbering system from this point is an added help in finding an address. Downtown street numbers increase by 100 every two blocks leading away from this central intersection; outside the Loop they increase by 100 every block. For example, 800 W. Madison St. would be 16 blocks west of State Street.
In the northern section of the city all streets are designated by name. In the south, beginning at 8th, most east-west streets are numbered consecutively, and only north-south streets are named.
Unless otherwise posted, the speed limit on most streets is 25 to 30 mph. U-turns are allowed only where indicated by a sign. Many downtown streets are one-way. Rush hours, from 6 to 10 a.m. and 3 to 7 p.m., should be avoided.
ParkingThe downtown Loop area has metered street parking but there is little open due to the heavy volume of determined drivers, and fines for parking violations are steep and towing, a real possibility. Instead, take advantage of the city's numerous lots and garages.
Some of the larger garages downtown are beneath Grant Park on N. Michigan and S. Michigan avenues and S. Columbus Drive near Monroe Street; beneath Millennium Park on S. Columbus Drive near Monroe; and on Museum Campus, north of Soldier Field on McFetridge Drive. Other Museum Campus garages and lots, all accessed via 18th Street and Lake Shore Drive, include one south of Adler Planetarium off Solidarity Drive (cash only); southeast of The Field Museum and south of it on Museum Campus Drive; and at Burnham Park Harbor at Waldron and Museum Campus drives. Rates range on average from $21-$30 for 1-2 hours to $39-$40 for 8-24 hours at Grant Park and from $26 for 1-3 hours to $30-$35 for 12-24 hours at Millennium Park. Full-day rates at Museum Campus average $22-$49. Rates may be higher during special events.
There are many other public and private garages and lots, both downtown and on the outskirts; rates can be as high as $40 a day.
TaxisExpect to pay for the privilege of taking a taxi within city limits. Cabs are metered, with a basic charge of $3.25 plus $2.25 for each additional mile. Further charges for waiting time, extra passengers, higher than normal gas prices and airport trips can add up. Taxi companies typically charge $1 for the first additional passenger ages 12-65, and 50c for each additional passenger after that. When gas prices rise, companies may include a fuel surcharge. Cab riders also pay tolls.
The largest cab company is Yellow, (312) 829-4222.
Public TransportationChicago has one of the nation's most convenient and accessible public transportation systems, serving the entire metro area. Metra commuter trains, augmented by Pace suburban buses and the Chicago Transit Authority's (CTA) extensive network of buses and subway/elevated "L" trains, connect suburbanites to the heart of the city. Stations are throughout the city; each has a color-coded map showing the system's myriad routes.
Rapid rail trains provide service around the city proper, north to Evanston, south to 95th Street and west to both airports. Routes are designated by colors and offer varying schedules. The Red and Blue lines (subway in the Loop) operate daily 24 hours. The Orange, Brown, Purple, Green, Pink and Yellow lines "L" all have different schedules, most beginning in the early morning hours and ending after midnight; not all lines stopping in the Loop operate on weekends. The trains operate every 5 to 12 minutes during weekday rush hours, every 8 to 20 minutes at other times. Schedules are posted in each station.
All CTA buses are accessible and provide service throughout the city and 35 surrounding suburbs. The route number, name and destination of each vehicle are clearly displayed on the windshield sign, and many bus shelters offer graphical maps highlighting the routes. Service is offered daily, with most schedules beginning in the early morning and ending around midnight; some buses run on a more limited schedule.
In general, the fare for all CTA vehicles is $2.25 when paying cash (no transfer allowed for cash fares); exact change is required on buses and at the train station Ventra Card vending machines. (Dollar bills and coins are accepted; credit and debit cards are accepted at select train stations.)
To pay for CTA fares, riders have the option of purchasing a reloadable Ventra Card, available at train stations, the Ventra Customer Service Center (165 N. Jefferson St.), select retail locations, online or by phone, (877) 669-8368; a $5 purchase fee is imposed. Ventra Cards permit an additional two rides (25c deducted on first bus-to-bus transfer, second transfer free), provided they occur within 2 hours and are not on the rider's original route. Children under 7 with a fare-paying adult ride free. For riders who do not purchase a reloadable Ventra Card, a single-use Ventra Ticket is available at train station Ventra Card vending machines for $3 (includes $2.25 full fare, $0.50 limited-use fee and $0.25 transfer fee).
CTA offers unlimited multiday passes good for a specified time period. A 1-day pass costs $10; a 3-day pass, $20; a 7-day pass, $28; a 7-day CTA/Pace pass, $33. Passes can be loaded onto Ventra Cards or purchased separately at vending machines at select locations, including the CTA train stations at O'Hare and Midway, and at select retail locations, the Ventra Customer Service Center, online or by phone.
For additional information phone CTA at 836-7000 from any of the local area codes (224, 312, 331, 630, 708, 773, 779, 815, 847, 872). The handy "Downtown Transit Sightseeing Guide" illustrating the CTA system is available at train stations and both airports, or phone (888) 968-7282. For information about the Ventra Card system phone 877-669-8368.
Note: As in any major city, it pays to be cautious when using public transportation. Know where you are going, which trains to take before boarding and avoid after-dark travel.