Chicago in 3 DaysThree days is barely enough time to get to know any major destination. But AAA travel editors suggest these activities to make the most of your vacation in Chicago.
By Frank Swanson
Day 1: MorningStart your first day in the Windy City by heading to the Near North Side, which is just north of the Loop and the Chicago River. With so many hotels in the vicinity, you're probably staying nearby, but if not, travel via the Red Line CTA train to the Grand Station or take the Orange, Brown, Pink or Green lines to the State/Lake "L" Station in the Loop. If you're wondering where to eat breakfast, try the Atwood. It's a colorful take on modern American cuisine that will jump start your day. Can't decide? Go with the Atwood omelet, filled with bacon, caramelized onions and Gruyère and white cheddar cheese.
One of the best ways to get acquainted with Chicago is aboard a boat tour leaving from either Navy Pier , 600 E. Grand Ave., or the nearby Chicago Riverfront at Michigan Avenue and Wacker Drive. To get to Navy Pier, hop on the free Navy Pier Trolley. Just look for the "Navy Pier Trolley Stops" along Grand Avenue and Illinois Street.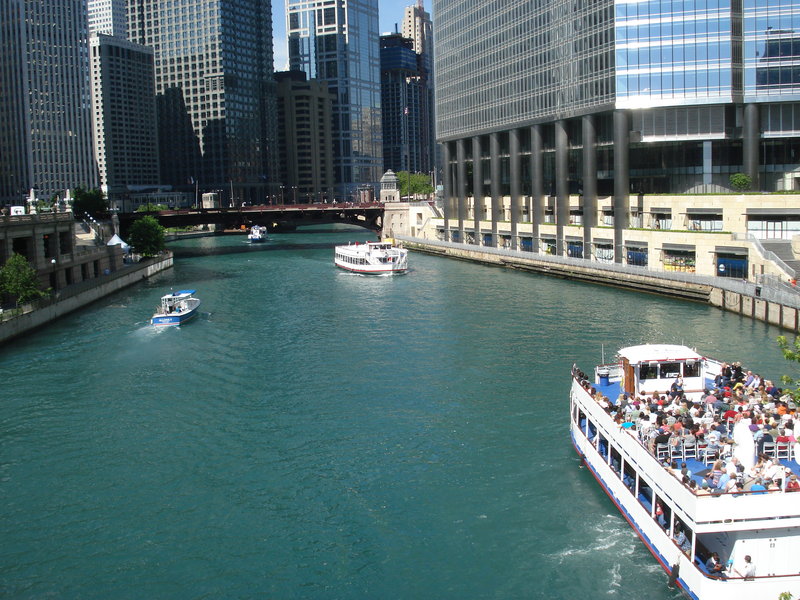 AAA/Suzanne Lemon
Shoreline Sightseeing has a 75-minute architecture tour on the Chicago River that you don't have to be an architect to enjoy. As you float past some of the city's most famous buildings, an on-board guide shares entertaining stories and facts about Chicago's history, including the Great Fire of 1871 and the city's importance as birthplace of the skyscraper. Tours depart from the Ogden Slip dock near the Navy Pier's entrance. Shoreline offers other types of tours, including sunset and fireworks cruises, as well as water taxi service to locations along the lakefront. Wendella Boats & Chicago Water Taxi also offers 75-minute-long architecture tours that are informative without being dull. Their excursions depart from a prime location at the foot of the Wrigley Building beside the Michigan Avenue Bridge. Choose whichever cruise company is most convenient; you can't go wrong with a trip from either one.
Day 1: Afternoon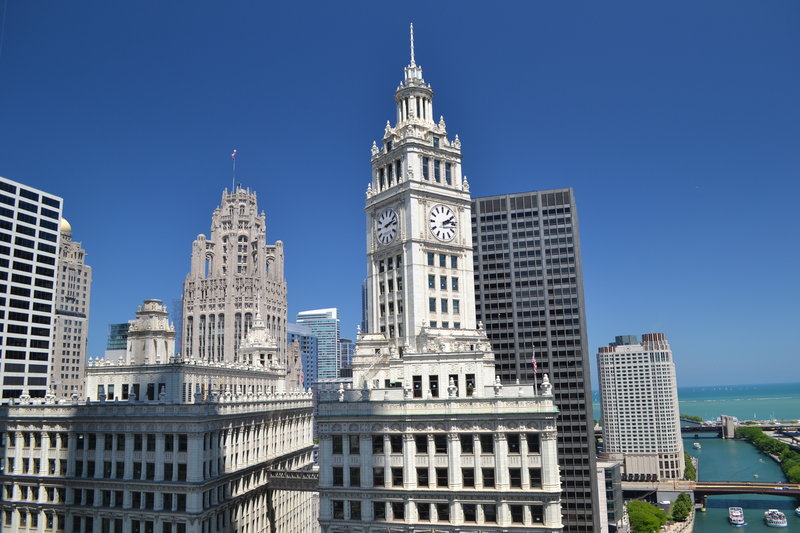 AAA/Inspector 40
The Wrigley Building together with the Tribune Tower across the street forms a skyscraper gateway to Chicago's renowned Michigan Avenue shopping destination popularly known as the Magnificent Mile. You'll only be able to scratch the surface of this shopping Shangri-la in a single afternoon, but if you're serious about exploring this mile-long corridor lined with high-end department stores, boutiques and vertical malls from one end to the other, be sure to slip on your most comfortable pair of get-around shoes.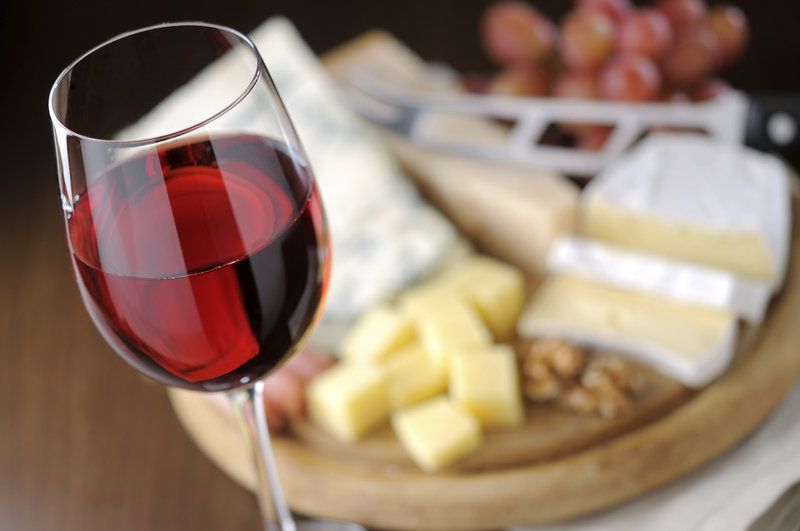 iStockphoto.com/Moncherie
To fuel your shopping spree, look no further than one of the plentiful corner coffee shops, nearby restaurants or mall food courts. Or treat yourself to a delicious lunch or delectable snack at The Purple Pig , a popular, award-winning casual spot offering an creative menu including spreads, cheeses and charcuterie, along with pasta, seafood and meats and an excellent wine selection.
Day 1: Evening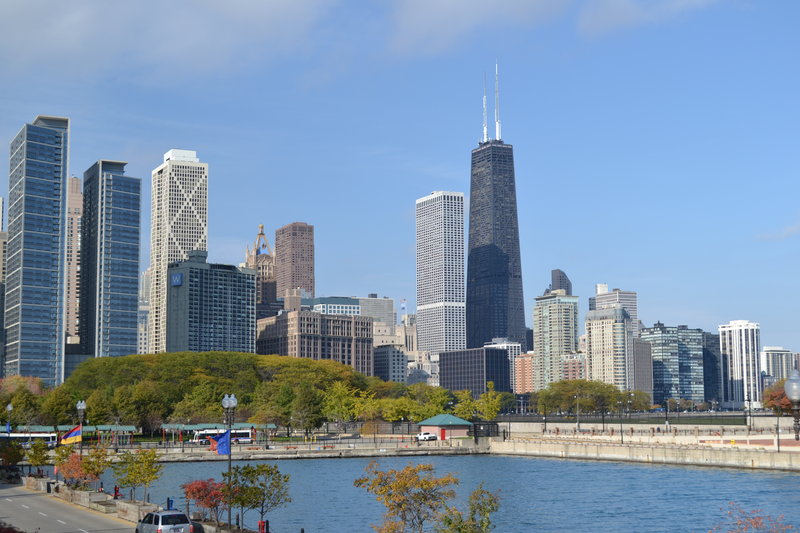 AAA/Inspector 40
You've acquainted yourself with Chicago from street level (actually the river is several feet below the street), so now it's time to take in a bird's eye view of this vast metropolis. Head to John Hancock Center, a Mag Mile landmark looming more than a thousand feet above Michigan Avenue just a few yards from the castlelike Historic Water Tower. In addition to spectacular 360-degree views of the city, 360 CHICAGO (formerly the John Hancock Observatory) on the 94th floor provides interactive exhibits that describe the city and its history. One floor above is The Signature Room at the 95th , a restaurant known for its views, its cocktails and its steaks and seafood. The traditional tourist uniform of shorts and a T-shirt are OK for lunch, but if you go there for dinner and the amazing nighttime views, you'll need to make a stop back at the hotel for a costume change. The Signature Room's dress code policy switches to business casual during dinnertime.
Day 2: MorningTake a cab or train to Millennium Park and spend the morning exploring this striking and relatively new public space in the heart of Chicago. The closest "L" station is Randolph/Wabash in the Loop. Once the site of an ugly parking lot and rail yard, Millennium Park opened in 2004 to wide acclaim and has become one of the most fun places to go in the city. The centerpiece Pritzker Pavilion, an outdoor concert venue, was designed by Frank Gehry and displays the artfully folded stainless steel shapes the architect is known for. A cage of gracefully curving stainless steel pipes forms a rooflike structure above the seating area and the Great Lawn, which together can accommodate 11,000 music lovers.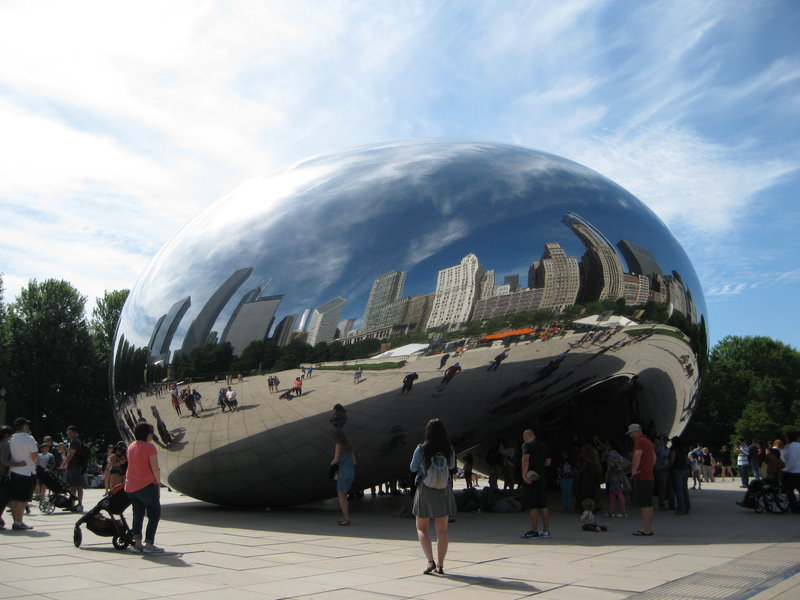 AAA/Frank Swanson
Complementing the park buildings that look like sculptures are the sculptures that are as big as buildings. Getting a picture of yourself reflected in the mirrored surface of "Cloud Gate," a 110-ton, kidney-bean-shaped arch, is something you shouldn't miss, and set aside a few minutes to sit and watch The Crown Fountain's 50-foot-high glass-brick video towers cycle through a succession of faces as they appear to spit water into a shallow basin. A thousand diverse Chicagoans contributed their likenesses to this dynamic artwork, which in summer attracts crowds of laughing, splashing children.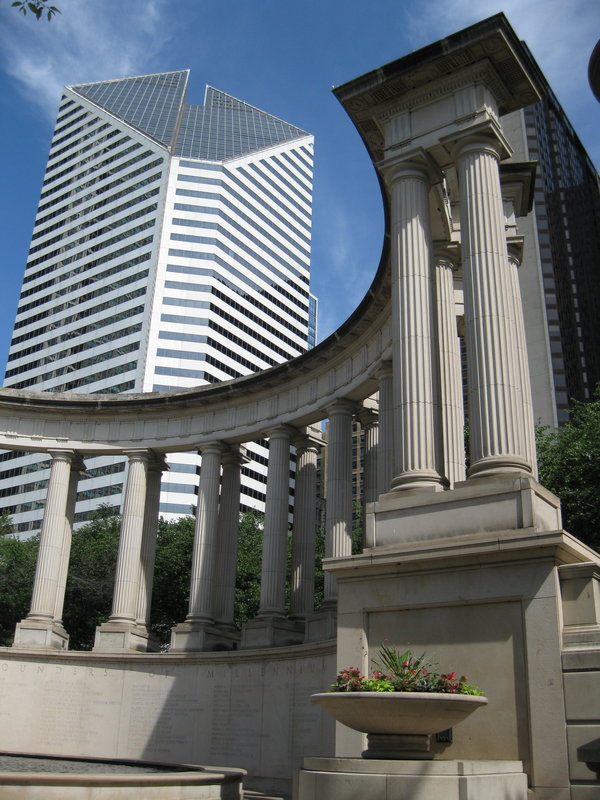 AAA/Frank Swanson
Among the park's other focal points are the Millennium Monument, a Greek-style colonnade; 1,500-seat Harris Theater; McCormick Tribune Plaza and Ice Rink; and the Lurie Garden. With so many lawns, shrubs and trees, you might find it hard to believe that most of Millennium Park sits atop a parking garage. The silvery, serpentine BP Bridge, also designed by Frank Gehry, spans Columbus Drive, connecting the park with Maggie Daley Park.
Day 2: Afternoon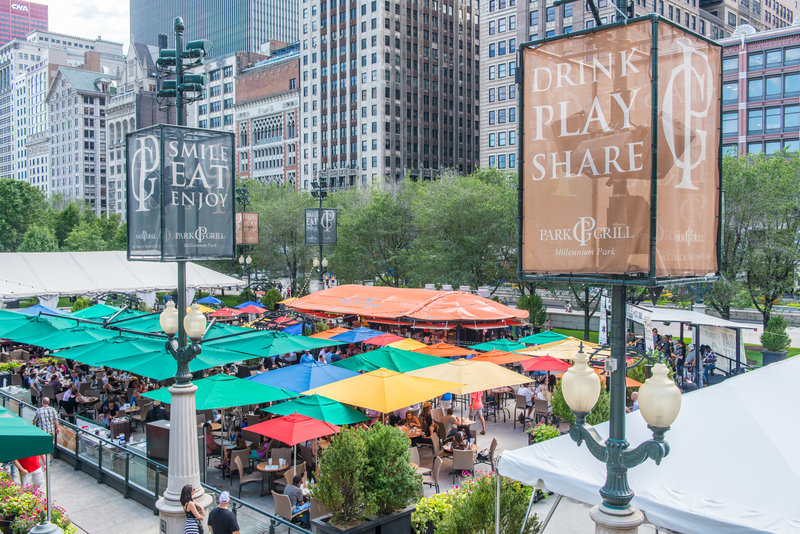 Courtesy of Park Grill
You won't have to go far for places to eat lunch: the plaza surrounding "Cloud Gate" is actually the roof of Park Grill, an eatery serving salads and sandwiches including delicious hamburgers. In winter the restaurant's windows overlook the ice rink, which in summer becomes The Plaza at Park Grill, a coveted outdoor dining spot with frequent live entertainment. If the weather's especially nice and you really want to enjoy the park's lovely surroundings, phone in and order a picnic bag from the restaurant's Park Café.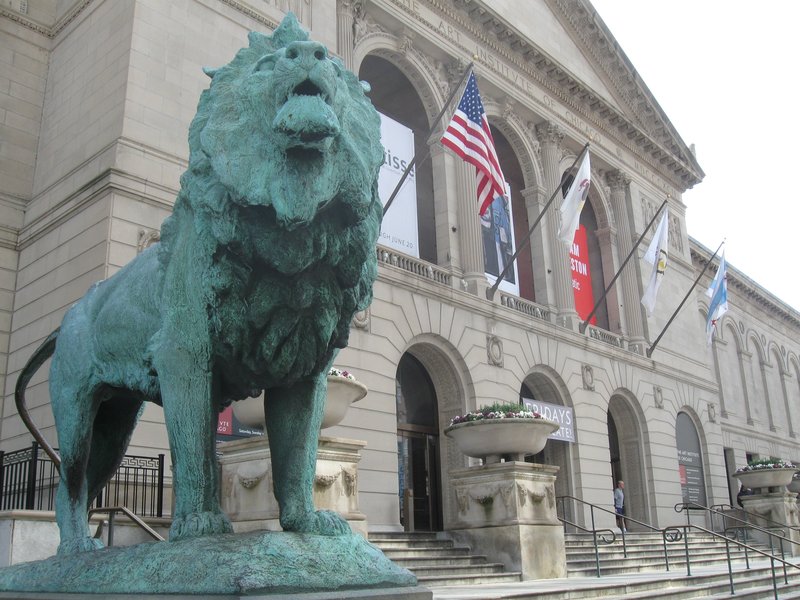 AAA/Greg Weekes
Across Monroe Drive from Millennium Park is The Art Institute of Chicago , one of the world's great art museums. What could be better than whiling away an afternoon among priceless treasures from around the world? You can get a sense of how comprehensive the museum's collection is by just wandering from gallery to gallery, strolling past Medieval suits of armor, ancient Asian sculptures of Buddha and Impressionist and Postimpressionist paintings by the likes of Cézanne, Degas, Gauguin, van Gogh, Manet, Monet, Renoir, Seurat and Toulouse-Lautrec. Or you can pick a specific collection and focus your efforts on, say, modern American art or photography or textiles. To enrich your experience, rent the institute's MP3 audio tour; it provides an overview of the vast collection you can tailor to your interests.
Day 2: Evening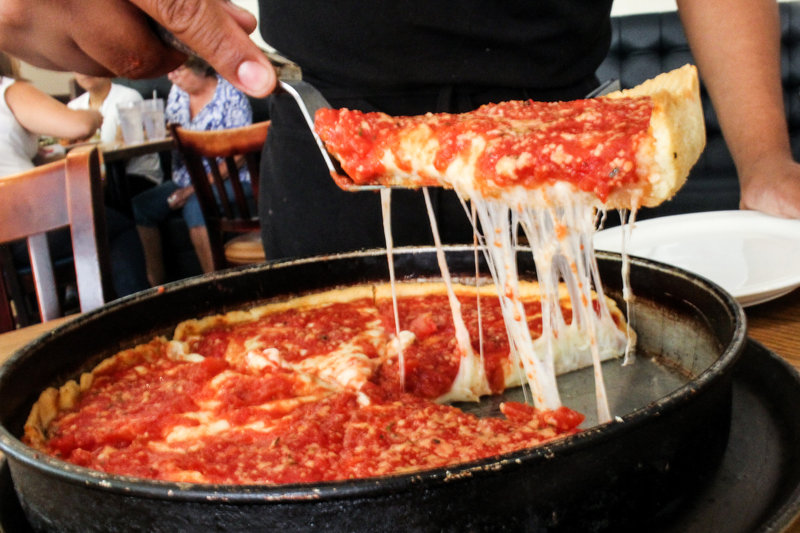 Courtesy of Lou Malnati's Pizzeria
After several hours spent savoring some of the world's greatest art, it's time to sink your teeth into artwork of a different sort: Chicago-style deep dish pizza. Lou Malnati's Pizzeria in the Near North neighborhood called River North serves some of the best pizza in town; the closest CTA station is the Red Line's Grand Station at Grand Avenue and State Street. The restaurant's combination of fresh, mouth-watering ingredients with crispy, buttery crusts are to pizza lovers as paintings by Monet or Degas are to art aficionados. If you like spinach, mushrooms and sliced tomatoes, order the "Lou," a house specialty popular for its golden brown three-cheese topping of cheddar, mozzarella and Romano.
While you're in the River North area stop by Blue Chicago on Clark, 536 N. Clark St., and sample some Chicago-style blues. This popular venue opens at 8 p.m. and stays open until 2 a.m. Sunday-Friday, 3 on Saturdays. The cover charge is $10 Sunday-Thursday, $12 Friday-Saturday.
Day 3: Morning
Take a cab or catch a Red Line Train to Roosevelt Station and walk toward the lakefront to reach the Museum Campus, home to the Shedd Aquarium , the Adler Planetarium and The Field Museum . With more than 25 million specimens and counting, the Field Museum's collection is so vast you'd need days to truly do it justice. You can, however, get a wonderful overview during the free docent-led highlights tour, which lasts about 45 minutes, or request a self-guiding highlights tour handout.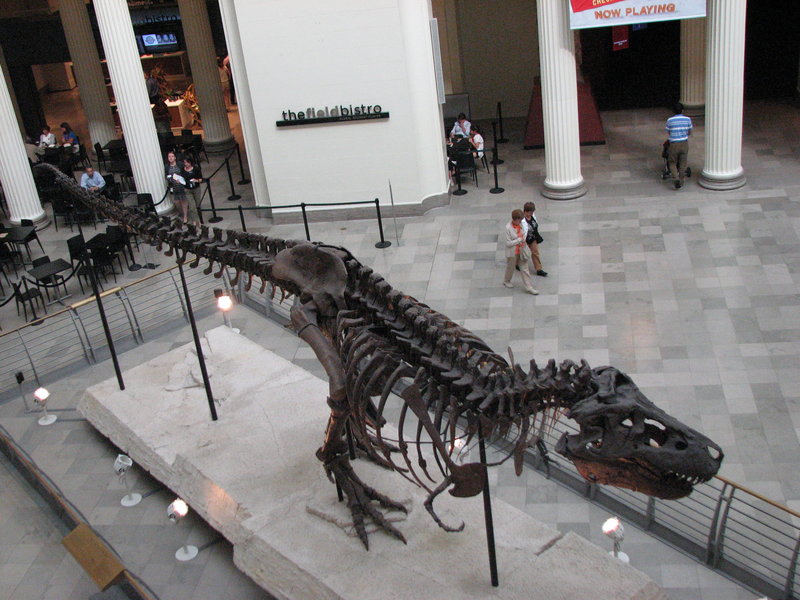 AAA/Elizabeth Fernandez
If you'd rather ramble on your own through this beautiful marble building's echoing halls, be sure to see the following exhibits: Inside Ancient Egypt, Ancient Americas, Lions of Tsavo and Evolving Planet. You'll see mummies and hieroglyphs; a full-sized replica of the intricate Aztec Sun Stone; two preserved lions that in 1898 killed 128 African railroad workers; and a huge hall of dinosaurs that'll make you glad the last of the big-boned, toothy monsters died out 65 million years ago.
Day 3: AfternoonLunch options are slim in the Museum Campus' immediate vicinity unless you're in the mood for fast food. You could head to The Phoenix Restaurant , which is just a couple miles away from the Museum Campus and a short walk from the Cermak-Chinatown Station, the very next Red Line stop south of the Roosevelt Station, and try the daily dim sum. Colorful paintings contribute to the festive mood as you sample from an array of more than 50 dim sum delicacies, and on top of that there's a regular menu offering traditional Peking duck, sweet and sour pork, lemon chicken and orange beef along with fresh seafood and vegetarian tofu dishes.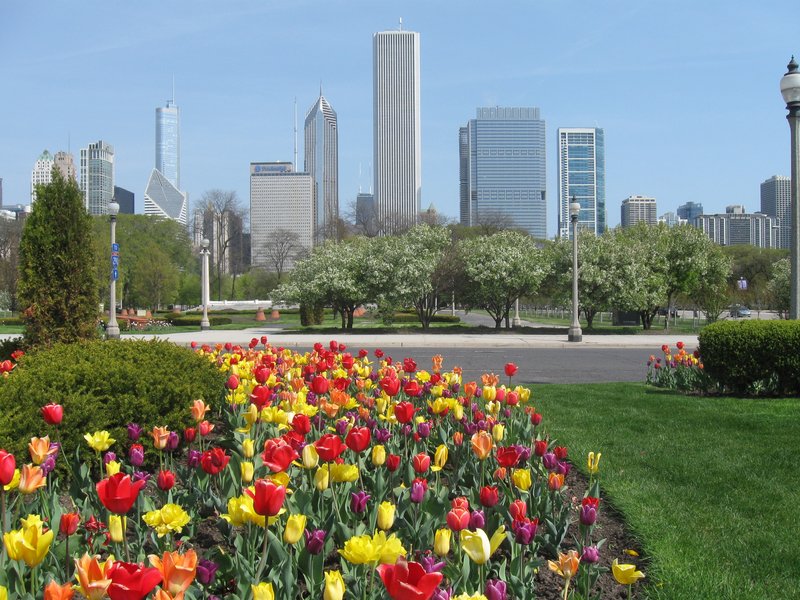 AAA/Greg Weekes
There's still plenty to see and do back at the Museum Campus. Spend the rest of the afternoon among rare and unusual sea creatures bathed in wavering blue-green light in the Shedd Aquarium or stroll next door and explore the far reaches of the solar system beautifully represented by scale models at the Adler Planetarium. Or if it's a nice day, you can ramble about the southern end of expansive Grant Park , known as Chicago's front yard.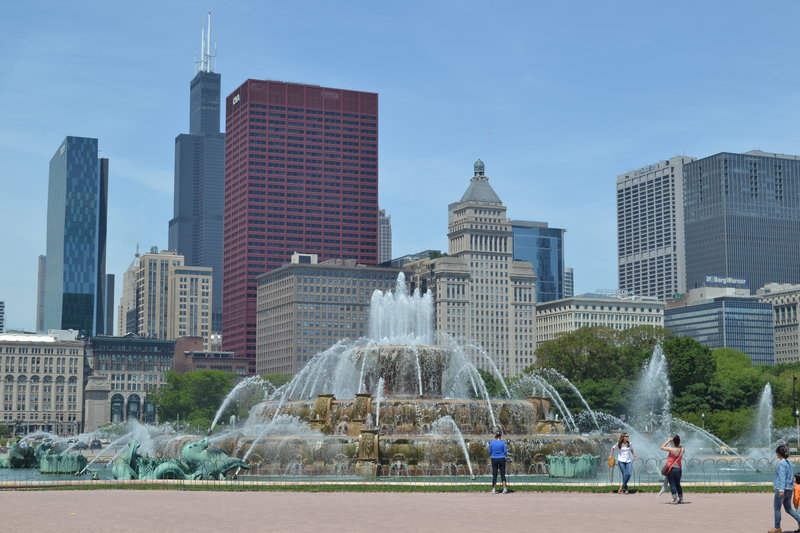 AAA/Inspector 40
Bordering the Museum Campus at the park's southwest corner is a somber art installation titled "Agora," an array of 106 headless cast-iron figures standing 9 feet tall created by Polish artist Magdalena Abakanowicz. Find your way to Grant Park's centerpiece: Buckingham Memorial Fountain , a massive pink marble affair often seen on postcards with the distinctive Chicago skyline behind. You might recognize the fountain from the opening credits of the 1990s sitcom "Married with Children."
Day 3: EveningWhile the stately marble museum temples surrounding Grant Park draw millions each year with their collections of paintings, sculpture, scientific exhibits and biological specimens, not all of Chicago's landmark institutions are so serious. Case in point, The Second City at 1616 N. Wells St. in Old Town near Lincoln Park is one of the more iconic things to do in Chicago. Since 1959 the performers at The Second City have been cracking audiences up with their sketch and improvisational comedy antics, and the theater's list of alumni reads like a who's who of movie and television stars: Alan Arkin, Fred Willard, John Belushi, Bill Murray, John Candy, Mike Myers, Chris Farley, Steve Carell, Amy Sedaris, Stephen Colbert and Tina Fey, among others.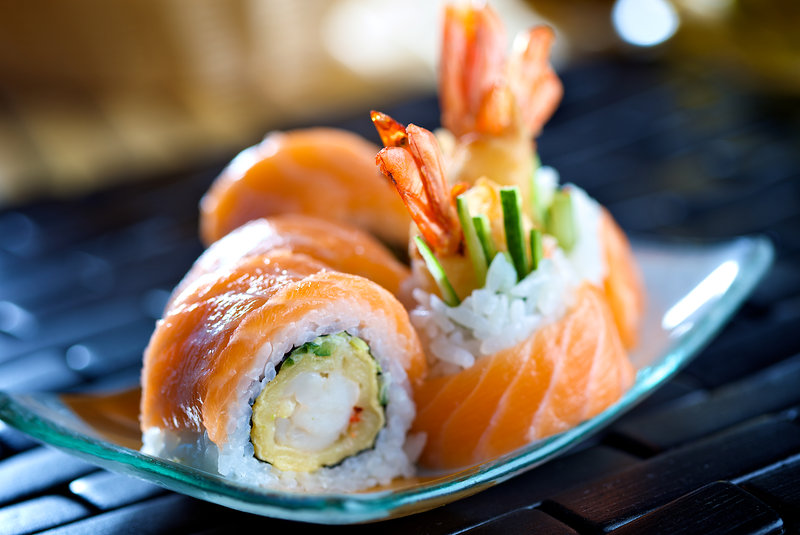 ShyMan/iStockphoto.com
For dinner either before or after a Second City show, try nearby Kamehachi, which specializes in sushi and fresh sashimi but serves such non-sushi entrées as salmon teriyaki and filet of beef as well. The high-ceilinged, first-floor dining room creates a sophisticated atmosphere with a variety of contemporary light fixtures, minimalist furniture and rustic Japanese decorations. A dining room on the second floor features additional seating.