Chicago Performing ArtsChicago's world-class cultural amenities set trends as well as standards. The arts are showcased in numerous venues and often are the focus of area events.
The city's artistic contributions can be seen within a variety of media, including television. Between 1949 and 1955 the Chicago School of Television, as five locally produced NBC programs came to be known, was heralded for broadcasting original ideas and utilizing inventive production techniques.
Ballets, concerts and legitimate theater productions with big-name entertainers are presented at Chicago's largest indoor theater, the Arie Crown Theater, (312) 791-6190, in McCormick Place at 23rd Street and the lakefront. McCormick Place is reputed to be the largest exhibition and trade show destination in the Northern Hemisphere, featuring major shows throughout the year. Performances also are held at the Auditorium Theatre of Roosevelt University, (312) 341-2310, 50 E. Congress Pkwy.; The Chicago Theatre, (312) 462-6300, on State and Lake streets; and Rosemont Theatre, (847) 671-5100, at 5400 N. River Rd. in Rosemont.
Other cultural centers that offer lectures and present dance and classical concerts include the Chicago Cultural Center , (312) 744-3316, at 78 E. Washington St., and the Noyes Cultural Arts Center, (847) 448-8260, 927 Noyes St., in nearby Evanston. Consult the newspapers for complete information.
DanceSmall and large dance ensembles bring fluid expression and graceful moves to every corner of the city, and there are plenty of fun places to go if you want to see them. Among venues presenting dance are the Athenaeum Theatre, (800) 982-2787 or (773) 935-6875, at 2936 N. Southport Ave.; the Harris Theater for Music and Dance, (312) 334-7777, at 205 E. Randolph Dr. in Millennium Park; Links Hall, (773) 281-0824, at 3111 N. Western Ave.; and the Museum of Contemporary Art, (312) 397-4010, at 220 E. Chicago Ave.
Specializing in classical dance, Ballet Chicago, (312) 251-8838, has a fondness for Balanchine pieces. American styles are the forte of the Hubbard Street Dance Chicago troupe, (312) 850-9744, whose eclectic—and electric—performances honor such greats as Bob Fosse and Twyla Tharp. The Joffrey Ballet, (312) 386-8905, melds classic tradition and contemporary ideas into a unique vision of American dance.
Professional modern dance concerts are featured at the Dance Center of Columbia College, (312) 369-8330, 1306 S. Michigan Ave., which sponsors a varied schedule featuring local and visiting dance companies.
FilmChicago was the original Tinseltown. Film pioneers of the early 1900s produced short "moving pictures" through such ventures as Essanay Studios, employer of the young Charlie Chaplin.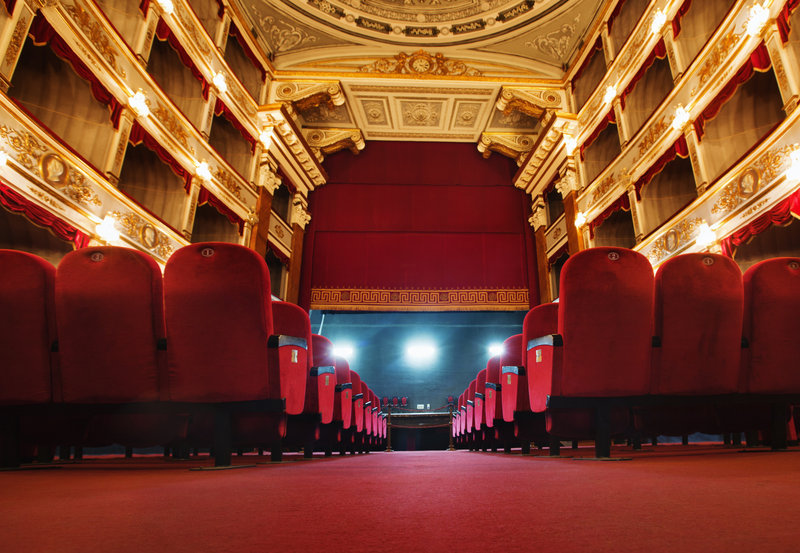 Nikada/iStockphoto.com
For those wondering if there are things to do honoring the city's cinematic legacy, independent theaters include Facets Multi-Media, 1517 W. Fullerton Ave., phone (773) 281-9075, and Chicago Filmmakers, 5243 N. Clark St., phone (773) 293-1447. Both offer programs and screen experimental and obscure works by international artists, as well as present annual film festivals—Facets, the Chicago International Children's Film Festival and Filmmakers, Reeling: The Chicago LGBTQ+ Film Festival.
Music Box Theatre is a large movie house at 3733 N. Southport Ave., (773) 871-6604, which offers acclaimed art films, documentaries and foreign films. The Gene Siskel Film Center at the School of the Art Institute of Chicago at 164 N. State St., (312) 846-2800, augments its dynamic schedule of independent efforts, revivals and retrospectives with lectures and classes. The Chicago International Film Festival, (312) 332-3456 or (800) 982-2787, in October, and the Chicago Latino Film Festival, (312) 431-1330, starting the first Friday after Easter, are screened at select locations each year.
Music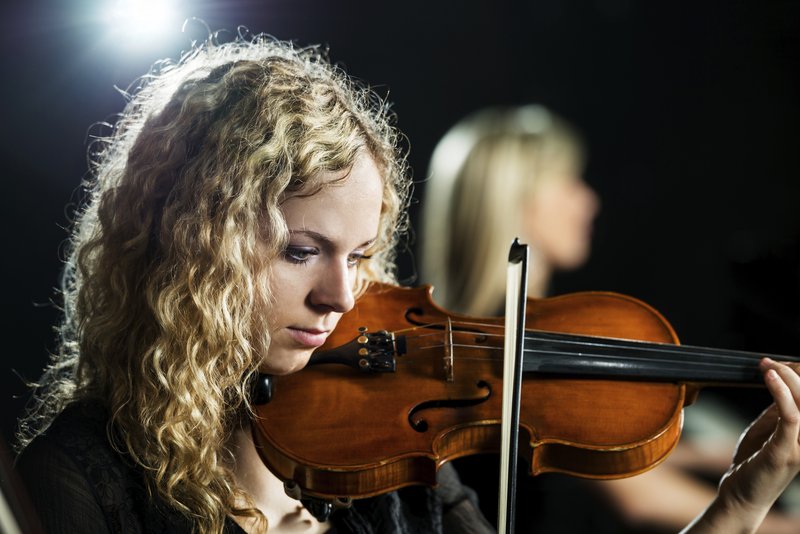 skynesher/iStockphoto.com
Chicago's music is almost unlimited in scope, and it's one of the main reasons the Windy City is a major vacation destination. Since its founding in 1891, the world-class Chicago Symphony Orchestra has established a tradition of excellence that has come to define symphonic music. Its devoted following virtually guarantees sold-out performances at stately Symphony Center, 220 S. Michigan Ave. The regular season features a blend of classical and contemporary pieces, in addition to Symphony Center Presents, a diverse concert series. For schedule and ticket information phone (312) 294-3000. Future stars can be heard in the Civic Orchestra of Chicago, the symphony's ensemble of musicians in training.
The Ravinia Music Festival in Highland Park, a northern suburb, features a 14-week summer program, composed of a variety of concerts, dance and popular events presented daily. Internationally known artists and conductors take part. The Chicago Symphony Orchestra is featured for 6 weeks. For prices and information phone (847) 266-5100.
Chicago Chamber Musicians, (847) 521-8506, performs and sponsors respected touring groups. Performances are given at Rudolph Ganz Hall, 430 S. Michigan Ave. at Roosevelt University, at Mary B. Galvin Recital Hall, 70 Arts Circle Dr. at Northwestern University in Evanston, and at the Chicago Cultural Center. Evanston's many local restaurants are the perfect place to meet up before a show.
The Chicago Ensemble, (773) 558-3448, and the Musicians Club of Women strike an eclectic note with classical and contemporary concerts at the Fourth Presbyterian Church, 126 E. Chestnut St. The Chicago Ensemble also performs at International House at The University of Chicago, and the Musicians Club of Women also performs at the Chicago Cultural Center, (312) 744-3316. Music school students and faculty perform a variety of chamber music quarterly at DePaul Concert Hall, 800 W. Belden Ave. on the DePaul University campus. Performing on and off campus, Contempo is a new-music collective and part of The University of Chicago Presents classic concert series, (773) 702-2787.
The Grant Park Symphony Orchestra and Chorus entertains thousands of picnickers with free classical concerts at the Jay Pritzker Pavilion in Millennium Park on most Tuesdays through Saturdays, mid-June to mid-August; phone (312) 742-7638 for the administrative offices.
One of Symphony Center's most revered traditions is the Christmastime performance of Handel's Messiah by the Apollo Chorus of Chicago, the city's oldest choir. The group also reprises the Messiah at the Harris Theater for Music and Dance, and gives spring concerts at other venues; for information phone (312) 427-5620. Formed under the auspices of the Chicago Symphony Orchestra in 1957, the Chicago Symphony Chorus, (312) 294-3000, since has come into its own; it performs classical and modern pieces by itself and with the symphony at Symphony Center.
Music of the Baroque, (312) 551-1414, and the Newberry Consort, (773) 669-7335, focus primarily on early music but have branched out into other periods from time to time. The repertoire of Chicago a cappella, (773) 281-7820, covers the 9th to 20th centuries, and Chicago Chamber Choir, (773) 920-7464, is culturally diverse and international in scope. The William Ferris Chorale, (773) 508-2940, specializes in modern composers. All perform throughout the year at various sites.
OperaThe city's premier company, Lyric Opera of Chicago performs classical and contemporary works at Civic Opera House, (312) 332-2244, 20 N. Wacker Dr.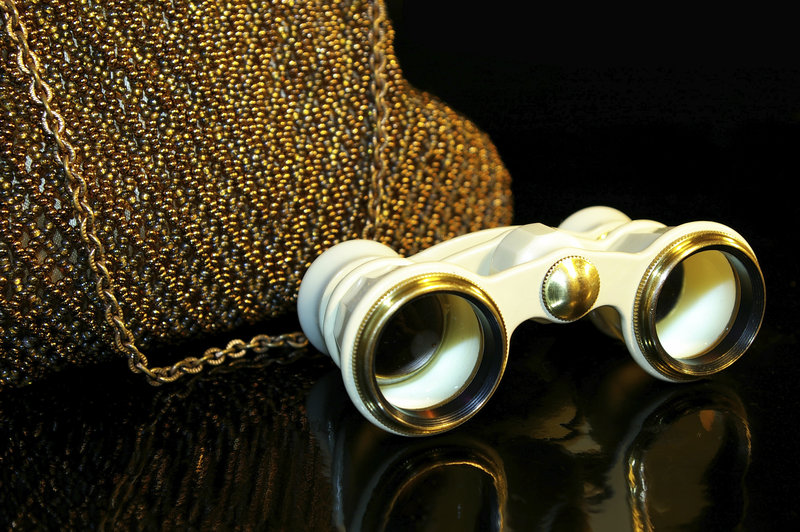 VYCHEGZHANINA/iStockphoto.com
Several smaller companies offer light fare in various, sometimes intimate venues. English-language compositions are the fare of the contemporary Chicago Opera Theater, (312) 704-8414, which performs at the Harris Theater for Music and Dance at 205 E. Randolph Dr. in Millennium Park. Operettas and musicals dominate the repertoire of the Music Theater Works (formerly Light Opera Works), (847) 920-5360, with performances held at the Cahn Auditorium, 600 Emerson St., on the Northwestern University Evanston campus.
Theater The grand dame of Chicago theater is the Goodman Theatre, (312) 443-3800, 170 N. Dearborn St., whose reputation for excellence hasn't precluded innovation. Broadway and Broadway-bound shows are offered at CIBC Theatre (formerly the PrivateBank Theatre), 18 W. Monroe St.; Cadillac Palace Theatre, 151 W. Randolph St.; and The Ford Center for the Performing Arts/Oriental Theatre, 24 W. Randolph St., while more intimate productions are slated for the Broadway Playhouse at Water Tower Place (formerly Drury Lane at Water Tower Place). For ticket and show information at all four theaters, phone (312) 977-1700 or (800) 775-2000. Chicago Children's Theatre, (872) 222-9555, entertains children and adults at Ruth Page Center for the Arts, 1016 N. Dearborn St., and at other venues around town.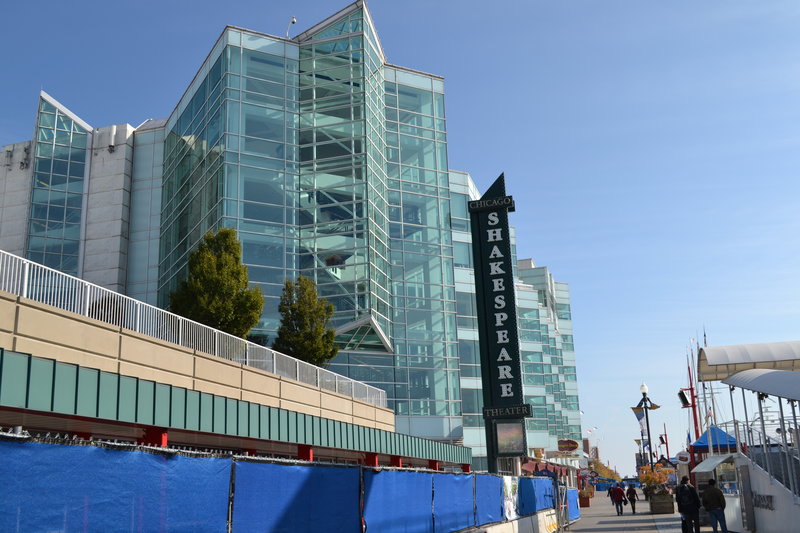 AAA/Inspector 40
The Auditorium Theatre of Roosevelt University, 50 E. Congress Pkwy., was designed by Louis Sullivan and Dankmar Adler in the 1880s and continues to serve as an active theater; phone (312) 341-2310. The Chicago Shakespeare Theater presents plays by the bard year-round at Navy Pier; phone (312) 595-5600.
Cultural diversity is a common thread in Court Theatre efforts at The University of Chicago, 5535 S. Ellis Ave., although the company also mines the classics on occasion; phone (773) 753-4472. Other companies reflecting the city's multicultural makeup include the following: Silk Road Rising, 77 W. Washington St. at The Historic Chicago Temple Building, (312) 857-1234, presenting productions by playwrights of Asian American and Middle Eastern American heritage; Black Ensemble Theater, 4450 N. Clark St., (773) 769-4451, featuring original musicals celebrating famous African American musicians; and Teatro Vista, (773) 599-9280, presenting works by cutting-edge Latino playwrights at a variety of venues including the Victory Gardens Theater.
Summer has attractions of its own. The Chicago Park District offers a summer theater, Theater on the Lake, held at various park locations throughout the city. Evening shows take place Wednesday through Sunday, mid-June to mid-August. Phone (312) 742-7994 for show locations and performance times.
The Hollywood Casino Amphitheatre a 12,000-seat outdoor amphitheater at Ridgeland Avenue and Flossmoor Road in Tinley Park, offers concerts by top-name performers; phone (708) 614-1616.
Chicago also has many notable off-Loop theaters as well as several suburban playhouses that have been converted from abandoned warehouses, old ballrooms and garages. Since the flood of talent that swept through the city's North Side in the mid-1970s, the off-Loop theater circuit has become a launching pad for several Broadway shows.
Prominent off-Loop theaters include Apollo Theater, (773) 935-6100, 2540 N. Lincoln Ave., which hosts Emerald City Theatre's popular family theater productions; Royal George Theatre Center, (312) 988-9000, 1641 N. Halsted St.; and Victory Gardens Theater, (773) 871-3000, 2433 N. Lincoln Ave.
The Steppenwolf Theatre Company conquered Broadway in 1990 with its Tony award-winning rendition of "The Grapes of Wrath" and an original play by ensemble member Tracy Letts, "August: Osage County," in 2007. The ensemble, which performs at 1650 N. Halsted St., is noted for daring performances by such actors as John Mahoney, John Malkovich, Laurie Metcalf and Gary Sinise; phone (312) 335-1650.
Among the best known suburban theaters are the Drury Lane Theatre & Conference Center, (630) 530-0111, 100 Drury Ln. in Oakbrook Terrace, and The Marriott Theatre, (847) 634-0200, 10 Marriott Dr. in Lincolnshire. In addition several colleges offer a variety of productions.
For interactive theater try the Neo-Futurists/The Neo-Futurarium, 5153 N. Ashland Ave., where offerings veer sharply off the beaten path; phone (773) 878-4557. Kids can talk to the cast after each Adventure Stage Chicago production at the Vittum Theater, 1012 N. Noble St.; phone (773) 342-4141. At the North Shore Center for the Performing Arts in Skokie, 9501 Skokie Blvd., (847) 673-6300, new plays by emerging writers are showcased by the troupe of the Northlight Theatre, (847) 673-6300.
If you're on a budget during your trip, half-price tickets for most Chicago plays can be purchased the week of to the day of the performance at the Hot Tix outlets. Outlets are located outside the Chicago Cultural Center at 72 E. Randolph St., or inside the Chicago Water Works building at 163 E. Pearson St., and are open Tues.-Sat. 10-6, Sun. 11-4. The Hot Tix outlet at 108 N. State St. is open Mon.-Sat. 10-6, Sun. 11-5.