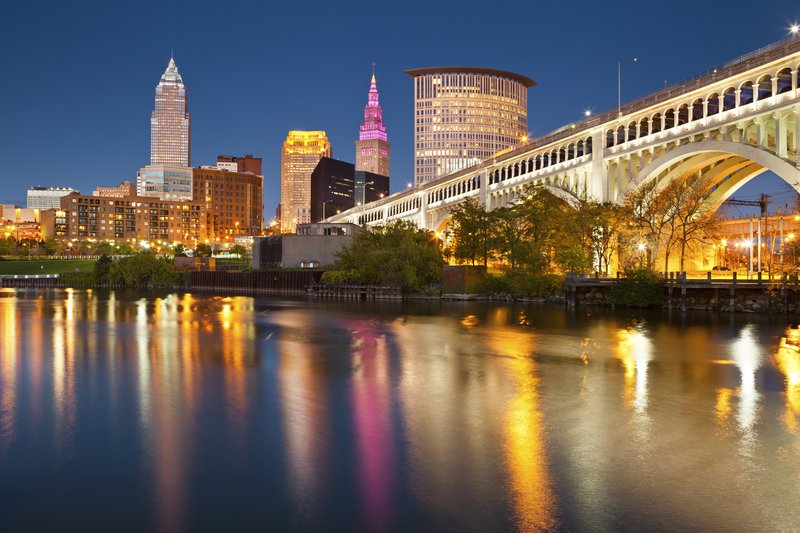 RudyBalasko/iStockphoto.com
On Ohio's Lake Erie Coast
All joking aside, there's a lot more to Cleveland than polka, bowling and kielbasa. Thanks to a multi-million-dollar revitalization effort, this Lake Erie port has earned new respect as a center for business, culture, recreation and entertainment. The proof is evident across the lakefront, from the gleaming pyramid of the Rock and Roll Hall of Fame to the giant wind turbine at the Great Lakes Science Center to the state-of-the-art Cleveland Browns Stadium. Look for the 52-story Terminal Tower on the skyline and you'll find Tower City Center, a multiplex of shops, offices, restaurants, two hotels and a rapid-transit hub. From here, an indoor skyway leads to the Gateway Sports Complex, home of the Indians at Progressive Field and the Cavaliers at Rocket Mortgage FieldHouse.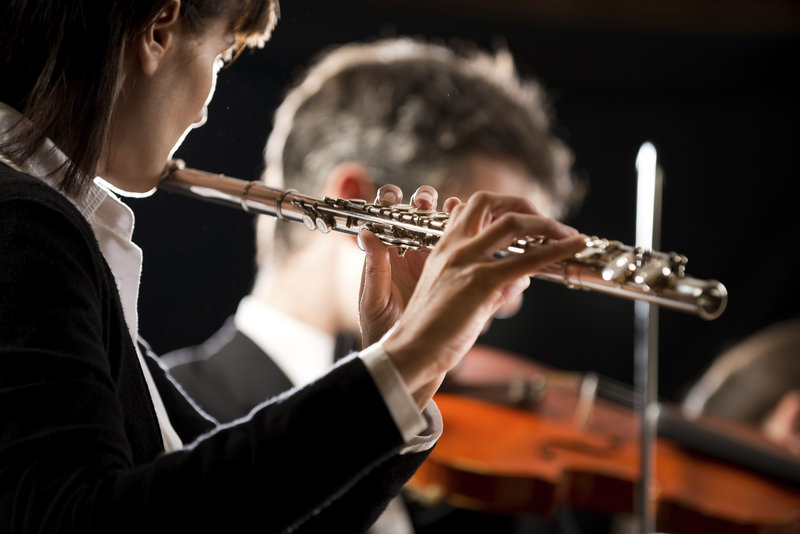 Four miles east of downtown, University Circle features the Cleveland Museum of Art, the Cleveland Museum of Natural History, the Cleveland Botanical Garden and Severance Hall, winter venue of the acclaimed Cleveland Orchestra. With the restoration of five historic theaters at PlayhouseSquare, Cleveland also boasts one of the largest performing arts centers in the country. Away from the bustle of downtown, the peaceful towpaths of the Erie Canal beckon to weekend walkers and bikers. Cleveland is the gateway to Cuyahoga Valley National Park, one of the most-visited parks in the national system. In addition, some 70 miles of trails connect the 23,000-acre Cleveland Metroparks, a network of 18 nature preserves known as the "Emerald Necklace." From green space and culture to major league sports, Cleveland has all of its bases covered with many fun things to do.
From Port City to Cultural Center
In 1796 surveyor Moses Cleaveland picked his townsite on Lake Erie. By 1832 the Ohio and Erie Canal was completed, and Cleaveland, the northern terminus, had doubled its population. Over the next 10 years it grew by almost 500 percent. It also acquired a trimmer name when The Cleaveland Gazette and Commercial Register had to drop a letter from its masthead.
During the 1800s Cleveland was an important stop on the Underground Railroad. The city's port provided a route to freedom across the Canadian border for slaves fleeing the South.
With the canal came Cleveland's first wave of immigrants, the backbone of its labor force. The city transformed from a bustling port to a shipping and industrial giant. The Civil War halted the city's progress, but the subsequent demand for iron spurred new growth.
From 1910-20 Cleveland was the country's second largest center for automobile production. Behind this growth were great industrialists like John D. Rockefeller, the world's first billionaire.
The Cleveland Union Terminal complex with its 52-story Terminal Tower was built in the 1920s. Tower City Center, a three-level mall, now fills the former railroad station. Key Tower on Public Square is Ohio's tallest building at 948 feet tall with 57 stories.
The city is headquarters for more than 20 major corporations—including American Greetings Corp. and The Sherwin-Williams Co.—and many smaller companies. Case Western Reserve and Cleveland State universities as well as The Cleveland Clinic, which administers some of the world's most advanced medical treatments, are other intellectual highlights.
Year-round recreation opportunities include more than 23,000 acres of metropolitan parks districts; surrounding rivers, streams and lakes; and nearby Cuyahoga Valley National Park.
For culture, you can't beat University Circle. This neighborhood's large cluster of cultural goodies includes the Cleveland History Center, the Cleveland Museum of Natural History, and the Cleveland Museum of Art as well as the Cleveland Orchestra, which plays at the exquisite historic Severance Hall.
Visit some of Cleveland's neighborhoods. The Historic Warehouse District offers dining and entertainment with a backdrop of 19th-century architecture. Little Italy is a charming area with places to eat, bakeries and art galleries. The Flats East Bank, a riverfront area once known for heavy industry, is now a mixed-use district with office, dining, entertainment and residential space along with a public park and an extensive riverfront boardwalk.
Jacobs Field (now Progressive Field) and the adjacent Gund Arena (now Rocket Mortgage FieldHouse), homes of the Cleveland Indians and Cleveland Cavaliers, opened in 1994. The Cleveland Browns moved to Baltimore in the late 1990s but returned in 1999 to play at the new state-of-the-art Cleveland Browns Stadium (now FirstEnergy Stadium), reenergizing the city's dedicated fans.
Last but not least, remember that Cleveland rocks! Rock stars of the past and present are immortalized in The Rock and Roll Hall of Fame, which resides in a modern I.M. Pei-designed building on the shore of Lake Erie.
By Car
Cleveland sits in the middle of a "Y" formed by two of the nation's major transcontinental routes: I-90 and I-80. I-90 passes through the heart of the city, bringing traffic along the lakeshore from the east; I-80 channels motorists from the interior through the southern suburbs. From the west, these routes combine over the Ohio Turnpike, with the "Y" beginning at neighboring Elyria.
Both highway systems interchange with important intersecting routes for easy access to the suburbs, and I-90 links conveniently to important city streets. Other supplemental east-west roads are SR 2, US 6 and US 20. These routes primarily serve local traffic, but also follow some of the major city arteries.
Downtown Cleveland is the northern terminus of I-71 and I-77, which bring traffic from the southwest and the south, respectively. I-490, south of the city, provides a connector for I-71 and I-77. SR 176 also channels traffic from the south connecting to I-480 and I-71. Approaching the city, each interchanges frequently with other routes, including I-80 (toll), before joining I-90 near the city's center.
Other routes from the south include SR 8, SR 21 and US 42, which are used chiefly by local traffic. Upon entering Cleveland, these roads constitute some of the principal thoroughfares.
I-271, forming an irregular arc between I-71 and I-90, provides a bypass around Cleveland's east side. I-80 (the Ohio Turnpike), I-480 and I-271 that bypass the city to the east and south, provide connections for I-90 corridor traffic.
Street System
Cleveland's streets are in a grid pattern that centers on Public Square, from which all major avenues radiate. Euclid Avenue is the major business thoroughfare, running from the square through downtown to the eastern suburbs. Ontario Street, running north-south through Public Square, divides the city into east and west. North-south routes are numbered streets, while the majority of east-west thoroughfares are named avenues, roads or boulevards. Right turns on red are permitted unless otherwise posted.
Parking
On-street metered parking is available. Meters operate Monday through Friday from a minimum of 20 minutes to a maximum of 4 hours from 7 a.m. or 9:30 a.m. to 6 p.m. The cost to park at a meter ranges from 50c to $1 per hour. Parking is available in the municipal parking lot on the Memorial Shoreway (SR 2) just east of the 9th Street exit; this affords easy access to the Waterfront Rapid Transit Train serving Tower City Center, The Flats and other Cleveland attractions. Parking lot and garage charges can vary from $2 to $10 daily, and up to $25 for special events. Park and ride lots are at some RTA stations.
Sales Tax
The local sales tax is 8 percent. The city lodging tax is 5.5 percent (less in suburbs).
Cars rented at Cleveland Hopkins International Airport are subject to an 8 percent parking tax, a $6-$25 motor vehicle lessor tax, an 11.1 percent concession fee, a 60-cent per day energy recovery fee, a 15-cent per day license fee and a transportation fee up to $16 per day (transporting cars to airport location costs more than transporting to locations in greater Cleveland).
Police (non-emergency)
(216) 623-5000
Time and Temperature
(216) 931-1212
Hospitals
Cleveland Clinic, (216) 444-2200; St. Vincent Charity Medical Center, (216) 861-6200; University Hospitals Case Medical Center, (216) 844-8447.
Air Travel
Cleveland Hopkins International Airport (CLE) is 13 miles southwest of downtown via I-71. Consult your AAA travel advisor for help with finding cheap airline flights and vacation packages.
Lakefront Lines Cleveland, (216) 267-8282 or (800) 543-9912, provides private van and minibus charter service daily 5 a.m.-11 p.m. Van service is $55 per hour (3-hour minimum), which includes a fuel surcharge and taxes. Minibus charter fares average $65-$85 per hour (3-hour minimum); reservations are required. Taxi fare to downtown averages $30-$50. Select RTA rapid transit trains provide service to downtown from about daily 4 a.m.-1:15 a.m.
Rental Cars
Hertz, which offers discounts to AAA members, has a counter at the airport and at 3663 Park East Dr., Beachwood; phone (216) 831-3836 (Beachwood), (216) 267-8900 (airport) or (800) 654-3080.
Rail Service
The Amtrak station is at E. Ninth Street and Cleveland Memorial Shoreway; phone (800) 872-7245.
Buses
Greyhound Lines Inc., (800) 231-2222, is at 1465 Chester Ave.
Taxis
Cabs are available at the Public Square taxi stands or they can be ordered by phone. Rates average $2.75 for the first one-eighth mile and 28c for each additional one-eighth mile. The average fee for waiting is $18-$20 an hour. A $1 fuel surcharge also is added to the fare. Companies include Ace Taxi, (216) 361-4700; Americab, (216) 881-1111; and Yellow Cab, (216) 623-1500.
Public Transportation
The Greater Cleveland Regional Transit Authority (RTA) offers bus and train service. Rail service runs from Cleveland Hopkins International Airport to the Tower City Rapid Transit Station on Public Square and continues to the Louis Stokes Station at Windermere in East Cleveland as well as from Tower City Center to points in Shaker Heights. The Waterfront Line transports visitors to popular attractions Mon.-Fri. 6:30 a.m.-midnight; weekends and holidays 9 a.m.-midnight.
There are more than 60 connecting bus routes, including free downtown trolleys operating Mon.-Fri. 7-7 (the C-Line Trolley runs Mon.-Fri. 7 a.m.-11 p.m. and Sat.-Sun. 11-11).
The HealthLine is a Bus Rapid Transit system running along Euclid Avenue and beyond from Public Square to Louis Stokes Station at Windermere. One-way train or bus fare is $2.50; $1.25 (senior citizens and disabled passengers). An all-day pass costs $5.50. Passes can be purchased at fare machines at train stations. For details phone the RTAnswerLine: (216) 621-9500 (Mon.-Fri. 7-6, Sat. 8-4:30) or TTY (216) 781-4271.
Spend some time in University Circle (4 miles east of downtown). In addition to medical and education facilities (including the Cleveland Clinic, Case Western Reserve University and the Cleveland Institute of Art), University Circle is a renowned destination for its many cultural sites, including the next four on the list.
Experience the area's beautiful natural scenery and recreation opportunities at one of the 18 reservations making up Cleveland Metroparks.
Mingle with Clevelanders at the West Side Market's (1979 W. 25th St.) more than 100 vendor stalls.
Theater in Cleveland is a pretty big deal. Not counting New York's venues, PlayhouseSquare (1501 Euclid Ave.) is the country's largest performing arts center. Plan to spend a night at the theater during your time in the city; it's a great option for those interested in things for couples to do.
Shopping in Cleveland
Where to Shop Downtown
Tower City Center
, 230 W. Huron Rd., is a shopping, dining and entertainment complex surrounding a modernized commuter rail station. Skylights, light and water shows, marble staircases, historic brass storefronts and a glass dome accent the three levels of retail stores and places to eat.
The Arcade
, 401 Euclid Ave., was one of the first indoor malls in the country. This 1890 landmark has been renovated to include a hotel but continues to offer a variety of shops and boutiques.
Galleria at Erieview
, 1301 E. 9th St. at St. Clair St., offers a small collection of shops and galleries.
Those seeking the novel may want to check out the offerings in The Cop Shop, The Cleveland Police Museum's gift shop at 1300 Ontario St.; the shop is open weekdays 10-4.
Find More Shopping Districts Outside the Downtown Core
Antique Row, Lorain Avenue from W. 25th to W. 117th streets, and Detroit Avenue from Westwood Avenue to W. Clifton Boulevard, are popular with antiques hunters. The Little Italy neighborhood offers shops and galleries along Murray Hill and Mayfield roads.
Some of the Victorian houses in Ohio City serve as boutiques and antique shops. On select Saturdays from June through October, the district hosts music and an urban art market in Market Square.
The West Side Market at W. 25th Street and Lorain Avenue sells fresh fruit, vegetables, meats, fish, poultry, cheese and ethnic foods Mon. and Wed. 7-4, Fri.-Sat. 7-6 and Sun. 10-4. Coit Road Farmers Market is at Coit Avenue and Woodworth Street and offers Ohio produce and products. It is open Sat. year-round 8-1 as well as Wed. 10-1 and 4-7, June-Oct.
Shaker Square, at the junction of Van Aken Boulevard, Shaker Boulevard and E. 130th Street, offers shops, food and entertainment.
Take a trip down memory lane at b. a. Sweetie Candy Co. Inc. at 6770 Brookpark Rd. The candy warehouse has a huge inventory, including nostalgic brands.
Hit the Malls for Deals
In the surrounding suburbs are shopping centers and malls offering such department stores as Dillard's, Macy's, Neiman Marcus, Nordstrom and Saks Fifth Avenue as well as many smaller shops. Among the more popular malls are Beachwood Place, 26300 Cedar Rd. at Richmond Road in Beachwood; Great Lakes Mall, 7850 Mentor Ave. in Mentor; The Shoppes at Parma, 7899 W. Ridgewood Dr. in Parma; Great Northern Mall, 4954 Great Northern Mall at I-480 in North Olmsted; and SouthPark Mall, 500 Southpark Center in Strongsville. The site of the former Westgate Mall in Fairview Park is now the home of Westgate, an open-air shopping center at the intersection of W. 210 Street and Center Ridge Road/US 20.
The local vicinity also offers further shopping opportunities to add to your travel plans. Legacy Village Shopping Center is in Lyndhurst, 1 mile west of I-271 Cedar Road exit at 25333 Cedar Rd. The village features a main street reminiscent of a 1950s-era small town and includes Crate & Barrel and Restoration Hardware among its many stores and local restaurants. There are more than 80 shops in the outdoor shopping area of Crocker Park, a quarter-mile south of I-90 Crocker Road exit in Westlake. At Coventry Road in Cleveland Heights between Mayfield and Euclid Heights roads, colorful shops and boutiques offer offbeat clothing, artworks and crafts.
In Rocky River, Beachcliff Market Square, 19300 Detroit Rd., offers upscale retailers and eateries. Also in Rocky River is Old River, on Old Detroit and Wooster roads, where shops specialize in gifts, antiques, spa services, gourmet food, wines and specialty clothing.
Cleveland Performing Arts
Those looking for music, theater, opera and other performances will find plenty of options and things to do in Cleveland. The world-renowned Cleveland Orchestra performs mid-September through early June in historic Severance Hall, opened in 1931, in the University Circle area and at the open-air Blossom Music Center in Cuyahoga Falls early July through Labor Day weekend; phone (216) 231-1111 or (800) 686-1141 for tickets. Food is available at both facilities, and the patrons of Blossom Music Center can opt to bring a picnic.
The Cleveland Chamber Music Society performs at the Plymouth Church October through May. The Cleveland Contemporary Players, performing in the Music and Communications Building of Cleveland State University, gives concerts of contemporary music; phone (216) 802-3054 for scheduled programs.
Musical events are presented regularly at various sites across the city, including The Cleveland Music School Settlement, Rocket Mortgage FieldHouse, the Wolstein Center at Cleveland State University and the civic auditorium at Lakewood High School.
The students and faculty of the Cleveland Institute of Music as well as visiting artists perform a variety of musical types—including chamber, orchestra and opera—throughout the year on campus (11021 East Blvd. in University Circle) and at other locations in the city; phone (216) 791-5000 for schedule information.
PlayhouseSquare
, on Euclid Avenue between E. 14th and E. 17th streets, is a performing arts destination that began in the 1920s with five theater, vaudeville and movie venues: Ohio Theatre, State Theatre, Allen Theatre, Connor Palace Theatre and Hanna Theatre. In the 1970s these theaters were saved from demolition by the community. Today the complex boasts nine performing spaces, including the Westfield Insurance Studio Theatre inside the Idea Center at PlayhouseSquare. Among the types of performances offered are Broadway shows, opera, concerts, comedy, family shows and dance programs. PlayhouseSquare is home to resident companies DANCECleveland, Opera Cleveland, Great Lakes Theater Festival and Tri-C. For ticket information phone (216) 241-6000, or (800) 766-6048 outside the Cleveland area.
PlayhouseSquare recently jazzed up its neighborhood with the outdoor GE Chandelier, which suspends 44 feet above the E. 14th Street and Euclid Avenue intersection. As you can imagine, this 20-foot-tall beauty is a must-see at night.
The Cleveland Play House was established in 1915 as America's first permanent regional theater company. The original facility at 8500 Euclid Ave. was built in 1927 and housed two theaters. A 1983 expansion was designed by internationally acclaimed architect Philip Johnson and made it the country's largest regional theater complex. In 2011 the company kicked off the season at a new facility located at PlayhouseSquare's Allen Theatre Complex at 1407 Euclid Ave. The season runs September through May, with productions ranging from the classics to new plays and from comedies to musicals; phone (216) 241-6000.
Also established in 1915 was Karamu House. The company offers multicultural performances and programs at 2355 E. 89th St.; phone (216) 795-7070.
The Gordon Square Arts District is an emerging arts scene on Cleveland's West Side; it is home to Cleveland Public Theatre, (216) 631-2727, at 6415 Detroit Ave. Near West Theatre, (216) 961-9750, performs community theater at 6702 Detroit Ave. The 1921 Capitol Theatre has been restored and now shows independent, foreign and documentary films on three screens.
Cleveland Shakespeare Festival puts on about a dozen performances of free outdoor plays from mid-June to early August in Cleveland and several surrounding cities; the Cleveland venues include Lincoln Park.
Cleveland Sports & Recreation
The more than 23,000 acres of Cleveland Metroparks constitute one of the largest concentrations of parkland per capita in the nation. The 100-mile chain of metropolitan parks known as the "Emerald Necklace" is one of the largest park districts in the country. The 18 reservations offer opportunities for biking, boating, fishing, geocaching, golfing, hiking, horseback riding, picnicking, skating, swimming, water sports and many winter sports. The more than 60 miles of all-purpose trails are designed for walking/hiking, running, biking, horseback riding and skating. There are wildlife management areas, waterfowl sanctuaries and seven outdoor education facilities. Some of the reservations fall within the boundaries of Cuyahoga Valley National Park. Phone (216) 635-3200.
Biking is a great way to scoot around town whether for recreational enjoyment or as a means to get from one point of interest to another. Bicycles can be rented from Bike Rack at 2148 E. 4th St. The facility is open Mon.-Fri. 6:30-6:30. and Sat.-Sun. noon-6, Mar.-Oct.; phone (216) 771-7120.
The Cleveland Velodrome, 5033 Broadway Ave., is open Mon.-Fri. 5-8 and Sat.-Sun. 11-6, May-Oct.
Golf enthusiasts can try their skill at any one of the many public courses, including the following Cleveland Metroparks courses: Big Met, 4811 Valley Pkwy., (440) 331-1070; Little Met, 18599 Old Lorain Rd., (216) 941-9672; Manakiki, 35501 Eddy Rd., (440) 942-2500; Mastick Woods, 19900 Puritas Rd., (216) 267-5626; Seneca, 975 Valley Parkway, (440) 526-0043; Shawnee Hills, 18753 Egbert Rd., (440) 232-7184; Sleepy Hollow, 9445 Brecksville Rd., (440) 526-4285; and Washington Golf Learning Center, 3841 Washington Park Blvd., (216) 641-1864.
Stables offering horseback riding lessons and boarding are at Rocky River Stables, (216) 267-2525, and Brecksville Stables, (440) 526-6767. Swimming can be enjoyed at the sandy Lake Erie beaches, such as the ones found in Cleveland Metroparks Lakefront Reservation (Edgewater Park) and at the Cleveland Metroparks Huntington Reservation in Bay Village as well as Headlands Beach State Park. Swimming also is available at Ledge Pool and Recreation Area in Hinckley.
Fishing and boating are among the popular things to do on Lake Erie. Public boat rentals and ramps are at the Cleveland Metroparks Rocky River and Hinckley reservations, and fishing piers are at Huntington. Great Lakes Watersports, 1148 Main Ave., offers boat, jet ski and kayak rentals by the hour; phone (216) 771-4386. Trident Marine Corp. offers fishing charters; phone (216) 771-2628. Wildwood Marina offers public and private fishing excursions; phone (216) 481-5771. The Cleveland Visitors Center can provide additional fishing charter companies if you're interested in taking a fishing trip; phone (216) 875-6680 or (800) 321-1001.
Skiing, snowboarding and tubing are popular at several nearby sites. Peninsula offers Boston Mills Ski Resort, Sagamore Hills has Brandywine Ski Resort and Polar Blast snow tubing park, and Chesterland has Alpine Valley. Several Cleveland Metroparks offer cross-country skiing and sledding.
The outdoor Rink at Wade Oval in University Circle has a polymer surface and is open for ice-skating Fri. noon-9, Sat. noon-7, Sun. noon-5, late Nov. to mid-Feb.; closed Jan. 1, Thanksgiving and Christmas. Skate rental is $3; phone (216) 791-3900.
Various recreational opportunities also are found at the Cuyahoga Valley National Park, just southeast of the city.
Because Cleveland is home to several professional sports teams, spectator sports enthusiasts can choose from a variety of activities and fun places to go. At Progressive Field, Carnegie Avenue between Ontario Avenue and E. 9th Street, the Cleveland Indians play baseball in the spring, summer and early fall. Guided stadium tours are offered late April through early September; for tour information or game tickets phone (216) 420-4487. The Rocket Mortgage FieldHouse, hosts basketball and hockey October through April with both the NBA's Cavaliers and the AHL's Lake Erie Monsters. Arena football's Cleveland Gladiators also play at Rocket Mortgage FieldHouse late March to mid-July. For Cavaliers, Lake Erie Monsters or Gladiator tickets phone (216) 420-2200 or (800) 332-2287.
Cleveland Browns football fans head to FirstEnergy Stadium at 1085 W. 3rd St. near the North Coast Harbor to watch their team in action; phone (440) 824-3434 or (800) 745-3000.
Thoroughbred racing is held throughout the year at the Thistledown Racing Club, 21501 Emery Rd. in North Randall, (216) 662-8600. Harness races are featured year-round at Northfield Park, 10705 Northfield Rd. in Northfield; phone (330) 467-4101.
Note: Policies vary concerning admittance of children to pari-mutuel betting facilities. Phone for information.
Cleveland Sightseeing
The
Terminal Tower
, at 230 W. Huron Rd. and surrounded by Tower City Center, was built 1927-30 and is considered the showpiece of Cleveland's lakefront. The remodeled concourse of this 52-story city landmark contains restaurants, shops, movie theaters and two hotels. The observation deck is open Sat. noon-5 and Sun. noon-4, mid-Apr. to late Dec. Guests can purchase tickets the day of the tour (if available) from the Guest Services desk on the first level.
Trolley and Train Tours
Cuyahoga Valley Scenic Railroad offers train excursions through Cuyahoga Valley National Park. Trips include scenic tours of the valley and round-trip travel to Akron destinations.
Walking Tours
Stop by the visitor center at 334 Euclid Avenue for a "Walk Cleveland" brochure. It contains a map with details for a self-guiding tour of Cleveland's architecture, public art and other top things to see.
Self-guiding walking or driving tours are good ways to experience the restoration of Ohio City on Cleveland's west side. A separate municipality that was later annexed, Ohio City is a neighborhood of old Victorian houses, many of which now house boutiques, restaurants and antique shops. Most Saturdays in June, July and August, the district hosts music and an urban art market in Market Square. Many of the neighborhood's restored homes open their doors to the public during the annual "Evening in Ohio City" celebration held the second or third Saturday in May. Brochures about the area are provided by Ohio City Inc., 2525 Market Ave., Suite A, Cleveland, OH 44113; phone (216) 781-3222.
1-day Itinerary
AAA editors suggest these activities for a great short vacation experience.
Morning
Museums don't open first thing, so start at West Side Market (1979 W. 25th St.) in the Ohio City neighborhood. The building, which opened in 1912, features a vaulted Guastavino tile ceiling and a 137-foot clock tower. More than 100 vendors sell baked goods, produce, meat, seafood, dairy items, flowers and other specialty products.
The
Rock and Roll Hall of Fame
(751 Erieside Ave.) is a must-see. Its massive permanent collection showcases everything you'd want to know about rock and roll, and temporary exhibits enhance the already impressive experience. The story of rock unfolds in creatively themed exhibit areas—highlighting musical giants like Elvis, the Beatles, the Rolling Stones all the way down to one-hit wonders. Memorabilia, films, interactive exhibits and video and audio clips fill the galleries of I.M. Pei's dramatic building on the shore of Lake Erie.
You could easily spend the whole day here, and why not if you are a big-time music fan? But if you want to see what else the city offers, save the afternoon for something else.
Afternoon
Head to University Circle, a square mile jam-packed with cultural, educational and health institutions; Wade Oval and Wade Lagoon are beautiful spaces to enjoy the scenic area. You can't go wrong with any of the AAA GEM attractions:
Cleveland Botanical Garden
(11030 East Blvd.),
Cleveland Museum of Art
(11150 East Blvd.),
Cleveland Museum of Natural History
(1 Wade Oval Dr.) and
The Cleveland History Center
(10825 East Blvd.). Our pick: the art museum. The beautiful 1916 building, home to one of the country's best collections, has recently undergone a major expansion.
The art spans 6,000 years. Major artists represented among the more than 45,000 works include Mary Cassatt, Claude Monet, Pablo Picasso, Jackson Pollock, Nicholas Poussin, Andy Warhol and a variety of Hudson River School artists. African, Ancient Egyptian, Ancient Near East/Greek/Roman, Chinese, Indian and Southeast Asian, Islamic, Japanese and Korean works of art also are displayed. The medieval collection contains coins, glass, jewelry, manuscripts, metalwork, paintings and sculpture among other objects. The highlight is an extensive arms and armor collection. It features body armor, helmets, crossbows, daggers, knives, swords and shields.
Have lunch at the museum or head to Little Italy, adjacent to University Circle. The neighborhood offers restaurants, bakeries and art galleries; try
Guarino's
(12309 Mayfield Rd.) for a casual meal.
Evening
Cleveland has quite the theater scene. PlayhouseSquare, the country's largest performing arts center outside of New York's offerings, features several resident companies, including Cleveland Play House (the country's first regional theater), and also brings in touring productions. Many restaurants are nearby, including
Lola
(2058 E. 4th St.), where the chef/owner is Michael Symon—cookbook author, a Food Network presence and a co-host on "The Chew." Lola is in the East 4th Street district, a good nightlife scene.
For a more casual outing, head to Ohio City. Bars and breweries offer plentiful nightlife. Tour the
Great Lakes Brewing Co.
(2516 Market Ave.) and then enjoy some of its creations. You'll feel like a Clevelander yourself after sampling the beers with fun, creative names related to all things Cleveland. Another option is McNulty's Bier Markt, serving more than 100 American and Belgian craft beers. Have dinner at the attached
Bar Cento
(1948 25th St.), where the European-inspired menu changes seasonally so the chefs can always use local ingredients. If you're in the mood for a pizza, this is a great place to order one.
Not ready to call it a night?
Jack Cleveland Casino
(100 Public Sq.) is open 24 hours. You'll be focused on winning big, but take a minute to look around. The building was once the Higbee Co., one of Cleveland's many beautiful—but long gone—department stores.