Indianapolis Sightseeing
Bus and Carriage Tours A popular way to see the area at night is on a horse-drawn carriage ride offered by companies stationed along Illinois and Maryland streets: Blue Ribbon Carriage Co., (317) 631-4169; or Yellow Rose Carriages, (317) 634-3400. Carriages also pick up passengers on request at hotels in the downtown quadrant bounded by North, South, East and West streets.
Walking ToursAn especially interesting area for a walking tour is Lockerbie Square, a seven-block district bounded by Michigan, New York, Fulton and East streets. Dating to 1847, the city's oldest surviving neighborhood is noted for its Victorian renovations. Italianate, Greek Revival and Federal-style houses and cottages—including the home of James Whitcomb Riley—line the cobblestone streets. Here you can see limestone mounting blocks used for horse-drawn carriages. The neighborhood is about a mile northeast of Monument Circle.
The Old Northside was the place to live for business and civic leaders at the turn of the last century. Bounded by I-65 and 16th, Pennsylvania and Bellefontaine streets, the neighborhood features Victorian mansions and grand homes in Gothic Revival, Second Empire, Queen Anne and other styles. As wealthy residents migrated farther north, the neighborhood became known as the "old" northside; more than half of the houses were demolished before the area could be declared a historic district. Galleries, cafes and coffee shops are on the southern edge.
Another interesting area for a stroll is Broad Ripple Village, a neighborhood north of the downtown area along the White River. The village became the center of commerce in 1839 with the opening of the Central Canal. Similar to New York City's Greenwich Village, this trendy area contains boutiques, art galleries, sidewalk cafes, antique shops and ethnic restaurants. Among the restored cottages and bungalows are several Sears kit homes.
Irvington used to be a country address, but this neighborhood is now considered part of the city's east side. Named after Washington Irving, the historic enclave between 10th, Emerson and Arlington avenues and Brookville Road features cozy Craftsman bungalows and American Foursquares nestled against Tudor, Colonial and Georgian Revival mini-mansions. Ellenberger Park was designed in 1909 by architect and urban planner George Edward Kessler.
A relatively new addition is the Canal Walk, a portion of the historic Central Canal that has been renovated into a pathway popular with walkers, joggers and downtown workers. The junction of Ohio and West streets is a good starting point. At Walnut Street and Senate Avenue is the USS Indianapolis CA-35 National Memorial, a granite memorial to the sailors who died when the USS Indianapolis sank in World War II.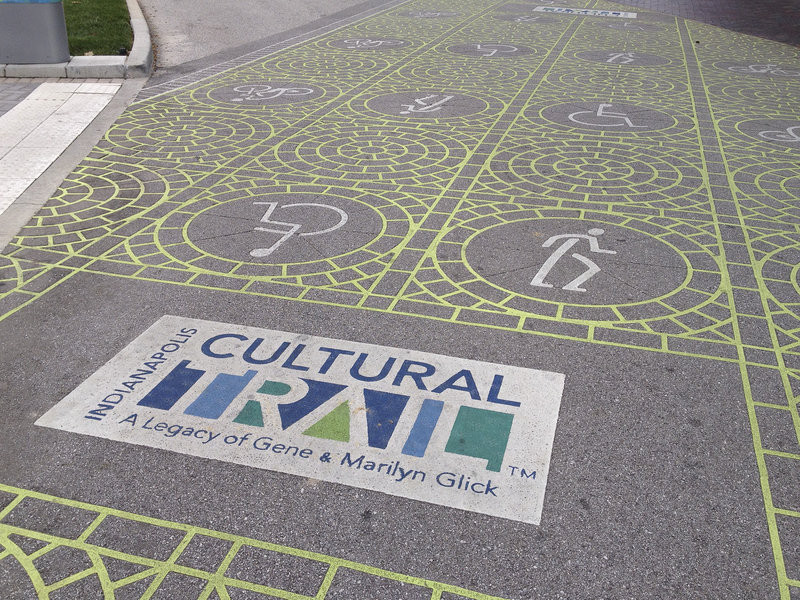 AAA/Katie Broome
The Indianapolis Cultural Trail, an 8-mile pedestrian and bike path dotted with public art, connects the six downtown cultural districts.
An observation tower atop the City-County Building offers a 360-degree view from more than 300 feet above street level and includes exhibits and binoculars; phone (317) 327-4345. Commemorating Civil War and Spanish-American War veterans, the Soldiers' & Sailors' Monument at Monument Circle also provides a panorama of downtown.
Another good vantage point is Crown Hill Cemetery at 3402 Boulevard Pl., where such notables as James Whitcomb Riley, John Dillinger, President Benjamin Harrison and three vice presidents are buried. Covering 555 wooded acres, the cemetery is one of the largest in the country.