Best Attractions in Savannah
In an area with dozens of attractions and points of interest, you may have trouble deciding where to spend your limited vacation time. Here are the highlights for this destination, as chosen by AAA editors. GEMs are "Great Experiences for Members.
Enjoy Public Spaces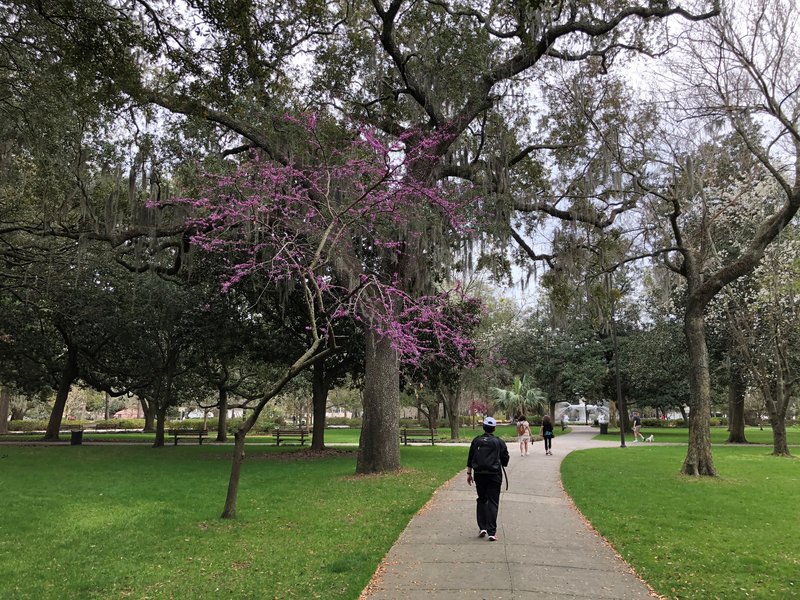 AAA/Sherry Mims
Everyone knows about Savannah's beautiful public squares. But did you know that there are 22 of them laid out in a uniform grid pattern and spaced two blocks apart within the historic district? Founder Gen. James E. Oglethorpe conceived the unique city plan, one that has stood the test of time. Now, as then, Savannah's squares are common ground, places where residents come together to celebrate, socialize or just sit for a spell under shade trees. Through monuments and historical markers, these lush green spaces highlight important people and events in Savannah's history, allowing one to learn so much during a trip.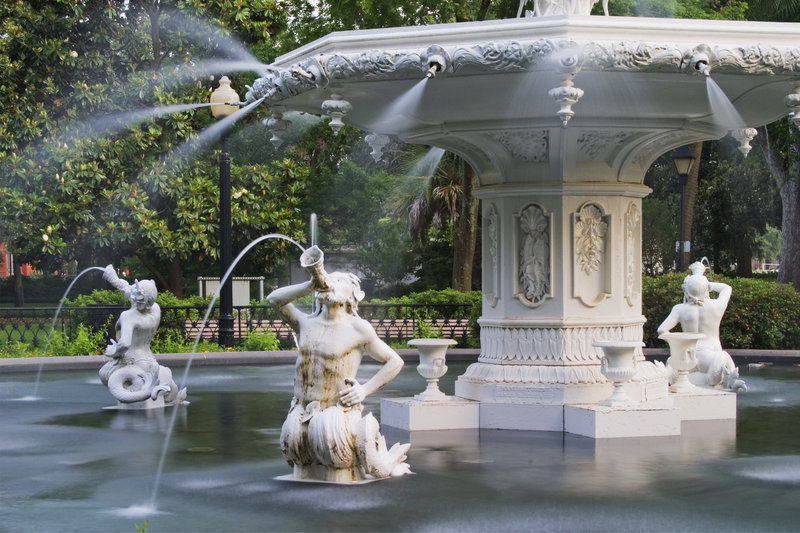 AAA/DnDavis
Make it a priority to pick up a walking-tour map at the Savannah Visitor Information Center in the historic Central of Georgia Railway station. Here you will find cordial service and free brochures and sightseeing information on what to do during your stay. The center is a stop on the dot Express Shuttle, a free minivan connecting downtown points of interest, including nearby restaurants and stores, and it serves as a departure point for several interesting guided tours.
Travel Through History
Savannah History Museum next to the visitors center surveys the events that shaped Georgia's first city. In keeping with its historical context, the museum occupies a renovated 1850s railroad shed. With exhibits of rolling stock, a working turntable and 13 original buildings, nearby Georgia State Railroad Museum chronicles more than a century of Georgia railroad history. Organized in 1833, the Central of Georgia played a vital role in establishing Savannah as a cotton port.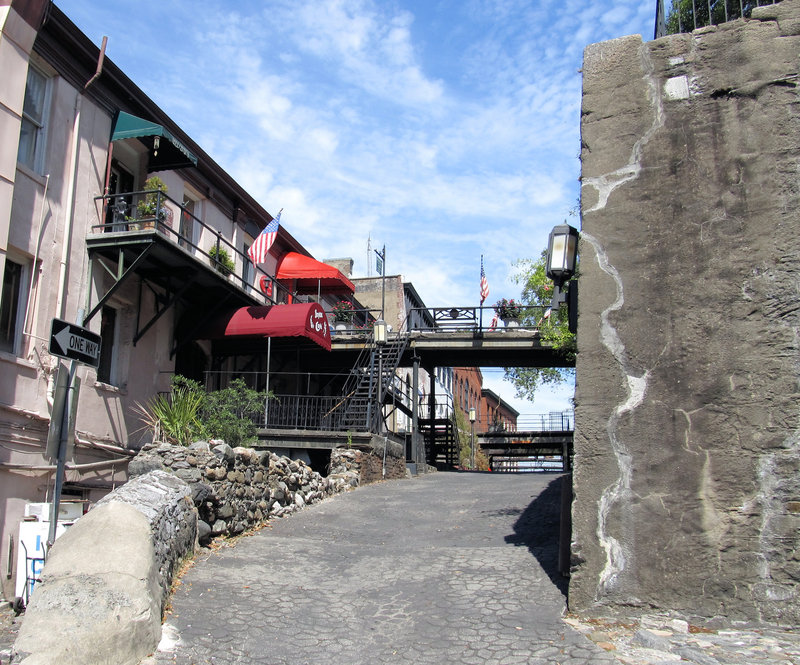 flickr / CC BY SA/Ken Lund
Cotton dealers brokered Savannah's most important export in the offices of Factors Walk , beside a bluff overlooking the Savannah River. The 19th-century multistory brick buildings feature shops, restaurants and pubs accessible from iron walkways at street level, atop the bluff, and from lower levels—formerly the cotton warehouses—facing River Street. Of interest in this area is the imposing 1886 Cotton Exchange, now a Masonic hall.
Tour Historic Homes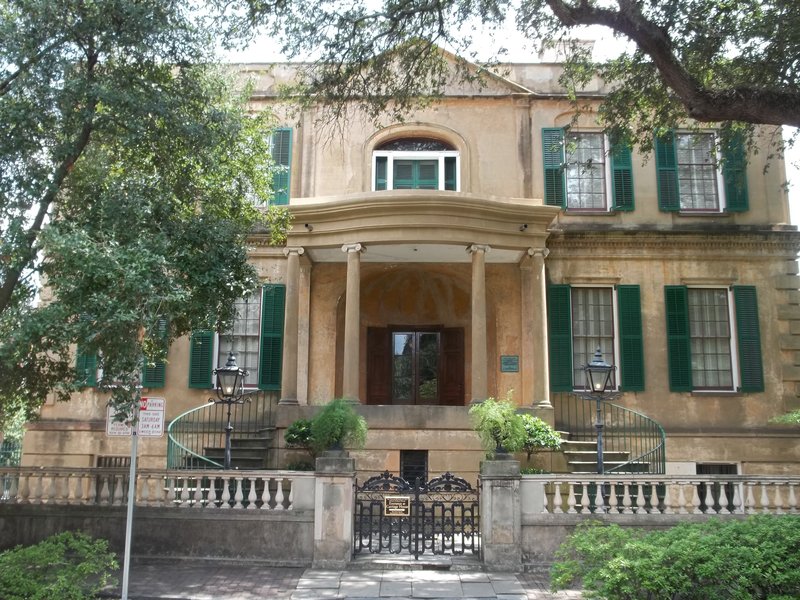 Wikimedia Commons / CC BY SA/Ebyabe
Many of Savannah's loveliest historic houses were built with fortunes made from King Cotton, and a visit should be on any architectural buff's or historical enthusiast's list of things to do. Chief among these is the Owens-Thomas House and Slave Quarters , a AAA GEM attraction facing Oglethorpe Square. Built in 1819 for a cotton merchant, the mansion was a model of sophisticated living in its day and is hailed as one of the nation's finest examples of Regency architecture. Distinctive design features include a central stairwell with dual, brass-inlaid staircases connected on the upper level by a bridge. The carriage house, serving as the visitors' entrance, contains a rare example of intact urban slave quarters. Margaret Thomas, granddaughter of Savannah mayor and later U.S. Rep. George W. Owens, left the house and its furnishings to the Telfair Academy of Arts and Sciences in 1951.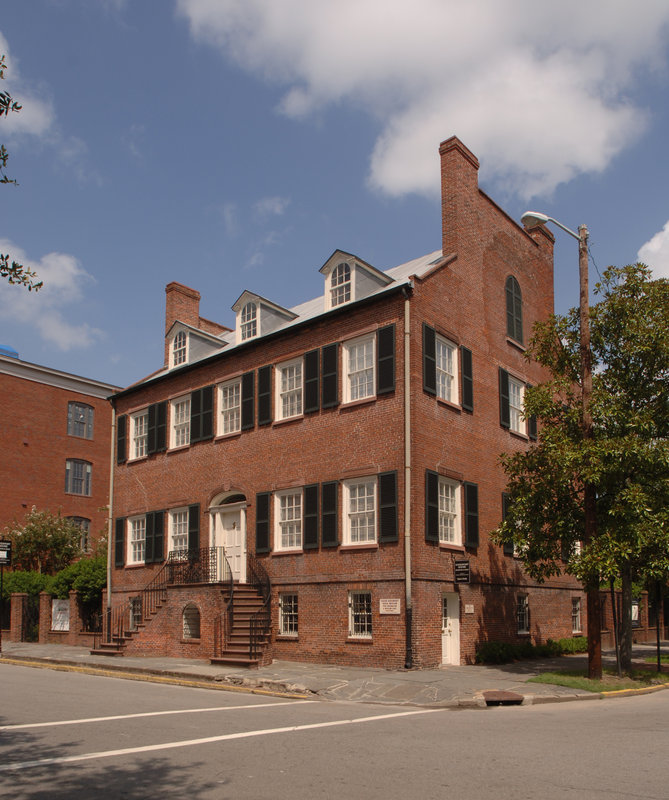 Davenport House Museum/Davenport House Museum
Davenport House on Columbia Square was tapped for preservation in the mid-1950s by seven concerned women who eventually formed the Historical Savannah Foundation. Through faithful restoration, the Federal-style house featuring columns, ornate plasterwork, Italian marble fireplace mantles and a cantilever staircase appears as it did in the 1820s, when it was constructed by master builder Isaiah Davenport; period furnishings present an accurate depiction of daily life.
The Wayne-Gordon House, better known as the Juliette Gordon Low Birthplace , was the childhood home of the founder of the Girl Scouts of the USA. Built 1818-21 for then Mayor James M. Wayne, the house and its furnishings reflect the Victorian-era occupancy of the second generation of the affluent Gordon family—William Gordon II, a cotton factor and brigadier general in the Spanish-American War, and Eleanor Gordon, Juliette's mother and founder of the Colonial Dames in Georgia. Juliette's grandfather William Gordon I, who acquired the house from Mayor Wayne, was the first president of the Central of Georgia Railway; look for a monument honoring him in Wright Square, across the street from the house.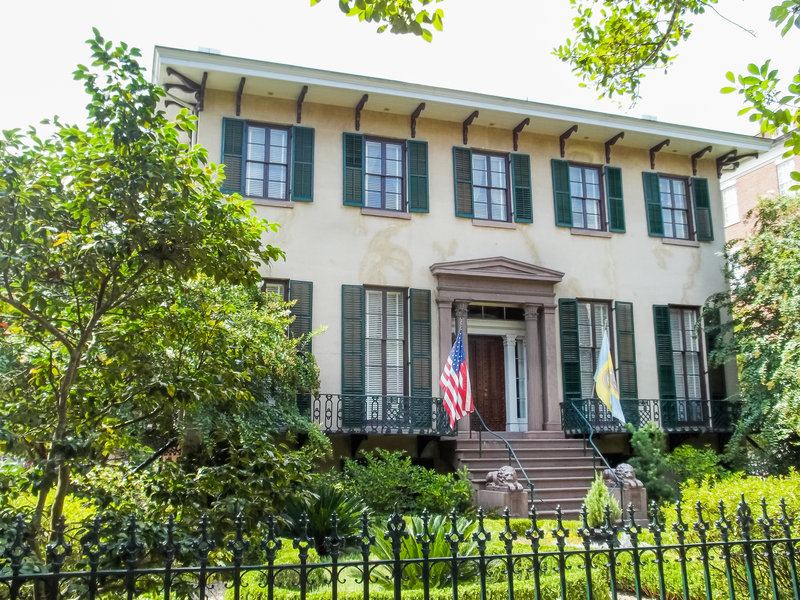 Wikimedia Commons/Ebyabe
Andrew Low House , facing Lafayette Square, was the home of another successful cotton merchant said to be the richest man in Savannah at the time this three-story Italianate residence was built in 1849. English author William Makepeace Thackeray and Confederate Gen. Robert E. Lee were among Low's distinguished houseguests. On Low's death, his son William inherited the house and shortly thereafter married Juliette Gordon. It was from this residence that widowed Juliette later organized the Girl Scouts of the USA.
Charles Green, another of Savannah's wealthy cotton merchants, was the first resident of the 1850 Green-Meldrim House on Madison Square. During the Civil War Gen. William Tecumseh Sherman set up headquarters in the house and penned a famous missive to President Abraham Lincoln, formally presenting the city to him as a Christmas gift. Details about the general's occupancy complement a tour of the neo-Gothic mansion.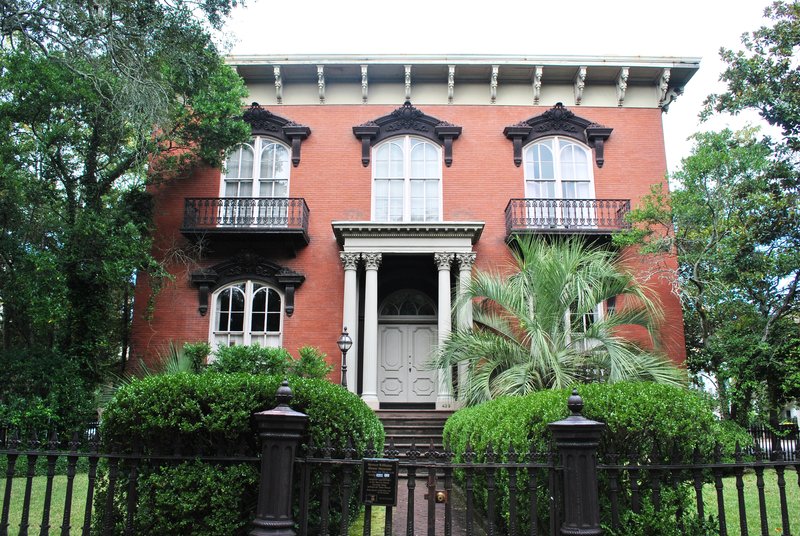 Wikimedia Commons / CC BY SA/Elisa.rolle
Mercer Williams House Museum on Monterey Square has a storied past. In 1981, antiques dealer, socialite and restoration expert Jim Williams shot a male assistant here; he was tried four times and acquitted. Bestselling novel "Midnight in the Garden of Good and Evil," later a blockbuster film directed by Clint Eastwood, traces the events while introducing the world to a few of Savannah's colorful characters. Docents will show you around the richly appointed first floor of the mansion, but you will have to read the book or see the movie to learn more about the unsavory incident. The house was built in 1860 for Gen. Hugh W. Mercer, great-grandfather of singer and songwriter Johnny Mercer.
Telfair Academy is on Telfair Square. Mary Telfair, daughter of a former Georgia governor, established the museum through her will, bequeathing the 1819 family mansion in which the art collections now reside to the Georgia Historical Society. Handsome Regency architecture and elegant period rooms show off outstanding decorative arts, rare furniture and paintings by American impressionists and artists of the Ashcan school, to name a few. Opened in 1886, the Telfair ranks among the South's oldest art museums. Jepson Center for the Arts, the Telfair's newest addition, provides exhibit space for contemporary art and features ArtZeum, an interactive children's gallery.
Learn About a Seafaring Society
Ships of the Sea Maritime Museum is a natural fit for the port city. In addition to seeing artifacts and more than 150 ship models, visitors will learn about the S.S. Savannah, which sailed from Savannah to Liverpool, England, to become the first steam-powered vessel to cross the Atlantic Ocean. Exhibits are housed in a mansion designed for S.S. Savannah owner William Scarbrough.
Take a Ride Around Town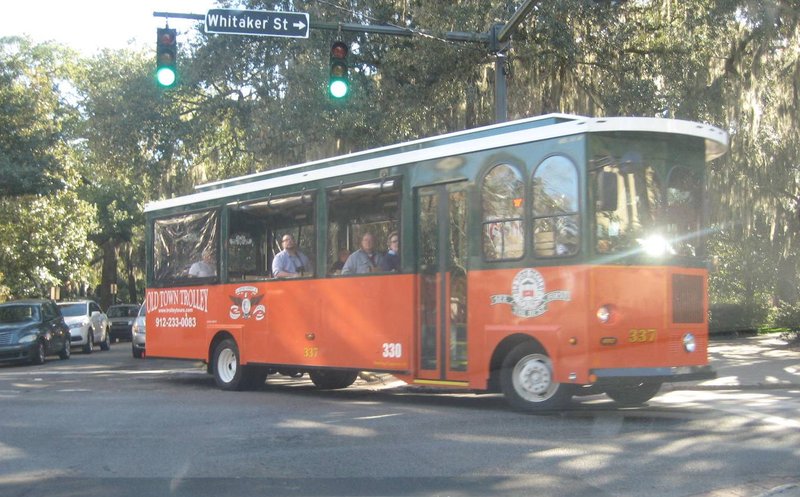 AAA/C Jennings
Guided tours add structure to your itinerary and are particularly valuable if your visit will be short-lived. Options include Carriage Tours of Savannah ; trolley excursions by Old Savannah Tours and Old Town Trolley Tours ; and a waterfront perspective offered by Savannah Riverboat Cruises . More focused tours, such as The Freedom Trail Tour , also are available.
Another option is CAT Bike, Savannah's bicycle-sharing system. Two-wheelers may be rented at two self-service kiosks downtown. A 24-hour rental, 7-day rental and other options are available; phone (912) 233-5767. A free passenger ferry also is available to Hutchinson Island.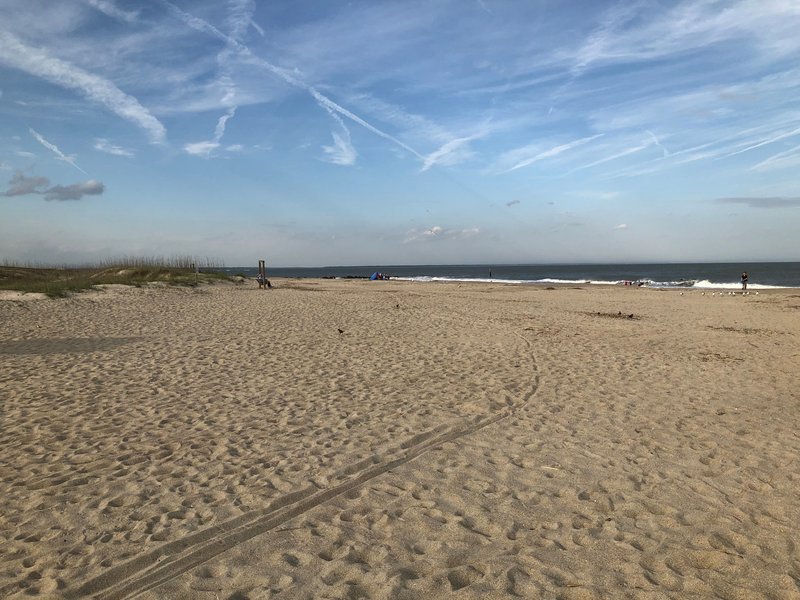 AAA/Sherry Mims
Locals travel to Tybee Island for a day of swimming, fishing, boating, bird-watching, biking or other fun things to do. With restaurants, shops, lodgings and island-getaway ambience, Tybee rejuvenates the spirit, as the Victorians who flocked here to "take the salts" discovered in the early 20th century. Attractions include the Tybee Lighthouse and Museum , on the grounds of former Fort Screven at the northern tip of the island, and Tybee Island Marine Science Center , on the southern end near the pier and pavilion. Tip: Tybee is 18 miles east of the city, less than 30 minutes by car. For a reasonable fee, you can ride a shuttle that leaves from the Visitor Information Center and from two convenient locations on the island Friday through Sunday; phone (912) 388-3380.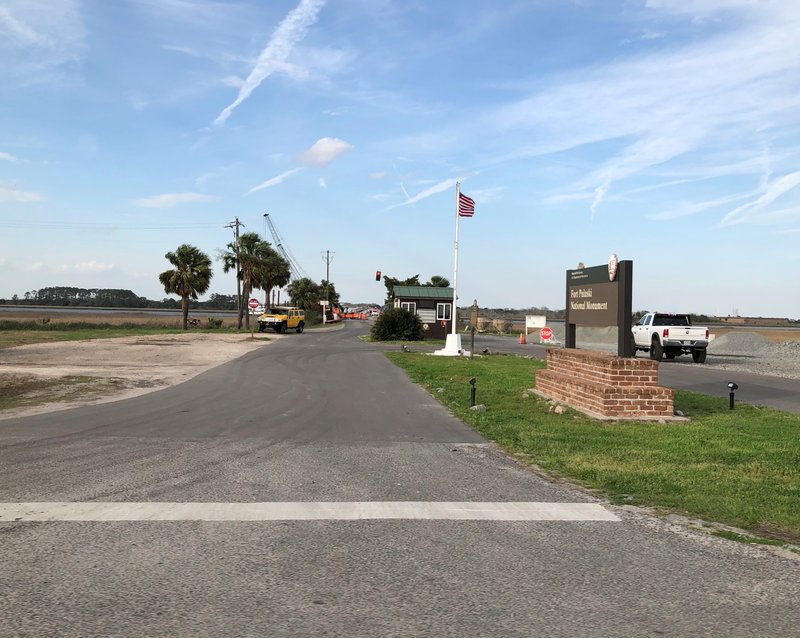 AAA/Sherry Mims
AAA GEM Fort Pulaski National Monument encompasses two islands and preserves Fort Pulaski, a massive Civil War fortress. Skidaway Island, south of Tybee, is home to The University of Georgia Marine Education Center & Aquarium .
See all the AAA recommended attractions for this destination.