Toronto in 3 DaysThree days is barely enough time to get to know any major destination. But AAA travel editors suggest these activities to make the most of your time in Toronto.
You might find Toronto an exciting destination because it's one of North America's largest television and film production centers. Do a little bit of research before you go to see where a few of your favorites have been filmed, and you'll discover that some were shot at spots included in this itinerary.
Another interesting facet of the city, and one of many fun places to go, is the Path, a 29-kilometre (18-mi.) underground network of walkways with shopping, services and entertainment. Look for multicolored PATH entrance signs around the city and duck underground at least once to sneak a peek at this impressive facility. The majority lies in the Financial District, connecting various points between the south building of the Metro Toronto Convention Centre, which is just southwest of Union Station, and the Toronto Coach Terminal, at the junction of Dundas and Bay streets.
Day 1: MorningVisit St. Lawrence Market first thing in the morning for breakfast, as it has a lot of amazing places to eat, along with souvenir shopping and fantastic people watching in this exciting locale. Toronto is known for its multiculturalism, and this is a good place to find a large variety of ethnic foods in one location. Antiques, clothing, accessories and specialty item dealers also sell their wares here, and you'll find The Market Gallery too. For breakfast, scope out the juice, coffee, tea, bread and baked good vendors. Saturday mornings offer the most action with the addition of a farmers market. The shopping hours vary throughout the week, and not all the vendors are open at the same time, so be sure to plan ahead. Nearby 19th-century architectural highlights include the Gothic Revival St. James Cathedral (King and Church streets) and Toronto's First Post Office .
AAA/Lisa Hendren
Head east next to the pedestrian-only Distillery Historic District between Parliament, Mill and Cherry streets and roam the area that is said to have North America's largest preserved collection of Victorian industrial buildings. This is the former site of Gooderham & Worts Distillery, which dates to the 1830s. The oldest (also the largest) structure in the group is the 1861 stone distillery. Now this preserved historic district teems with arts, culture, entertainment and shopping. Scores of television productions and movies, including portions of recent Academy Award nominees "Chicago" and "Cinderella Man," have been filmed here since the distillery closed in 1990.
Day 1: Afternoon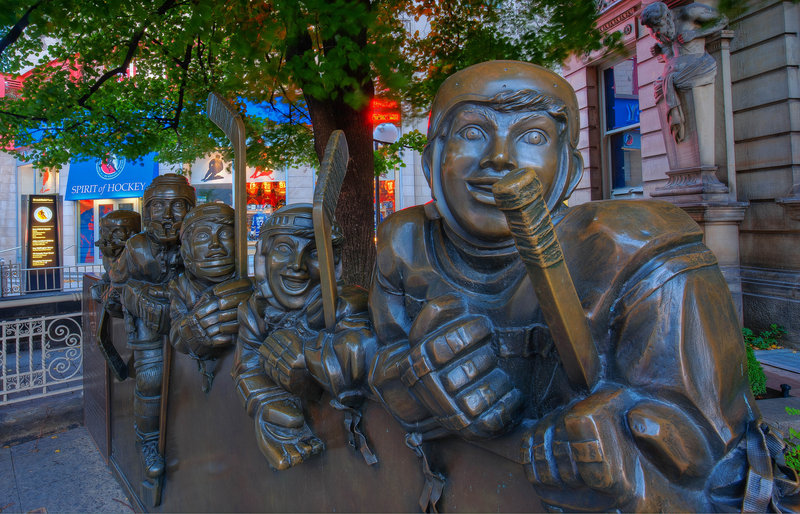 Hockey Hall of Fame
Work your way back toward the Hockey Hall of Fame . Artifacts mingle with interactive exhibits to fully celebrate the glory of Canada's favorite sport. MCI Great Hall, where the inductees are honored, is in a late 19th-century rococo building built as a bank; your gaze will go straight to the 45-foot-high stained glass dome. It's a fitting environment for classy displays of trophies and photographs of hockey's greats.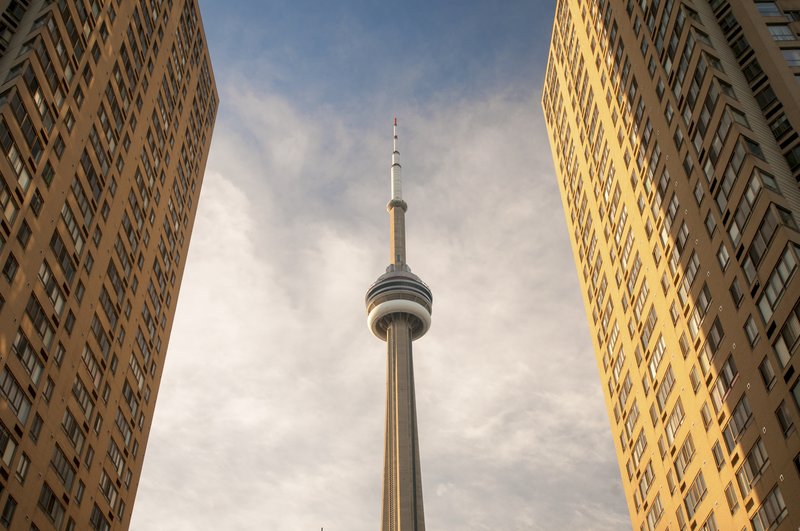 Roxana Gonzalez/iStockphoto.com
Top off the afternoon at the CN Tower , but on your way there, pop into Union Station on Front Street West to see the grandeur of this massive and gorgeous Beaux Arts building. Just a bit farther ahead is Fairmont Royal York , another architectural delight, so take a quick peek in at the lobby. Depending on which season you're visiting the city, plan to arrive at the CN Tower late in the afternoon or early evening so you can see the fantastic views of Toronto and its outlying areas in daytime and at night when the city is bathed in lights. With all the excited tourists at the tower, it's easy to forget that the structure's purpose isn't solely entertainment. When it was completed in 1976, its function was to alleviate radio and television transmission troubles that had been created from the city's heightening skyline, and it's still used today for radio and television broadcasts as well as wireless communication transmissions. Factor in time to watch the 20-minute documentary to learn about the construction of this architectural feat.
Day 1: EveningThe Entertainment District boasts many wonderful places to eat with a varied assortment of cuisines, so you'll likely find something you'll enjoy. If you're able to splurge, have dinner at 360 The Restaurant at the CN Tower . The impressive views in this revolving dining room at an elevation of more than 351 metres (1,152 ft.) make for great conversation and a very special dining experience.
Since you're in the heart of the Entertainment District, get tickets to a show at one of the nearby theaters. Toronto is known as Broadway North, after all, for its highly regarded performances. If the theater scene just isn't your thing, try a Blue Jays, Maple Leafs or Raptors game since the Rogers Centre (formerly SkyDome) and Scotiabank Arena are both nearby.
Day 2: Morning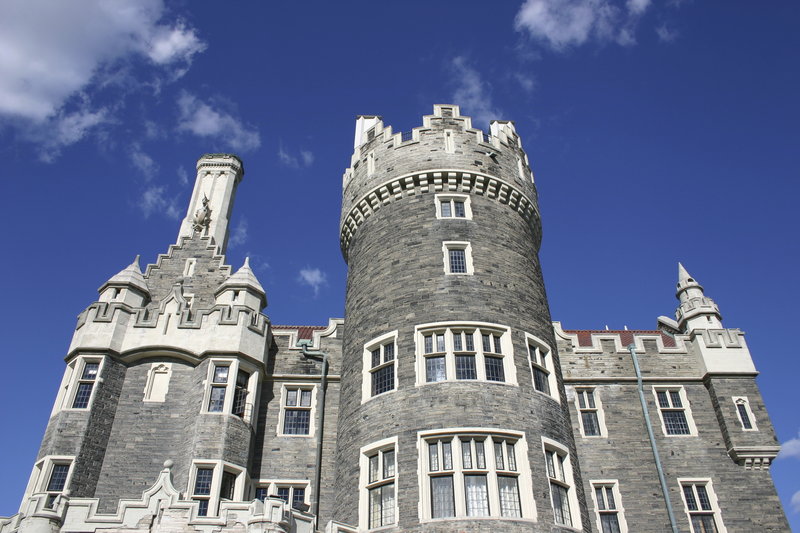 Jackson-Lau/iStockphoto.com
Start off day two at Casa Loma . This 1914 98-room castle is the former home of Sir Henry Pellatt and his wife. Pellatt's ambition and business savvy led him to many accomplishments: a partner in his father's stock brokerage firm, founder of Toronto Electric Light Co., chairman of a variety of companies and a knighthood granted for his military service with the Queen's Own Rifles. He also donated a great deal of his earnings to philanthropic causes. Several factors led him into a financial downward spiral from which he couldn't recover, though, and he and his wife had to move out of their castle several years after World War I, only about ten years after they had moved in. Watch the film to gain insights into the man who envisioned and was able to build such an extravagant home, and then tour the luxurious interiors to see where he and his wife lived and entertained on such a grand scale.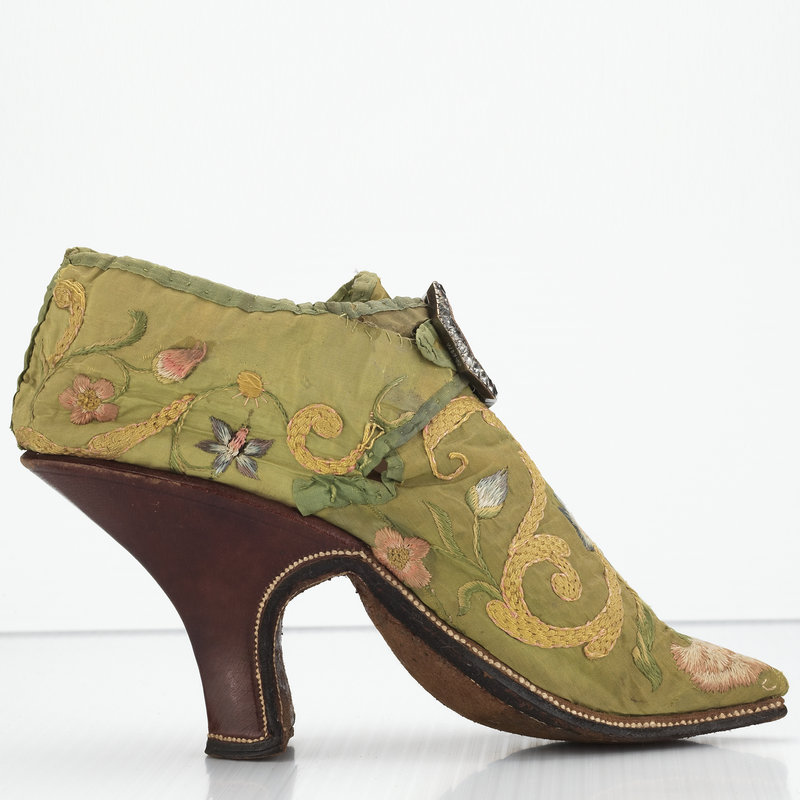 flickr/Smart Desintations
Next, head to The Bata Shoe Museum , where you'll be floored by the amount and variety of shoes on display and how much you can learn about history through footwear. Shoes worn by regular folks, celebrities, musicians, politicians, and by people from other cultures and time periods are creatively displayed within a building that resembles a partially open shoe box.
Day 2: AfternoonWhen you're wondering about where to eat, you'll find many cuisine choices around the Royal Ontario Museum, including Chinese, Continental, French, Italian, Japanese and steak houses. Many of the restaurants are in the Bloor-Yorkville area and are upscale. If you prefer a more casual lunch, get a quick bite at the Royal Ontario Museum's Food Studio Café.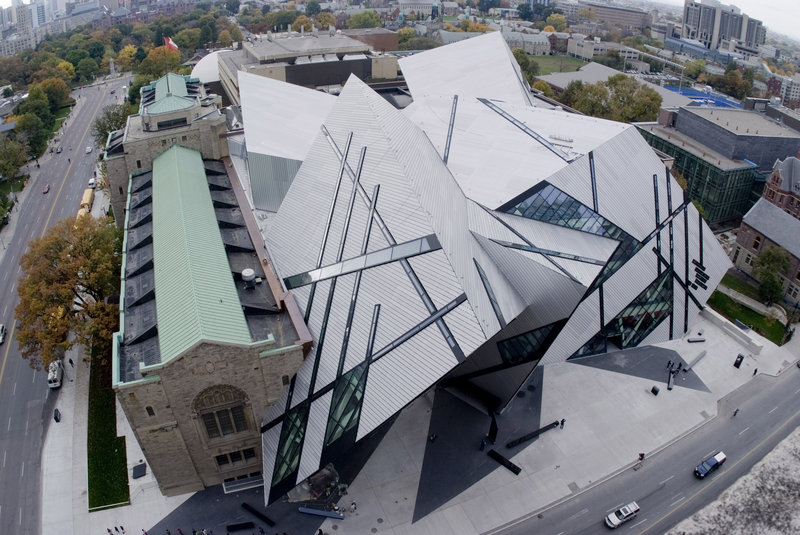 Courtesy of Royal Ontario Museum
With its more than two dozen galleries, not counting the temporary exhibit spaces, the Royal Ontario Museum will take at least several hours of your afternoon. An array of exhibits devoted to natural and cultural history is yours to explore. The impressive dinosaur displays in a room with a 5.5-metre (18-ft.) ceiling will be hard to forget.
The museum is just on the outskirts of Bloor-Yorkville, so head northeast and let the sophisticated neighborhood introduce itself. This is a fun place to go with friends for an afternoon. The area saw a hippie inundation in the 1960s, and such Canadian musicians as Gordon Lightfoot, Joni Mitchell and Neil Young played in the local coffeehouse music scene. Now it is one of the city's most upscale shopping destinations, and you'll find chic retailers along the streets between Bloor Street West, Avenue Road, Davenport Road and Yonge Street. Hazelton Lanes shopping center is particularly beautiful. Bloor-Yorkville is also a major locale for September's Toronto International Film Festival , so if your trip coincides with that, make sure you keep your eyes open for movie stars.
Day 2: EveningRelax after all that walking with a luxurious dinner. Keep in mind that Yorkville restaurants are a bit pricy and upscale. Fine places to eat offering a variety of cuisines—Asian, Continental, French and Italian—are in the span of only a few blocks. Dining at Yamato Japanese Restaurant can count toward part of your evening's entertainment since its specialty is teppanyaki (meals prepared by chefs at the tableside griddle). Afterward, take a stroll and do some window shopping in the boutiques and antique shops in the picturesque area filled with courtyards, flowers and Victorian homes.
Day 3: MorningThe city has several Chinatowns, but explore the one at the junction of Spadina Avenue and Dundas Street W. The vibrant locale showcases Chinese culture with its street vendors and boutiques, and it is a great place to experience the energy of an ethnic neighborhood. Street signs are given in both English and Chinese and make a fantastic backdrop in your photographs of the bustling sidewalks.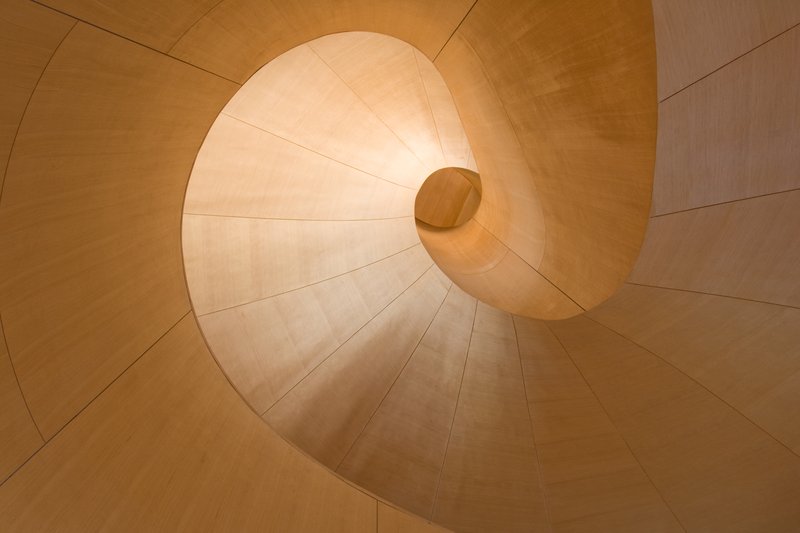 michaelgzc/iStockphoto.com
Delve into art history at the Art Gallery of Ontario next. With 110 galleries, this is one of the continent's largest art museums, so you may want to have a game plan before you start to make sure you visit the areas that interest you most. Don't leave without viewing The Henry Moore Sculpture Centre, which features the largest public collection of his works.
Day 3: Afternoon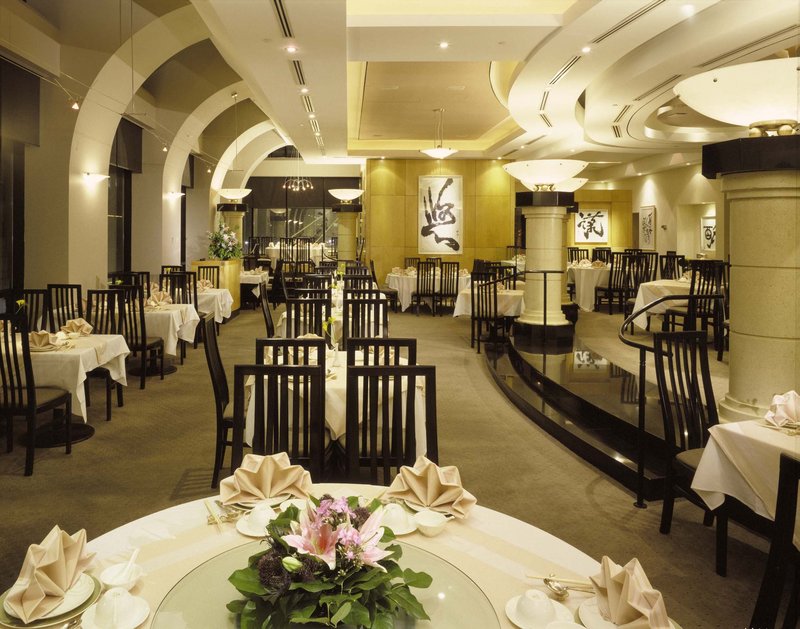 Metropolitan Hotel/Metropolitan Hotel
If you're looking for Chinese fare for lunch, dine at Lai Wah Heen just down the street in the DoubleTree by Hilton Toronto Downtown . Otherwise head up to nearby Elm Street, which is a restaurant row.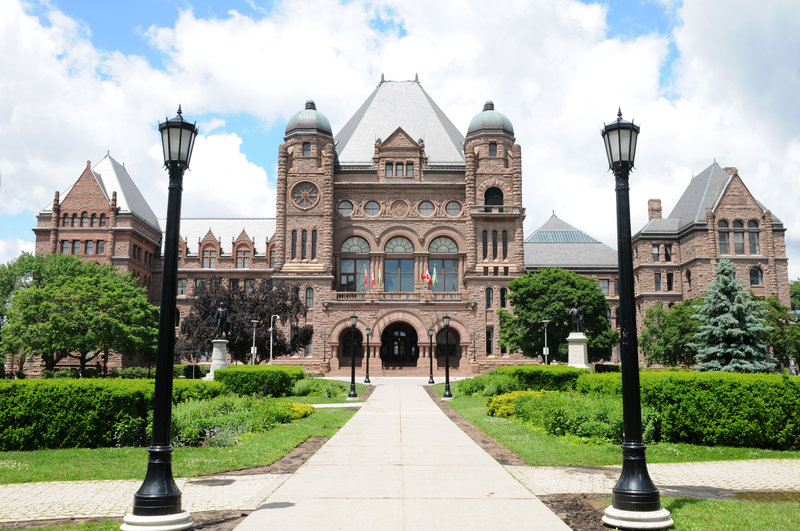 carlosbezz/iStockphoto.com
After lunch, venture north to Queen's Park so you're sure to get into the Ontario Legislative Building before the last tour. This distinctive structure, constructed 1886-1892, has a slightly pink hue from the Ontario sandstone used during construction, and the building's archways and intricate carvings are quite impressive. Tours provide insight into its history, and you can watch a session of Parliament in the Legislative Chamber if one is taking place.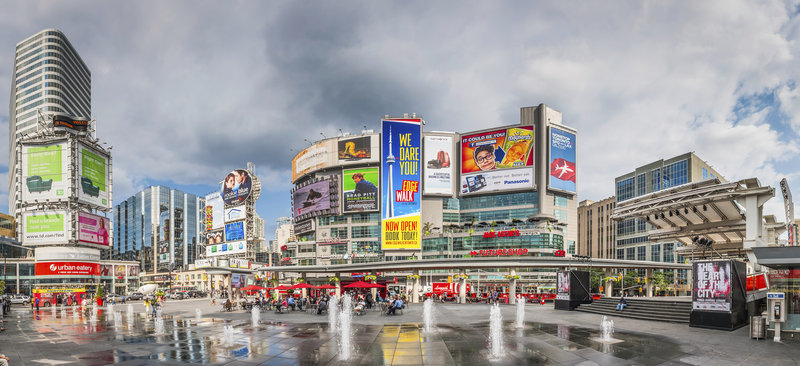 fotoVoyagera/iStockphoto.com
Backtrack a little bit to get to the junction of Yonge and Dundas streets, where the multilevel CF Toronto Eaton Centre—a popular shopping destination complete with a glass ceiling—dominates two city blocks. Within the surrounding area you'll find the Yonge-Dundas Square, where many festivities take place. You just might come across a concert, theatrical performance or a special event. Visit on a Friday, Saturday or Sunday between mid-May and early October so you can browse through the artisan market. A noteworthy tip about one of the square's services is that the T.O. TIX booth sells same-day half-price tickets to performing arts events Tuesday through Saturday (Sunday and Monday performance tickets are sold on Saturday).
Day 3: Evening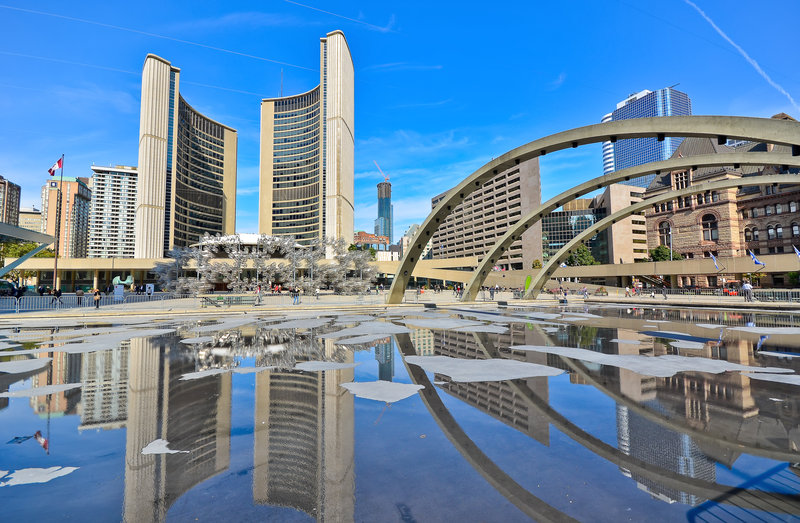 iStockphoto.com/JavenLin
When hunger strikes again and you're wondering where to eat dinner, check out Little Italy. On your way to the popular ethnic neighborhood, have a look around City Hall and Nathan Phillips Square , just west of the shopping center. This public space draws crowds to farmers markets, concerts, special events, a summer reflecting pool/winter ice-skating rink and Henry Moore's sculpture "Three-Way Piece No. 2" (also called "The Archer").
You'll find Little Italy on College Street, roughly between Euclid Avenue and Shaw Street. Many Italian residents have moved north and into suburbs, but this vicinity remains Italian at heart and has interesting scenery. One restaurant to consider is La Forchetta.