Margaret Mitchell The Atlanta Journal Constitution reported that nearly 300,000 fans lined the freezing streets of downtown Atlanta when Clark Gable, Vivien Leigh and other stars arrived on Dec. 15, 1939, for the movie premiere of "Gone With the Wind." Tara-like Greek Revival columns adorned Loew's Grand Theatre for the showing, which lasted 4.5 hours. Amid the crowds, lights and press was Atlanta-born author Margaret Mitchell, whose novel on which the movie was based epitomized the Old South and earned her a Pulitzer Prize.
Born in 1900, Margaret Munnerlyn Mitchell grew up fascinated by stories of the Civil War as told to her by veterans and family friends, and her penchant for writing surfaced at an early age. Following her 1925 marriage to John Marsh at the Atlanta Unitarian-Universalist Church, Mitchell settled into a tiny apartment (which she called "the dump") on fashionable Peachtree Street. Injuries sustained in a fall from a horse forced her to resign from her job as a reporter for The Atlanta Journal. She recuperated in the cramped rental, devouring library books that her husband brought home for her.
Beginning Her Masterpiece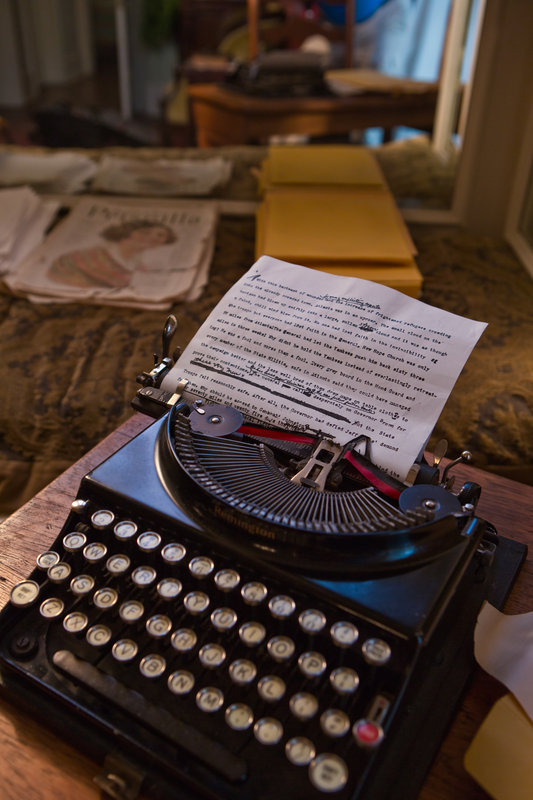 Georgia Department of Economic Development
The delivery of a Remington typewriter in 1926 and Marsh's advice to "write what you know" gave the restless Mitchell the push she needed to begin her masterpiece. Starting with the last chapter, she wrote in secret for 10 years, hiding stacks of papers from suspecting visitors, who joked that she must be writing the great American novel. Only Marsh, serving as her editor, saw the pages.
When Harold Latham, an editor for MacMillan, contacted Mitchell about her rumored book, she initially denied its existence, believing her story to be "lousy." Finally, dared by a friend, she handed over the manuscript—a carefully researched, epic romance (missing a first chapter) about the Civil War and Reconstruction, centered on a feisty character named Pansy O'Hara. After some editing and a name change, "Gone With the Wind" appeared in bookstores on June 30, 1936.
The novel swept Atlanta, receiving rave reviews. Glued to its pages, readers stayed up all night to finish the saga, fan letters arrived by the thousands, and movie rights were sold for a then-record fee of $50,000. The tale that Mitchell described as being about gumption would be translated into 25 languages and sell more than 10 million copies. The movie earned eight Academy Awards, including best picture of 1939.
Ten years after the premiere, while crossing Peachtree Street with her husband, Mitchell was struck and killed by a speeding taxi cab. She is buried alongside family members at historic Oakland Cemetery. A visit to her home or gravesite is one of the top things to do in Atlanta.