Restaurants
Our favorites include some of this destination's best restaurants—from fine dining to simple fare.
By Greg Weekes
Pan-fried chicken. Barbecued ribs. Sausage-studded cream gravy. Just-like-Mom-makes mashed potatoes. Heaping bowls of garden vegetables. Hot rolls with real butter. Fruit cobblers and fresh-baked pies. Branson has traditionally been a bastion of both American country cooking and the all-you-can-eat buffet—the kind of down-home fare that might inspire Andy Griffith to enthusiastically opine, "Boy, that's good!" If you like to go back for seconds, this is your kind of place.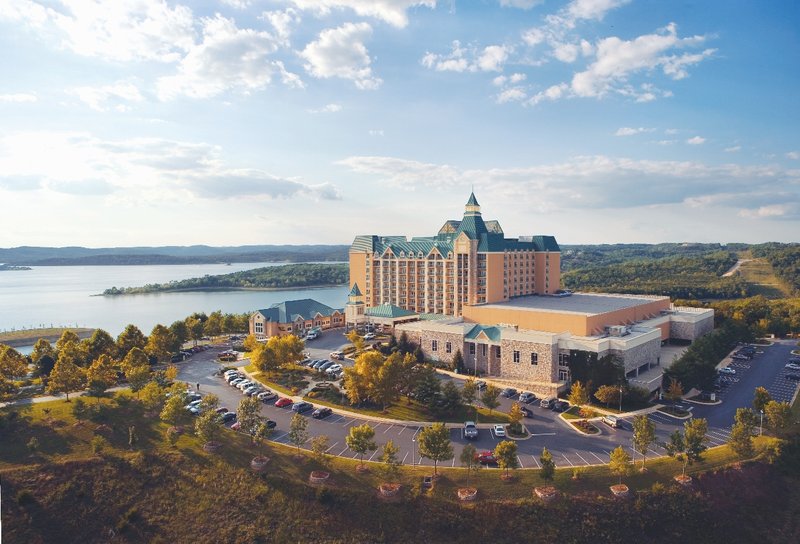 Courtesy of Chateau on the Lake Resort and Spa
But Branson isn't just about plates piled high with food; there also are restaurants that will please the most discriminating of diners. Take, for example, the Chateau Grille at Chateau on the Lake , at the Chateau on the Lake Resort & Spa . The kitchen's creative talent shines in appetizers like bison empanadas with fire-roasted salsa and such entrées as seared duck breast with an arugula and walnut salad. The availability of seasonal ingredients dictates what's on the changing menu. The fine-dining experience is enhanced by lovely views of Table Rock Lake and a carefully chosen wine list.
The guacamole is prepared tableside at Cantina Laredo. It's a good starter to follow with standard Mexican entrées like carne asada, carnitas or guiso de pollo, chicken and tomatillo stew with roasted red peppers, mushrooms and asparagus. Vegetarian and gluten-free choices are also offered.
College of the Ozarks, across Lake Taneycomo from downtown Branson, is known as "Hard Work U." for its can-do ethic—students help earn their education by getting involved in more than 80 different campus work programs. This is what makes a visit to The Keeter Center at College of the Ozarks more than just a meal. Located in the college's Keeter Center complex, the restaurant is graced with beautiful building details that were created almost entirely by students (note in particular the lobby's stunning rock fireplace). Students also prepare and serve the food—solidly satisfying dishes like chicken and dumplings or pork tenderloin in a garlic cream sauce—and many menu items are grown or raised on the student farm. Musical entertainment is provided Thursday through Saturday evenings, and there's a popular Sunday brunch.
Danna's Bar B Que and Burger Shop specializes in smoked meats coated with a secret-recipe rub and then slow-cooked to bring out the tenderness. Their "Pit Plate" special, a sampler that comes with fries, slaw, baked beans and a Memphis roll (crisp on the outside, buttery inside), is more than enough for two hungry people. The burgers aren't afterthoughts, either. The original Danna's is on SR 165 just north of the junction with Fall Creek Road. There's another one in Branson West (on SR 13 half a mile south of SR 76) and a third at Table Rock State Park and Marina (open Memorial Day-Labor Day).
McFarlain's Family Restaurant, in the Branson's IMAX Entertainment Complex on Shepherd of the Hills Expressway, makes a convenient post-movie pit stop. The "traditional Ozark cooking"—chicken potpie, pot roast, mashed potatoes and gravy, "Ma Hewlett's" meatloaf, barbecue beef on a bun, Belgian waffles—is really just familiar comfort food, but do try the fried green tomatoes (referred to as "fried green 'maters") and the addictive honey cornbread. All the variety makes this a great place to take kids. Hint: Ask to be seated at one of the "special" tables in the center of the dining room for a fun little surprise.
Branson's buffet spreads, a real magnet for anyone with a hearty appetite, are all over town, but if you're looking for one that's a cut above an all-you-can-eat food trough, try the Grand Country Buffet, on the Strip in the Grand Country Square complex. It has "scatter bars" that are chock-full of items at breakfast, lunch and dinner. Nothing has been overlooked, from "sweet corn pops" (corn kernels breaded and fried) to fresh fruit and salads, hand-carved roast beef and ham, and yummy frozen custard. This isn't haute cuisine, but it covers the five major food groups. Parents with finicky youngsters will give thanks for the pizza buffet.
See all the restaurants for this destination.