About Chattanooga Chattanooga began in 1815 as a small trading post started by Daniel and John Ross at what is now known as Ross's Landing (near the Tennessee Aquarium). It also served as one of the staging areas for the Cherokee relocation known as the Trail of Tears. Incorporated in 1839, Chattanooga's Creek Indian name means "rock coming to a point," in reference to 2,126-foot-high Lookout Mountain to the south.
During the Civil War Union forces occupied the city. Following this 1863 occupation Gen. William Tecumseh Sherman began his march from Chattanooga, through Georgia, to the sea. The Civil War battles of Lookout Mountain, Chickamauga and Missionary Ridge were fought near Chattanooga. Much of the historic area has been preserved in Chickamauga and Chattanooga National Military Park. Brochures detailing a driving tour of the Chickamauga Campaign Heritage Trail as well as sites along the Blue and Gray Trail and the Tennessee Civil War Trail can be obtained from the visitor center.
The Chattanooga National Cemetery was established in 1863 for more than 12,000 Union soldiers who died in the area. The Andrews Raiders Monument marks the graves of the participants of the 1862 Andrews Raid—known as "The Great Locomotive Chase"—in which civilian James Andrews and his band of soldiers commandeered the General locomotive in an attempt to disrupt Confederate supplies by severing rail transportation. The monument depicts a replica of the train, which they piloted from Kennesaw to Ringgold, Ga., before being captured and hanged. Andrews' men were the first recipients of the Medal of Honor.
Chattanooga is the southern terminus of a scenic stretch of I-24, which runs 40 miles northeast to Monteagle at the SR 55 intersection.
Lookout Mountain is accessible by SRs 58 and 148 or by the Lookout Mountain Incline Railway. Point Park on Lookout Mountain overlooks Chattanooga, Moccasin Bend and the Tennessee River; a visitor center is available. Nearby are Chickamauga Lake and Nickajack Lake. Chickamauga Dam has a visitor lobby.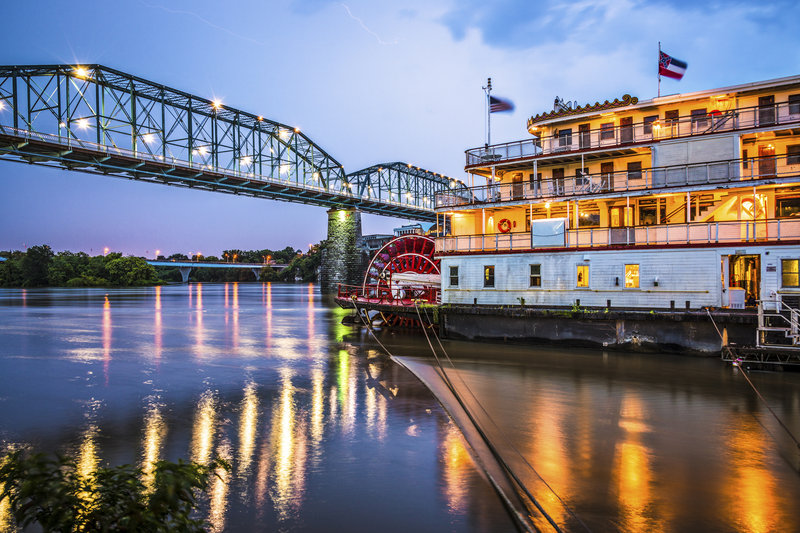 Sean Pavone/iStockphoto.com
The Chattanooga riverfront has been revitalized and includes 129 acres of footpaths, pedestrian bridges and a 160-foot lighted pier extending from Ross's Landing into the Tennessee River. At First and Market streets a walkway connects nearby attractions and is adorned with public art. The Passage, a pedestrian link along the riverfront, honors Cherokees affected by the Trail of Tears with water features and six Native American clay symbols.
The restored 1909 Chattanooga Choo Choo train depot at 1400 Market St. contains a hotel, shops and restaurants. A free electric shuttle service provides transportation between the train station and the Tennessee Aquarium.
In the Northshore district off Frazier Avenue, visitors enjoy the green, open space of Coolidge Park, which features a restored 1894 Dentzel carousel and an interactive play fountain. Renaissance Park, offering 23 acres of wetland, is off Manufacturers Road and connected to Coolidge Park Landing, a shopping and entertainment complex.
Stringer's Ridge Park is a 92-acre wilderness park featuring multiuse trails, a Civil War cannon and panoramic city views. Trailheads leading to the ridge can be accessed off Bell Avenue, Spears Avenue and Highridge Drive.
Visitor Centers Chattanooga Visitors Center 215 Broad St. Chattanooga, TN 37402. Phone:(423)756-8687 or (800)322-3344
ShoppingHamilton Place, just off I-75 exit 5 (Shallowford Road), is a mall with more than 150 stores, including Belk, Dillard's and JCPenney. Northgate Mall, north on SR 153 in Hixson, has more than 60 stores, including Belk and Burlington.
Just across from downtown along the riverfront, the NorthShore district includes eclectic, locally owned shops and eateries. The Southside district of Chattanooga has antiques, galleries and eateries, while the Central district is home to Warehouse Row's boutiques, fine dining and cultural attractions. Bluff View Art District, overlooking the Tennessee River, specializes in visual, culinary and landscape arts.
The Chattanooga Market sets up Sundays Apr.-Nov. at the First Tennessee Pavilion, 1829 Carter St., and features specialty foods, crafts, music and locally grown produce; phone (423) 648-2496. Artisans offer local products at the River Market on Saturdays Apr.-Nov. at Aquarium Plaza, 1 Broad St.
Things to Do Audubon Acres/The Elise Chapin Sanctuary
Houston Museum of Decorative Arts
International Towing and Recovery Hall of Fame and Museum
Lookout Mountain Incline Railway
Raccoon Mountain Pumped Storage Visitors Center
Reflection Riding Arboretum and Nature Center