Best Attractions in ChicagoAttractions
In a city with dozens of attractions, you may have trouble deciding where to spend your time. Here are the highlights for this destination, as chosen by AAA editors. GEMs are "Great Experiences for Members."
By Frank Swanson
Explore Urban Green Space
Often called Chicago's front yard, Grant Park really does create that impression with its broad, tree-bordered lawns spread out like a green picnic blanket before a wall of downtown high-rises. There's no better place to kick off your sightseeing itinerary since many of the top things to do in Chicago either adjoin or are within sight of the park. The park's centerpiece is Buckingham Memorial Fountain, a city icon since its 1927 installation. Within its wide pool, four stylized bronze seahorses spew water at three tiers of overflowing basins. At night the splashing water is synchronized to a light and music show.
Experience World-Class Art
benkrut/iStockphoto.com
Projecting above the leafy canopy along Michigan Avenue is the park's most impressive building and a definite must-see: The Art Institute of Chicago, a AAA GEM attraction. Pass between the huge bronze lions guarding the main entrance and into the museum's echoing skylighted halls, and you'll likely be surprised by how many familiar faces you meet. There's the dour farmer and his daughter from Grant Wood's "American Gothic" on view not far from the haunted-looking couple drinking coffee at an all-night diner in Edward Hopper's "Nighthawks." You're liable to have many such déjà vu moments in the Beaux-Arts building thanks to mass-produced versions available at shopping malls everywhere. These, however, are the originals.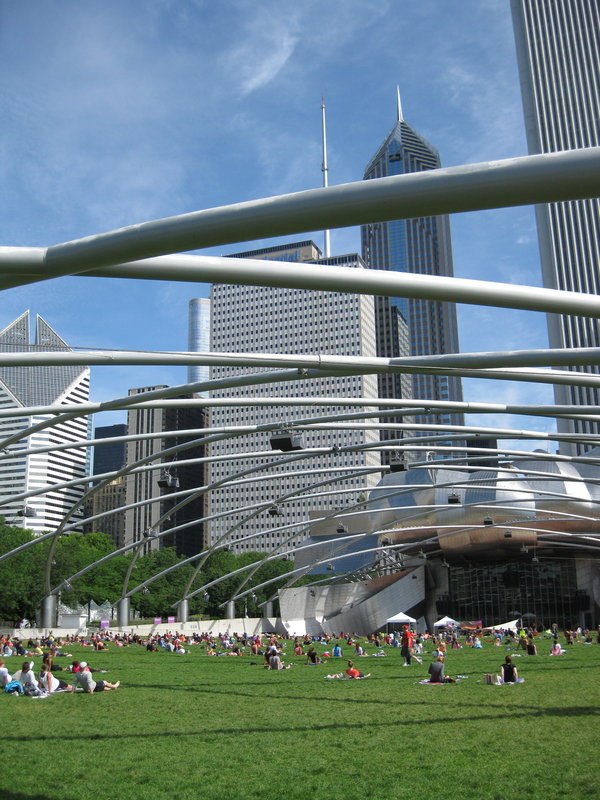 AAA/Frank Swanson
But you need not confine your appreciation of art to the indoors when just across Monroe Street, at the northwest corner of Grant Park, is Millennium Park, another AAA GEM attraction. Opened in 2004 on the site of a defunct rail yard, the park boasts stunning examples of alfresco modern art and architecture including the undulating stainless steel walls of the Pritzker Pavilion and BP Bridge, both designed by "starchitect" Frank Gehry. A photo of Anish Kapoor's "Cloud Gate" sculpture, which looks like a gigantic droplet of solidified mercury, is a must even for those connoisseurs who don't think much of it: You can capture an artfully distorted view of the Chicago skyline reflected in its mirror-shiny surface.
Admire the Architecture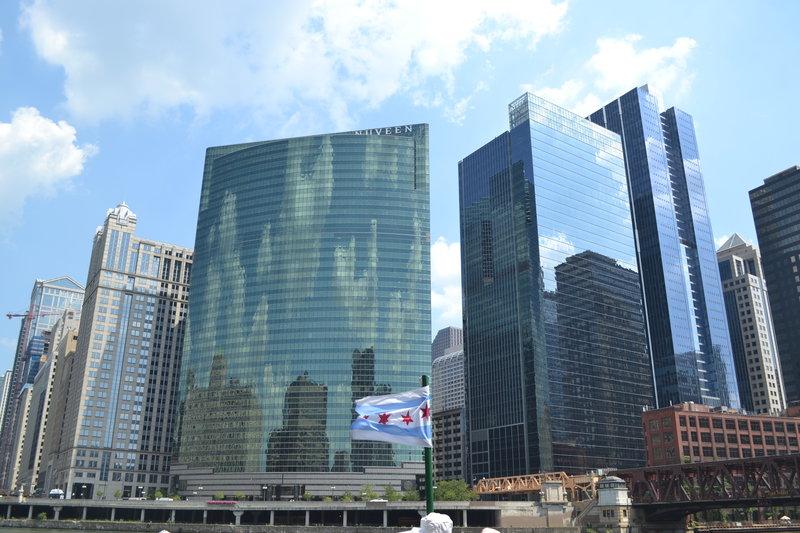 AAA/Inspector 40
Of course, in a city noted for its architecture, a tour focusing on the topic is de rigueur. The Chicago Architecture Center, a AAA GEM attraction, is at the corner of E. Lower Wacker Drive and N. Michigan Avenue. Here you can choose among more than 85 different tours that'll suit about any taste or interest. You can also select your mode of travel: bus, boat, trolley, "L" train, bicycle, Segway or by foot.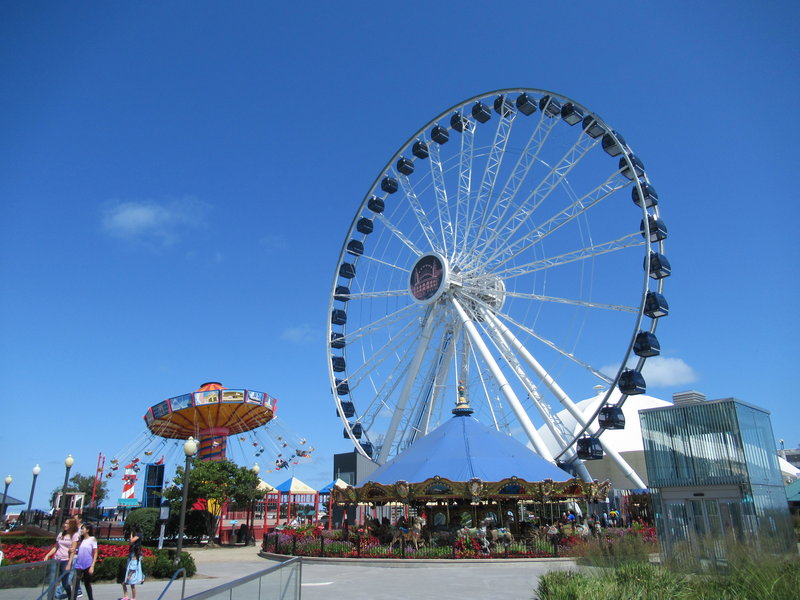 AAA/Laurie Sterbens
If you want even more of a boat tour selection, head through the park and north along the lakeshore about a mile and a half to Navy Pier, a AAA GEM attraction from which a flotilla of sightseeing craft depart. Of course the pier, with its carnival-style rides, places to eat, shops, concert venues, Centennial Wheel, IMAX theater and a museum geared toward children under 12, is a worthwhile sightseeing destination by itself. You'll be able to take in a wide swath of Chicago's spectacular skyline from the pier's eastern end, and in summer the night sky explodes with color and light during weekly fireworks shows.
Have an Educational Vacation
On the southern end of Grant Park lies Museum Campus Chicago, a lakefront destination shared by no fewer than three AAA GEM attractions. Foremost among these stands The Field Museum , primarily known for its natural history exhibits but featuring anthropological specimens as well. A tyrannosaur named SUE, the most complete T. rex skeleton yet found, occupies pride of place in the museum's main entrance hall along with two preserved elephants, prominent museum residents since 1906.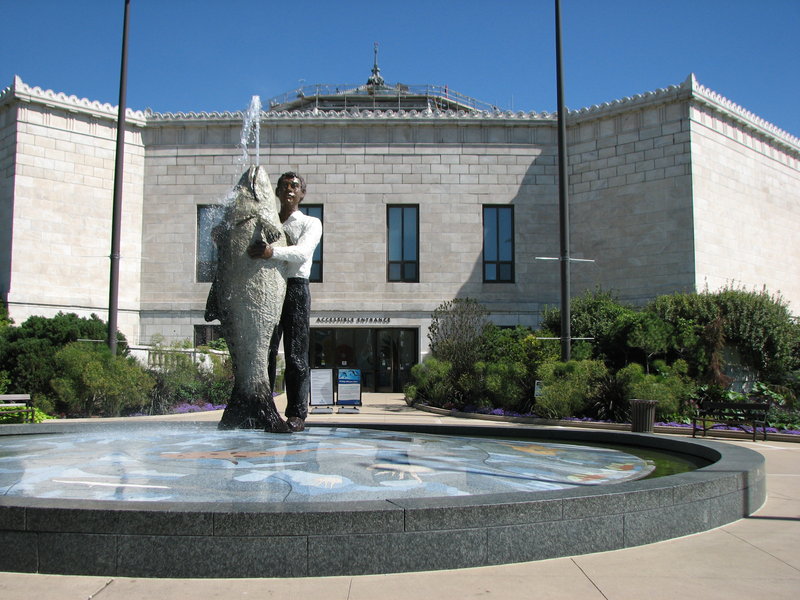 AAA/Elizaeth Fernandez
What neighboring Shedd Aquarium lacks in tyrannosaur fossils, it more than makes up for with dramatic aquatic displays including a Caribbean reef exhibit at the center of a skylighted Beaux Arts rotunda and the Oceanarium, which replicates a Pacific Northwest Coast habitat for harbor seals, beluga whales and Pacific white-sided dolphins. Don't miss the Wild Reef exhibit where panoramic floor-to-ceiling windows will give you an eerie sense of floating among the aquarium's school of sharks.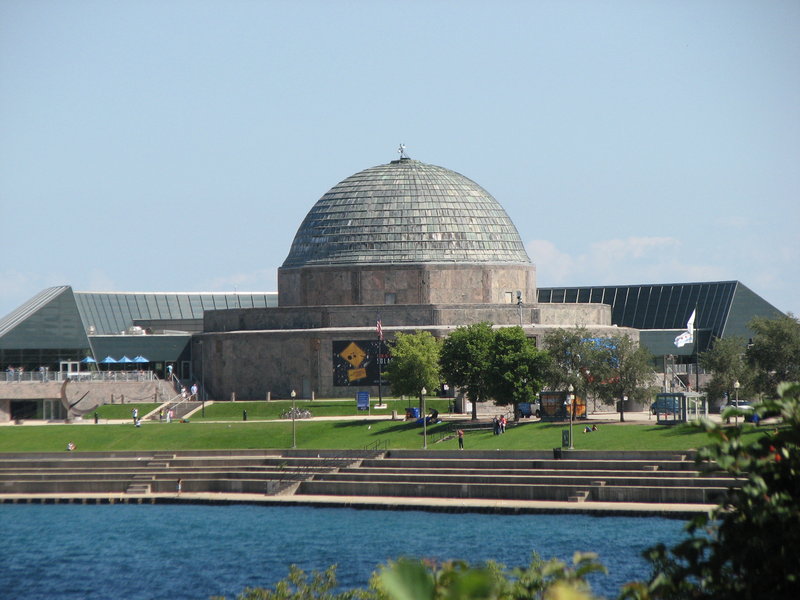 AAA/Elizabeth Fernandez
In terms of subject matter, leaping from our world's oceans into the vastness of space is as easy as taking a trip to nearby Adler Planetarium, where the sky takes center stage courtesy of a glass roof that permits daylight to flood the main exhibit area. A planetarium replicates a nighttime view of the heavens in addition to showing off colorful nebulas and spiral galaxies. Displays of antique astronomical instruments reveal the artistry involved in producing these early devices, and a motion simulator theater takes visitors on a virtual journey through the universe.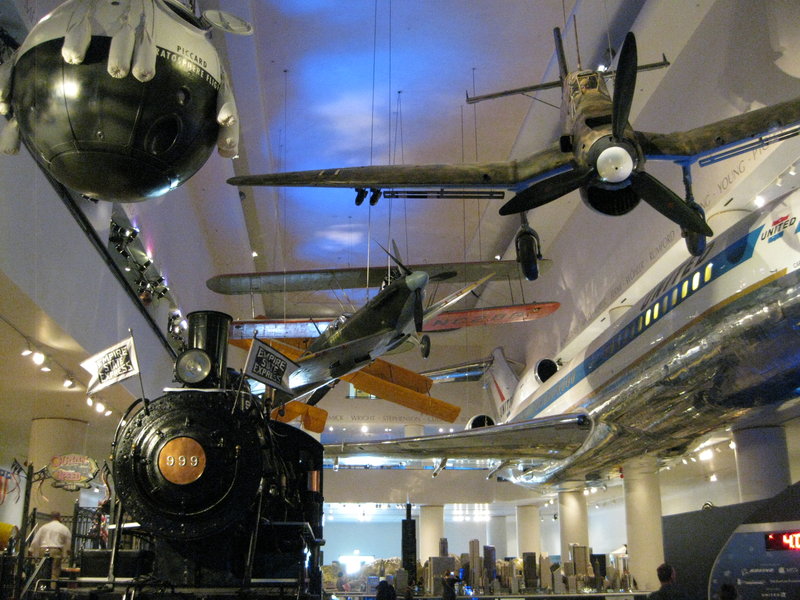 AAA/Frank Swanson
Although separated from Museum Campus Chicago by 6 miles of lakefront, the Museum of Science and Industry, AAA GEM attraction in the Hyde Park neighborhood, shares much with its downtown counterparts. Here again is a decades-old Beaux Arts palace crammed with an eclectic mix of exhibits—only in this case the theme is technology and engineering. The question isn't what will you see, but what won't you see inside these venerable walls. Don't be surprised to find a large portion of a 727 passenger jet, a 1936 streamlined locomotive with passenger cars and even a German U-boat captured during World War II.
Get a View from Above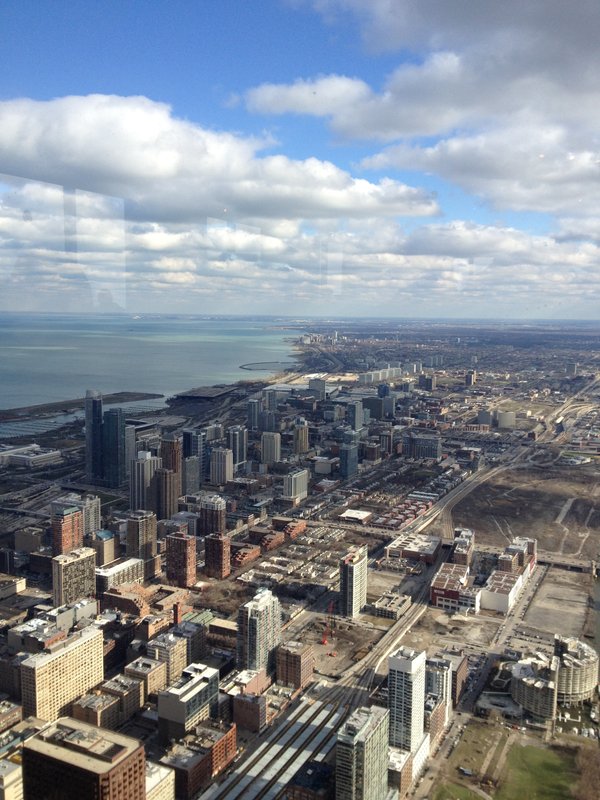 AAA/Katie Broome
While Chicago remains the birthplace of the skyscraper, the city can no longer claim to have the world's tallest building—a distinction it enjoyed most recently 1973-96 courtesy of the 1,450-foot-tall, 110-story Willis Tower (formerly the Sears Tower). While the building's rank has slipped a bit, its ability to wow visitors who ascend to Skydeck Chicago, a AAA GEM attraction, remains undiminished. On clear days views extend for 50 miles in every direction, a spectacular panorama that you also can enjoy from 360 CHICAGO (formerly the John Hancock Observatory) at John Hancock Center. While at a mere 1,000 feet, the observatory falls somewhat short of Skydeck Chicago at the top of the Willis Tower, you'll hardly notice the difference when you step onto the observatory's Skywalk for a thrilling, open-air view.
Encounter Wildlife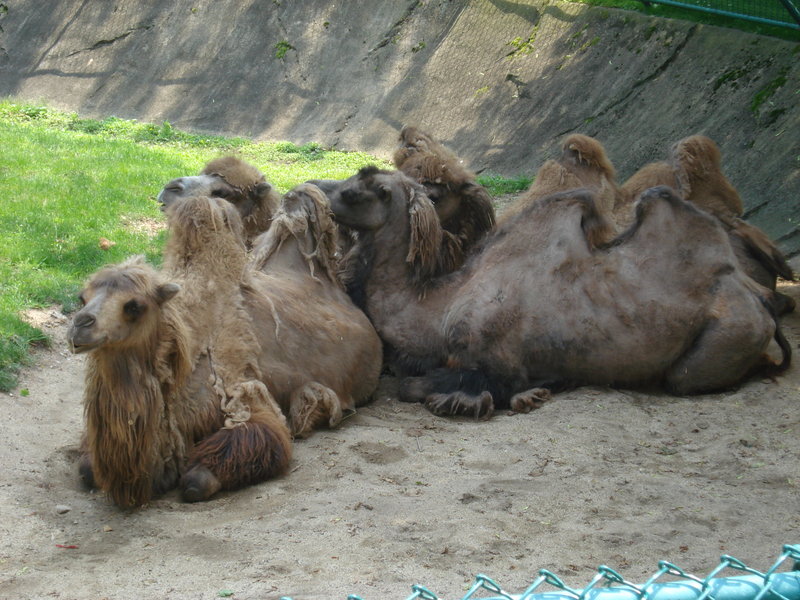 AAA/Suzanne Lemon
From your aerie atop the John Hancock Center you'll spy a narrow green patch along Lake Michigan north of downtown. A AAA GEM attraction, Lincoln Park started out as a small, makeshift cemetery in the 19th-century but now spreads out over more than 1,200 acres. In addition to fun things to do such as visiting monuments, playgrounds, beaches and recreation trails, the park's borders encompass a conservatory and Lincoln Park Zoo, where such endangered critters as black rhinos, snow leopards and western lowland gorillas make their home in enclosures scattered among the zoo's historic buildings.
Home of an Architectural Legend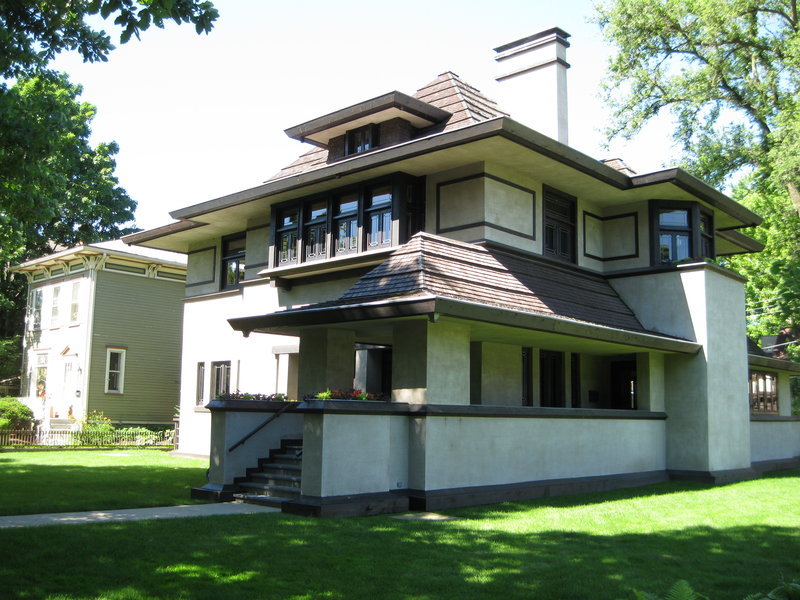 AAA/Frank Swanson
At the beginning of his illustrious career more than a century ago, Architect Frank Lloyd Wright chose the western suburb of Oak Park as his home and ended up executing some of his most renowned designs for himself and his neighbors and in the process perfecting his distinctive Prairie style. Architectural Tours in Oak Park, a AAA GEM attraction, offers an extensive menu of tours that includes his home and studio and the exteriors of 15 Wright-designed buildings—the visionary Unity Temple among them.
Enjoy Modern Artwork
In the shadow of John Hancock Center and just off Michigan Avenue stands an institution dedicated to visionary creativity: the Museum of Contemporary Art. Focusing on works created since 1945 in a wide range of media, the museum's collection is edgy, challenging and sometimes confounding, and the modern building's bright, airy galleries suit the exhibits to a T.
AAA/Frank Swanson
Although not focused exclusively on contemporary art, the AAA GEM-rated National Museum of Mexican Art (NMMA) in Chicago's Pilsen/Little Village neighborhood southwest of the Loop spotlights works that fall into that category as well as a host of other genres. The unifying theme here is the artistic expression of the Mexican experience on both sides of the border. In addition to artifacts created centuries ago by Mexico's indigenous peoples, you'll find paintings, sculptures, prints, drawings, textiles and photographs.
The focus narrows considerably at the National Veterans Art Museum, where veterans of all wars convey their personal experiences through a variety of media on display here. One particularly moving artwork is, "Above and Beyond," a memorial sculpture made up of more than 58,000 dog tags suspended from the ceiling, each one imprinted with the name of a serviceman or woman who died in the Vietnam War. The memorial is currently on display at the Harold Washington Library Center (Chicago Public Library) .
Take a Trolley Trip
When it comes to getting around Chicago, probably no option is more fun or informative than that offered by Chicago Trolley & Double Decker Co. Not only are tours aboard the company's double-decker buses and trolleys entertainingly narrated, but you can hop on and off at most of the city's top things to do, offering you a very convenient way to sightsee.
Fun Things to Do Beyond the City Limits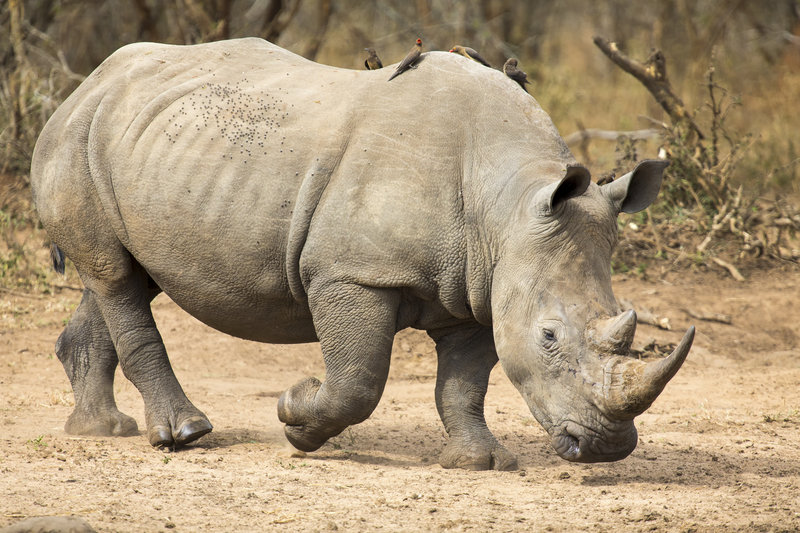 iStockphoto.com/Rhinoceros
Venturing just a few miles out into that vast metro area known as Chicagoland yields even more vacation draws well worth your time. The Brookfield Zoo, a AAA GEM attraction in Brookfield just west of Chicago, treats animal lovers to a veritable Noah's Ark of exotic creatures too numerous to list, all housed in natural-looking enclosures. Dolphins splash about, gray wolves prowl around their lair and a troop of western lowland gorillas leisurely munch on fruits and leaves in some of the zoo's most popular exhibits.
If the zoo has whetted your appetite for the outdoors, then visit the Morton Arboretum, a AAA-GEM attraction in Lisle, 25 miles west of the Loop. Established in 1922 by the owner of the Morton Salt Co., the 1,700-acre arboretum offers a pleasing counterpoint to Chicago's asphalt-and-steel landscape. You can roam paths around wetlands and lakes and through formal gardens and oak forests, and when you get tired, there's an open-air tram that tours the grounds.
Or if back-to-nature serenity isn't your thing, explore the opposite extreme at Six Flags Great America , a theme park in Gurnee packed with enough roller coasters to keep your adrenaline levels high and, depending on your constitution, your stomach in knots all day. Motion simulators, carnival-style thrill rides and a Caribbean-themed water park round out the amusements on tap here.
See all the AAA recommended attractions for this destination.