Best Restaurants in Chicago
Our favorites include some of this destination's best restaurants—from fine dining to simple fare.
By Inspector 40
as told to Frank Swanson
Italian
A Chicago destination for 90 years, The Italian Village continues to be one of the city's favorite Italian restaurants. Its second-floor location within the Loop features a long, narrow, dimly lit dining room with small nooks offering semi-private seating areas. With its large murals depicting the Italian countryside and strings of twinkle lights hanging overhead, the dining room has the feel of a small village street. Known for its variety of fresh pastas, the restaurant's other signature dishes include fine choices of veal, steak, fish and chicken. Try the excellent chicken Vesuvio with roasted potatoes, which is prepared in the traditional way. The experienced wait staff provides good overall service, but the tables are cramped in places, so beware if you're claustrophobic.
If this is your first vacation in the Windy City, you're probably curious about the much-talked-about Chicago-style, deep-dish pizza. Well, the dish doesn't get any deeper than at Giordano's Famous Stuffed Pizza, which is known for pies so thick, they are basically two standard pizzas stacked one on top of the other. Giordano's has restaurants throughout Chicagoland, but you can find a convenient one right in the Loop. Just keep in mind that their pies are wildly popular, which often means long lines, and then once you're seated and have finally ordered, be prepared to wait an additional 30-45 minutes for your pizza to arrive.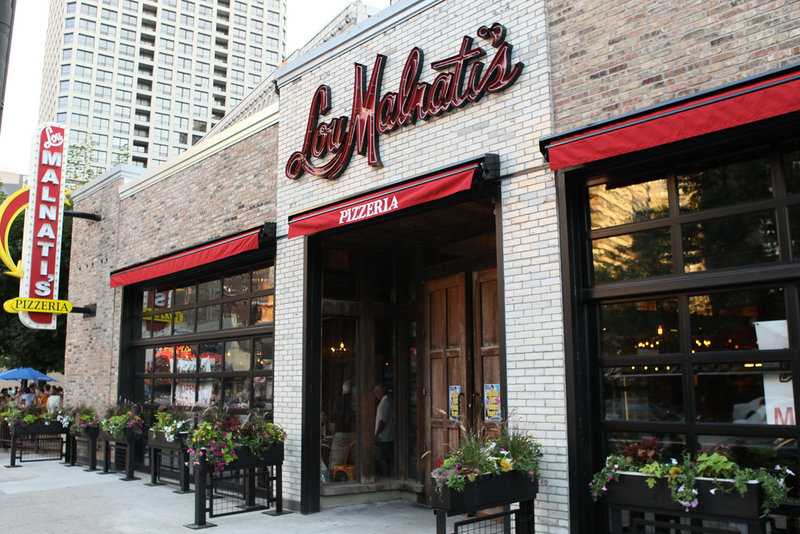 Courtesy of Lou Malnati's Pizzeria
Another Chicago-style pizza standout, Lou Malnati's Pizzeria is known for its crispy "buttercrust," which blends beautifully with the supremely fresh mozzarella and tomatoes on each pie. The sausage pizza, an obvious star on the menu, comes loaded with small chunks of spicy Italian sausage mixed with the sauce and cheese. It literally melts in your mouth. The casual sports-themed restaurant in Chicago's Near North neighborhood is one of the great places to eat for groups or families and offers plenty of TVs to keep folks entertained. The wait staff is very laid-back and dresses casually but is nonetheless efficient.
Other Choices in the Loop
Also in the Loop, across from the historic Marshall Field's building (now Macy's), Atwood offers a bright, airy dining room lined on two sides with tall windows. Despite its location in the 1895 Reliance Building, the restaurant's recently renovated interior is all clean lines, neutral colors and contemporary light fixtures. A great spot for lunch or dinner, Atwood Café serves large salads and sandwiches as well as a seasonally varying menu that can include Alaskan scallops, sockeye salmon and hanger steaks.
The Park Grill is a popular eatery in Millenium Park that serves modern American fare including fine steaks, Faroe Island salmon and grilled lamb chops. Indoor and outdoor dining are available, and if you visit during the winter months you can dine with a view of an outdoor skating rink..
Where to Eat on the Magnificent Mile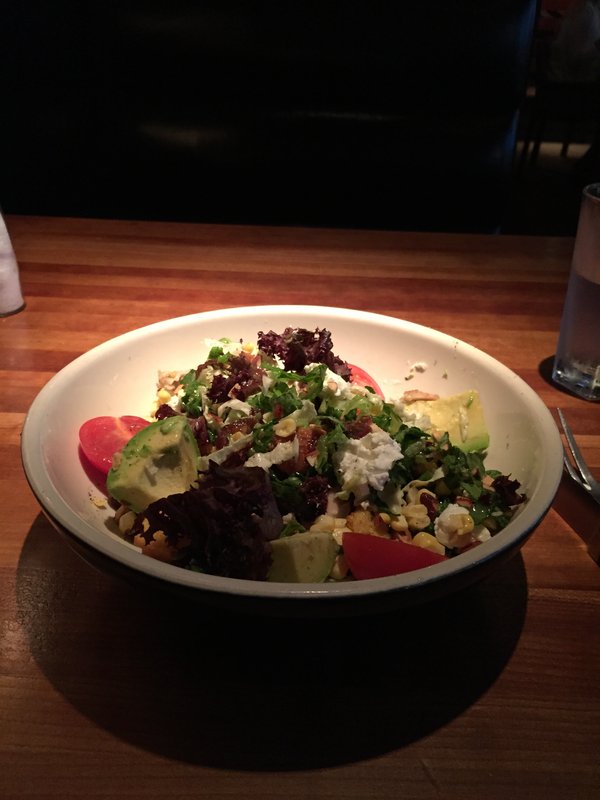 AAA/Frank Swanson
With a prime location on Michigan Avenue, Bandera American Cooking makes the most of its second-floor vantage point overlooking Chicago's Magnificent Mile. Discrete spotlights and warmly glowing lamps create a cozy atmosphere enhanced by the polished wood table tops, artfully framed textiles and tastefully lit black-and-white prints. Live jazz played at a comfortable volume completes the stylish-but-not-stuffy ambience. Menu favorites include the iron skillet cornbread; macho salad with cornbread croutons, goat cheese, dates, almonds and roasted chicken; and the aged prime rib. The homemade Oreo ice cream sandwich alone is worth the trip. Be sure to make reservations because otherwise you may be left waiting for hours for a table.
Nearby on Michigan Avenue is The Purple Pig , which playfully describes itself as a place for "Cheese, Swine & Wine." While some of the menu items might sound unusual, if not off-putting (it's not called The Purple Pig for nothing), such dishes as the fried pig's ear over kale are not only delicious but very popular. The roasted bone marrow spread is another palate-pleasing favorite. A nice wine selection and rich desserts that include a brioche filled with ricotta cheese and chocolate chips are other big pluses. The down side? The restaurant attracts big crowds and does not accept reservations, so be prepared to wait a while if you don't arrive early.
River North
A Chicago institution catering to tourists but with a loyal local following as well, Portillo's is famous for their Chicago-style hot dogs, chili dogs and Maxwell Street style Polishes, but their burgers and Italian beef sandwiches have plenty of fans too. This quick-serve eatery might not be upscale, but the warehouse-like interior is fun and whimsical, packed as it is with 1930s-era relics along with a seemingly random collection of Chicago memorabilia. Since you're not here for health food, go for broke and order their decadent chocolate cake shake with your meal.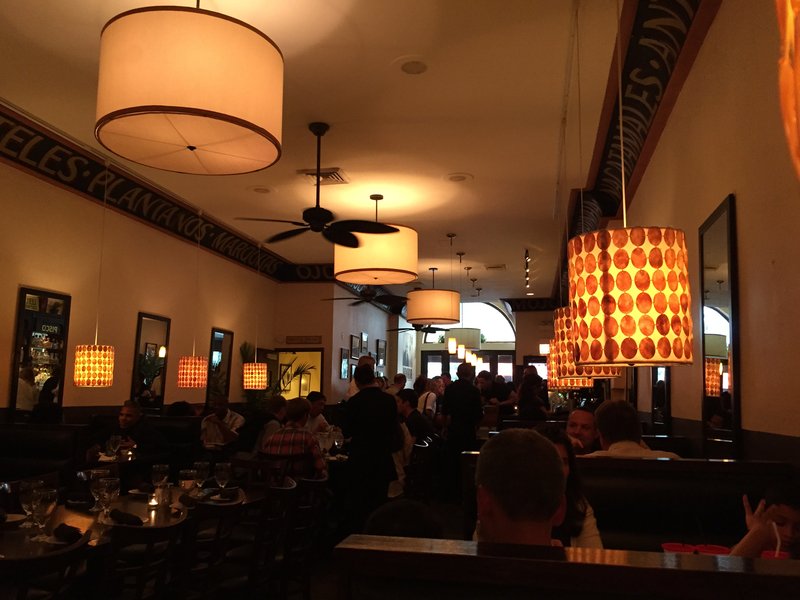 AAA/Frank Swanson
Just a few blocks south of Portillo's on Clark Street, Havana feels a lot less touristy than most nearby restaurants in the River North area. As you'd might expect from the name, Cuban cuisine is the specialty here, although Mexican, South American and Puerto Rican influences are reflected on the menu too. Such staples as ropa vieja and arroz con frijoles are excellent choices, but so are the pollo horneado con platano (chicken baked in plantain leaves served with sweet plantains) and the steak jibarito (marinated steak and cheese sandwiched between two flattened and fried plantains). Wash it all down with one of Havana's signature mojitos.
West of the River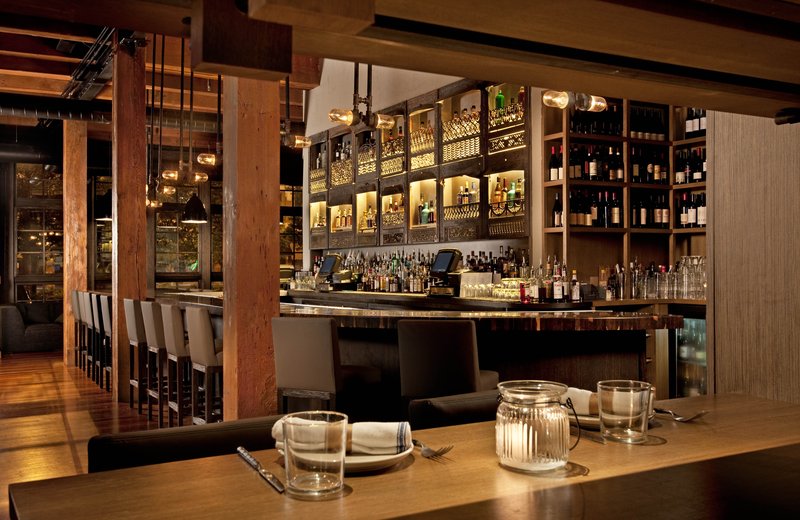 Courtesy of The Girl and the Goat
If you're in the mood for a culinary adventure, travel to the trendy West Loop for an unforgettable evening at The Girl and the Goat . Celebrity chef Stephanie Izard has spent years perfecting an eclectic menu that's anything but dull. And, oh yeah, she's a big fan of meat. All kinds. So much so that it may not be the best place for vegetarians or anyone a tad bit squeamish about a plate of deliciously prepared animal flesh. In addition to goat liver mousse and goat empanadas, you'll find wood oven roasted pig face and grilled baby octopus on the menu. Is it good? Let's put it this way, in a foodie town forever in search of the next best thing, The Girl and the Goat's star has yet to fade, despite having opened way back in 2010. The initial excitement over its novel dishes has given way to consistently enthusiastic word of (salivating) mouth. So, yeah, it's good.
Another West Loop destination for meat lovers, The Publican sets itself apart from other local restaurants with its distinctive dining room dominated by a long, rustic banquet table lit by an array of globe lights overhead. The menu is just as unusual and rustic (what you might find on a French farm in the 19th century), featuring spicy pork rinds, potted rillettes (similar to pâté), smoked pork shank, pork belly and a taste of three hams plate—when one ham is just not enough. Chicken and shellfish share space on the menu for those not in the mood for pork. So the gist: setting plus food equals unforgettable dining experience.
Northern Neighborhoods
North of downtown, Lincoln Park's Café Ba-Ba-Reeba! draws large crowds with its tasty selection of tapas and pitchers of sangria in various flavors, most notably white peach and black raspberry. The popular seafood paella is served up in two-person portions loaded with shrimp, scallops and monkfish. Other top choices include spicy potatoes, mushrooms stuffed with spinach and Manchego cheese, and beef tenderloin with blue cheese. Try to make reservations, especially on weekends, and keep in mind that the restaurant's brick and wood walls don't do much to dampen the sounds of boisterous, sangria-fueled revelry.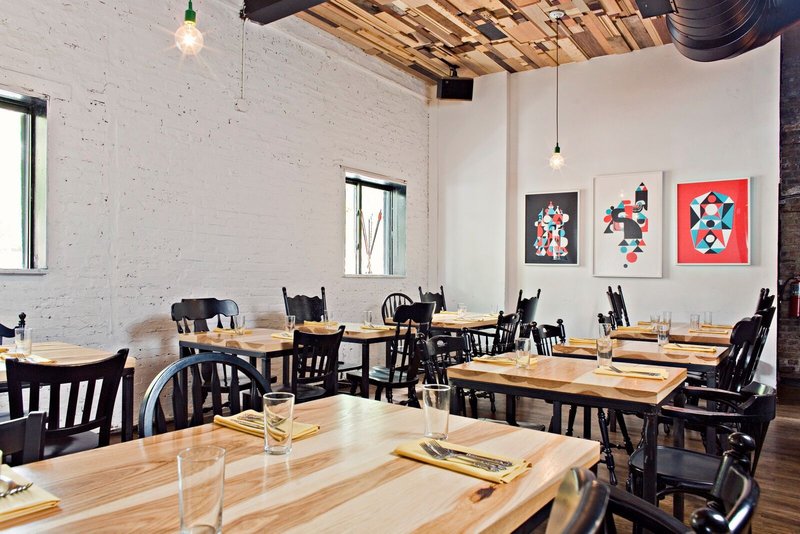 Longman & Eagle/Clayton Hauck
Take a quick L trip to the Logan Square neighborhood, where Longman & Eagle is one of those popular gastropubs that may require a bit of a wait to get a table, particularly because they don't take reservations. But the food! One glance at the seasonally changing menu is enough to tell you that you won't find simple fare here. Each dish lists several ingredients, and each ingredient sounds rare or foreign or both: crispy guanciale, pickled quince, foie gras torchon, sliced Calabrian chiles. You don't have to have a sophisticated palate to delight in L&E's complex dishes loaded with subtle flavors. Try the beef tartare small plate or the wild boar Sloppy Joe. The restaurant is also known for its lengthy list of whiskeys, and their beer selection isn't bad either.
See all the restaurants for this destination.