Shopping in IndianapolisThe center of Indy's downtown retail district is Circle Centre Mall (49 W. Maryland St.). Anchored by Carson's, this four-level shopping center has the usual suspects—Express, Gap, Forever 21 and H&M—in addition to specialty stores like Clarks, Eddie Bauer and a Colts Pro Shop. If the weather is less than ideal, this mall is a great place to wander, as it's connected to quite a few hotels, restaurants, a movie theater, the convention center and even Lucas Oil Stadium (via a network of skywalks and underground passageways).
If fresh produce and cheeses are more your thing, make your way to City Market (near Monument Circle at 222 E. Market St.), where vendors sell all sorts of fresh goods inside a restored brick building. A weekly farmers market draws crowds on Wednesday mornings.
Just a short walk away is Mass Ave, a fun and funky district located along Massachusetts Avenue. You'll want to spend an afternoon (or more) window shopping and walking around this district; walk northeast from the intersection of Delaware and New York streets so you don't miss the good stuff.
Stout's Footwear has held down its Mass Ave location since 1886; look for the red and green neon sign out front. The shoe retailer measures each customer individually, and a resident parrot greets shoppers on the way in. While strolling the avenue, be sure to check out the quirky gifts (think bacon-flavored lip gloss) at Silver in the City (434 Massachusetts Ave.).
A few blocks northeast of Massachusetts Avenue is another cluster of shops, including trendy women's boutique Boomerang BTQ (845 Massachusetts Ave.) and Chatham Home (517 E. Walnut St.), a two-story showroom featuring furniture, décor, housewares and unusual gifts.
A must-visit for antique-lovers is Midland Arts & Antiques Market (907 E. Michigan St.), housed in a brick warehouse—complete with cracked windows and creaky wood floors. You could easily spend a few hours hunting furniture and other relics from the more than 200 independent vendors inside. (Hint: We recommend visiting Midland on cooler days, as there is no air conditioning—only industrial fans—inside the warehouse.)
The "indie" side of Indy shopping can be found in Fountain Square, about 2 miles southeast of downtown near the intersection of Virginia Avenue and Shelby and Prospect streets. This artsy district is home to a handful of independent retailers selling everything from antiques to vintage clothing to locally made "I-Heart-Indy" items. Grab a treat from Literally Divine Chocolates (1114 Prospect St.), then browse the local offerings.
If you can't go without a trip to the mall (and you don't mind a bit of a drive), put The Fashion Mall at Keystone (8702 Keystone Crossing) on your itinerary. The 95-store complex features Anthropologie, Brooks Brothers, Nordstrom, Restoration Hardware, Saks Fifth Avenue and Williams-Sonoma, among other high-end retailers. Just a few miles away is Castleton Square Mall (6020 E. 82nd St.), another shopping hotspot with JCPenney, Macy's, Von Maur and more than 100 other stores.
Farther outside the city limits are several plazas and malls worth a stop. Greenwood Park Mall in Greenwood has JCPenney, Macy's and Von Maur among its more than 120 stores. Clay Terrace in Carmel is a popular outdoor shopping center with Eddie Bauer, Dick's Sporting Goods, Orvis and about 60 additional retailers. In Zionsville, shoppers can browse through fashionable specialty shops in a restored 19th-century village.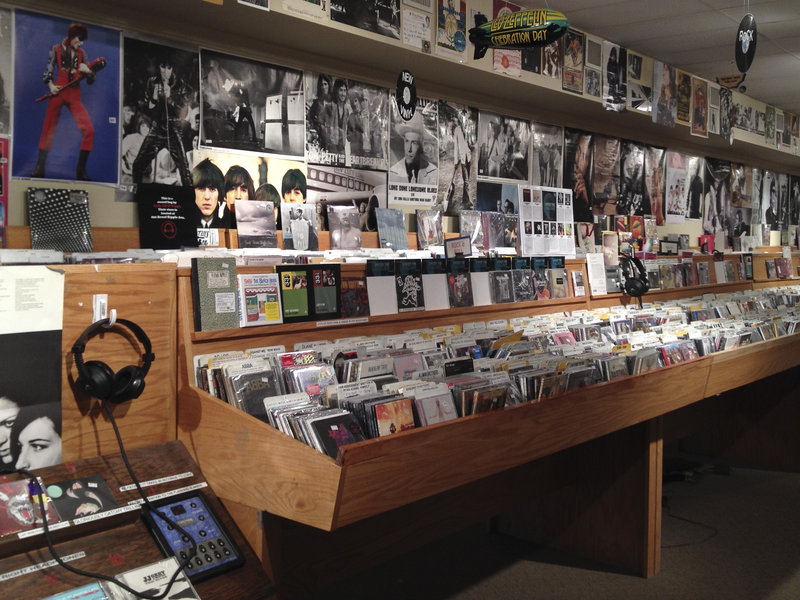 AAA/Katie Broome
Broad Ripple Village, about 15 minutes from downtown, offers the chic, the unusual and the unexpected. Many of the stores are small boutiques in old restored houses. Rusted Moon Outfitters (across the Central Canal at 6410 Cornell Ave.) specializes in travel gear, hiking boots and other essentials for outdoor activities. Music fiends flock to Indy CD and Vinyl (806 Broad Ripple Ave.) where you can put on headphones and preview the latest hits in indie rock, punk, reggae, classical and blues. Luna Music (just south of Broad Ripple at 5202 N. College Ave.) is another popular independent music store. Mass Ave Toys (1057 E. 54th St.) sells games and toys for all ages.
Clothing boutiques in Broad Ripple are aplenty. Check out Broad Ripple Vintage (824 E. 64th St.) for dresses, suits and accessories from the 1940s to 1980s at reasonable prices. 8Fifteen (815 E. 65th St.) has designer brands that are sure to please sophisticated fashionistas. Another nearby women's clothing stores to browse is Pitaya (842 Broad Ripple Ave.).