Savannah Nightlife Running the gamut from restaurant bars to cozy little neighborhood pubs to martini and dessert lounges to hot dance clubs, many of Savannah's fun places to go at night are primarily concentrated in the downtown historic district. The district's walkability makes barhopping easy, and for many, the lax open-container regulations make it more fun. Two pieces of safety-related advice for those who plan to hoof it after dusk while on vacation: wear comfortable shoes (cobblestones, bricks and 4-inch stilettos just don't mesh well) and stay within the district's boundaries.
Enjoy Craft Beer
If you're wondering where to eat while also grabbing a local beer, look no further than Moon River Brewing Company, (912) 447-0943. Occupying a W. Bay Street space that originally served as a hotel, Savannah's only brewery attracts a multifarious crowd—and not just of the townie and tourist variety. Rumor has it that there's paranormal activity (and lots of it) here. Don't let that scare you away, though—the drinks and grub are definitely worth a try, and the 5,400-square-foot attached beer garden is a fun place to unwind if the weather's nice. A Moon River tradition since the 1990s, a weekend-welcoming toast takes place every Friday at 6 p.m.
Quaff a Proper Pint
Named for the first Irish Republican Army volunteer executed by the British during the War of Independence, Kevin Barry's Pub is a happening W. River Street hangout serving up not only Guinness, bangers and mash and other traditional Irish faves, but also nightly live Celtic tunes. Upstairs, a nicely done display of military memorabilia pays homage to members of the armed forces; phone (912) 233-9626. Another good spot to grab a stout is Six Pence Pub , a small, laid-back British tavern on Bull Street (you can't miss the old-school red telephone booth outside); phone (912) 233-3151 .
Satisfy Your Sweet Cravings
If you're looking for a fun thing for couples to do in Savannah, try a bar experience that's sweet in every sense of the word at Lulu's Chocolate Bar , 42 Martin Luther King Jr. Blvd. The comfy, retro-chic joint also entices all sorts of night owls looking for a slice or sip of heaven in the form of a dangerously delectable martini or homemade dessert. The prices can be on the steep side, but there are some great daily specials; phone (912) 480-4564.
You can also satiate your sweet tooth at Jen's and Friends , (912) 238-5367, which has more than 300 specialty martinis to choose from. This reasonably priced, eclectic Bull Street bar is a popular girls'-night-out travel destination, but take one glance at the extensive craft beer list and it's plenty obvious that the guys, too, are welcome here. Jen's and Friends' "Enter as Strangers, Leave as Friends" motto rings true, thanks not only to the glasses of strong, sugary goodness, but also to the friendly bartenders and the maximum seating capacity of 37.
Wet Willie's , (912) 233-5650, is the popular destination on sultry summer nights when ice cream just won't do the trick. The main draw of the brick-walled E. River Street location (there's a second location in City Market) is the rainbow of machines dispensing curiously named frozen drinks—from Attitude Improvement to CALL A CAB®. Be forewarned: these "adult Slurpees" are potent! (If you want something frosty but nonalcoholic, ask for a Weak Willie®.)
Have a Classy Night Out While on Vacation
Gorgeous views of the Savannah River can be enjoyed during your trip at Rocks on the Roof , The Bohemian Hotel Savannah Riverfront, Autograph Collection 's sexy rooftop lounge located at 102 W. Bay St. and accessible from River Street. You can sit inside at the bar or a table or sink into a cushioned wicker couch or chair on the deck amid potted trees ablaze with Christmas lights. When it's warm outside, the lively lounge's transparent roll-up doors stay open; on nippy nights, a fire pit takes the chill out of the air. Along with beer, wine and some killer cocktails, appetizers are served; phone (912) 721-3800.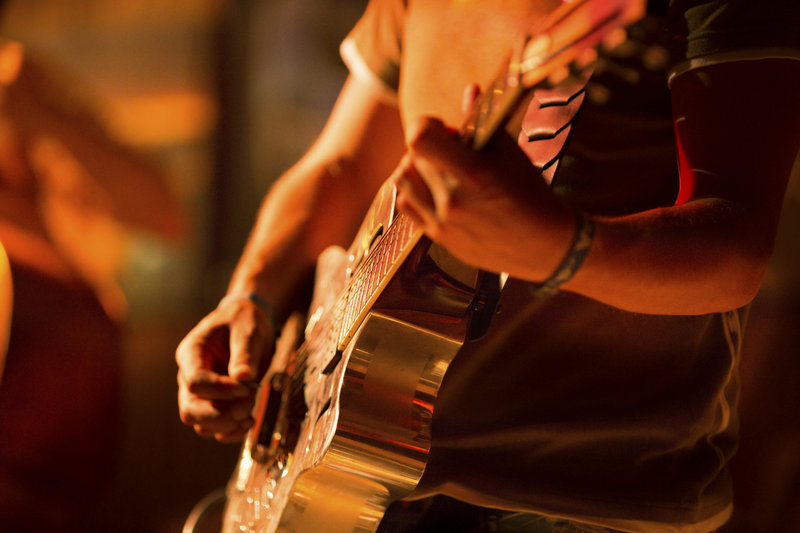 deepblue4you/iStockphoto.com
Super-sexy nightlife options can also be found below street level, as Jazz'd Tapas Bar , 52 Barnard St., proves. After descending an outdoor staircase, you'll find yourself in a modern, colorfully lit and painted bar and dining area. Live blues, jazz and swing melodies fill the place 5 days a week, and dancing is always encouraged. You can order a variety of wines, martinis and other specialty drinks in addition to, of course, tapas; phone (912) 236-7777.
Party Like a College Student
If doing JELL-O shots and bumping and grinding to Latin, Top 40 and house music under strobe lights sound like fun things to do, then get dolled up, make sure you have some cash (there's a cover charge most nights) and head to Club 51 Degrees on W. Congress Street. Open Thursday through Saturday, this loud, raucous and usually packed dance club caters to an under-30 (but over-21) crowd and is split into three levels, each with its own DJ; phone (912) 234-7265.