Introduction Beckoning visitors to the Midwest with a pleasing mix of down-home charm and contemporary flair, Columbus has become the country's 32nd-largest metropolitan area. Named after Christopher Columbus, the city invites exploration. Highlights are as assorted as the area's past residents. The itinerary includes stops at the 24,000-square-foot complex honoring a Masters golf legend and the former home of an award-winning author and cartoonist who attended The Ohio State University, one of the largest schools in the country.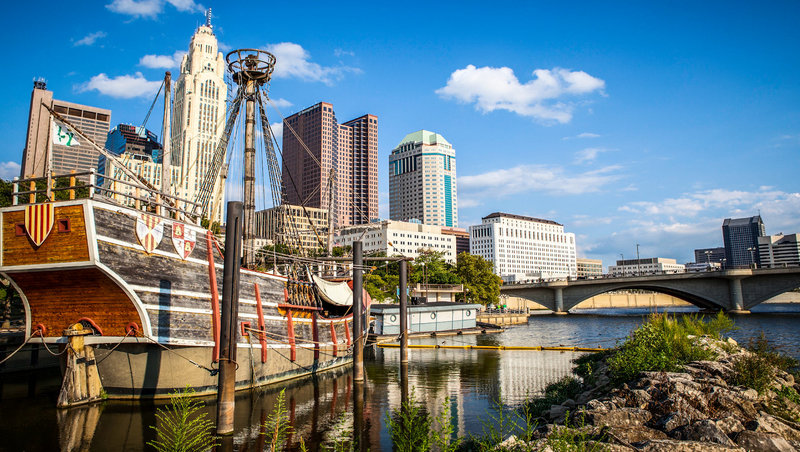 eurobanks/iStockphoto.com
The city's diversity also is found in its people and surroundings. The legacy of Native Americans who once inhabited the region surfaces in the names of places and streets and in preserved historic sites such as Newark Earthworks. More recently, Black Entertainment Television rated Columbus as the top place for African Americans to live. The city also is home to one of the fastest growing Hispanic populations in the state as well as a large Somali population. Even within individual neighborhoods, diversity manifests itself. Shoppers in the Short North Arts District can find an antique Qing Dynasty bench, a pound of Amish cheese or an Indian sari. Just next door in Victorian Village, striking houses exhibit a collage of architectural styles. Neighboring Italian Village, which most likely acquired its name from a prominent church, reflects a hodgepodge of ethnic influences, from Irish to Lebanese to Greek. And German Village is a great place for lovingly restored German architecture, charming brick streets and sidewalks, distinctive retail shops and some of the city's finest restaurants.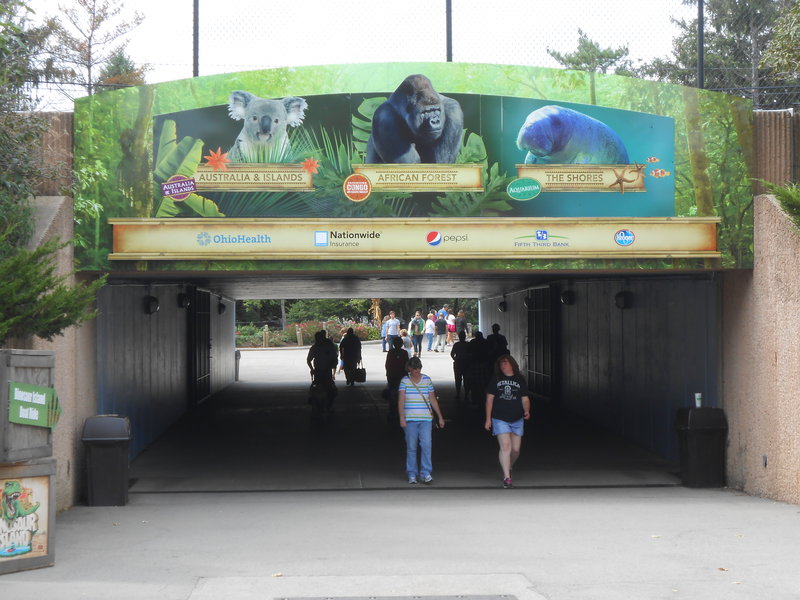 AAA/Inspector 76
In addition to the cultural and commercial conveniences this modern city affords, Columbus' historic roots and natural landscapes create a singular vacation destination. Home to the renowned Columbus Zoo and Aquarium, notable art and science museums and such music-filled events as the Jazz and Rib Fest, this flourishing city captivates and enlightens, no matter which direction you head.
Getting There
By CarThe intersection of two interstate highways and a number of lesser routes makes Columbus accessible from all directions. The primary east-west highway is I-70, which spans about two-thirds of the nation and connects such cities as Baltimore, Md., Wheeling, W.Va. and Indianapolis, Ind.; I-70 passes through downtown Columbus, with convenient interchanges at major streets.
Closely paralleling the freeway is old US 40, which serves local traffic and provides a link to other downtown avenues. US 62 approaches Columbus from the northeast and southwest to bring the city a steady flow of in-state traffic, as does SR 16, combining with US 40 coming in from the northeastern suburbs.
Mainly an intrastate interstate, I-71 links Cleveland to the north and Cincinnati to the south, passing through Columbus and continuing southward to Louisville.
Running north-south through the city is US 23, which collects traffic from northern Ohio and Michigan as well as from southern Ohio, Kentucky and West Virginia. US 33, leading directly downtown, connects towns northwest and southeast of Columbus.
I-270 is a circumferential freeway that swings in a wide path around Columbus and, with interchanges with all major highways, provides a bypass of the city. I-670 combines with I-70 and I-71 to form a tight rectangle around downtown Columbus, offering the usual convenient interchanges.
Getting Around
Street SystemDespite Columbus' growth to big-city status, driving in and around the city is not as hectic as in many metropolitan areas. Driving from one end of downtown to the opposite end averages 25 minutes, and few suburban commutes take more than 45 minutes at non-peak traffic hours. Right turns on red are permitted unless otherwise posted.
Streets are organized on a grid system, with addresses beginning at 1 at the corner of Broad and High streets in the center of downtown and increasing as routes go out of the city. Numbered streets, running north-south, are divided by Broad Street; numbered avenues, running east-west, are divided by High Street.
ParkingParking lots and garages are plentiful downtown, with rates ranging from $2 to $10 Monday through Friday and generally decreasing on the weekends. Higher rates may apply during special events. On-street metered parking, costing 50c to $1 per hour, can be found along most downtown streets; parking is restricted to 3 hours or less at most meters. Park and Ride lots are at many suburban shopping centers. Credit and debit cards can be used at many of the lots and at parking meters. The city's ParkColumbus app allows visitors to use smartphones to pay for parking on meters that display the ParkColumbus sticker.