About Fort Myers Thomas Edison said, "There is only one Fort Myers, and 90 million people are going to find it out." The genius inventor first visited the sparsely populated town in 1885 while searching for a natural source of rubber to use in manufacturing automobile tires. He quickly fell in love with the area's natural beauty, had a house built (see attraction listing) and spent the last 30 winters of his life there. Edison also was enamored with the city's royal palm trees and had more imported from Cuba and planted on McGregor Boulevard, the street facing his home. Today, scores of 50- to 75-foot-tall majestic royal palms line this 15-mile street like soldiers standing at attention, guarding the elegant homes in the affluent neighborhoods nearby.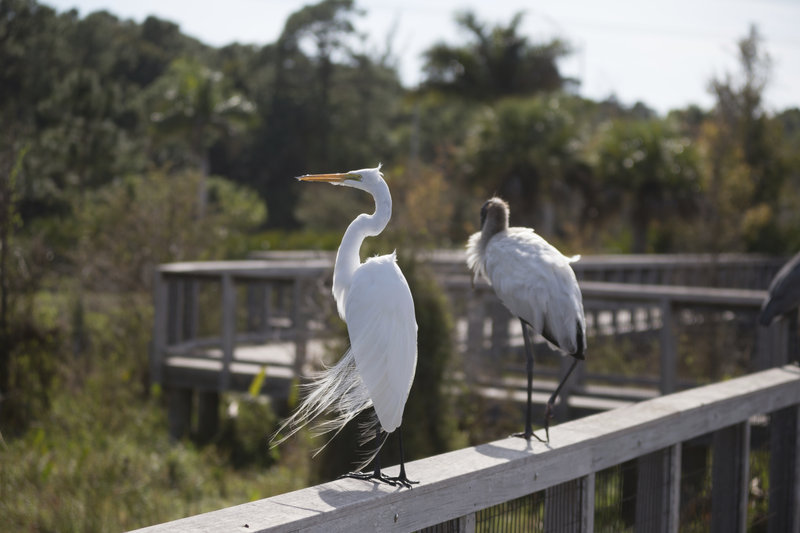 KevinDerrick/iStockphoto.com
Of course, Edison wasn't the first to discover Fort Myers. Near the end of the Ice Age, the Paleo tribe of Native Americans inhabited the area, followed by the Calusa and Seminole tribes. Most notable of these are the Calusa, lending their name to the Caloosahatchee River and leaving behind ceremonial mounds, some of which can be seen today. Settlers began arriving around 1850, increasing the population to 349 by the year 1885, when Edison's arrival prompted the start of exponential growth.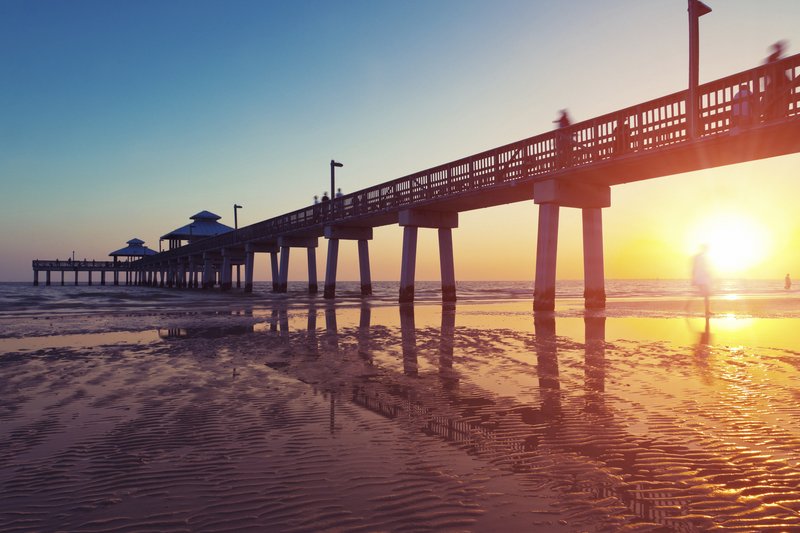 Giorgio Fochesato/iStockphoto.com
Snowbirds (aka Northerners) still follow Edison's lead in winter months, but the area, known as the gateway to Southwest Florida's coast, draws countless numbers of vacationers year-round, largely because silky-sand beaches and warm waters are just a short drive away on Fort Myers Beach (on Estero Island) and Sanibel and Captiva islands (see place listings). Vacationers make full use of the city's temperate weather and geographic features, enjoying the usual outdoor activities that go along with such a setting, including boating, fishing, swimming, shelling and tanning.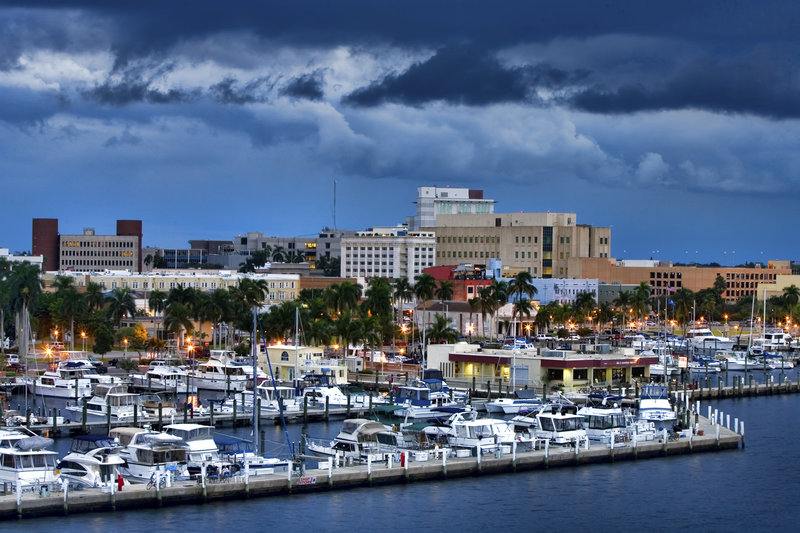 fotoguy22/iStockphoto.com
The City of Fort Myers Yacht Basin, 1300 Lee St. on the Caloosahatchee River, is the hot spot for owners of yachts and smaller crafts alike, with a prime location that's just 15 miles from the Gulf of Mexico and a short walk to the restaurants and shops of downtown Fort Myers' River District. If you don't have your own boat, hitch a ride on the 500-passenger paddlewheeler Capt. J.P., departing from the basin on a regular basis (see J.C. Cruises). Cruise the Caloosahatchee River, the Gulf of Mexico, the Intracoastal Waterway or Lake Okeechobee and chances are you'll happen upon such denizens of the deep as dolphins, alligators and manatees along with profusions of tropical flowers, flocks of marine birds and some of Fort Myers most beautiful homes and historic sites.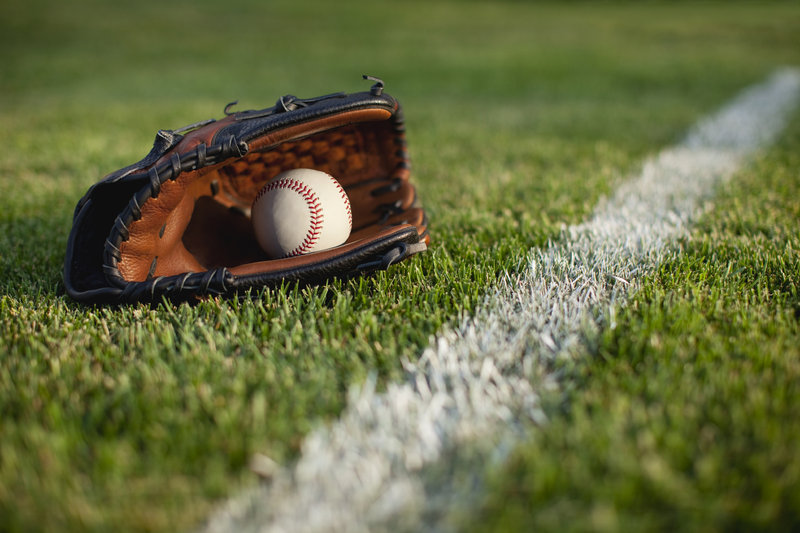 Willard/iStockphoto.com
Back on dry land, Baaaatter uuuuup! is the battle cry at Fort Myers' baseball parks. If you're exhibiting signs of spring fever (symptoms include cravings for peanuts and Cracker Jacks while daydreaming about kelly green Astroturf and white cowhide balls with red stitching) and you're seeking relief, you've come to the right place. Fort Myers hosts a double header when it comes to baseball. From February through March, the American League's Boston Red Sox and Minnesota Twins take up temporary residence here for spring training, and the public is invited. Head over to JetBlue Park at Fenway South, 11500 Fenway South Dr., to watch the Red Sox play exhibition games as warm up for the regular season; phone (239) 334-4700 or (877) 733-7699. Hear the crack of a bat and the whizzing of a fastball as you join other fans in cheering on the Minnesota Twins at Hammond Stadium at the CenturyLink Sports Complex off Daniels Road and Six Mile Cypress; phone (239) 533-8946 or (800) 338-9467. Who knows? You may see the next Ted Williams hit a home run or an upcoming Frank Viola throw strikeout after strikeout.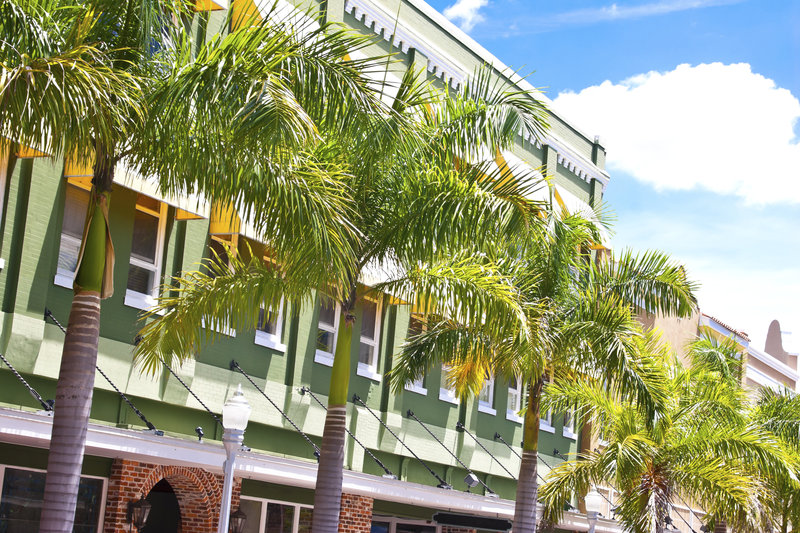 Wilfried Besler/iStockphoto.com
Seeking a haven from the tropical climate? Sharpen your skates and practice your figure eights and triple Salchows on the crystalline ice at Fort Myers Skatium, 2250 Broadway; for the public skating schedule, phone (239) 321-7510. Or cheer on the Florida Everblades, who play their East Coast Hockey League home games at Germain Arena, at I-75 exit 123 (Corkscrew Road); phone (239) 948-7825. The ice hockey season is mid-October to late April.
In late January or early February Fort Myers shows its appreciation for its most celebrated resident at the annual Edison Festival of Light . Three weeks of festivities ensue and include street parties near the Caloosahatchee River, live music, fireworks, a crafts fair, contests and races. Highlights include an inventors' fair and a coronation ceremony for the King and Queen of Light; the event's grand finale is the Grand Parade of Light, complete with marching bands and floats covered in lights.
According to Edison, "The world owes nothing to any man, but every man owes something to the world," and he stayed true to his word. Yet the city of Fort Myers continues to demonstrate its debt to Edison for his botanical contribution to the city's nickname "The City of Palms," as well as for contributing to the growth of one of Florida's top vacation destinations.
Visitor Centers Greater Fort Myers Chamber of Commerce 2310 Edwards Dr. Fort Myers, FL 33902. Phone:(239)332-3624 or (800)366-3622
Lee County Visitor & Convention Bureau 2201 Second St. Suite 600 Fort Myers, FL 33901. Phone:(239)338-3500 or (800)237-6444
ShoppingFort Myer's mix of nearby factory outlets, suburban shopping malls and a humongous flea market will please bargain hunters, but those who are willing to shell out major shekels have not been forgotten. Either way, you'll find it worth your while to inspect at least a few of the city's offerings.
Satisfy your hunger for designer goodies at Bell Tower Shops, 13499 US 41 S.E., Fort Myers most stylish shopping mall; phone (239) 489-1221. The open-air mall's Miami Vice-pink buildings house high-quality chains such as Chico's, JoS. A. Bank Clothiers and Williams-Sonoma as well as a 20-screen cinema and a fine selection of trendy eateries. At the Edison & Ford Shoppe, you'll find artwork, books and a children's section.
If you're hungry in the true sense of the word, take a drive to Norman Love Confections' Chocolate & Dessert Salon, 11380 Lindbergh Blvd.; phone (239) 561-7215. This world-renowned chocolatier creates miniature works of modern art in white, milk and dark chocolate, and the flavors, including cinnamon roll, pumpkin and vanilla cupcake, are pure ecstasy.
Shop as the natives do and head over to the tried-and-true, unpretentious Edison Mall, 4125 Cleveland Ave. (US 41), which opened in 1965; phone (239) 939-5464. The mall's 160 stores include anchors Dillard's, JCPenney, Macy's and Sears, and such popular brands as American Eagle Outfitters, Champs Sports and Rack Room Shoes.
Gulf Coast Town Center, I-75 exit 128, is a Fort Myers shopping destination, with Belk and about 100 shops, including Bass Pro Shops Outdoor World, Ron Jon Surf Shop and Super Target, in a Main Street style setting; phone (239) 267-5107. Some of the town center's 20 restaurants are pet-friendly, so you can chow down on the patio in the company of your chow chow.
About 900 vendors compete for your business with irresistible prices at Fleamasters Flea Market, off I-75 exit 138 on SR 82; phone (239) 334-7001. The market is open Friday through Sunday year-round, and covered areas with misting fans or air conditioning guarantee a cool shopping experience no matter what time of year you visit. Merchandise can run the gamut from belly-dancing outfits and wigs to prescription eyewear and sports memorabilia. You also may discover collectibles and unusual items in the flea market's garage sale section, where locals peddle their unwanted bric-a-brac for a song.
Sanibel Outlets, 20350 Summerlin Rd., has nearly 40 quality shops to satisfy shoppers, including such well-known brands as Coach, Gap, Nike and Tommy Hilfiger; phone (239) 454-1974.
NightlifeYou'll find plenty to do in Fort Myers; during the day, museums, shopping, Everglades tours, sightseeing cruises and playing outdoors will keep you busy, but where can you go for a night on the town? Whether your interests involve punishing the parquet at a dance club, tapping your feet to a live band in a listening room or kicking back in an elegant lounge, Fort Myers aims to tickle your fancy with a mélange of entertainment venues.
If you like to barhop, downtown Fort Myers is the place to be. A cluster of popular watering holes reside on Main and Hendry streets and include City Tavern (2206 Bay St., (239) 226-1133), a neighborhood bar with tons of character.
Should your equation for a good time equal sinking into a leather armchair à la a 1940's film noir gangster with a stogie in one hand and a scotch in the other, Fort Myers offers a couple of choices. Downtown's World Famous Cigar Bar, 1502 Hendry St., is a veritable man-cave, with wing chairs, plasma TVs and mounted animal heads; its second location is at 10045 Gulf Center Dr. Phone (239) 337-4662 or (239) 267-6020 respectively.
Get back on your feet and move to the beat at The Ranch Concert Hall & Saloon, 2158 Colonial Blvd., which offers country concerts and a dance floor inside its Western-style saloon.
Don't dance too much of the night away as you'll want to save some breath for the belly laughs that are bound to result from the nightly yuck-fest at the Laugh-In Comedy Café, 8595 College Pkwy. Phone (239) 985-9839 for Ranch Concert Hall & Saloon or (239) 479-5233 for Laugh-In Comedy Café.
Swing or sway with your sweetheart on the dance floor at the Roadhouse Café, 15660 San Carlos Blvd.; phone (239) 415-4375. Jazzophiles can feast on a menu of live jazz most nights of the week accompanied by a menu of gastronomic delights, ranging from New England seafood to Italian pasta dishes.
Things to Do Calusa Nature Center and Planetarium
Thomas A. Edison's Winter Estate
Six Mile Cypress Slough Preserve
Recreational Activities
Kayaking GAEA Guides Kayak Nature Tours