About Naples From an aerial view, Naples appears to be made up of nothing but golf communities placed end-to-end. Indeed, at a glance, the area is rich with golf courses and country clubs, but zoom in a little closer and you'll see that Naples is more than just a golfer's dream come true.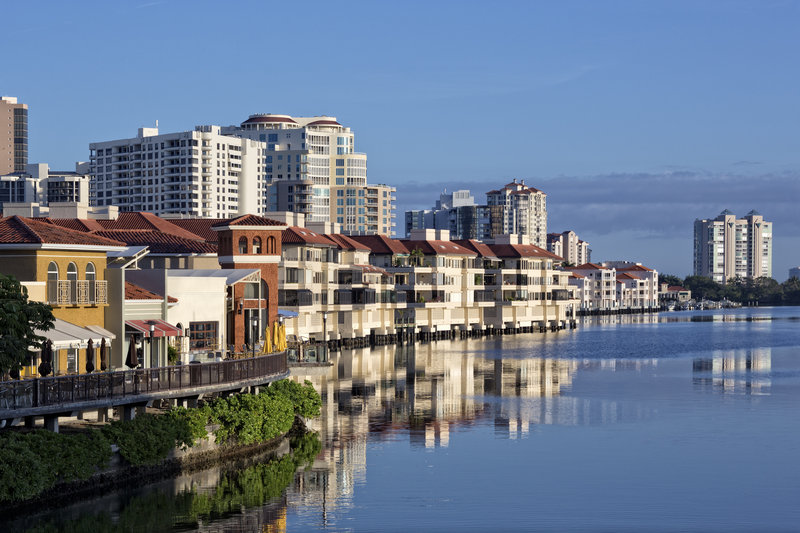 AAA/iStockphoto.com
Residents of this felicitous city live the good life, and the majority of them are past retirement age, well-to-do or both. The area is blanketed with high-end hotels, elegant museums, tasteful art galleries, swanky restaurants and stylish shops. However, you won't find Naples' greatest treasures in its museums or boutiques. The city has long earned accolades for its 16 miles of alabaster beaches; coupled with its location on the Gulf of Mexico, the area proves irresistible to fishermen, boaters, sun worshippers, shell collectors and anyone who likes to live the outdoor sporting life.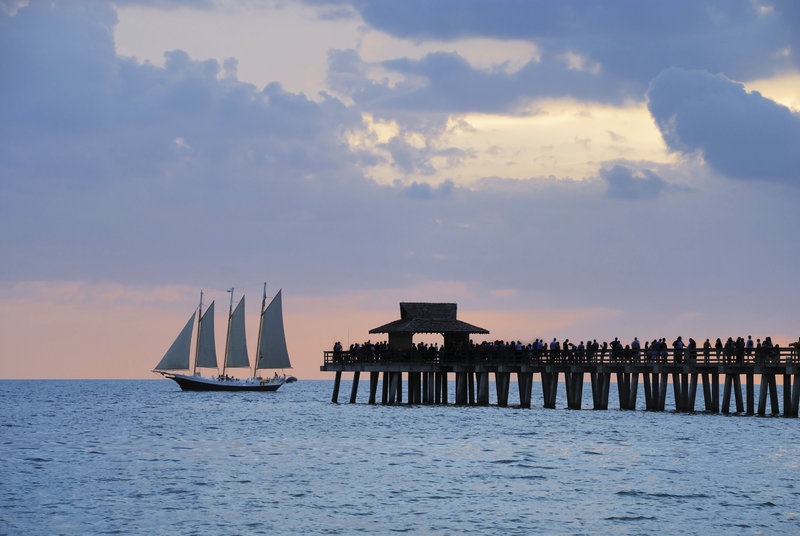 AAA/iStockphoto.com
For starters, check out Naples Municipal Beach near Millionaires Row, home to the Naples Pier, a relic of the city's early days. Damaged by fire and hurricanes but always managing to rise from the ashes, the pier has become a local icon, appearing in many advertisements for the city. Folks gather on the pristine beach at dusk every night for a low-key salute to the setting sun, some with cameras in hand, ready to shoot photos of the sun with the silhouetted pier in the background.
You'll not only encounter an enticing mile-long stretch of white-sand beach at Delnor-Wiggins Pass State Park, 11 miles northwest via SR 846, but you'll find a host of engaging fun-in-the-sun activities at this popular 166-acre park. Take to the waters of the Cocohatchee River or Gulf of Mexico for boating, fresh- or salt-water fishing and kayaking. Beachside, scoop up seashells, cool off with a swim, or snorkel and scuba dive on the nearby hard-bottom reef. Alternatively, slather on some sunscreen, lie on the beach and soak in the sun. When hunger strikes, unpack your picnic basket on a table in an area shaded by a coastal hammock.
Veering sharply away from Naples' sophisticated image is its long-held tradition of Swamp buggy races, perhaps the last thing you would expect to find in a city like this. For those who don't know much about swamp buggies, here's a little background. The buggy's body resembles a race car, but its most unusual feature is its huge, skinny tires that dwarf the buggy. Swamp buggies originally had big, thick flotation wheels and were first used by Florida Crackers in the 1930s for hunting trips, as they were the only vehicles that could travel through the area's swampy bogs. Owners began to race against each other, and the first official swamp buggy race was held in 1949. Races take place in January and March at the Florida Sports Park off Collier Boulevard on an oval race track called the Mile o' Mud. A swamp buggy parade also is held in downtown Naples before the races begin, but the big finish (arguably the best part) is when the reigning Swamp Buggy Queen is willingly tossed into the mud with the race's winner. Phone (239) 774-270 for details.
Naples' bounty of gifts from nature, combined with its upscale accoutrements and a dash of the unexpected, make it one of the most sophisticated yet aesthetically and athletically pleasing cities on Florida's west coast. It's a combination that's hard to beat no matter where your tastes may lie.
Visitor Centers Greater Naples Chamber of Commerce Information Center
Naples, Marco Island, Everglades Convention & Visitors Bureau
ShoppingWhile Naples natural attributes are its greatest treasures, avid shoppers are bound to strike gold in the city's collection of both high-end and affordable shopping districts and malls.
Like most affluent American cities, Naples has its fair share of shopping malls, but its pièce de résistance is Waterside Shops, 5415 Tamiami Trail N. Marked by cool white building façades, palm trees, luxuriant landscaping and tiered fountains lined with shimmering blue tiles, this glamorous mall puts on the Ritz and the glitz with its clean, sophisticated design. Its selection of high-end emporiums ranges from Saks Fifth Avenue and Louis Vuitton to Tiffany & Co. as well as more affordable options for those with slimmer wallets, including Ann Taylor, Banana Republic, Pottery Barn and Talbots. Phone (239) 598-1605.
Mall-goers have other less fancy but still viable options. Open since 1976, Coastland Center, 1900 Tamiami Tr. N., features anchors Dillard's, JCPenney and Macy's, complemented by about 100 specialty shops including Aéropostale, Bath & Body Works, Express, Old Navy and Victoria's Secret; phone (239) 262-2323. The smaller yet picturesque Village on Venetian Bay, 4200 Gulf Shore Blvd. N., offers nearly 50 boutiques (most locally owned) filled with clothing and shoes for men, women and children; art galleries; and restaurants in a Mediterranean setting that abuts the Gulf of Mexico. Phone (239) 261-6100. Mercato, 9132 Strada Pl. off Tamiami Tr. N., has more than 30 shops and eateries and a movie theater; phone (239) 254-1080.
While malls have their pluses, including the convenience of having your favorite national chains gathered in one temperature-controlled building, it can be lots of fun to check out more old-fashioned shopping experiences. In the Naples Downtown Shopping District, shoppers can stroll in several quaint yet stylish shopping districts, reminiscent of the old-fashioned Main Streets of yore. Popular destinations include Tin City, Third Street South and Fifth Avenue South, all within a 5-mile radius.
Tin City, at the corner of US 41 (Tamiami Trail) and SR 851 (Goodlette-Frank Road) at 1200 5th Ave. S., contains traces of Naples' past, when fishing and boating were important industries; phone (239) 262-4200. The original iron and wood buildings were used as seafood processing plants and for boatbuilding; today, this rustic, colorful compilation of some 30 locally owned shops on the waterfront is the place to go for touristy tchotchkes, wildly patterned Hawaiian shirts, or even a haircut. While you're there, you may also hop on a sightseeing cruise departing from the nearby harbor or grab your favorite fish dish at a seafood restaurant on the waterfront.
The Third Street South shopping district in Old Naples' historic district, just 2 blocks from the Naples Pier, comprises more than 50 boutiques, galleries, antique shops, salons and cafés; phone (239) 434-6533. The mix of shops ranges from well-known brands such as Eileen Fisher and Tommy Bahama (the chain's original location) to local favorites such as gourmet grocery and wine shop Tony's Off Third and jeweler José Aragón. Need help finding the perfect gift or maybe directions to the beach? Stroll over to the street concierge's kiosk near Fleischmann Fountain for answers to questions about the area.
The showpiece of Third Street South is Marissa Collections, 1167 3rd. St. S., the place to go for the newest in haute couture by such international designers as Oscar de la Renta and Michael Kors. Each piece in this 10,000-square-foot boutique is judiciously hand-picked by owner Marissa Hartington, who has been in the business for more than 40 years. Phone (239) 263-4333 or (800) 581-6641.
Similar to Third Street South but on a slightly smaller scale, the palm-tree lined Fifth Avenue South shopping district isn't lacking in charm or quality either. The avenue had a makeover in 1996, when its run-down buildings were replaced by eye-pleasing Mediterranean-style structures that now hold a mixture of galleries, shops, hip restaurants and the occasional real estate agency.
Hunting for clothes that carry a lot of cachè without requiring a lot of cash? Check out Naples thrift and consignment shops, where you'll find well-made designer clothing, accessories and home furnishings for bargain basement prices. Many of these shops are on Naples' Trail of Treasures, along 10th Street North between 5th Avenue North and 2nd Avenue South. Stop in at Audrey's, 104 10th St. N., where clothing racks groan under the weight of gently worn contemporary and vintage garments and display cases overflow with glittering jewelry that spans the decades; phone (239) 403-8322. Another best bet includes Options Thrift Shoppe (968 2nd Ave. N., (239) 434-7115).
NightlifeAs you might expect of a town of Naples caliber, nightlife opportunities tend to lean toward genteel events of the type where sitting quietly in theater seats and clapping politely is the norm, not the exception. Slip into a little black dress or suit and tie for a little night music at the 1,425-seat Artis-Naples (formerly Philharmonic Center for the Arts, aka "The Phil" by locals), 5833 Pelican Bay Blvd., which hosts not only opera, dance and symphonic performances (although the Phil has its own, not-to-be-missed 49-piece orchestra), but also such nationally known acts as Big Bad Voodoo Daddy; Blood, Sweat & Tears; and Three Dog Night. Phone (239) 597-1900 or (800) 597-1900 for schedules and tickets.
For a completely different vibe, attend a free concert by a jazz orchestra under the stars at the Cambier Park band shell. The atmosphere is much less formal than at the Phil, but you do have to bring your own seating and you may bring a cooler filled with your favorite munchies. As for attire, the more casual, the better. The band shell itself is a sight to behold; rebuilt in 2001, it looks like a modern work of art, with a white fabric roof and a rock wall, and also features excellent acoustics; phone (239) 213-3058.
Hoist a frosty mug and listen to live music at places like the Old Naples Pub, with a zealous in-house piano player (255 13th Ave. S., (239) 649-8200).
If your tastes lean toward bubble-free liquids in a stemmed glass, spend some time at Avenue Wine Café, 483 5th Ave. S.; phone (239) 403-9463. Choose from a list that's suited to wine snobs and neophytes alike at all price points. Take your beer-drinking buddies; they'll be pleasantly surprised by the café's extensive list of microbrews. To complete the scene, select a fine cigar from the humidor, settle into a comfortable leather chair and puff away.
Bar Tulia, a gastropub at 462 5th Ave. S., serves wines from small wineries and craft beer; phone (289) 228-7606.
For a tropical experience, the Sunset Beach Bar & Grill at the Naples Beach Hotel and Golf Club, 851 Gulf Shore Blvd. N., is a Naples tradition; phone (239) 261-2222. Unwind at this resort's awning-covered outdoor bar that sits on the edge of the Gulf of Mexico, sip on your tropical drink of choice and watch the sun slowly go down in a blaze of glory.
Things to Do The Baker Museum
Conservancy of Southwest Florida Nature Center
The Holocaust Museum & Education Center of Southwest Florida
The Naples Art Association at The von Liebig Art Center
Naples Zoo at Caribbean Gardens
Rookery Bay National Estuarine Research Reserve