Nashville is a city with melodious roots. Best known as Music City, USA, the capital of Tennessee is where honky-tonk singers become stars and where dreams of glitz and glamour become reality. It was during the 1960s that the city became the place to record—legendary Music Row was born, and today Nashville is home to a $5-billion-per-year recording industry.
Music permeates every nook and cranny of the city, from Historic RCA Studio B (where Willie Nelson and Dolly Parton cut songs), to the chic Belle Meade neighborhood peppered with stars' mansions, to Lower Broadway, packed with bars and clubs projecting fiddle chords and love 'em or leave 'em lyrics. The renowned Grand Ole Opry beckons aspiring singers, musicians and songwriters, and the Country Music Hall of Fame and Museum honors those who make it big. When debating what to do, the options are endless. You can catch a glimpse of tomorrow's country legends on the stages of at least two dozen clubs and attend live radio show broadcasts that welcome the public. Even The Hermitage, President Andrew Jackson's antebellum home, gives a nod to music—its driveway curiously resembles the shape of a guitar. Souvenir and boot shops are plentiful, and a shopping excursion might result in a hard-to-find vinyl demo or a rhinestone jacket.
In Depth
The barroom is quiet, save for the persistent sounds of clinking bottles and shuffling boots. The young man on stage clears his throat. His eyes are closed as his lips part, but then the lyrics barrel out from somewhere deep inside in his chest, knocking him out of his nervous haze. Finally, with the last strum of his guitar hanging in the air, his long lashes flutter apart, allowing for a few precious glimpses of a thoroughly captivated audience.
This is Nashville, though the songs aren't always upbeat and triumphant finales don't befall every would-be musician. While health care and publishing are two of the biggest local industries, the lifeblood of the city is music—whether it's belted out by boot-wearing country stars or touring indie bands. Your trip is not complete until you experience the wide variety of music in the city.
Though millions of visitors each year seek out Music City's harmonious core, other nicknames suit the Tennessee capital just fine. Home to more than 700 churches, Nashville—flush with steeples and stained glass windows—is sometimes referred to as the "Buckle of the Bible Belt." The United Methodist Publishing House and the Southern Baptist Convention are headquartered here, along with one of the largest publishers of Bibles, HarperCollins Christian Publishing.
As the "Athens of the South," the city's architecture often reflects a strong preference for Greek symmetry. Case in point: a full-size replica of the Parthenon. An impressive classical clone, the columned building is the centerpiece of lush Centennial Park, where Canadian geese and their fluffy brood ply the waters of Lake Watauga. Nashville boasts several edifying institutions, including Vanderbilt University, founded in 1873, and Fisk University, well-known for its renowned African-American ensemble, first organized in 1871.
Still, most everyone comes to town to experience the thrill of at least one live performance: an impromptu session in a rustic honky-tonk or a well-oiled revue in a nicely equipped theater. The city's most recognizable tabernacle remains the Ryman Auditorium, or, more appropriately, the "Mother Church of Country Music," where fans seated in restored 19th-century pews now worship the likes of Alison Krauss and Vince Gill.
The city offers a plethora of fun things to do with friends. Revelers roam the entertainment district surrounding the Ryman nightly, eyeballing bands hard at work inside the string of honky-tonks lining Broadway. Along this historic thoroughfare peppered with Western shops and neon signs, street performers pose for photos with tourists. Well-traveled retirees barhop from Tootsie's Orchid Lounge to Legends Corner to Robert's Western World—memorabilia-crammed establishments where great country artists continue to stir things up.
A concrete block building on Roy Acuff Place serves as a shrine to Nashville's storied musical past, smack-dab in the middle of the city's $5 billion entertainment industry. State-of-the-art for its time, RCA Studio B was built in 1957 in a burgeoning district quickly emerging as the place to record—Music Row. More than 200 Elvis Presley songs were recorded here, and in recent years the studio has been restored to its former 1970s glory.
Tours of the "Home of 1,000 Hits" are available through the Country Music Hall of Fame and Museum, where music plays a part in, well, everything. Visitors drool over the 1928 Weymann strummed by Jimmie Rodgers, "The Father of Country Music." In the hall of fame, bronze likenesses of bygone Grand Ole Opry stars enthrall groups who, just the evening prior, were wowed by contemporary acts at the stage show that first aired on Nov. 28, 1925.
Inspired by Nashville's long broadcasting history, a triangular-braced tower attached to the Bridgestone Arena rises more than 200 feet; its elliptical 100-foot base recalls an angled spotlight lighting a stage. The arena's music box-style roof, left ajar, allows the sounds of shows to resonate through downtown.
By Car
Three major interstates pass through Nashville. Near the heart of the city these highways combine to form a near circle around downtown. Convenient exits provide easy access to major city streets.
The main north-south route is I-65. Closely parallel is the US 31 corridor, which divides into US 31E and US 31W north of Nashville, US 31 and Alt. US 31 to the south, and I-24 to the west.
East-west access comes primarily from transcontinental I-40. A close companion is US 70, another route that spans a considerable portion of the nation; east of Nashville it splinters into US 70N and US 70S.
I-24 runs on a northwest-southeast axis, bringing traffic from other routes in Chattanooga and southern Illinois. A close relative on part of its journey is US 41 and Alt. US 41.
SR 155 (Briley Parkway/Thompson Lane/Woodmont Boulevard/White Bridge Road), a bypass, encircles Nashville and connects all major interstates running through the city.
Street System
Nashville is a fairly easy city in which to navigate, given that the downtown area is ringed by five major interstates: 40, 65, 440, 24 and 840, an outer bypass. The key to deciphering the street system is to remember that the Cumberland River runs north to south, bisecting the heart of the city. The numbered avenues run north to south, west of and parallel to the river. The numbered streets run north to south, east of and parallel to the river. East-west streets are generally perpendicular to the river on both sides.
Three vehicular bridges connect the east and west sections of downtown: the Victory Memorial Bridge, Woodland Street Bridge and Jefferson Street Bridge. Broadway (US 70) and Charlotte, Church and Jefferson streets are the principal cross-town routes. The Shelby Avenue bridge—once scheduled for destruction—has been preserved as the John Seigenthaler Pedestrian Bridge, one of the longest pedestrian bridges in the world.
US 41 is the main north-south thoroughfare, though it is separated by the James Robertson Parkway for about a half-mile in the area around the State Capitol. James Robertson Parkway also is the link with Victory Memorial Bridge. South of Demonbreun Street, US 41 (also called 8th Avenue) divides, and the 8th Avenue S. part of the fork becomes US 31. US 41 continues south as Lafayette Street.
Broadway and Jefferson, Charlotte, Church and Demonbreun streets are all downtown access exits off the I-40 loop of the circumferential highway. On the eastern side of the river, Jefferson, Main and Woodland streets and Shelby Avenue are exits off the I-24 loop of the highway.
The average speed downtown is 30-35 mph. Right turns at red lights are legal unless otherwise posted.
Parking
On-street parking is convenient at meters, with an hourly rate of $1.50 in the Central Business District and $1 in all other areas. Parking garages and outdoor parking lots average $4-$12 per hour or $12-$25 per day. Valet parking is common for downtown restaurants and hotels.
Sales Tax
Tennessee's statewide sales tax is 7 percent; Nashville's sales tax can be up to an additional 2.25 percent, and the city has a 6 percent lodging tax, plus $2 city tax per night.
Police (non-emergency)
(615) 862-8600
Hospitals
Nashville General Hospital at Meharry, (615) 341-4000; Saint Thomas Midtown Hospital, (615) 284-5555; Saint Thomas West Hospital, (615) 222-2111; TriStar Southern Hills Medical Center, (615) 781-4000; TriStar Summit Medical Center, (615) 316-3000; Vanderbilt University Medical Center, (615) 322-5000.
Air Travel
For tourists with airline flights, Nashville International Airport (BNA) is 15 minutes from downtown. Gaylord Opryland offers commuter shuttle service from the airport, and most major hotels provide airport courtesy cars and/or shuttle service.
Rental Cars
Hertz, (615) 275-2600 or (800) 654-3080, offers discounts to AAA members.
Buses
The Greyhound bus terminal is at 709 5th Ave. S.; phone (615) 255-3556 or (800) 231-2222.
Taxis
Cab fare is $3 to start and $2 per mile; a $25 flat fee is charged for transportation between the airport and downtown. Cabs are not easy to hail outside downtown, but they can be ordered by phone. The major cab company is Yellow, (615) 256-0101.
Public Transportation
Metropolitan Transit Authority (MTA) has more than 50 city routes, including an airport connection. Exact change is required. The fare is $1.70; $1.00 (ages 5-19); 85c (ages 65+ and riders with disabilities). Buses generally run daily 6:15 a.m.-11:15 p.m., depending upon the route. For information phone (615) 862-5950.
The Music City Circuit offers free bus service downtown. The Blue Circuit runs north to south between Bicentennial Capitol Mall and the Schermerhorn Symphony Center. The Green Circuit runs east to west from Riverfront Station to the Gulch. Both routes operate daily.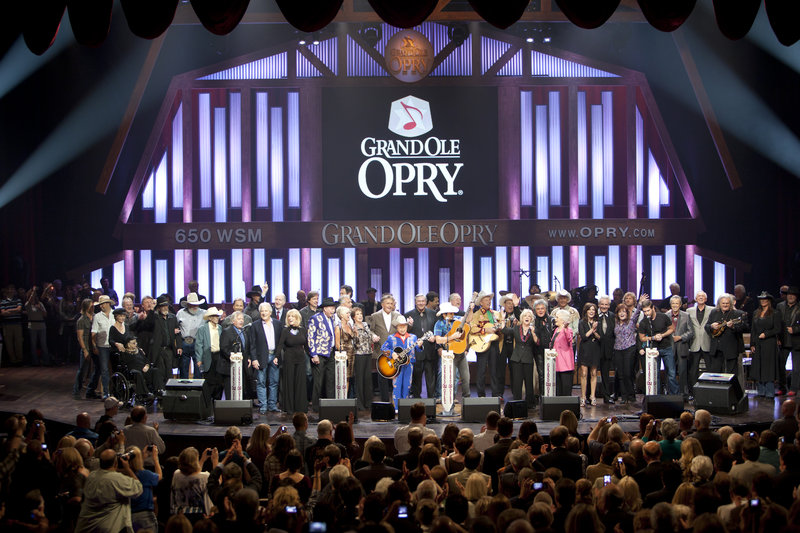 Courtesy of Nashville CVB
What to Do in Nashville
If you're looking for things to do this weekend, attend a production of the legendary
Grand Ole Opry
(2804 Opryland Dr.). Launched in Nashville in 1925, the live radio broadcast continues to introduce many a country musician hopeful to the world. If you're a big fan, sign up for a guided tour of the Grand Ole Opry House on your trip; besides learning about the history of the 4,400-seat venue, you'll have the chance to stand at center stage, on the round 6-foot piece of oak wood typically occupied by regulars like Loretta Lynn and Brad Paisley. Taken from the show's previous home, the Ryman Auditorium, the circle memorializes such Opry royalty as Roy Acuff and Minnie Pearl.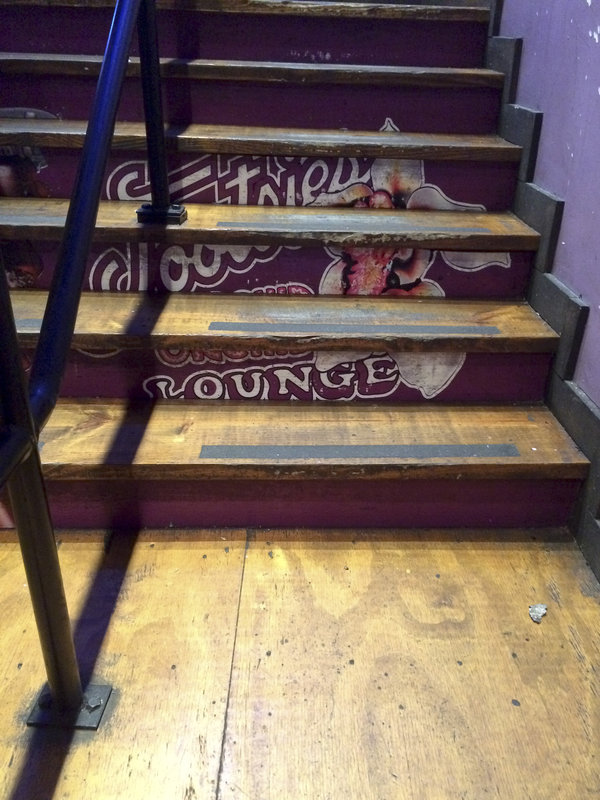 Spend a neon-illuminated night during your vacation gallivanting through the Lower Broadway district, Nashville's top spot for live music. Duck into Legends Corner (428 Broadway), Robert's Western World (416 Broadway) or Tootsie's Orchid Lounge (422 Broadway) to hear twangy tunes from up-and-coming music stars and enjoy the musical surroundings. Keep your eyes peeled while honky-tonking downtown—a few celebrity A-listers like Sheryl Crow or Keith Urban might very well be in the crowd.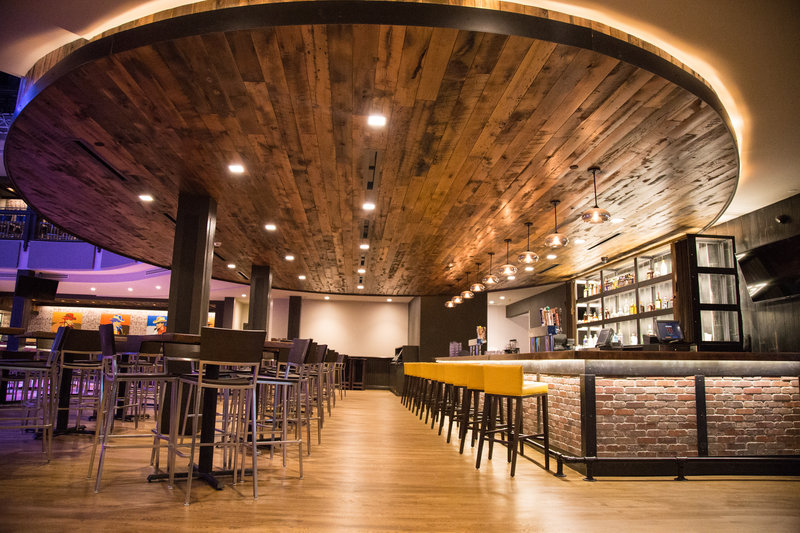 Wildhorse Saloon/Chad Lee
Show up for a free line dancing lesson at the
Wildhorse Saloon
(120 2nd Ave. N.), a three-level, rowdy, boot-scootin' saloon that marked its 1994 opening with a cattle stampede presided over by Reba McEntire. Yee-haw!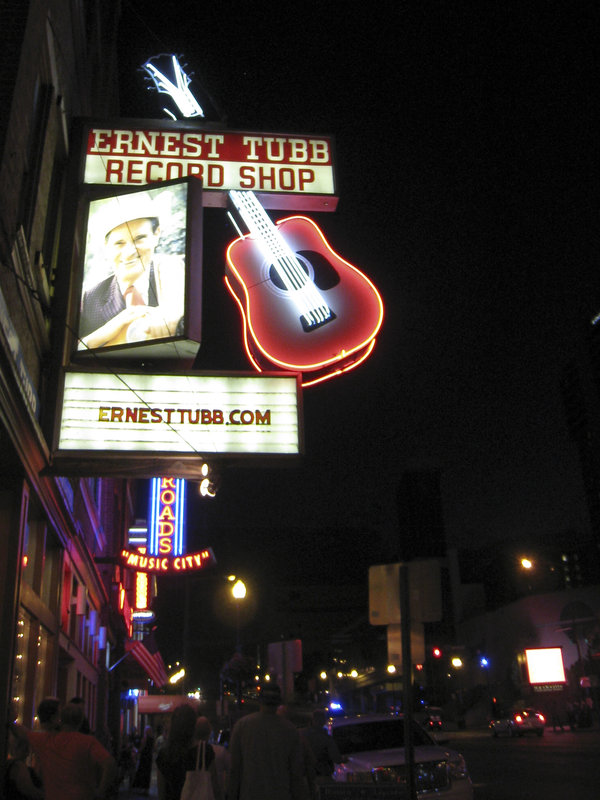 Look through scores of country records and CDs at Ernest Tubb Record Shop (417 Broadway), opened in 1947. The store hosts a free country music broadcast—the Ernest Tubb Midnite Jamboree—every Saturday night at the
Texas Troubadour Theatre
(2416 Music Valley Dr.).
Settle into an oak pew and enjoy a show at the "Mother Church of Country Music," the
Ryman Auditorium
(116 5th Ave. N.). Home of the Grand Ole Opry 1943-74, the storied venue often praised for its stellar acoustics now hosts musical theater performances, concerts and daytime tours.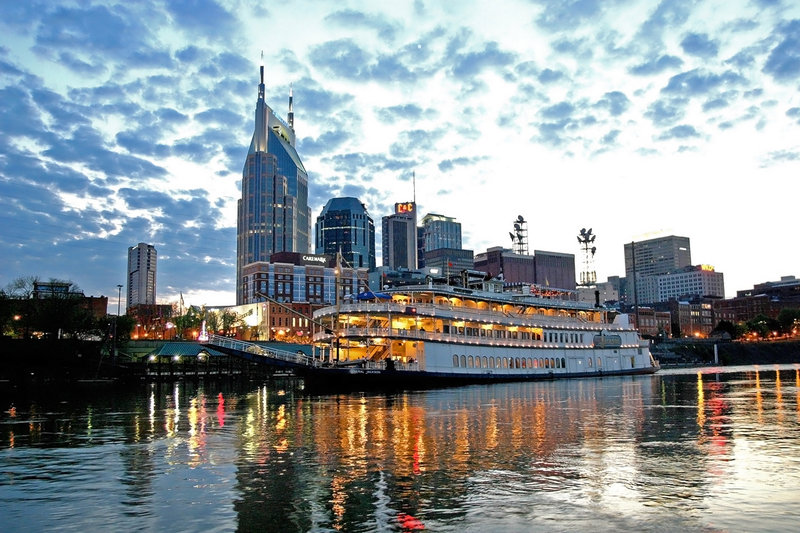 Courtesy of Nashville Convention & Visitors Corporation
Wander the expansive
Gaylord Opryland Resort & Convention Center
(2800 Opryland Dr.), where nearly 3,000 guestrooms, pulsing nightclubs and several stylish places to eat intermingle with 9 acres of lush indoor gardens and waterways. When you're tired of exploring on foot, hop aboard the
General Jackson Showboat
(2812 Opryland Dr.), a four-deck paddle wheeler that plies the Cumberland River.
Courtesy of Nashville Convention & Visitors Corporation
Spend an hour or two perusing exhibits at the
Country Music Hall of Fame and Museum
(222 5th Ave. S.), chock-full of glittery stage costumes, treasured instruments and all things in between. On top of its eye-catching collection of gold records, interactive displays and relics, the attraction regularly schedules panel discussions with movers and shakers in the music business.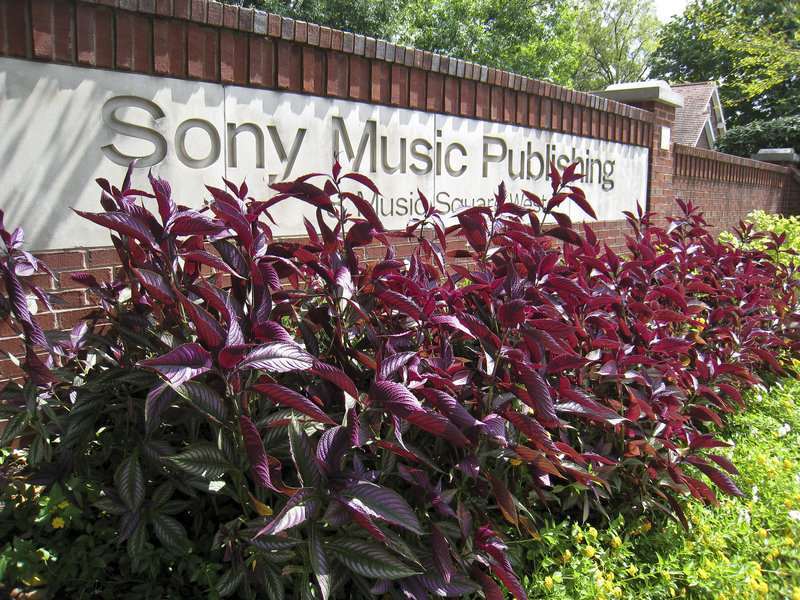 Take a drive through Music Row, the hub of Nashville's music recording industry. Centered between 16th and 17th avenues and Division and Grand streets, the tree-lined business district currently embraces hundreds of major record labels, music publishing firms, booking agencies and high-tech recording studios.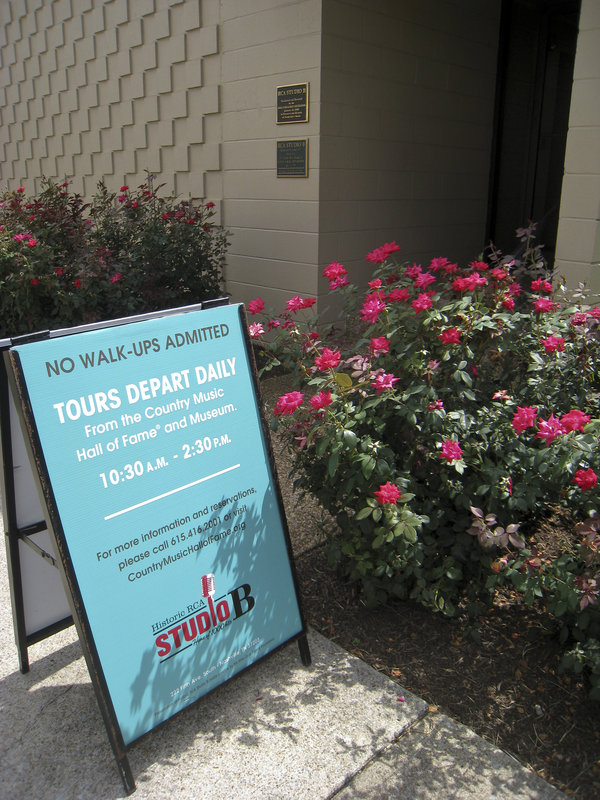 Locate signs of the Dolly Parton incident—the day the buxom songstress drove her car into Historic RCA Studio B (1611 Roy Acuff Pl.) while en route to a recording session—during your Music Row expedition. The small and now slightly dented building built in 1957 saw the likes of the King of Rock 'n' Roll as well as such country and pop icons as Willie Nelson, the Everly Brothers and Roy Orbison. To go inside, take the guided tour offered by the Country Music Hall of Fame and Museum.
Discover the prestigious Belle Meade neighborhood, home to impressive estates owned by recording stars and other affluent Music City residents. Located 5 miles southwest of downtown, the posh area boasts elegant remnants from the past, including
Belle Meade Plantation
(5025 Harding Pike) and
Cheekwood Botanical Garden & Museum of Art
(1200 Forrest Park Dr.).
Nashville Travel with Kids
Under 13
Animal viewing isn't the only thing to do at
Nashville Zoo at Grassmere
(3777 Nolensville Pike). The 66,000-square-foot Jungle Gym calls to little ones who like to slide, climb and crawl. This community-built playground probably doesn't look like the one at school; it has a 35-foot-tall tree house, a dancing water fountain and a large snake tunnel.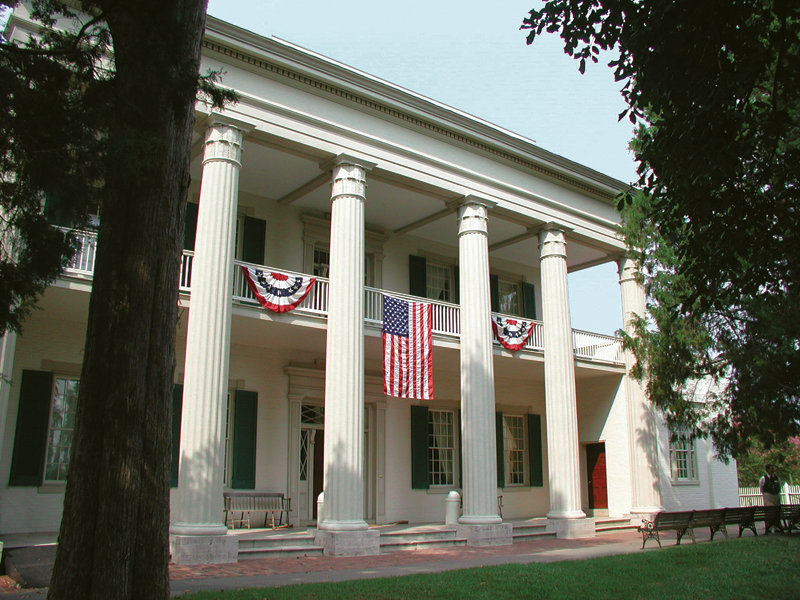 Courtesy of Nashville Convention & Visitors Corporation
When the weather is nice and you wonder what to do, water parks are a sure bet for active youngsters.
Wave Country
(2320 Two Rivers Pkwy.) and
Nashville Shores Lakeside Resort
(4001 Bell Rd.), in nearby Hermitage , offer slides, pools and water activities. The former has fewer attractions than Nashville Shores but is closer to downtown.
Enjoy simple pleasures at Cumberland Park (592 S. 1st St.). The 6.5-acre riverfront site entices kids with its climbing wall, oversize slide, spray fountains, misting areas and rain curtains. There also are walking trails and picnic areas. Take the elevator or stairs up to the pedestrian bridge. The former roadway over the Cumberland River was spared demolition and is now a walkway with great city views and nighttime illumination.
Teens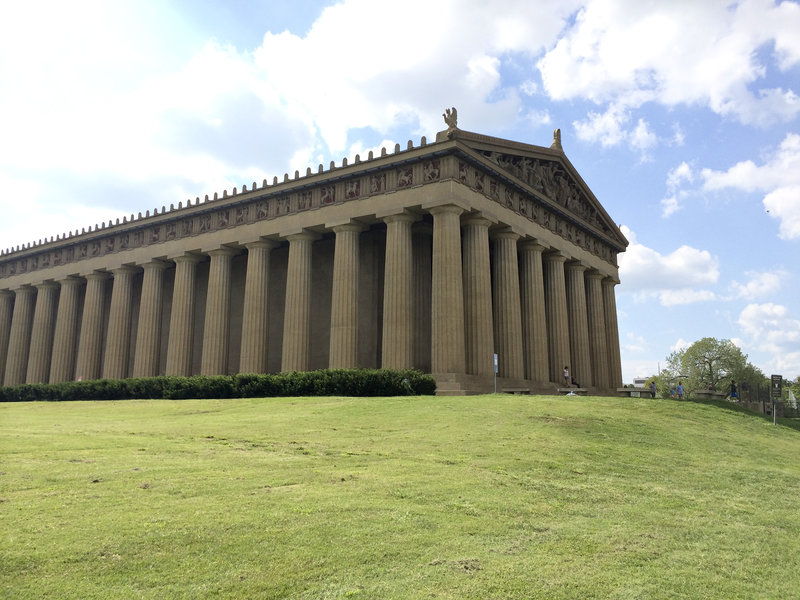 You don't need to be an avid history or art fan to appreciate
The Parthenon
(2500 W. End Ave.)—a full-scale replica of the ancient Greek temple. The interior holds a nice art collection, but the highlight is the 42-foot statue of the goddess Athena, a re-creation of the one Phidias sculpted in the 5th century B.C.
Learn about Taylor Swift and other country superstars at the
Country Music Hall of Fame and Museum
(222 5th Ave. S.). Historical audio recordings and performances along with instruments, costumes and automobiles tell the history of this music genre.
All Ages
Amble down Broadway's large thoroughfare between 2nd Avenue and the Bridgestone Arena. This lively downtown historic area is the place for live music. You don't have to frequent the bars or honky-tonks to hear it, either; most doors are propped wide open to allow the sounds to spill out into the street, and there are plenty of street performers to wow budding musicians. Enjoy the old architecture, duck into souvenir shops and poll the group about which neon sign is their favorite.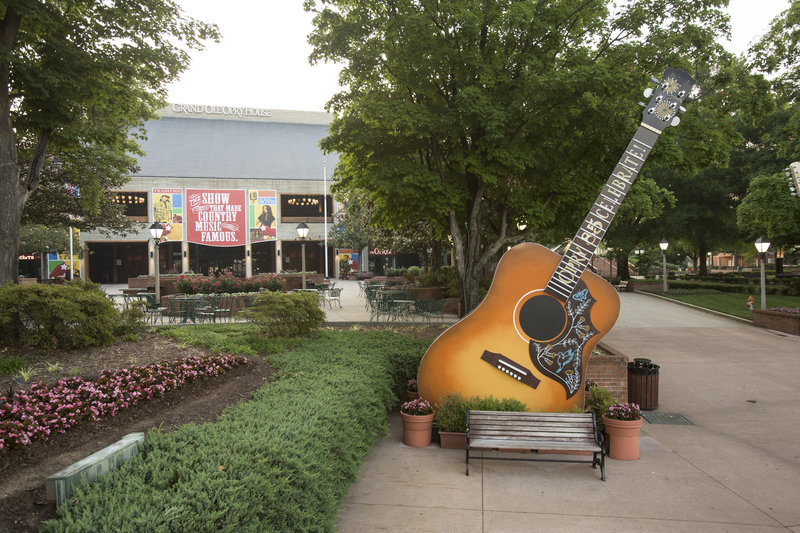 Grand Ole Opry/Chris Hollo
Create some family bonding time by seeing a
Grand Ole Opry
(2804 Opryland Dr.) performance; the radio show that began in 1925 made country music famous. These 2-hour shows welcome a mix of legendary artists, current hit makers and newbies to the stage. The several hundred Opry members and guest artists include Garth Brooks, Loretta Lynn, Tim McGraw, Willie Nelson and Dolly Parton.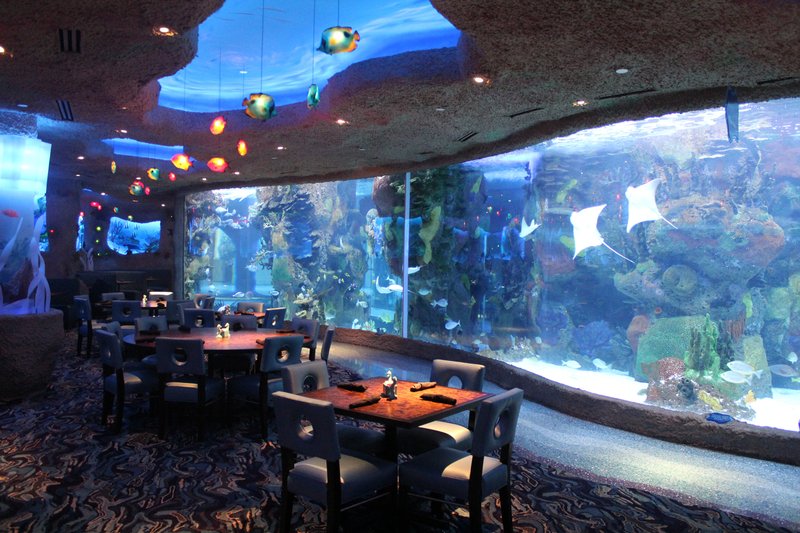 Courtesy of Aquarium Restaurant
Wonder where to eat? Have a meal at
Aquarium Restaurant
(516 Opry Mills Dr.), where each table has a view of a 200,000-gallon aquarium, home to fish, sharks, stingrays and other marine life. The menu has a large seafood section and plenty of chicken and beef options along with a fun underwater-themed kids' menu. Stop by The LEGO Store before leaving the mall.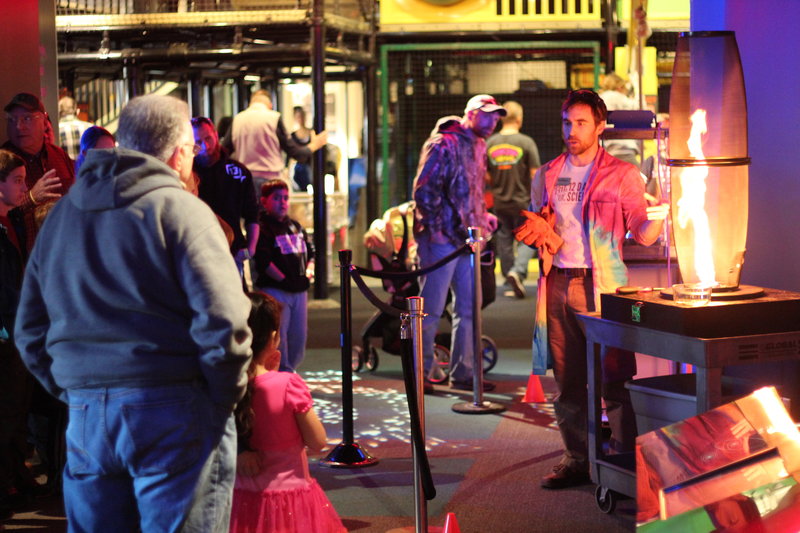 Experience science while you travel at
Adventure Science Center
(800 Fort Negley Blvd.) with interactive exhibits or kick back at a planetarium show. Dozens of activities provide practical, relevant and fun ideas related to science topics like health, energy, sound, light, air and space.
Visit the atrium at the
Gaylord Opryland Resort & Convention Center
(2800 Opryland Dr.) to see three indoor gardens—the Garden Conservatory, the Cascades and the Delta—and two 25-minute fountain shows—"Aqua" and "International Waters"—at the Delta Fountain. A waterfall at the lush Cascades is a highlight, and the Delta offers guided flatboat rides.
If your vacation coincides with the holiday season, experience
Gaylord Opryland's A Country Christmas
. The resort's indoor gardens are dressed with beautiful holiday decor, and carriage rides show off the grounds' 2 million lights and an impressive nativity display. Get tickets to see ice sculptures during your trip at ICE!, or make plans to glide around the ice-skating rink under the stars.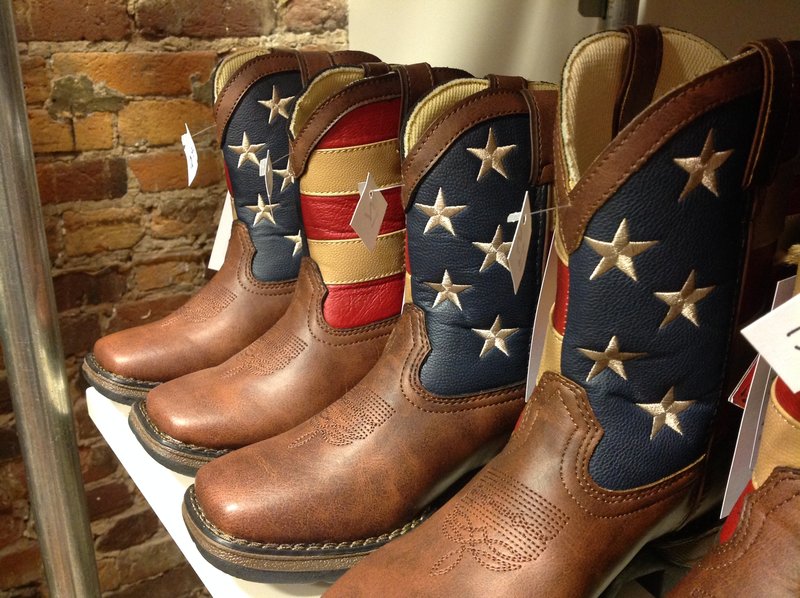 Shopping in Nashville
Before you start collecting mementos from your trip to Music City, kick things off with some fancy footwear. Several boot dealers operate in downtown Nashville. Stock up on cowboy boots at Boot Barn (318 Broadway) or Boot Country (304 Broadway), where there's always a buy-one-get-two-free deal going on. Ladies will love the fashionable boot selection at Betty Boots (321 Broadway). Once you're outfitted for your travel, break in your new gear rambling past honky-tonks and crooning street musicians in the Lower Broadway district between 2nd Avenue and the Bridgestone Arena.
Stores housed in late-19th-century commercial structures along Broadway and 2nd Avenue peddle souvenir magnets and colorful guitar picks, assorted packages of Goo Goo Clusters (made by a local candymaker, the old-school chocolates have nourished sweet-toothed Southerners since 1912) and bold Johnny Cash T-shirts that most often come in black (naturally!). The Nashville Collection (120 2nd Ave. N.) stocks music-themed merchandise and souvenirs, as does the Ryman Auditorium Gift Shop (116 5th Ave. N.). You'll find goods with a rock 'n' roll theme at Hard Rock Cafe (100 Broadway).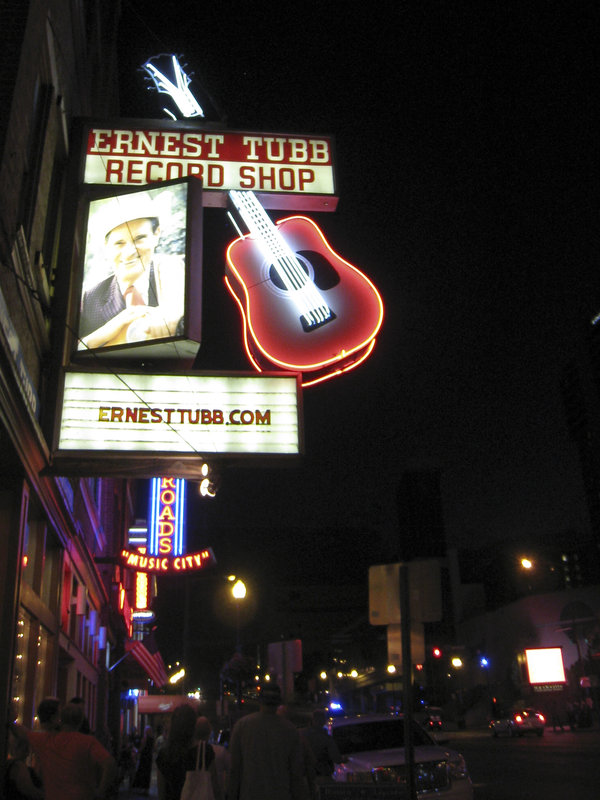 If you're decked out in a glittery ten-gallon hat or a fringe-riffic suit and are wondering what to do, pick up a few sing-along-perfect tunes at the Ernest Tubb Record Shop (417 Broadway). In 1947 singer-songwriter Tubb opened the longtime Broadway business, which still holds the stage formerly used during radio broadcasts of the "Midnite Jamboree." The CD- and record-crammed space also showcases a variety of country music memorabilia.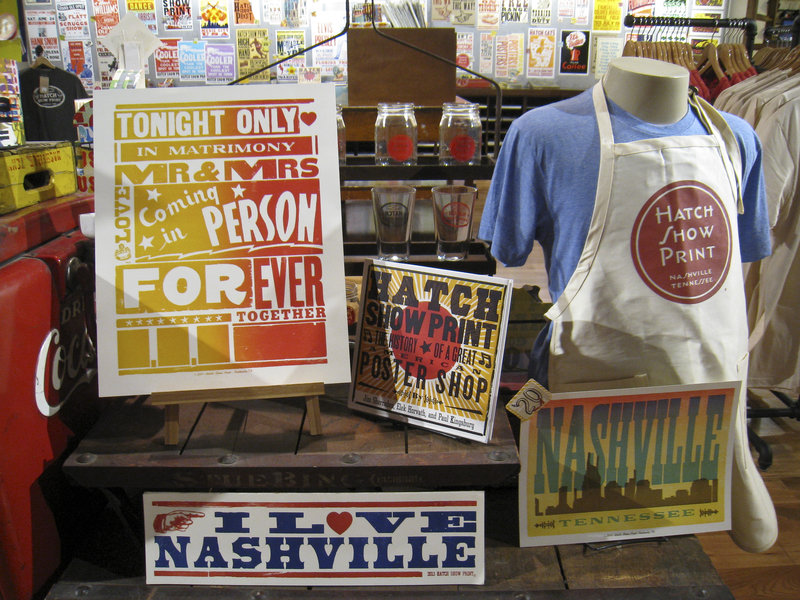 Visitors crane their necks perusing the placarded walls of Hatch Show Print (224 5th Ave. S.), one of the country's oldest working letterpress print shops. Reproduction posters promoting past performances by such stars as B.B. King, Willie Nelson and Elvis Presley are up for sale, as are T-shirts and coffee mugs emblazoned with memorable Hatch designs. You can even watch posters coming off the presses in the production shop or take a tour to create your own print.
Just a short drive southwest on Broadway is Hillsboro Village. This bohemian neighborhood abutting Vanderbilt University features a small shopping and dining district centered on 21st Avenue South. Score a few more unconventional goodies—from distinctive greeting cards to contemporary art pieces—at A Thousand Faces (1720 21st Ave. S.), a local favorite.
Less than 2 miles from Hillsboro Village you'll find merchants and places to eat scattered along 12th Avenue South, between Wedgewood Avenue and Gale Lane, in an up-and-coming neighborhood known as 12South. Trade your air guitar for the real deal at Corner Music (3048 Dickerson Pike), the place for acoustic essentials since 1976. Continue your shopping spree with a well-caffeinated stop at Frothy Monkey (2509 12th Ave. S.), then head next door to MODA Boutique (2511 12th Ave. S.), where a well-curated selection of designer clothing and jewelry awaits.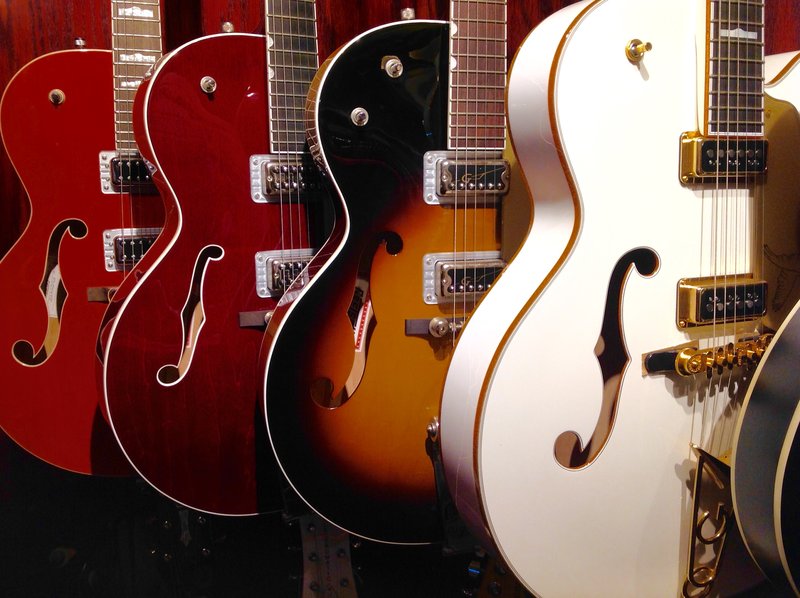 Nashvillians who prefer indie wails to Southern twangs score vinyl and hard-to-find CDs at Grimey's New & Preloved Music (1060 E. Trinity Ln.) where albums from bands such as The White Stripes, the Meat Puppets, and Nick Cave & The Bad Seeds occupy every available nook and cranny. New and vintage stringed instruments await the next great pickers, fiddlers and strummers at Gruhn Guitars (2120 8th Ave. S.), in business since 1970. Closer to downtown but still on Eighth Avenue, Carter Vintage Guitars (625 8th Ave. S.) offers even more stringed instruments for serious collectors (the price tags are pretty serious, too). And 8th Avenue South, by the way, is a district known for its antique shops.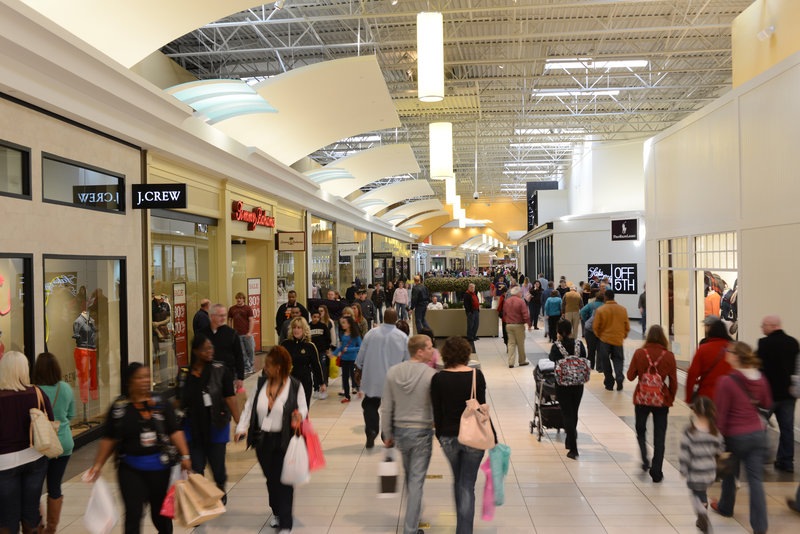 Courtesy of Nashville Convention & Visitors Corporation
Retailers at Opry Mills (433 Opry Mills Dr.) outlet mall include Coach, Fossil Outlet, LEGO, Polo Ralph Lauren Factory Store, H&M and J. Crew Factory Store.
Fashionistas aching for a no-holds-barred shopping spree should head to The Mall at Green Hills , 8 miles southwest of downtown at 2126 Abbott Martin Rd. Anchored by Dillard's, Macy's and Nordstrom, the pristine, skylight-capped shopping center offers more than 100 specialty stores (upscale merchants include Burberry, Tiffany & Co. and Williams-Sonoma) and nearby restaurants.
Close by, hip urbanites linger inside such shops as Allen Edmonds, Anthropologie, Vineyard Vines and West Elm at Hill Center Green Hills (4015 Hillsboro Pike), an open-air, main street-style shopping village. The daughter of Hank Williams Jr. owns the nearby boutique H. Audrey (4027 Hillsboro Pike), a popular spot for celebrity sightings.
Also serving Nashville-area mall rats are RiverGate Mall , 1000 Rivergate Parkway off I-65 in Goodlettsville and home to Dillard's, JCPenney and Macy's; and Lebanon Outlet Marketplace , 25 miles east at the junction of I-40 and SR 231 in Lebanon at 1 Outlet Village Blvd., featuring 60-plus merchants, including Brooks Brothers Factory Store and Polo Ralph Lauren Factory Store. A suburban retail paradise, CoolSprings Galleria , off I-65 at 1800 Galleria Blvd. in Franklin, lures patrons with Belk, Dillard's, JCPenney, Macy's and H&M, in addition to more than 150 specialty shops, including an American Girl store.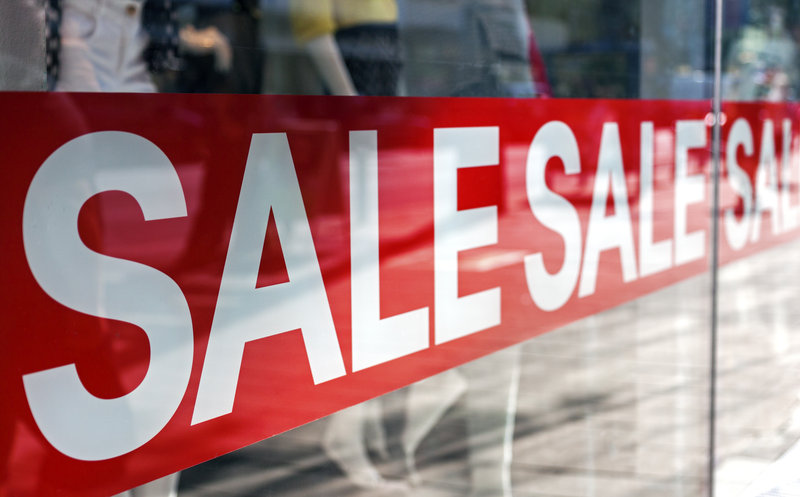 After hitting the CoolSprings shopping hub, check out The Factory at Franklin (230 Franklin Rd.), a complex of Depression-era factory buildings first built for a stove manufacturing company. While the cavernous space retains its industrial look, patrons of art galleries, restaurants, and clothing and gift boutiques now swarm the site. Though it surely will be tempting, don't shop 'til you drop—more vendors await you less than a mile away in Franklin's quaint 15-block historic downtown district. Wooden planters and canvas awnings line Main Street, along which you'll find fine teas, chic accessories and campy toys as well as local lollygaggers enjoying the sights, sounds and smells of their charming burg. If you love rummaging through collections of rare books, oil paintings and pretty china sets, walk to Second Avenue and South Margin Street, where a handful of antique dealers operate.
Fans of the History television series "American Pickers" can shop for antiques and collectibles at Antique Archaeology (1300 Clinton St., Suite 130), located in a 1900s car factory near Marathon Village.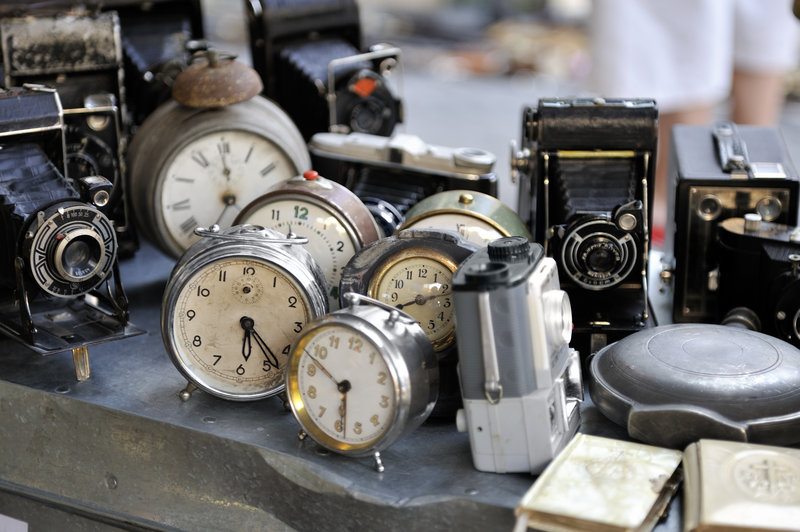 If what you really enjoy is haggling over prices, don't miss the Nashville Flea Market at The Fairgrounds Nashville (625 Smith Ave.), held the fourth weekend of each month (held the third weekend in December). One mile south of downtown Nashville, the fair attracts bargain hunters in search of arts and crafts, furniture and collectibles.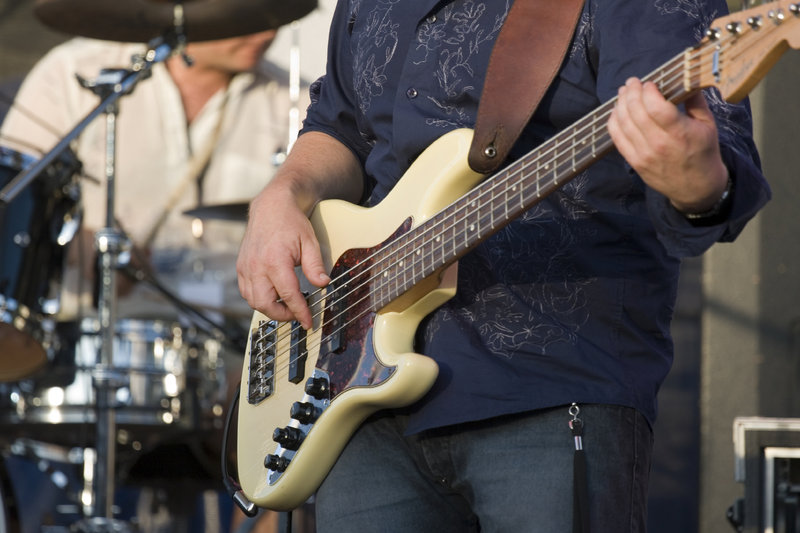 Nashville Nightlife
They don't call the Tennessee capital NashVegas for nothin'. Serving as kitschy homing beacons for party-going natives, neon signs illuminate Broadway, otherwise known as the "Honky Tonk Highway." Though smaller and more countrified than Nevada's exotic, well-lit strip, Music City's main drag remains a heady setting for both seasoned bar hoppers and those more accustomed to an 8 o'clock bedtime. Singing everything from country to rockabilly to bluegrass, bands crank up the volume at such down-home bars as The Stage on Broadway (412 Broadway), Layla's (418 Broadway) and Legends Corner (428 Broadway); outside, the harmonies continue as street performers serenade kid-toting couples and photo-happy grandparents. Phone (615) 726-0504 for The Stage, (615) 726-2799 for Layla's or (615) 248-6334 for Legends Corner.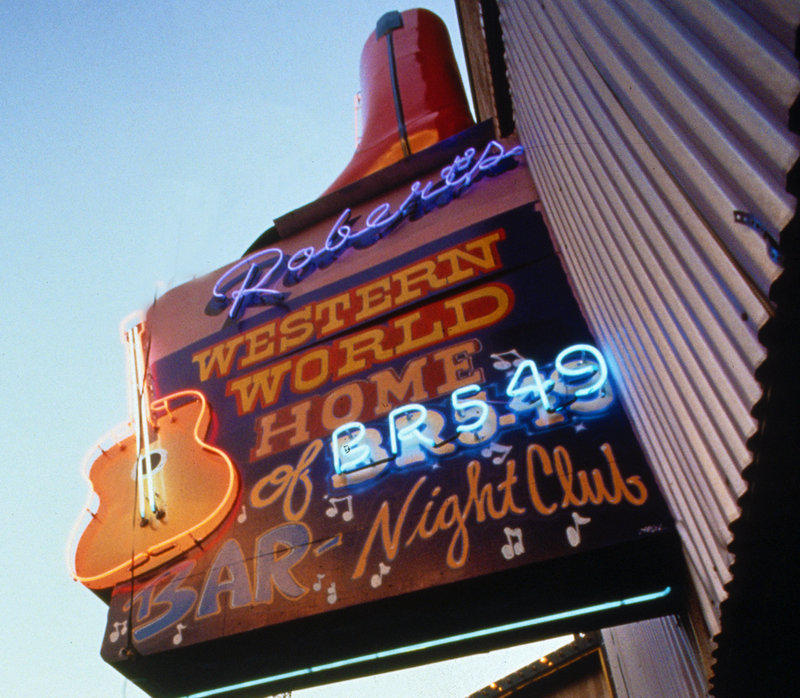 Courtesy of Nashville Convention & Visitors Corporation
While exploring Broadway on your trip (where the action is centered between the Cumberland River and 5th Avenue), experience the winning combination of Pabst Blue Ribbon, fried bologna sandwiches and live music at Robert's Western World (416B Broadway), a former apparel store that's often heralded as one of the city's best honky-tonks; phone (615) 244-9552. Afterward, sidle up to one of three bars at Tootsie's Orchid Lounge (422 Broadway)—long the watering hole of choice for Nashville hit makers, Grand Ole Opry icons and up-and-coming talents. With multiple floors and multiple bands playing each night, you're sure to stumble on something good; phone (615) 726-0463.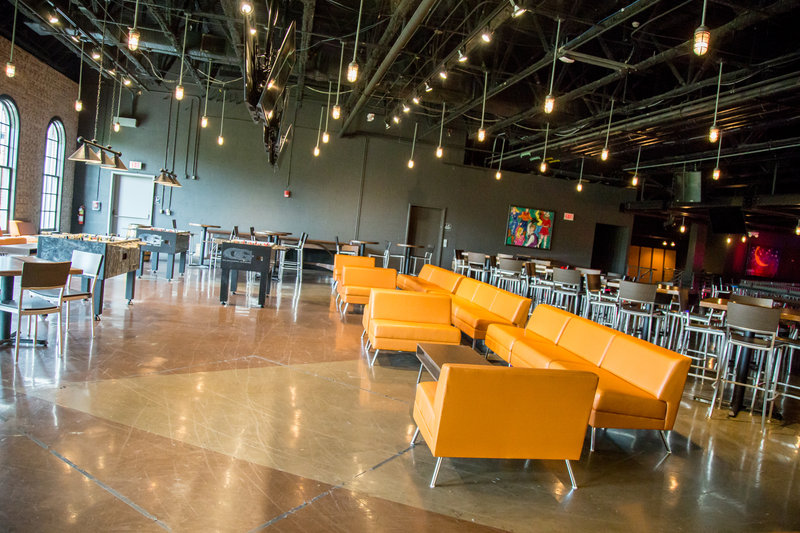 Wildhorse Saloon/Chad Lee
If you're looking for fun things to do with friends, techno-blaring dance clubs and themed bars lure raucous twentysomethings looking to let the good times roll along 2nd Avenue (between Union Street and Broadway). Hit the dance floor at B.B. King's Blues Club (152 2nd Ave. N.), or pick up a few new moves at the
Wildhorse Saloon
(120 2nd Ave. N.), which offers line dancing lessons most nights.
Acme Feed & Seed
(101 Broadway) is a relative newcomer to the Broadway scene and offers three floors of dining and entertainment, including a first floor honky-tonk, a second floor hipster-chic lounge, and a rooftop bar overlooking the city. Phone (615) 256-2727 for B.B. King's, (615) 902-8200 for the Wildhorse Saloon or (615) 915-0888 for Acme Feed & Seed.
Vestiges of a naughty past linger in Printers Alley. Long the hub of Nashville's printing industry, the alley also became home to speakeasies, gambling halls and other underground establishments around the turn of the 20th century. Though raids by billy club-bearing police officers have slowed since Prohibition ended, late-night debauchery endures in this historic quarter. (Needless to say, infamous Printers Alley isn't for everyone.) Located between 3rd and 4th avenues and Union and Church streets, the alley includes nightspots like the Bourbon Street Blues and Boogie Bar (220 Printers Alley)—where artists such as James Brown, Matt "Guitar" Murphy and Magic Slim have jammed; phone (615) 242-5837.
If you've had your fill of Lower Broadway nightlife, choose from the selection of nearby restaurants and saloons at the
Gaylord Opryland Resort & Convention Center
, less than 20 minutes northeast of downtown Nashville. After dinner and drinks at the stunning hotel, mosey next door for some good old-fashioned entertainment and watch the show that helped define American country music: the Grand Ole Opry (2804 Opryland Dr.). Since Nov. 28, 1925, the live radio broadcast has enchanted audiences with nimble banjo players and tuned-in singer-songwriters. Fans of stars such as Dolly Parton, Alan Jackson and Martina McBride will no doubt be pleased by the show's ever-changing lineup; however, even those who aren't big country music lovers will likely consider their Opry pilgrimage to be a hoot. While songs about achy, breaky hearts and wanderlust-driven outlaws reign supreme, you'll also hear crossover artists' pop-infused melodies and amusing one-liners ("Always drink upstream from the herd!") delivered by droll cowpokes.
Stay up late on your vacation and be part of the "Ernest Tubb Midnite Jamboree." If you've already spent all your dough on a pair of rhinestone cowboy boots or a Gibson Firebird electric guitar, don't worry; you still can join the live, toe-tapping studio audience at the
Texas Troubadour Theatre
(2416 Music Valley Dr.) Airing every Saturday at midnight following the Grand Ole Opry, the country's second-longest running live radio show won't cost you a dime to enjoy. Phone (615) 585-9301.
Also free is Writers' Night, held every Sunday at 8 p.m. at The Bluebird Cafe (4104 Hillsboro Pike). The show features between eight and 10 up-and-comers—who each play three original songs—as well as a guest performance by an experienced Nashville hit maker. Just keep in mind, mum's the word during the gig (The Bluebird's unofficial slogan is "Shhh!"). Also, since seating is first-come, first-served, you'll need to arrive early to snag a spot inside the tiny listening room. If you can't get in on a Sunday, take note of the determined amateurs who take the stage during Monday's open mike night. In addition, reservations are generally accepted for a small fee on Tuesdays through Saturdays, when esteemed country and acoustic musicians make appearances at the intimate venue; phone (615) 383-1461.
In Nashville's Gulch district, an old-school sign outside The Station Inn (402 12th Ave. S.), (615) 255-3307, points out all you need to know about this spartan local institution, a mecca for true bluegrass aficionados:
Live Acoustic Music
Open at 7 p.m. – Music at 9 p.m.
Pizza/Beer/Snacks
Though physically close to The Station Inn, Sambuca (601 12th Ave. S.) is on the opposite end of the nightlife spectrum in every other way. Surrounded by velvet draperies, plump leather seats and ornate candelabras, stylish patrons sip martinis inside this sexy restaurant and lounge as musicians ranging from jazz crooners to classic rock 'n' rollers take the stage. If you wonder what to eat, enjoy some lobster enchiladas or a flat-iron steak served with a side of quesadillas, then head up to Sambuca's posh rooftop patio for after-dinner cocktails and impressive views of Nashville's twinkling skyline; phone (615) 248-2888.
Just a twist, shimmy and knee slide away is your next destination, Mercy Lounge (One Cannery Row) draws hipsters and wailing front men to a former food-canning factory. In the '80s and '90s, riotous crowds went hoarse cheering on acts such as Iggy Pop, Lenny Kravitz and Jane's Addiction in this retrofitted warehouse; these days, the intimate second-floor venue packs 'em in with local and nationally touring buzz bands as well as such regular events as 8 off 8th, a showcase for fledgling artists still unaccustomed to groupies and throngs of Zippo-brandishing fans. On the ground floor is the Cannery Ballroom, which hosts larger concerts. Phone (615) 251-3020.
If you find yourself standing in a long line outside the Exit/In (2208 Elliston Pl.), scan the wall of fame by the entrance. Odds are you'll recognize more than just a few of the names scribbled haphazardly on the side of the building. Since the club's opening in 1971, R.E.M., Johnny Cash, Kings of Leon, Willie Nelson and Bon Iver are just a few who've brought down the house in this dark, standing-room-only dive; phone (615) 891-1781.
With Vanderbilt University as a neighbor, it's no wonder Elliston Place (a.k.a. the "Rock Block") and the surrounding area are home to a number of quirky taverns and local restaurants. Sorority sisters and biker babes clink suds-capped mugs at the Broadway Brewhouse (1900 Broadway). (615) 340-0089.
praetorianphoto/iStockphoto.com
Nashville Performing Arts
One of the most important events in Nashville's history was the building of the Ryman Auditorium. The home of the Grand Ole Opry for 31 years, the stage of the Ryman Auditorium also has been graced by the likes of Enrico Caruso, Katharine Hepburn, Helen Keller and Harry Houdini. In 2015 a $14 million renovation and expansion project once again put the Ryman in the spotlight as the city's premier cultural venue; audiences enjoy concerts, musicals and award shows there. The facility also serves as a daytime museum and one of the many fun things to do in Nashville, documenting the Ryman's past through a variety of exhibits and videos.
Built in east Nashville along the Cumberland River in 1974, the Grand Ole Opry House in Gaylord Opryland is a center for country music shows. For those who prefer down-home cookin' with their music, Nashville Night Life Dinner Theatre fills the bill daily; phone (615) 885-4747 or (800) 573-7973 for schedule information.
In the heart of town the Tennessee Performing Arts Center (TPAC) has four showcases for top shows and artists: the Andrew Jackson Hall for concerts, operas and touring Broadway shows; the Andrew Johnson Theater for theater-in-the-round; the James K. Polk Theater is a great destination for theatrical productions, operettas, dance and chamber concerts; and the War Memorial Auditorium for orchestral and theatrical shows. Phone (615) 782-4000, or (615) 782-4040 for the box office.
Nashville Ballet presents classical and contemporary works at the Tennessee Performing Arts Center as well as at The Martin Center for Nashville Ballet, 3630 Redmon St. In addition to Nashville Ballet, the Nashville Opera and the Nashville Repertory Theatre are resident organizations at TPAC; call (615) 297-2966 for the ballet, (615) 832-5242 for the opera and (615) 244-4878 for the repertory theater if you are looking for things to do this weekend.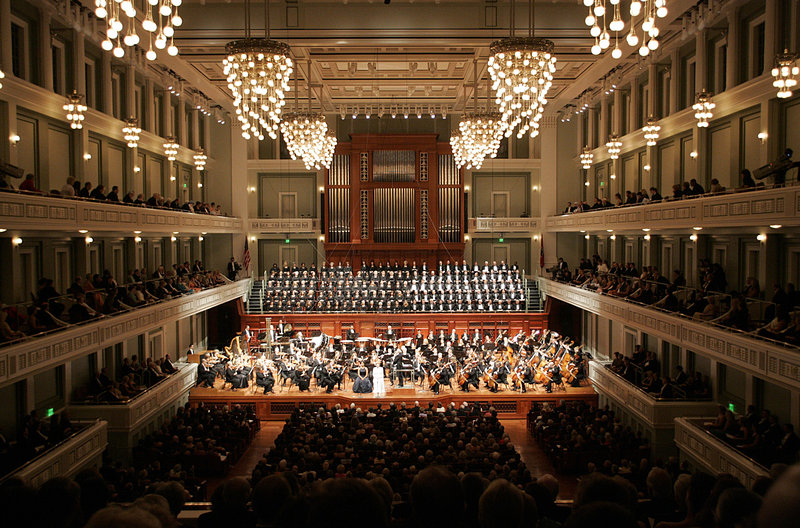 Courtesy of Nashville Convention & Visitors Corporation
The Nashville Symphony performs year-round in the Schermerhorn Symphony Center, one of only a few major concert halls in North America to use natural lighting; phone (615) 687-6400 for information and reservations.
Colleges and universities in Nashville also offer their share of music, dance and drama productions. Some of the programs are free and many are performed at Vanderbilt University's Blair School of Music, (615) 322-7651. The Nashville Children's Theatre, 25 Middleton St., specializes in children's productions; phone (615) 252-4675 for the box office. Chaffin's Barn Theatre, 8204 SR 100, presents comedies and musicals along with dinner. On the main stage, a platform descends from the ceiling at the start of each show. Phone (615) 646-9977 or (800) 282-2276.
Concerts take place on weekends, mid-May to mid-September at Centennial Park and other area parks; for more information phone (615) 862-8424. The open-air Ascend Amphitheater, along the Cumberland River at 310 1st Ave. S., hosts concerts April through late October. The amphitheater is also home to the Nashville Symphony in summer; phone (615) 999-9000 for event information.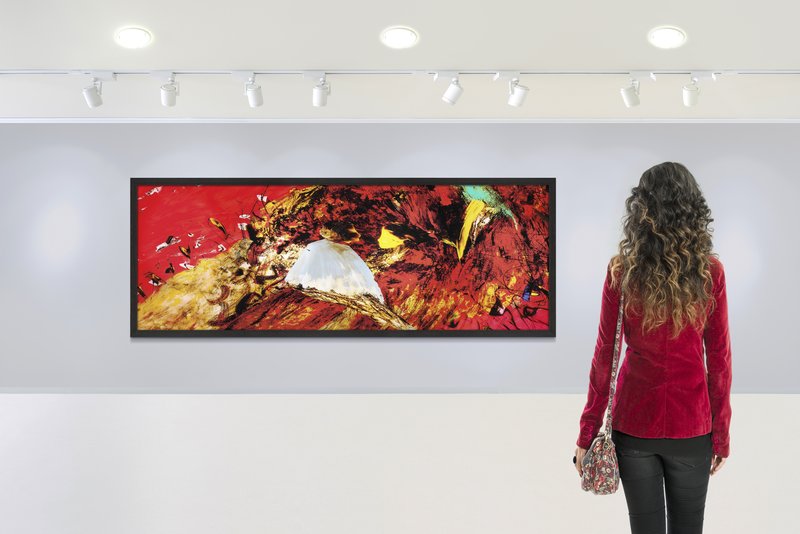 Downtown art galleries host receptions and art openings during the First Saturday Art Crawl, held on the first Saturday of the month at venues along 5th Avenue. These are great things for couples to do and fun things to do with friends.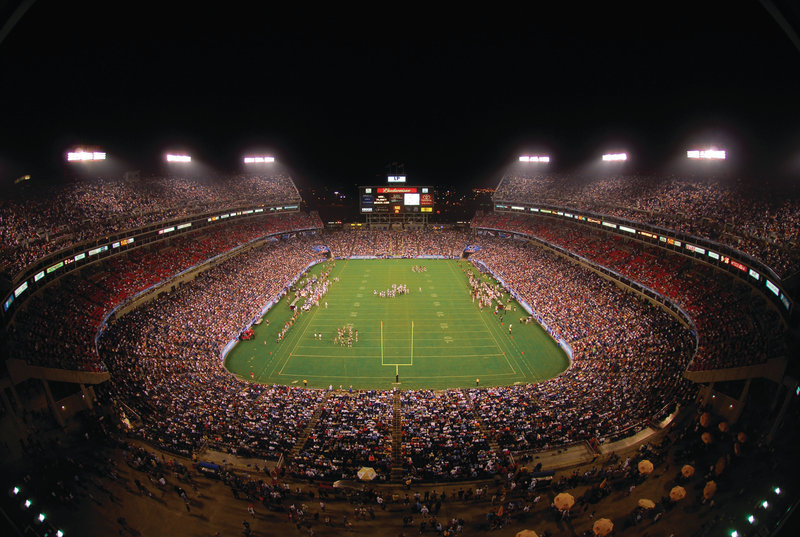 Courtesy of Nashville Convention & Visitors Corporation
Nashville Sports and Recreation
Stroll through Riverfront Park, sandwiched between Lower Broadway and the Cumberland River, for views of
Nissan Stadium
(1 Titans Way), where vociferous natives cheer on their gridiron darlings: the National Football League's Tennessee Titans. For tickets phone (615) 565-4200. Vanderbilt University's football team, the Commodores, has attracted a faithful crowd to Vanderbilt Stadium for years; phone (615) 322-4653 or (877) 448-2639 for tickets.
Both the women's and men's Vanderbilt Commodores basketball teams are usually contenders in their conferences, making tickets a valuable commodity; phone (615) 322-4653 or (877) 448-2639.
Baseball fans root for the Nashville Sounds, a Triple-A minor league team affiliated with the Texas Rangers. Tickets to their games at
First Tennessee Park
(19 Junior Gilliam Way) are available; phone (615) 690-4487.
Watch streaks of navy blue, gold and white—a.k.a. the National Hockey League's Nashville Predators—whiz past opponents at the
Bridgestone Arena
, downtown at 5th Avenue and Broadway. Phone (615) 770-2000 for Predators ticket information.
The J. Percy Priest and Old Hickory reservoirs and a network of inner-city parks are the mainstay of many sports and leisure activities around Nashville. Family-oriented Cumberland Park includes an open lawn, a river walk, landscaped gardens and play equipment for children. Centennial Park offers picnic areas, a short trail and a dog park. Wooded trails provide shade to joggers and walkers at Edwin and Percy Warner Parks. Radnor Lake State Park, south of Nashville off I-65, has 10 hiking trails of various levels of difficulty, as well as nature walks and plenty of opportunities for wildlife viewing.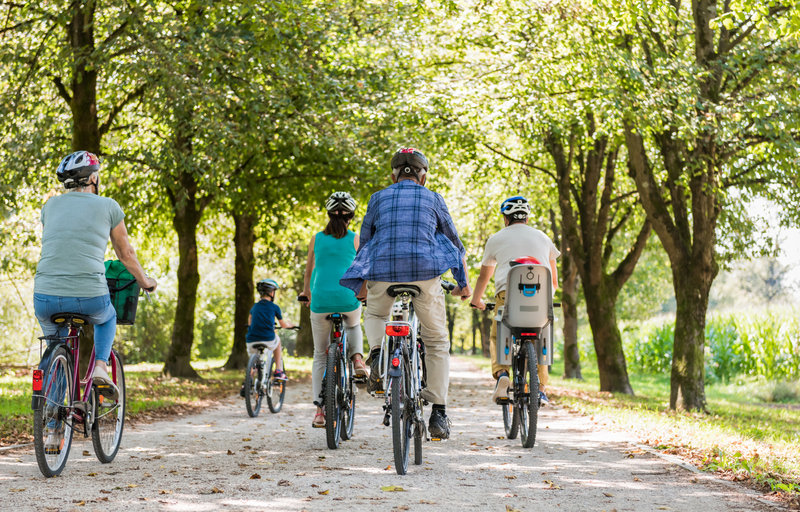 iStockphoto.com/Tashi-Delek
Bicycling is enjoyable on the 26-mile Music City Bikeway between Percy Warner Park and J. Percy Priest Dam. The trail, which consists of greenway bike paths, shared street routes as well as designated bike lanes, offers scenic views of the Cumberland River, Nissan Stadium and Bicentennial Capitol Mall State Park. Mountain bike trails are located in Percy Warner Park.
A bicycle-sharing option is Nashville B-Cycle. Two-wheelers may be rented and returned at self-service kiosks found throughout the city, including Shelby Bottoms Nature Center. A 24-hour pass costs $5, which includes rides of up to 1 hour. Additional fees are charged for longer rides. Phone (615) 625-2153 for Nashville B-Cycle information.
The J. Percy Priest and Old Hickory reservoirs are popular spots for boating, water skiing, swimming and other water sports. Children can cool off at Cumberland Park's water play area featuring an interactive splash pad, water jets and rain curtains. Indoor swimming is offered at Centennial Sportsplex; phone (615) 862-8480 for the Aquatics Department. Metro Parks and Recreation maintains both outdoor and indoor pools for public use at locations throughout Nashville; phone (615) 862-8400.
The Harpeth Scenic River, southwest of the city off US 70, welcomes canoes and kayaks. For information on canoeing trips in the Nashville vicinity contact the Tennessee Department of Tourist Development, 312 Rosa L. Parks Ave.; phone (615) 741-2159.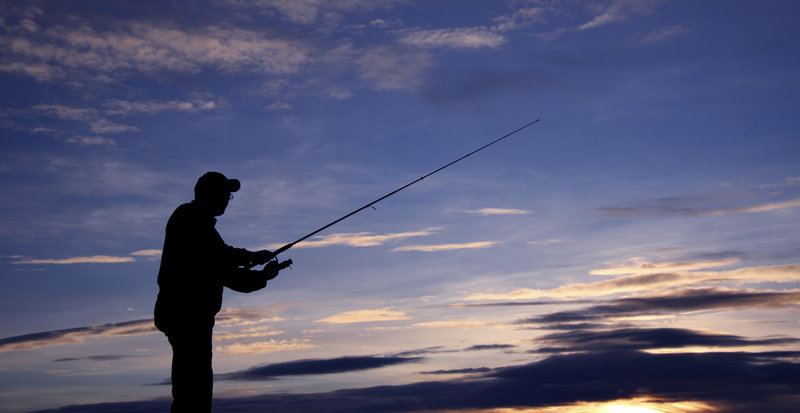 ImagineGolf/iStockphoto.com
Fishing for crappie, bass, catfish and sunfish in the lakes and reservoirs around Nashville is a favorite pastime. For fishing license information, contact the Tennessee Wildlife Resources Agency, phone (615) 781-6500. Licenses also are available at discount stores and sporting goods stores, bait shops and marinas.
Indoor and outdoor tennis courts are available at Centennial Sportsplex Tennis Center, across from Centennial Park. Metro Parks and Recreation offers free public courts on a first-come, first-served basis; phone (615) 862-8490 for Centennial and Metro Parks. Courts also are available at local high schools and universities.
Nine-hole golf courses open to the public include Percy Warner, (615) 352-9958, and Little Course at Aspen Grove, (615) 790-0222, in nearby Franklin. For 18-hole courses head to Harpeth Hills, (615) 862-8493, in Percy Warner Park; Nashboro Golf Club, (615) 367-2311; Ted Rhodes, (615) 862-8463, on the banks of the Cumberland River; Two Rivers, (615) 889-2675, near the Grand Ole Opry; or Shelby, (615) 862-8474, in East Nashville.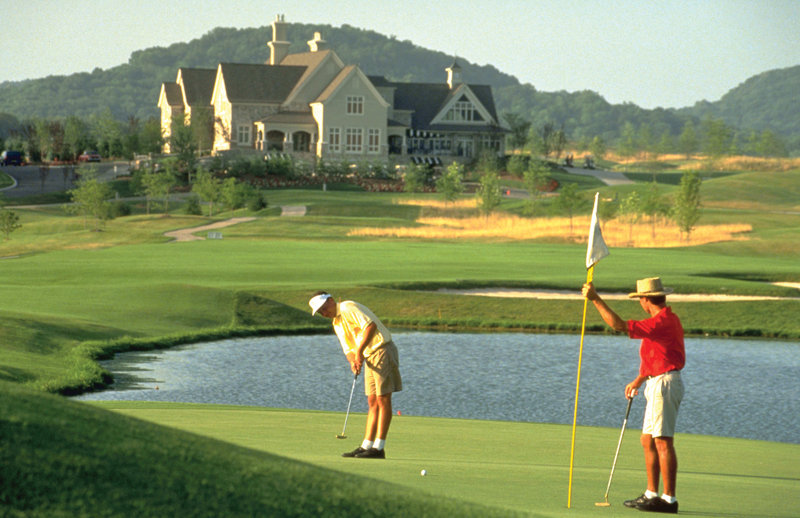 Courtesy of Nashville Convention & Visitors Corporation
Just northeast of town in Old Hickory you'll find 18-hole Riverside, (615) 847-5074, and Hermitage Golf Club, (615) 847-4001. Golfing options in Franklin include Forrest Crossing, (615) 794-9400, and Vanderbilt Legends Club of Tennessee, (615) 791-8100. McCabe Golf Course in West Nashville offers 27 holes; (615) 862-8491.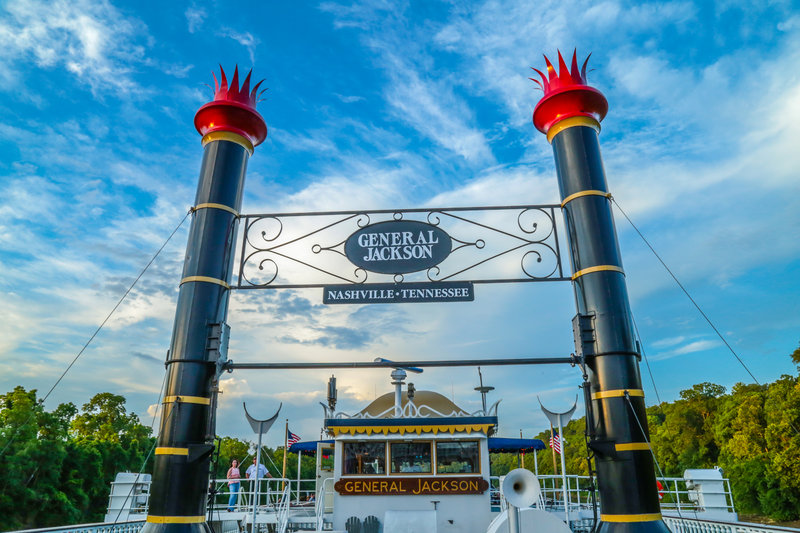 Courtesy of Gaylord Opryland Attractions
Bus Tours
Courtesy of Nashville Convention & Visitors Corporation
Looking for things to do this weekend? Sightseeing excursions with stops at the major attractions and/or tours of the stars' homes are offered by several companies, including NashTrash Tours, which can be reached at (615) 226-7300.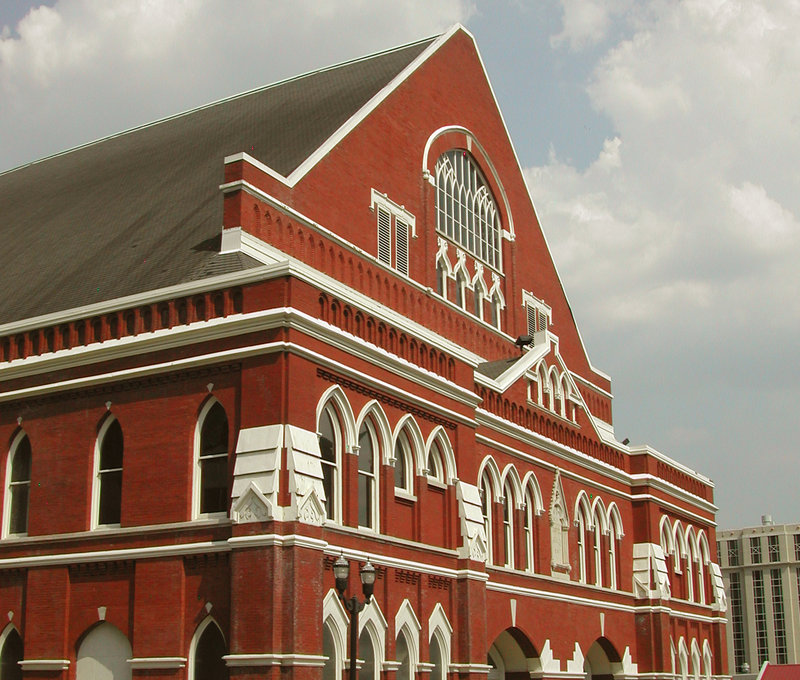 Courtesy of Nashville Convention & Visitors Corporation
Nashville in 3 Days
Three days is barely enough time to get to know any major destination. But AAA travel editors suggest these activities to make the most of your time in Nashville.
Day 1: Morning
Begin your exploration of Music City, USA, with a visit to the
Ryman Auditorium
, home to the Grand Ole Opry from 1943 until 1974, when the show relocated to its present 4,400-seat performance house at Gaylord Opryland. Take a daytime tour of the Ryman to learn all about the "Mother Church of Country Music," which originated in the late 1800s as a tabernacle for Christian revivals.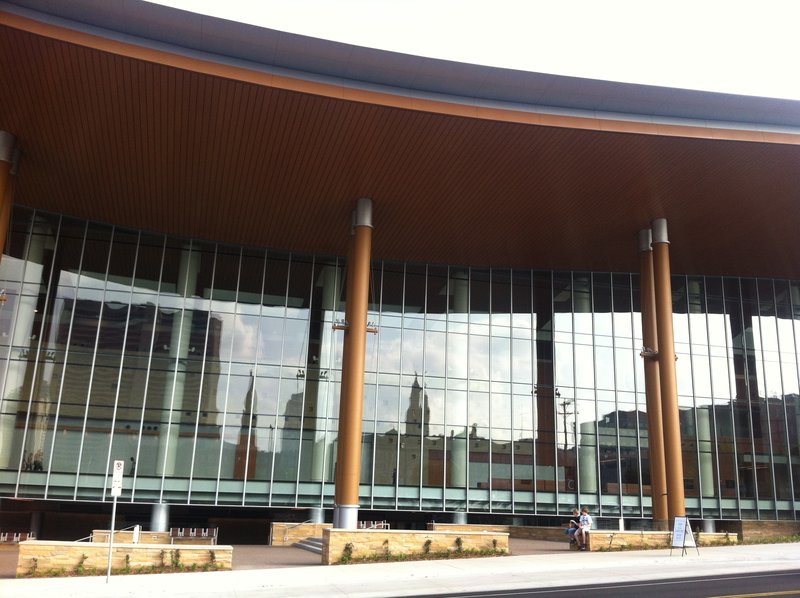 You can take the self-guiding tour before heading to the
Country Music Hall of Fame and Museum
, packed with all kinds of glitzy country music paraphernalia. The museum also offers a don't-miss tour of Music Row's Historic RCA Studio B, the famous recording studio where Elvis Presley, Roy Orbison, Willie Nelson and Dolly Parton cut singles.
Day 1: Afternoon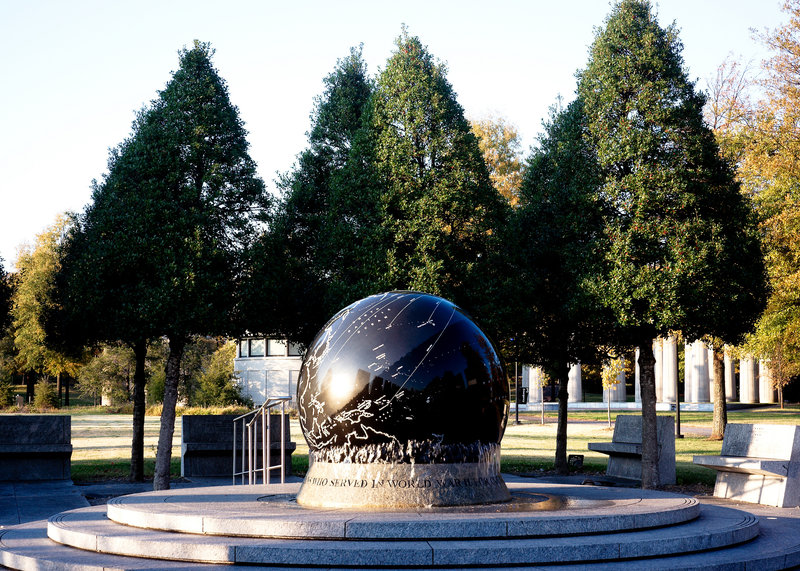 Courtesy of Nashville Convention & Visitors Corporation
After a casual lunch at
Jack's Bar-B-Que
, head to the
Frist Art Museum
to see its collection of impressive international artwork. If time remains, include a walk through the
Tennessee State Museum
and
Bicentennial Capitol Mall State Park
on your afternoon itinerary.
Day 1: Evening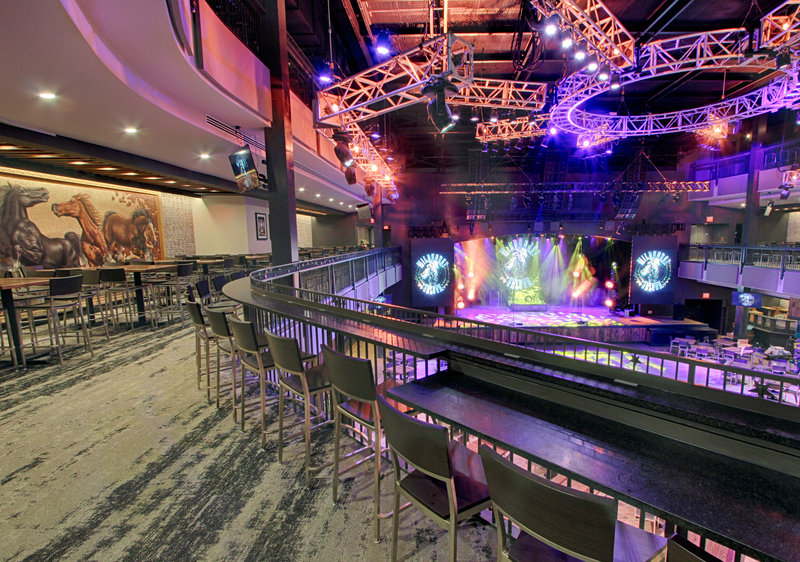 Wildhorse Saloon/Chad Lee
An evening out in Lower Broadway (centered on 2nd Avenue and Broadway), Nashville's hottest nightlife area, is a must for party-goers. Eat at
Wildhorse Saloon
or other local restaurants and catch a concert or take a dance lesson before hitting one of many live music clubs sharing the streets with warehouses and old bars. We like Legends Corner , Robert's Western World , Tootsie's Orchid Lounge and B.B. King's Blues Club . (If you're in the mood for a more upscale evening, opt for a leisurely dinner on the second floor of
Merchants
, set in a vintage hotel.)
Day 2: Morning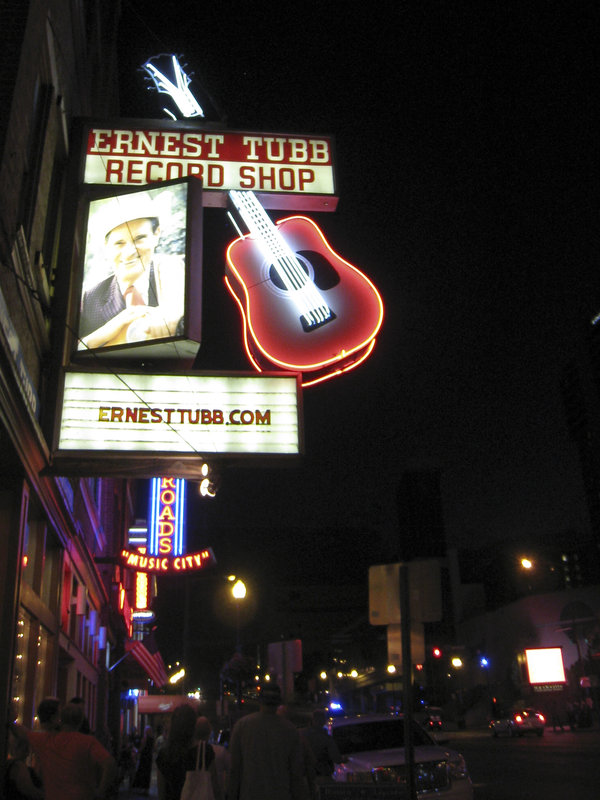 After a night of partying in Lower Broadway, return there to browse souvenir stores housing a wealth of country music-themed wares. But if you want something more memorable than a magnet or a commemorative shot glass—or even if you're just window-shopping—two venerable businesses on and near Broadway are worth a peek inside. At the original Ernest Tubb Record Shop opened in the 1940s, you can score some rare vinyl, along with hard-to-find CDs. Or, you could spend your hard-earned cash on a concert poster reprint from Nashville's historic Hatch Show Print (located inside the Country Music Hall of Fame and Museum). The cool turn-of-the-20th-century letterpress print shop has created custom designs for everyone from Bob Dylan to Mumford & Sons and offers tours of its production area.
You'll also find a number of other places to eat inside
Gaylord Opryland
, the focal point of the vicinity. The expansive complex includes
Gaylord Opryland Resort & Convention Center
, the
Grand Ole Opry
, and
General Jackson Showboat
. Sign up for a tour of the Grand Ole Opry, wander the resort's botanical garden, waterfall and fountain or take a flatboat along canals in the atrium.
Day 2: Evening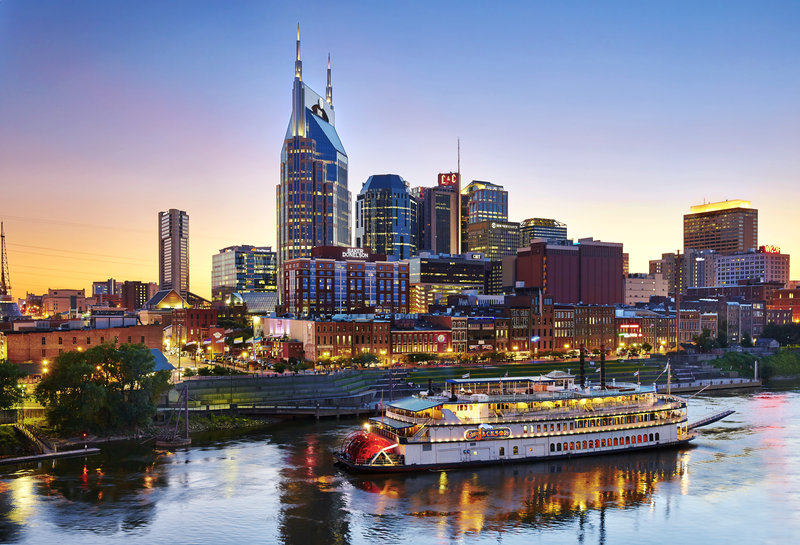 Courtesy of Gaylord Opryland Attractions
The Music Valley area offers plenty in the way of live music and things for couples to do. The Grand Ole Opry presents shows on weekend evenings; if it's a weekday, opt instead for a dinner trip aboard the Cumberland River on the
General Jackson Showboat
. Another theater is Nashville Palace. A popular late-night event is the Saturday night radio show, which begins at midnight and is broadcast from the
Texas Troubadour Theatre
.
Day 3: Morning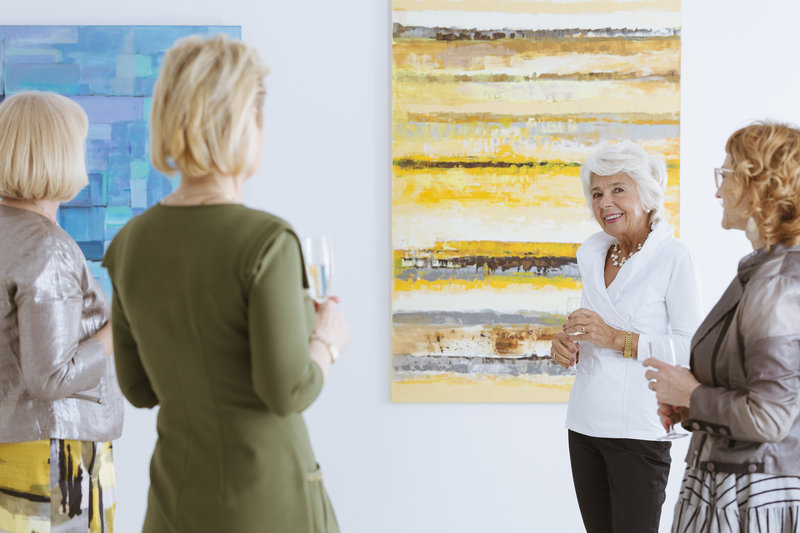 iStockphoto.com/KatarzynaBialasiewicz
During your vacation, delve into Nashville's cultural side.
Fisk University Galleries
houses works by Cézanne, O'Keeffe, Picasso and Renoir. Adjacent to Vanderbilt University are the
Upper Room Chapel and Christian Art Museum
, home to a Georgian-style chapel and religious art, and
The Parthenon
, with a gigantic, gilded Athena statue. Near campus, tour the
Belmont Mansion
, a furnished, ornate Italianate villa dating from the 1850s. Or stroll through Hillsboro Village, a small shopping and dining district centered on 21st Avenue South.
Day 3: Afternoon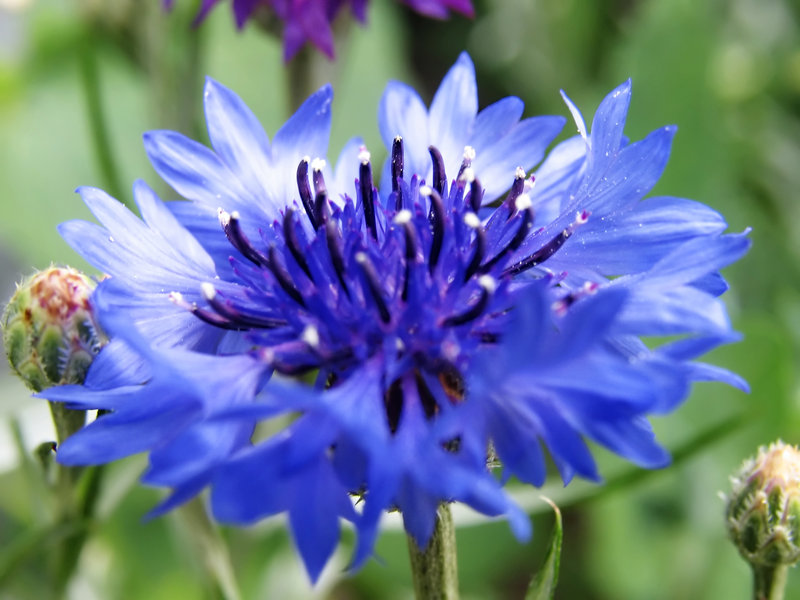 Circling the Vanderbilt campus and near Belmont Mansion is a good selection of eateries: Break for brunch or lunch at
Biscuit Love
, a popular local restaurant known for its made-from-scratch Southern fare. Then take a driving tour of the ritzy Belle Meade neighborhood, where many country music stars live. In Belle Meade, the Greek Revival
Belle Meade Plantation
is definitely worth a stop, as is
Cheekwood Botanical Garden & Museum of Art
, comprising substantial gallery space with noteworthy pieces, gardens and a sculpture trail.
Day 3: Evening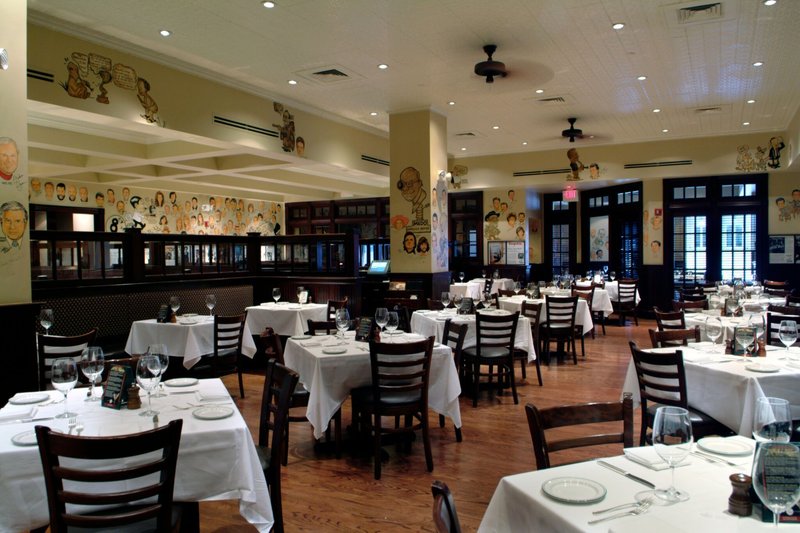 Courtesy of The Palm Restaurant
Look into a show at the Tennessee Performing Arts Center (TPAC). Odds are, you can catch a ballet, opera or theatrical performance. Dine at
Demos' Steak & Spaghetti House
, with a cozy, relaxed atmosphere; the
Capitol Grille
, set in a historic hotel; or
The Palm Restaurant
, where you can eat steak or lobster in a dining room adorned in caricatures.
Best Attractions in Nashville
In a city with dozens of attractions and fun places to go, you may have trouble deciding where to spend your time. Here are the highlights for this destination, as chosen by AAA editors. GEMs are "Great Experiences for Members."
To kick-start your adventure into the world of country music, make your first vacation stop at the
Country Music Hall of Fame and Museum
, a AAA GEM attraction. Here you can brush up on your knowledge of country and western music—from its history to its current heartbreakers and all the nitty gritty in between. This way, when you visit the historic
Ryman Auditorium
, another AAA GEM attraction, you'll know that it began its life as a church and served as the home to the Grand Ole Opry 1943-74. Its stage has seen the likes of performers from Enrico Caruso to Minnie Pearl.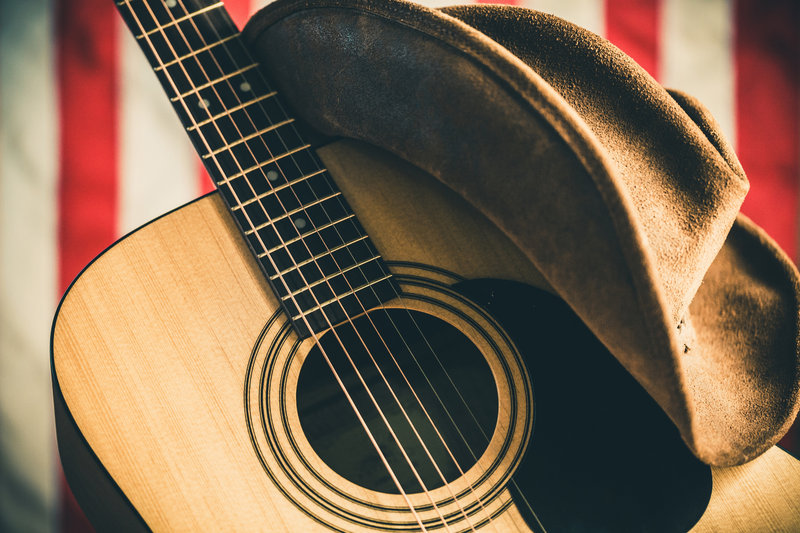 artisteer/iStockphoto.com
Now that you're well-versed in the country and western genre, it's time to visit your next destination, the mother of all live music venues, the
Grand Ole Opry
, a AAA GEM attraction. The live, foot-stompin' radio broadcast bills itself as country music's longest continuously running radio show. At any given performance you might hear a top-name recording artist or catch a sneak peek of a soon-to-be-diva. Another live variety show, the Ernest Tubb Midnite Jamboree, takes the stage at the
Texas Troubadour Theatre
on Saturdays, and folks pack the pews for Nashville Cowboy Church, the theater's inspiring Sunday gospel brunch.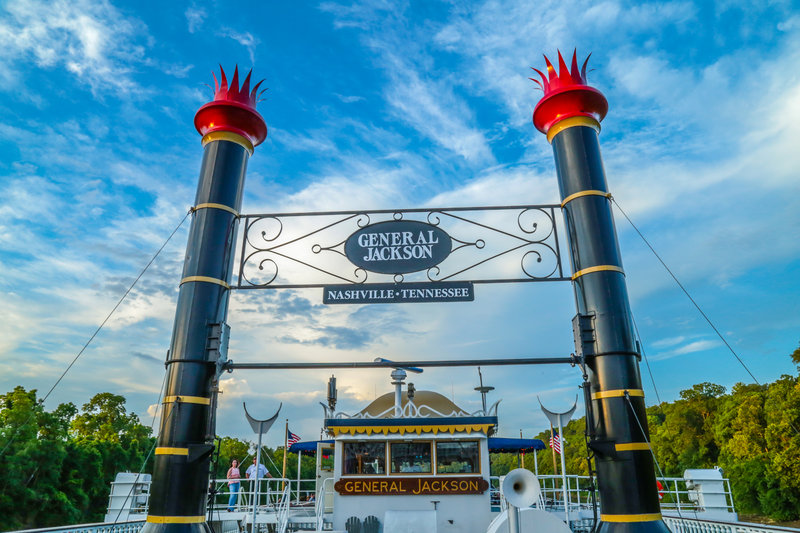 Courtesy of Gaylord Opryland Attractions
The sprawling
Gaylord Opryland
, a AAA GEM attraction, is hard to miss. Wander the gardens and pathways and check out the waterfalls under the atriums of the
Gaylord Opryland Resort & Convention Center
, or dine at local restaurants or shop. If you're up for a boat ride, set sail on a flatboat tour without even leaving the glass enclosure; boats meander along the resort's indoor winding rivers. For an excursion outside the complex, the
General Jackson Showboat
takes passengers on a paddlewheel cruise along the Cumberland River. Gaze out at nature from four large decks, while listening to country music playing sweetly in the background.
Being the state capital, Nashville offers plenty of interest for history buffs on a trip. Stop at the 1859 Greek Revival-style
Tennessee State Capitol
to view statues of Sam Davis and Andrew Johnson, as well as the tombs of James K. Polk and his wife, which are on the grounds. Then stroll through history at the
Tennessee State Museum
. Exhibits explore prehistory and educate about the Civil War, Reconstruction and antebellum Tennessee, accompanied by a whole slew of original artifacts.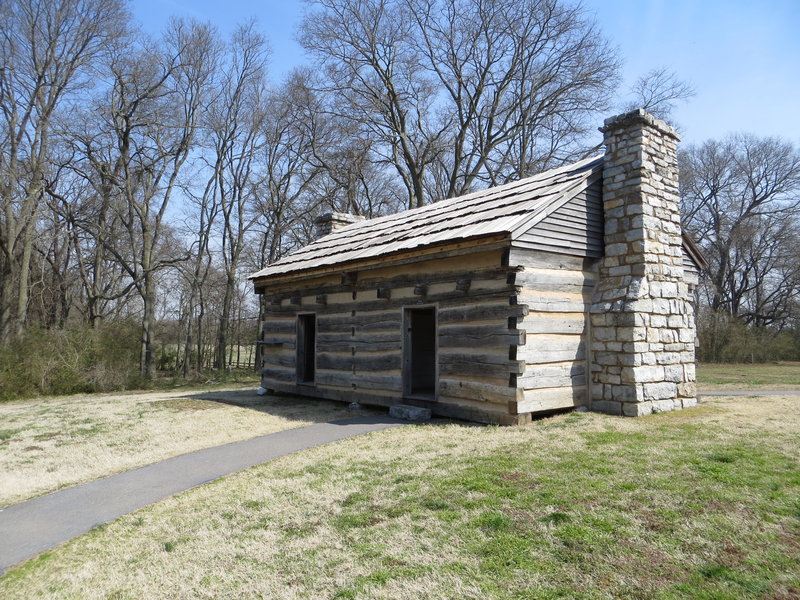 If the antebellum era interests you, include
The Hermitage
, a AAA GEM attraction, on your itinerary. Bedecked with fat Corinthian columns, the mansion was the home of the seventh president; Andrew Jackson lived here before and after his presidency, and the estate preserves many family belongings. Formal gardens surround the house. A typical Southern plantation home, the Greek Revival
Belle Meade Plantation
was the lord over more than 5,000 acres in its day. Check out the architectural details inside, and explore the now 30-acre grounds: A carriage house, log cabin, smokehouse, mausoleum and a creamery remain. Said to be one of the most elaborate antebellum homes in the South,
Belmont Mansion
sports 36 rooms in its 19,000 square feet of extravagant living space. No detail was overlooked in creating this over-the-top summer home, and it has been beautifully restored.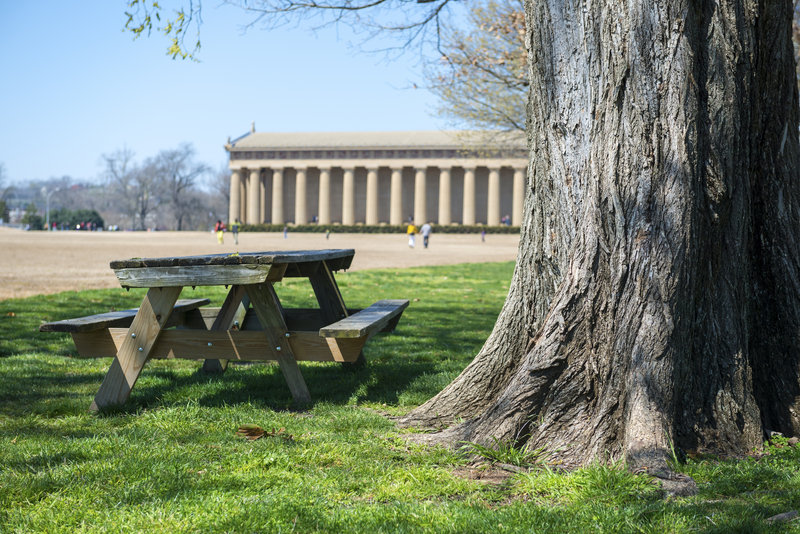 jcarillet/iStockphoto.com
Nashville is no stranger to fine art, and
Fisk University Galleries
boasts an impressive collection, with paintings by Cézanne, O'Keeffe, Picasso and Renoir as well as an exhibit with works by African-American artists. At the Georgian-style
Cheekwood Botanical Garden & Museum of Art
, find American and contemporary paintings and English decorative arts. Changing exhibits at the more modern, Art Deco
Frist Art Museum
spotlight international art. For sculpture, head to
The Parthenon
, where a gigantic, gilded likeness of Athena looms.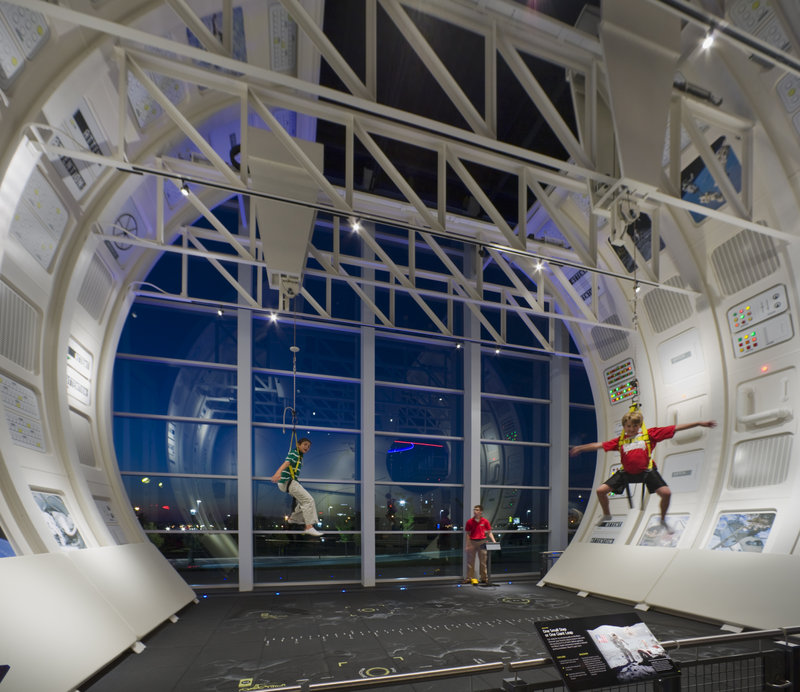 At the expansive
Bicentennial Capitol Mall State Park
, a giant map of Tennessee is a great place for kids to play. Giggles peal amid 31 spurting fountains representing the state's rivers. Also popular with kids is the seven-story Adventure Tower climbing structure at
Adventure Science Center
, a AAA GEM attraction. If you master the maze of chutes and ladders to reach the globe at the top, a view of the city awaits. The museum has engaging, interactive exhibits about science and nature. Then visit the real thing at the 85-acre
Nashville Zoo at Grassmere
. Andean bears, cougars, red kangaroos and giraffes live alongside amphibians, Sumatran tigers and macaws.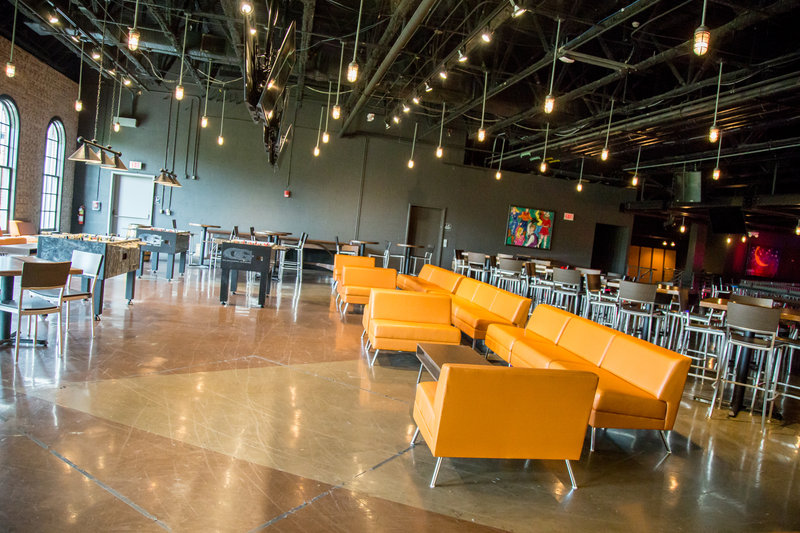 Wildhorse Saloon/Chad Lee
Best Restaurants in Nashville
Our favorites include some of this destination's best local restaurants—from fine dining to simple fare.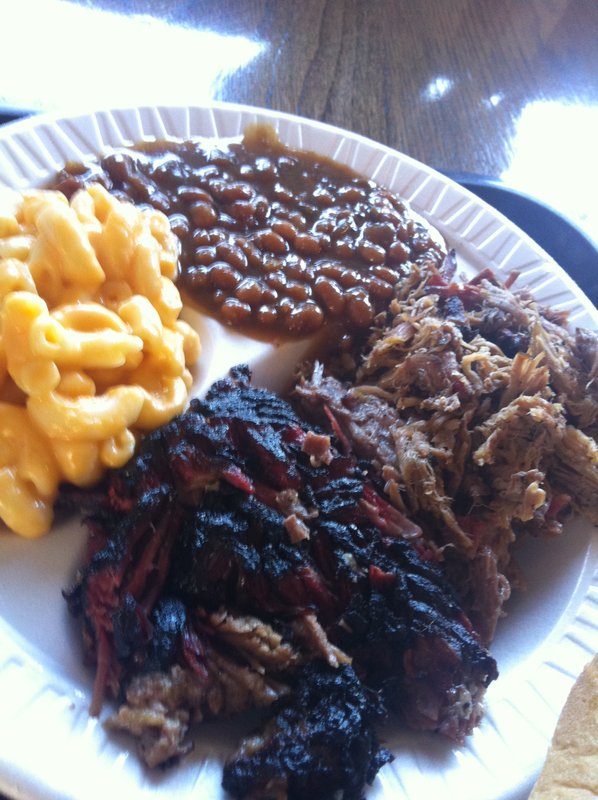 In the heart of downtown Nashville, the rustic and casual
Jack's Bar-B-Que
announces itself with a pink neon flying pig, setting the theme for this beloved barbecue joint. What sets Jack's apart from other places to eat barbecue is its five different award-winning sauces. Moist and tender ribs, pulled pork and Texas-style beef brisket are sure to satisfy the barbecue addict. For sides, choose from baked beans, coleslaw, green beans or macaroni and cheese. Paper plates tell you this spot is basic, fun and with few frills, but the flavors will tell your taste buds otherwise.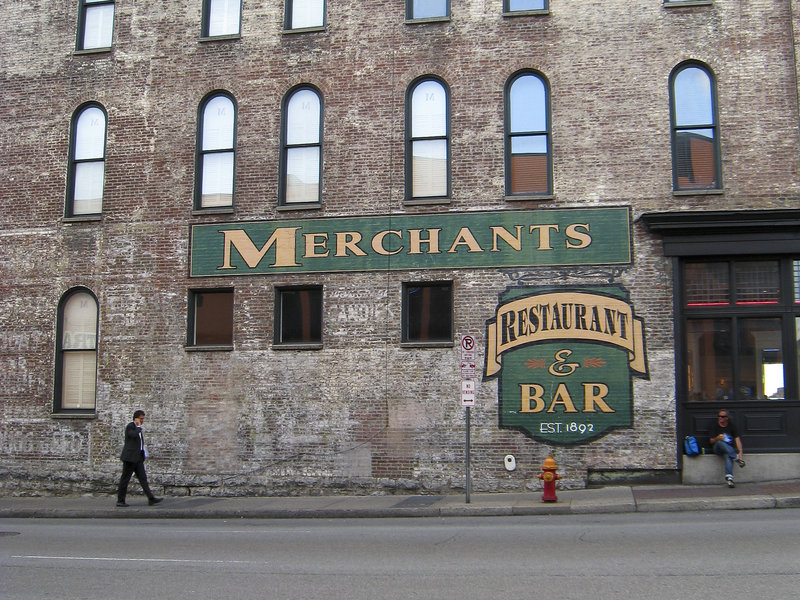 Once a turn-of-the-century hotel,
Merchants
features two floors of dining with two distinct menus. The casual bistro downstairs opens at 11 a.m. and serves up favorites like fish tacos, duck fat tater tots and sweet tea pork loin with pimento cheese grits and molasses-glazed green beans. (Tip: The high-top tables by the front windows are a great spot for people-watching on Broadway.) Diners searching for elegant, upscale fare should head upstairs where the menu includes excellent choices like oysters, filet mignon and smoked pork chop.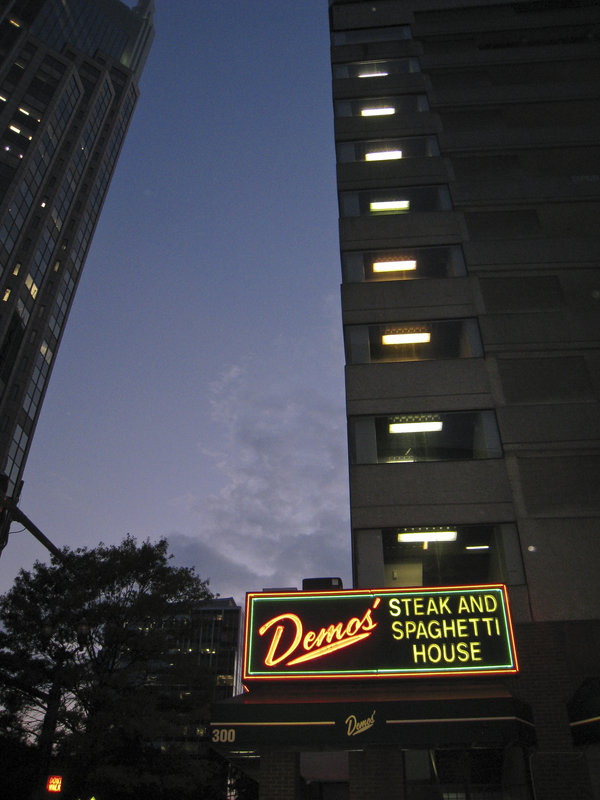 For a wonderful dinner in a relaxed atmosphere, your next destination is where the locals go:
Demos' Steak & Spaghetti House
. Since there are numerous locations in Nashville, you'll always be close to one. The menu is extensive and varies from the obvious pasta dishes to steak, seafood, chicken and grilled pork chops. The Kansas City strip and the giant rib-eye (14 ounces) are extremely tender and flavorful. For a different twist on pasta, try the Greek-style chicken sauce or browned butter with garlic. Other delicious choices include chicken fettuccine, Mexican spaghetti and baked homemade lasagna.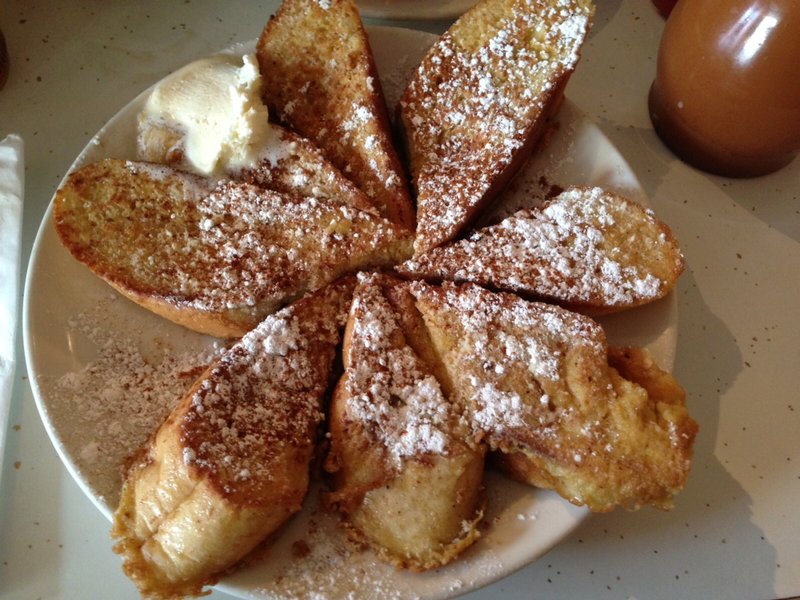 A meal at the
Pancake Pantry
is a must when visiting Nashville. This mom-and-pop breakfast establishment has been a Nashville tradition since 1961. Try to get there before 9 a.m. on weekends, as long wait times and lines that stretch down the street are a tradition, too. The specialty pancakes and syrups are worth the wait, with menu options like sweet potato pancakes topped with cinnamon cream syrup, blintzes and cornmeal pancakes cooked with bacon, cheddar cheese and green chilies. Hint: Phone ahead and order your breakfast to-go if you're short on time.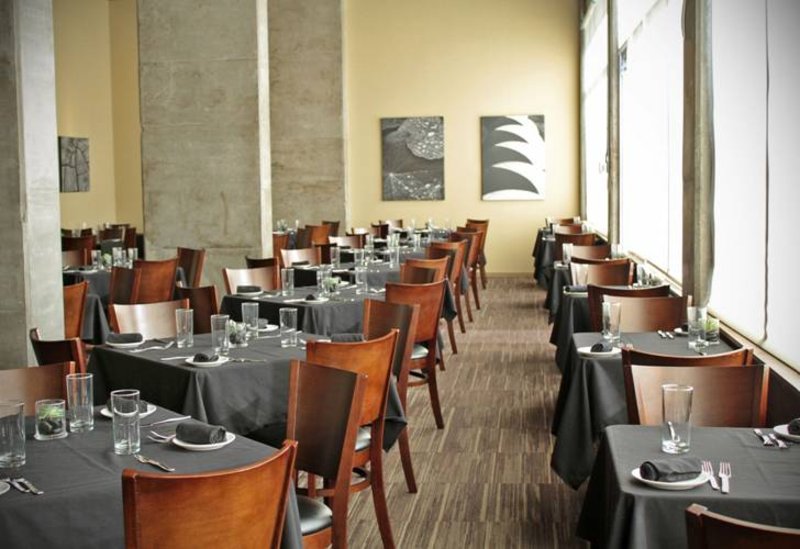 Courtesy of Etch Restaurant
Frequently named one of Nashville's top spots on the restaurant scene,
Etch Restaurant
in SoBro does not disappoint. Chef Deb Paquette's loyal followers rave about her artistic and inventive dishes that are reasonably priced and oh-so-tasty. We recommend ordering a few plates to share, as you'll want to taste as many of the flavor combinations as possible. Don't miss the roasted cauliflower with truffled pea pesto, the cocoa-spiced venison with cashew butter and cherry plum jam, or the grilled filet with sourdough baked potato bread pudding.
Described as "rustic Italian,"
Valentino's Ristorante
has been satisfying guests for more than 25 years. The old brick house, with dining areas upstairs and a wine cellar below, makes for an intimate setting. For the first course, try the baked eggplant appetizer or the Caesar salad for two. Favorite entrées include a veal chop and osso bucco over saffron risotto. Everyone raves about the bananas Foster, made tableside—it's a perfect end to a memorable evening.
The
Capitol Grille
at
The Hermitage Hotel
is set in what was originally the private men's club. The restaurant's understated style and refined service match the ambience of this grand property. With an emphasis on creative Southern cuisine, the menu changes with the season and incorporates only the freshest ingredients from the chef's heirloom garden. The wine list is extensive, and the adjacent Oak Bar is one of the coziest spots to grab a drink in the city.
Southern comfort food is a must when you vacation in Nashville, and is served family-style at
Monell's Dining & Catering
. Located in a renovated antebellum home in Germantown, Monell's boasts several small, intimate dining rooms where hungry patrons chow down on favorites like chicken and dumplings, pork chops and sliced roast beef with gravy and pot roast. The menu changes depending on the day of the week, but meals always include meats, veggies, salads, a drink and dessert.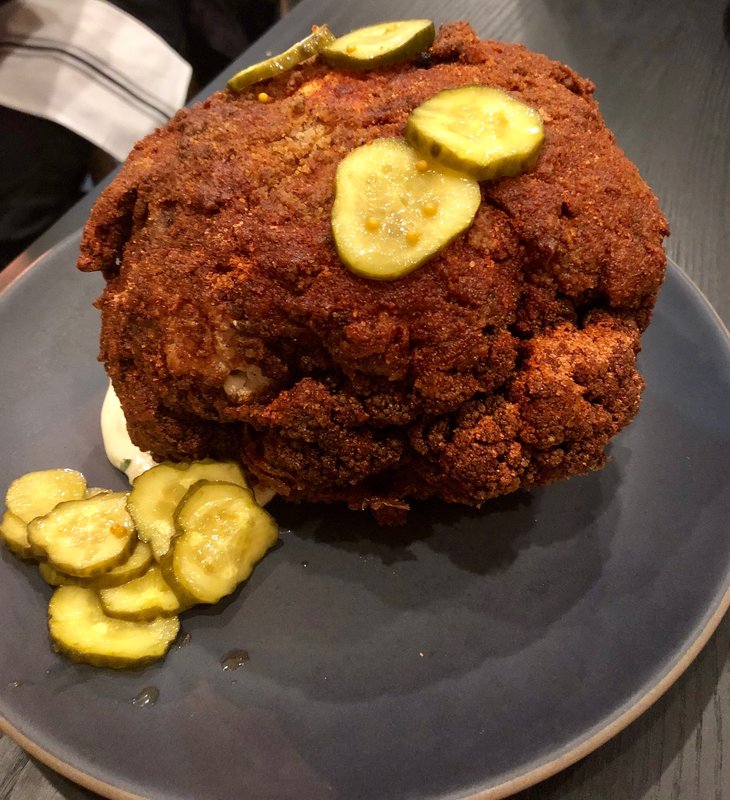 Proceed with caution to another dining destination,
Prince's Hot Chicken Shack
, where the fried chicken sandwiches often bring tears to the eyes—from the extreme spiciness, that is. Prince's signature sandwich consists of a juicy, crispy-skinned chicken leg or breast served on two slices of white bread and topped with tangy pickle chips. While you can choose your spice level—from mild to hot to extra hot—newcomers will want to play it safe and order mild (which still has quite a kick). There are no fancy linens or silverware at this strip mall restaurant, but you'll know it's good when you see the long line out the door.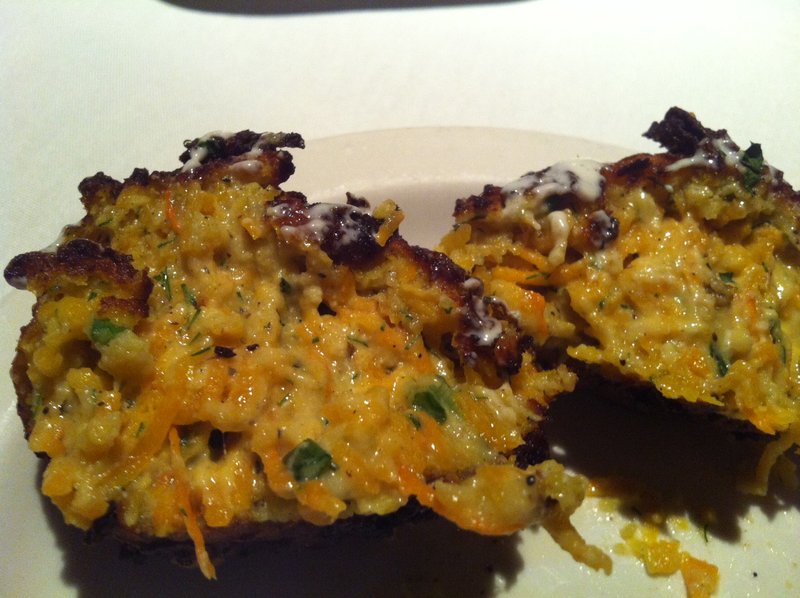 Just a few blocks from the Nashville Farmers Market is
Germantown Cafe
, a friendly neighborhood bistro serving up delicious fare in a casual setting. Crab cakes, French onion soup or pork belly tater tots will start you off nicely, along with a complimentary basket of fluffy yeast rolls. For the main dish, specialty entrées like plum pork, coconut curry salmon or blackened grouper all get rave reviews.
Meet friends and family during your trip for a relaxing, enjoyable meal at
Mere Bulles
, a restored historic home in Brentwood's Maryland Farms district. The diverse, extensive menu is described as "NeoSouthern," a fusion of Californian and Southern cuisines and styles. Appetizers are both varied and plentiful; try the bleu cheese chips or mushrooms stuffed with lobster crab butter to start. For the main course, choose from phyllo-wrapped sea bass, herb-stuffed chicken or shrimp and grits made with goat cheese and creamed country ham. Save room for the crème brûlée for dessert.
Up-and-coming purveyor of 'cue in the South,
Jim 'N Nick's Bar-B-Q
is a must-try for slow-smoked pulled pork, racks of baby-back ribs and Black Angus brisket so tender you can cut it with a fork. Choose from a variety of sauces, and don't forget fresh-cut french fries and melt-in-your-mouth cheese biscuits. Many of the appetizers and salads include barbecued meats, so you can sample the specialties in whatever meal you pick. Pie is the word for dessert; chocolate cream, coconut cream and lemon ice box are just a few of the favorites. And when you leave, you'll get a big Southern thank-you for stopping in.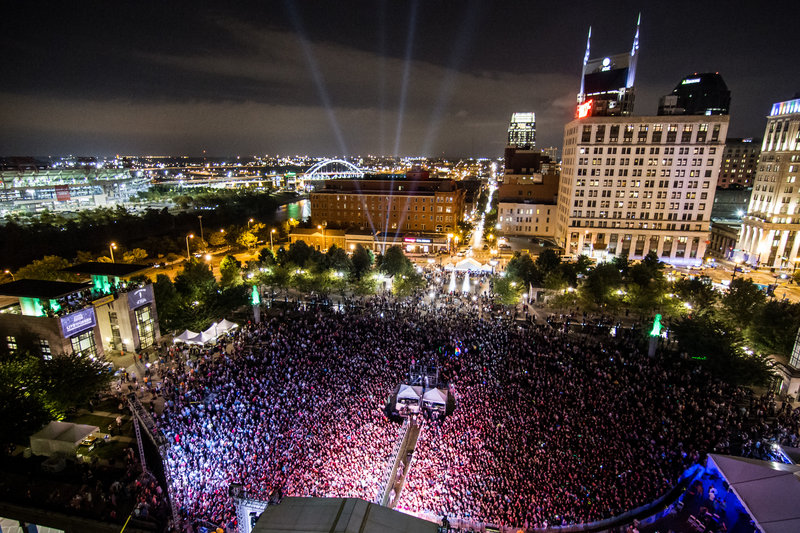 Courtesy of Live on the Green Music Festival
Nashville Events
In addition to its many cultural and historic landmarks and fun places to go, this destination hosts a number of outstanding festivals and events that may coincide with your vacation.
Music celebrations abound in Music City, USA. During the
CMA Music Festival
in early June, barbecues, exhibits and general fanfare envelop downtown Nashville. But let's not forget the live music: Huge crowds of fans pack outdoor and arena concerts performed by country music's biggest celebrities.
The
Tin Pan South Songwriters Festival
, named after New York's Tin Pan Alley, attracts hundreds of songwriters who perform in venues throughout the city in early April. Catch the acts of both legendary and up-and-coming musicians.
Spring also welcomes the
Nashville Film Festival
in mid-April, during which well-known and promising film producers present their works. Cinemas host screenings, and festivalgoers can attend film-related seminars and forums.
One of Nashville's finest traditions is the running of the
Iroquois Steeplechase
. This classic event, held the second Saturday in May, has been a major festivity since 1941 and is said to be one of the longest-running steeplechases in the country. Attracting the city's elite, the steeplechase features seven races and is held in Percy Warner Park and is the perfect addition to any May travel packages.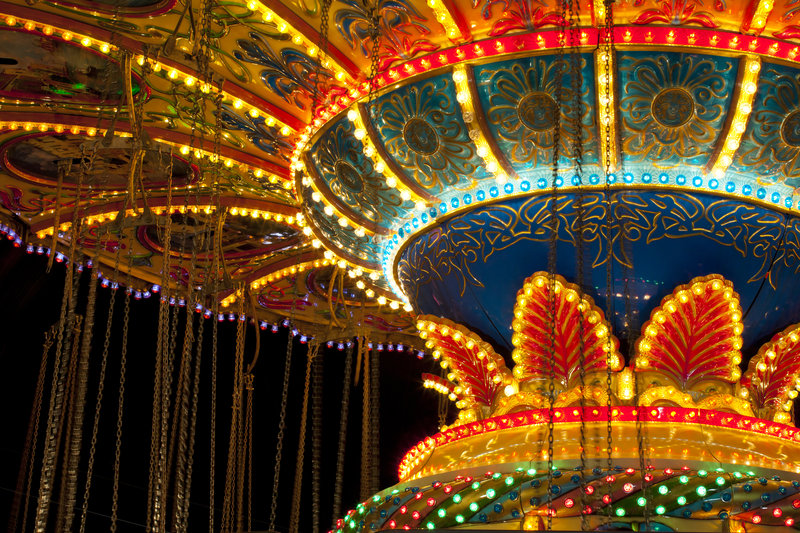 If you're looking for fun things to do with friends, the
Tennessee State Fair
in September offers art exhibits, carnival rides, competitions, entertainment and pageants. In October, attend the
Celebrate Nashville Cultural Festival
, an ethnic festival with crafts, exhibits, food and more than 60 dance and music performances on seven different stages.
If your trip is at the end of the year, holiday events take place at
Cheekwood Botanical Garden & Museum of Art
, the
Belle Meade Plantation
, the Country Music Hall of Fame and Museum, and
Loews Vanderbilt Hotel Nashville
, but
Gaylord Opryland's A Country Christmas
, an event featuring the hotel and grounds draped in almost 2 million lights, is tough to top. The celebration runs from mid-November to early January and features horse-drawn carriage rides, children's activities and a craft and gift fair. ICE!, a frozen wonderland built around life-size ice sculptures, also is a cool part of the celebration.
See all the AAA recommended events and things to do for this destination.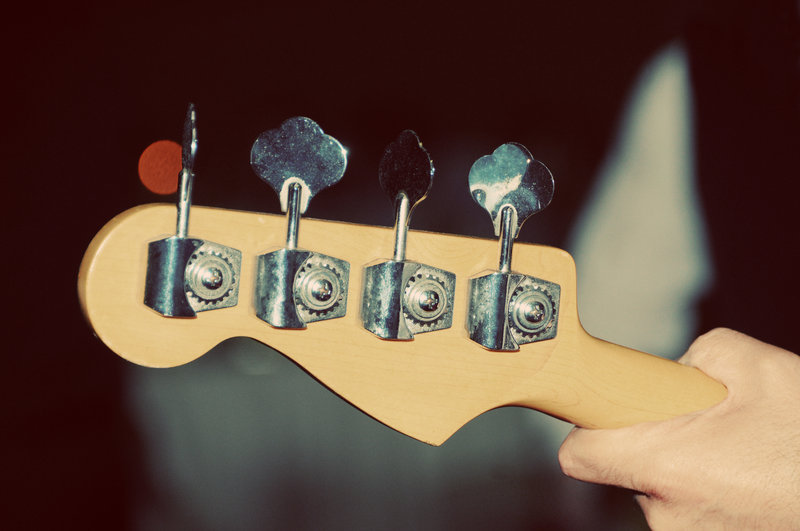 Shutterstock.com/Goran Shutterstock
Grand Ole Opry
Synonymous with live country music, Nashville's
Grand Ole Opry
set the standard for country and western recordings shortly after it hit the airwaves in 1925 and is one of the many exciting, unique things to do in Nashville. The popular radio show defined American country music as we know it through its selection of artists and genres, and its stage became an aspiration for all would-be stars.
The Saturday night radio program was the brainchild of WSM-AM radio producer George D. Hay. Transmitting live from the National Life and Accident Insurance Co. studio, Hay introduced the show as the WSM Barn Dance. The first broadcast on Nov. 28, 1925, featured 80-year-old fiddler Uncle Jimmy Thompson, with Hay serving as announcer.
Two years later Hay renamed the program the Grand Ole Opry, a play on words in relation to the NBC Music Appreciation Hour, which preceded the WSM Barn Dance and focused on classical and grand opera pieces. Early regulars included the Possum Hunters, the Fruit Jar Drinkers and the Gully Jumpers. Often the Fruit Jar Drinkers would play last, since Hay liked to end the show with "red-hot fiddle playing."
Until 1938, music at this destination was instrumental; Roy Acuff and the Smoky Mountain Boys were among the first vocalists. Ernest Tubb and Hank Williams Sr., followed, and styles broadened to include bluegrass and other genres, such as Elvis Presley's edgy rockabilly variety, which received mixed reviews in 1954.
With the Opry's popularity came onlookers who packed the halls of the insurance building to see the performers. Their reactions to the music enlivened the performances, and observers were welcomed into the recording studio. As the audiences increased in size, the need for a new venue became apparent. A new, larger studio was built, but it failed to house the crowds. A number of theaters played host to the show until, in 1943, it found a home at the
Ryman Auditorium
.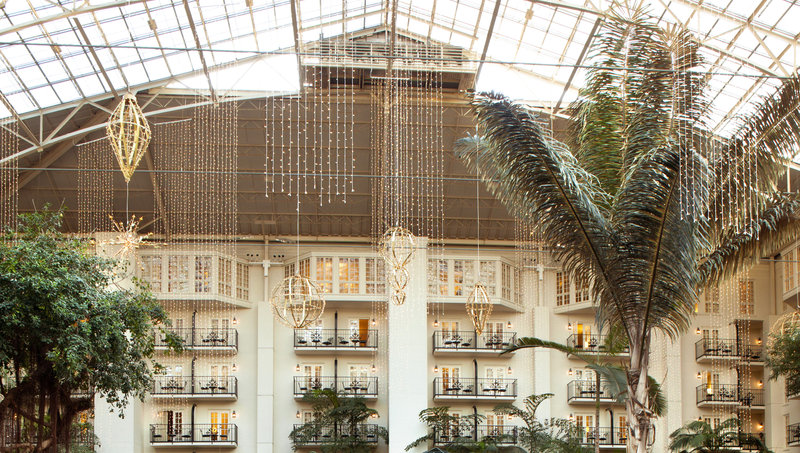 Courtesy of Nashville Convention & Visitors Corporation
Built as a church for temperance sermons in 1892, the Ryman soon became known as the "Mother Church of Country Music" with the arrival of the Opry. Hundreds of celebrated musicians performed here, from James Brown to Johnny Cash and Loretta Lynn. The Grand Ole Opry broadcast live from the Ryman until 1974, when it moved to the 4,400-seat Grand Ole Opry House at the
Gaylord Opryland
. Visitors can peek into the fishbowl-style WSM studio at the Gaylord Opryland Resort & Convention Center.