Pacific Northwest Destination
If you described Portland as a scaled-down version of Seattle you wouldn't be off the mark, as both cities share some very enticing similarities. They boast natural settings that showcase the Pacific Northwest's remarkable beauty. Each has a distant but unmistakable landmark: 14,411-foot Mount Rainier rising from Seattle's horizon, 11,239-foot Mt. Hood serving as Portland's backdrop. Water is a prevailing characteristic as well—as Puget Sound helped shape Seattle, so do the Willamette (pronounced "will-AM-ett") and Columbia rivers define Portland. Both are decidedly pro-environmental, resulting in a bounty of urban parks and green spaces. Coffee on practically every corner? Check and check.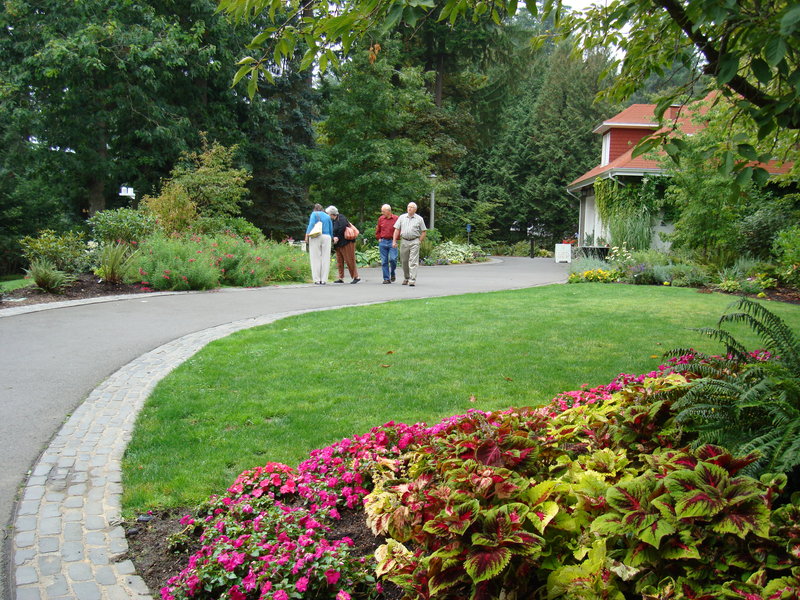 AAA/Denise Campbell
But there are differences, too, and the Rose City—like the popular flower for which it is nicknamed—is nothing if not varied. First and foremost, there's a definite laid-back vibe here that encourages you to stop for a minute, take a deep breath and just enjoy the moment. On a sunny afternoon, hang out for a while at Pioneer Courthouse Square, the big open plaza smack dab in the center of downtown, and you'll see what we mean. Business executives, hipsters, skate punks: a melting pot of Portlanders take time to stop—perhaps with a to-go cup of cold brew and a bite from one of the parked taco trucks—and smell the roses, as it were. It's the place in the city to people watch.
Portland, in fact, has one of the most delightfully walkable downtowns of any major city in the country. Laid out in grid fashion and roughly a dozen blocks east-west and north-south, it's neatly divided into separate districts that are easy to explore individually. Wander around the leafy, art-filled South Park Blocks. Get to know the Pearl District and Chinatown and enjoy one of the many local restaurants. Stop by Powell's City of Books for some serious browsing. Take a brisk walk along Governor Tom McCall Waterfront Park.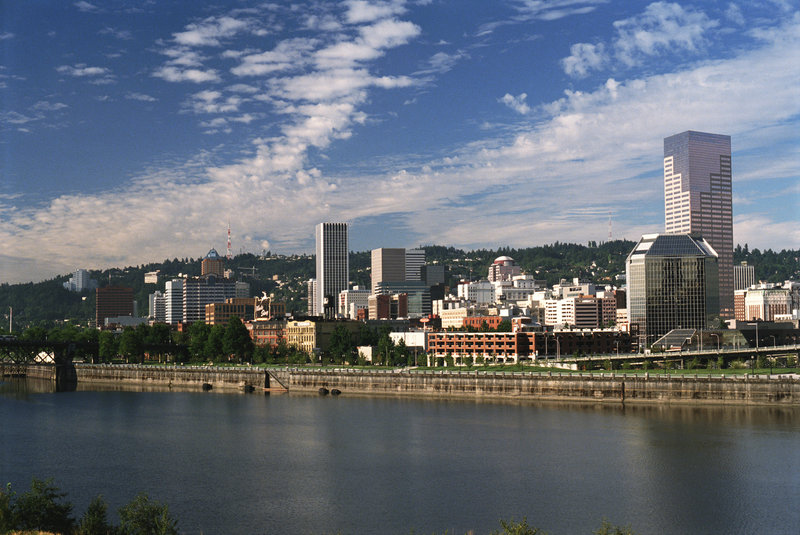 Getty Images/D Falconer/PhotoLink
Although Portland's pleasures are many, you'll also want to venture beyond the city limits and enjoy some adventure travel. Northwestern Oregon is a tapestry of mountains, hills, trees and rivers, and the great outdoors is sure to exert a powerful pull. Within little more than an hour's drive are three outstanding examples of nature at its finest: Mt. Hood and Mt. Hood National Forest, chock-full of spectacular scenic drives and year-round recreation; the towering basalt cliffs, dancing waterfalls and sweeping panoramas of the Columbia River Gorge National Scenic Area; and US 101's winding path along the Pacific coast, with amazing coastal hikes and heart-stopping ocean vistas. It's all waiting to be discovered.
Getting There
By Car The major north-south route to Portland is I-5, which originates in Southern California and extends through Seattle and to the Canadian border. I-5 parallels the Willamette's east bank through Portland, affording access to bridges connecting the West Side.
Most traffic from the east follows I-84, which becomes Banfield Freeway on the East Side, then intersects I-5. East-west thoroughfares are US 26 and US 30. Both funnel traffic into Portland from points along the Pacific on the west; from the east US 26 skirts Mt. Hood on its approach, while US 30 parallels the Columbia River, frequently following the I-84 alignment.
Bypass routes are provided by I-405, which skirts the western downtown area, and I-205, which swings in a wider arc through the east. Both interchange with major routes and streets en route.
Getting Around
Street SystemPortland is divided into five sections—S.W., S.E., N., N.W. and N.E.—with the Willamette River dividing east from west and Burnside Street separating north from south. A series of 11 bridges connects the east and west sides. Street addresses are keyed to each of the sections—121 N.E. 21st Ave., or 200 S.W. Taylor St.
The city's major thoroughfares are, from west to east, Burnside Street, Sandy Boulevard and US 26 (Powell Boulevard), and from north to south, Grand Avenue, Martin Luther King Jr. Boulevard and 82nd Street. Many minor streets, especially downtown, are one-way, with alternate streets going in opposite directions.
The speed limit within the city is 20 mph. Most major thoroughfares and express boulevards have limits of 35 mph, unless otherwise posted.
Left turns on red are permitted on one-way streets only; the driver must come to a full stop and yield to traffic with the green light. Right turns on red, after coming to a full stop and yielding to traffic with the right of way, are permitted at all intersections unless otherwise posted.
Rush hours are 6:30-8:30 a.m. and 3:30-6 p.m. Congestion is greatest on I-5, I-84 and US 26 during these times.
ParkingParking lots are scattered throughout the downtown area; on-street parking is difficult to find any time of the day or night. Parking rates range from $1 to $2 an hour, depending on the location.
Public TransportationTriMet transit agency serves three counties and includes the MAX (Metropolitan Area Express), a 60-mile light-rail system; the Portland Streetcar; Westside Express Service (WES), a commuter rail line; and a fleet of city buses. Along the Portland Transit Mall, between Fifth and Sixth avenues, passenger shelters feature video screens that display real-time schedule information. Maps of all routes are displayed in the shelters.
TriMet's MAX Light Rail system is divided into five lines, making it easy to travel around the city. The blue line runs east from the downtown core through Old Town (1st and N.W. Davis) to the suburb of Gresham and west to Beaverton and Hillsboro. The red line runs from downtown to Beaverton and Portland International Airport. The yellow line serves the north and northeast communities from downtown to the Expo Center via Interstate Avenue. The green line runs along I-205 and makes a number of stops between Clackamas Town Center and Portland City Center/Portland Transit Mall. The orange line runs from the Portland Transit Mall to Milwaukie. Most MAX stations are decorated with art created by locals—the works focus on community pride. Trains arrive at least every 15 minutes most of the day with service being less frequent in the early morning, mid-day and evening.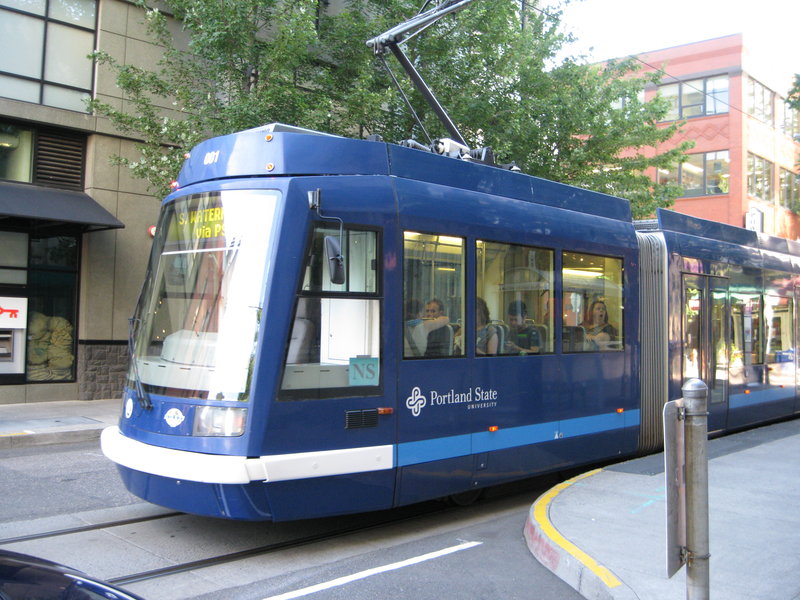 AAA/Frank Swanson
The Portland Streetcar system includes three routes: The North/South Line, the A Loop and the B Loop. The North/South Line connects the central business district and Portland State University with the inner northwest part of the city, including Legacy Good Samaritan Hospital, and passes through RiverPlace and on to the Willamette River's South Waterfront District.
The A Loop travels through Portland clockwise, crossing the Broadway Bridge over the Willamette River to serve the Lloyd Center, Convention Center and Oregon Museum of Science and Industry (OMSI) then crosses the river again at Tilikum Crossing back to downtown via Portland State University.
The B Loop operates counterclockwise but serves the same districts as the A Loop. Street cars stop roughly every 15 minutes during the day and less frequently on evenings and Sundays. The fare is the same as TriMet.
TriMet's Westside Express Service (WES) is a commuter rail line running between Beaverton and Wilsonville Monday through Friday approximately every 30 minutes during morning and afternoon rush hours. A TriMet fare ticket is required. There are five stations along the nearly 15-mile route; all offer bike parking, and all except Beaverton Transit Center have Park & Ride lots. The stations connect with at least one other transportation service, including MAX Light Rail at Beaverton.
For a ticket valid for 2.5 hours on TriMet buses, MAX Light Rail, Portland Streetcar and WES commuter rail, the fare is $2.50; $1.25 (ages 7-17, ages 65+ and those who are physically impaired); free (ages 0-6 with passenger). Passes good for 1, 7 or 14 days and longer also are available. Fares may vary; phone ahead to confirm. Fares must be paid with exact change or with tickets or passes when boarding. For detailed schedule information about TriMet buses, light-rail trains, streetcars or WES commuter rail, visit TriMet's customer service office, downtown in the visitor center at Pioneer Courthouse Square; phone (503) 238-7433.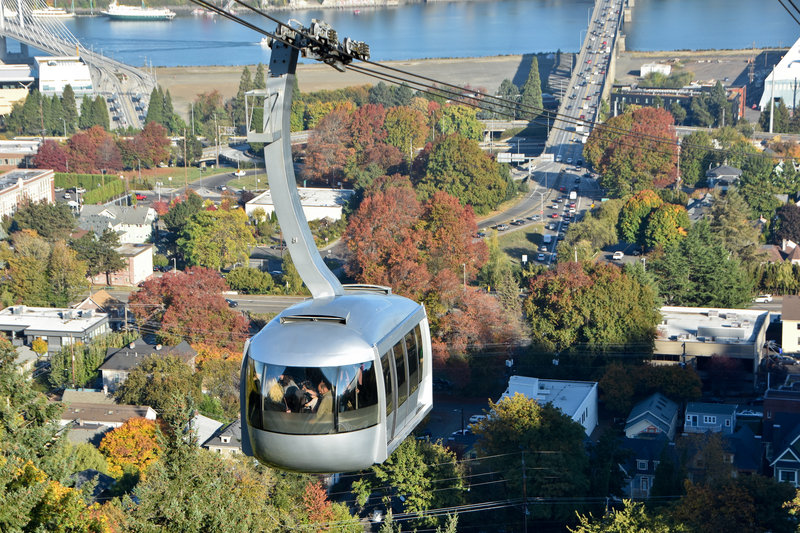 AAA/Katie Broome
The Portland Aerial Tram takes passengers from the South Waterfront Terminal to Oregon Health Sciences University's Kohler Pavilion on the main campus where there are two observation decks. All riders must have a round-trip fare ticket, which can be purchased from ticket machines at the lower terminal. Ticket machines accept credit or debit cards only. Round-trip fare $4.90; free (ages 0-6).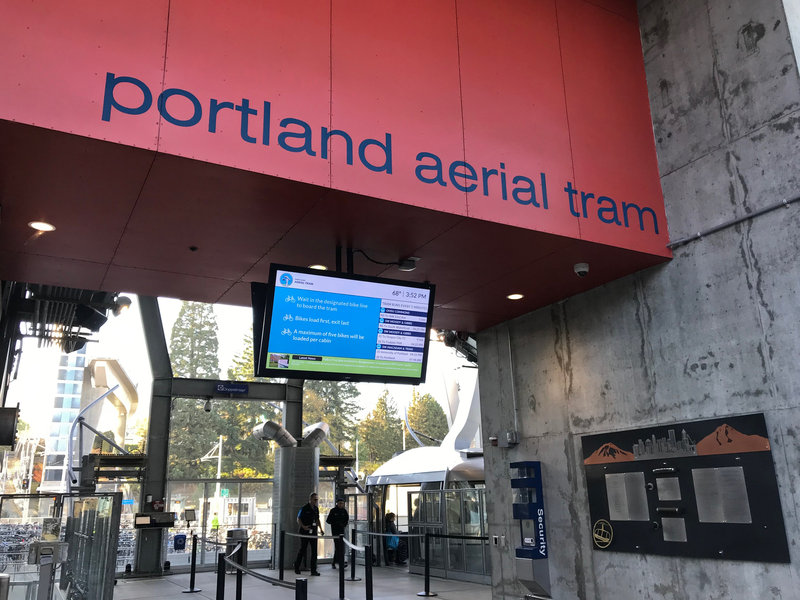 AAA/Katie Broome
Aerial tram operating hours are Mon.-Fri. 5:30 a.m.-9:30 p.m., Sat. 9-5. Between late May and late Sept., trams also run Sun. 1-5. Tram cabins depart approximately every 6 minutes, although that interval may increase to 10 minutes during windy weather. The last tram departs the lower terminal 10 minutes before closing. Closed major holidays. To verify schedule and for more information phone (503) 865-8726 or (503) 494-8283.