Orlando Performing ArtsThe strength of Orlando's appeal lies mainly with its family attractions and entertainment. While this is good news for the folks at Disney and Universal, it has detracted some focus from the city's cultural scene. Arts enthusiasts need not despair, though—local arts groups have begun to expand their presence. Theater offers the most varied slate, with dance and music filling in the gaps. Performing arts lovers around the world think of Orlando as a prime destination for dance, film, music and theater.
The Dr. P. Phillips Center for the Performing Arts, 445 S. Magnolia Ave., adds even more options to the ever-evolving arts scene. The venue, which covers two blocks, features several individual theaters as well as an outdoor plaza and performance space. Phone (844) 513-2014 for the box office.
Opened in 1927, the historic Bob Carr Theater, 401 W. Livingston St., is nestled in the heart of Orlando and serves as the primary arts and cultural destination for the Orlando Philharmonic and concerts. Phone (407) 246-4262.
Orlando Amphitheater at the Central Florida Fairgrounds, 4603 W. Colonial Dr., draws a variety of performers. The open-air venue has no seats but can accommodate some 10,000 guests. If you're a fan of group travel and are looking for fun things to do that can accommodate large groups, squeeze a show at this amphitheater into your itinerary. Phone (407) 295-3247. Check with your travel agency to see if any performing arts tickets are offered with select travel packages.
Fun Places to Go for Dance EntertainmentThe Orlando Ballet produces year-round main stage productions. Concerts and programs ranging from classical to modern are featured. The Nutcracker ballet is performed in December, accompanied by a live orchestra of local musicians. Orlando Ballet performances generally are held at the Dr. Phillips Center for the Performing Arts, while rehearsal space, studios and a multipurpose auditorium are at Harriet's Orlando Ballet Centre (600 N. Lake Formosa Dr.) in Loch Haven Cultural Park. For information phone (844) 513-2014.
Rollins College brings in some of the dance world's brightest stars, such as the Alvin Ailey Repertory and Pilobolus, to the Annie Russell Theatre to supplement the Rollins Dance student program; phone (407) 646-2145.
Film Alternative cinema finds a home at the Enzian Theater, 1300 S. Orlando Ave., offering filmgoers a varied menu of critically acclaimed American independent and international films. The Enzian also produces the annual Florida Film Festival. The theater itself is unusual—it is set in an old house, with audience seating at tables rather than in an auditorium. For information phone (407) 629-0054.
Music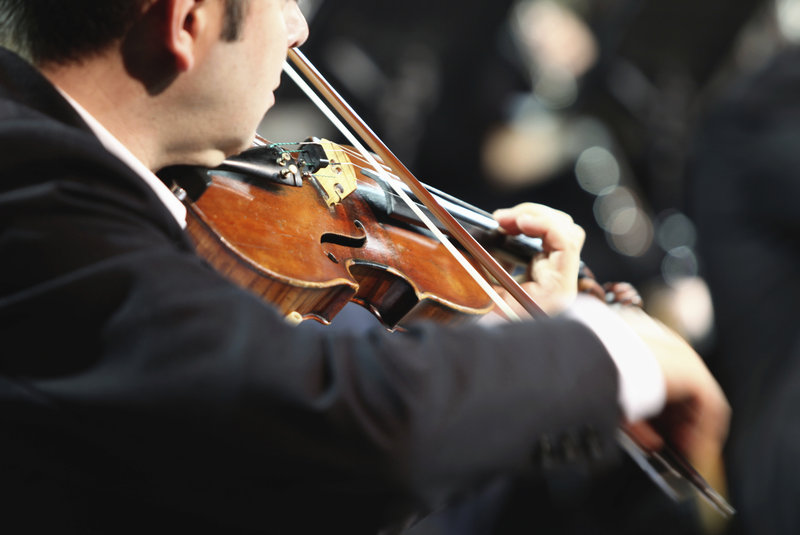 choja/iStockphoto.com
Orlando has a variety of groups dedicated to making beautiful music. The Orlando Philharmonic Orchestra gives four concert series during the year. It's one of the most romantic things for couples to do during their vacation. Performances are held at the 1,700-seat Steinmetz Hall at the Dr. Phillips Center in 2020. The orchestra also leases The Plaza Live (425 N. Bumby Ave.) from the City of Orlando. For additional information phone (407) 770-0071 for the box office.
Central Florida Community Arts, 250 S.W. Ivanhoe Blvd., performs concerts appropriate for most audiences, such as Broadway-style musicals, community chorus and symphony orchestra, at various locations in the area. For additional information phone (407) 937-1800.
Blue Bamboo Center for the Arts hosts live performances, such as classical, jazz, world music and spoken word, in Winter Park's South on Fairbanks Avenue (SOFA) district at 1905 Kentucky Ave. For tickets phone (407) 636-9951; reservations are recommended. When you're done soaking up the music, head to one of the nearby restaurants for delicious local food.
A favorite local event is the Bach Festival, a celebration of masterworks by Bach and other major composers. Held in late February or early March, the program is performed by the Bach Festival Society of Winter Park, which also offers the Visiting Artists and Choral Masterworks series. The group performs at the Knowles Memorial Chapel at Rollins College; phone (407) 646-2115 for the chapel or (407) 646-2182 for ticket information.
TheaterA local favorite is the Broadway Across America-Orlando series, which brings touring Broadway shows to the Dr. Phillips Center. The season runs December through June, and tickets for the biggest hits often require several weeks' notice; phone (800) 448-6322.
One of the area's most popular theaters for families is the Orlando Repertory Theatre, 1001 E. Princeton St., (407) 896-7365.
The play's the thing at Orlando Shakes, in partnership with UCF, which is dedicated to staging the bard's timeless plays in innovative ways at the John and Rita Lowndes Shakespeare Center at Loch Haven Park, 812 E. Rollins St.; phone (407) 447-1700. The organization produces works throughout the year, from classically inspired independent pieces to Broadway productions to the PlayFest Series, a three-day festival of experimental plays.
The University of Central Florida features a full season of performances through Theatre UCF, (407) 823-1500. Rollins College also mounts a full season, with productions at the Annie Russell Theatre, 1000 Holt Ave. in Winter Park, running the gamut of theatrical genres; phone (407) 646-2145.