Shopping in Orlando Orlando is a shopper's wonderland. You can buy mouse ears, T-shirts and, ironically enough, snow globes, to your heart's content in Orlando, but the city has so much more to offer both bargain hunters and lovers of luxury goods than just ordinary souvenirs. You just have to know where to find it all when you travel there.
Antiques Escape the stifling heat and bustling theme parks with a leisurely amble through one of Orlando's antique districts. Shopping for antiques is always a good idea if you're looking for fun things to do with friends. Wander in and out of air-conditioned emporiums in the North Orange Avenue Antiques District downtown, running south from the 2900 block to the 1600 block. Shops are packed to the rafters with one-of-a-kind finds; excavate for such relics as a 1930s RCA Victor radio, an 18th-century French buffet or vintage threads. Pop into Rock & Roll Heaven , 1814 N. Orange Ave., where they have a heck of a band (on vinyl and CDs, anyway); the selection of rare and collectible music ranges from Miles Davis and Elvis to The Mothers of Invention and Devo. Discover even more charming shops just down the street on Ivanhoe Row, along the 1200 block across from Lake Ivanhoe. If you like antiques and decorative items, stop at 1618 Something Different Retro and A T Furniture & Antiques , which are next to each other on North Orange Avenue.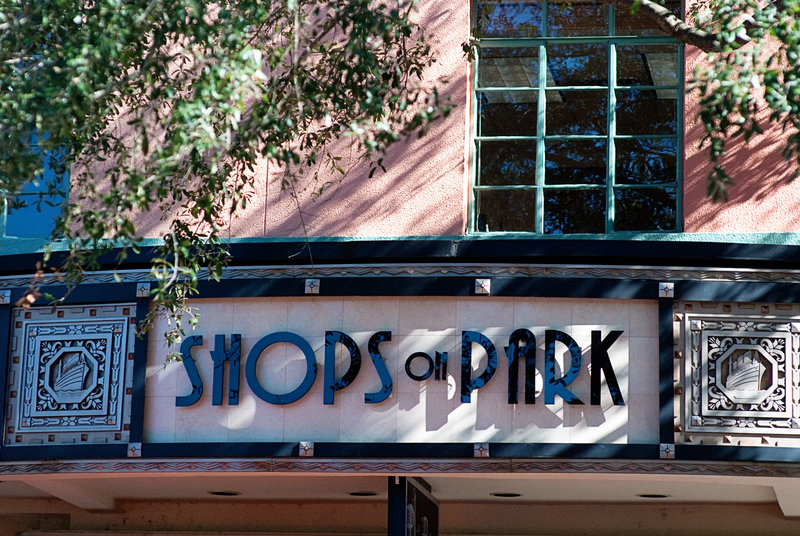 AAA/Thuyvi Gates
Ritzy Park Avenue, in Winter Park to the north, has a handful of antique shops where you may unearth that perfect Art Deco brooch or turn-of-the-20th-century Tiffany lamp. Save money on your overall vacation costs by purchasing affordable vacation packages and you'll have a little extra to spend on fancy antique treasures.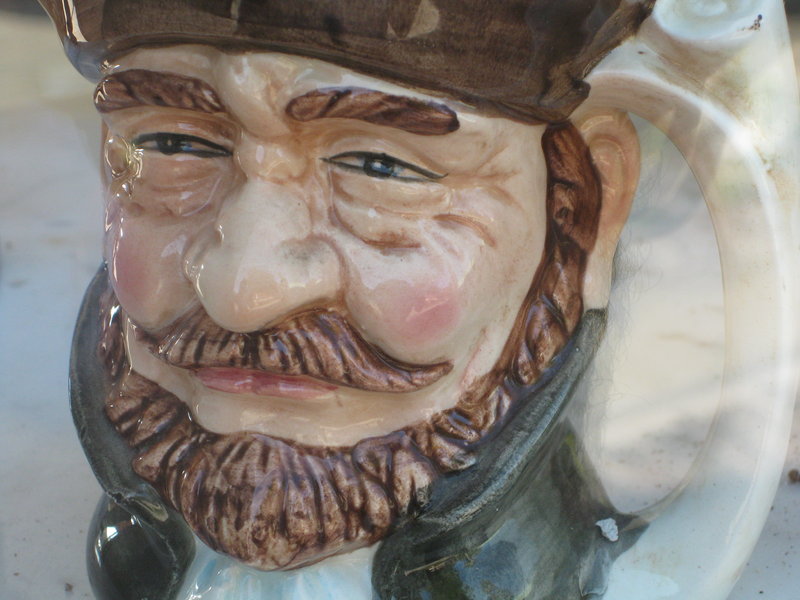 Marvin Rinck/Marvin Rinck
Take a side trip to historic Mount Dora, a half-hour northwest of Orlando, and while away the day visiting its quaint antique shops. Rummage through the wares of the hundreds of dealers who gather each weekend at Renninger's Florida Twin Markets on SR 441, also in Mount Dora. Lovers of antiquities also can hunt for treasure at the antique boutiques on First Street in downtown Sanford.
Malls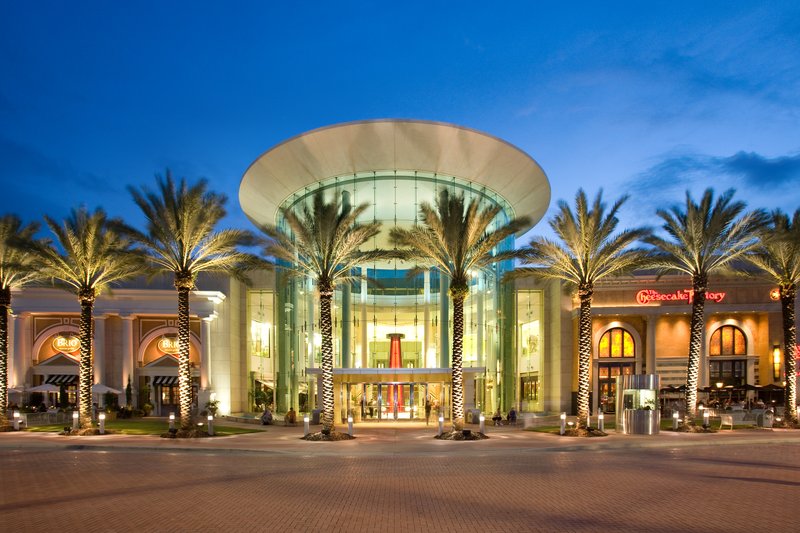 Courtesy of Mall at Millenia
Orlando is a mall rat's delight, and the crème de la crème is The Mall at Millenia , off I-4 at 4200 Conroy Rd. Feast your eyes on its upscale shops including Bloomingdale's, Chanel, Gucci, Neiman Marcus, Lilly Pulitzer and Tiffany & Co., as well as more than 150 retailers, services and eateries. With its luxe design—intricate mosaic floors, leaping fountains, modern décor, sculptures and fashion shows broadcast on 35-foot-high LED screens—the mall is a sight to behold. Despite its opulent look, the mall also appeals to those without deep pockets with such mall standards as Banana Republic, Express, Forever 21, Gap, Macy's and Urban Outfitters. Bonus: IKEA is next to the mall.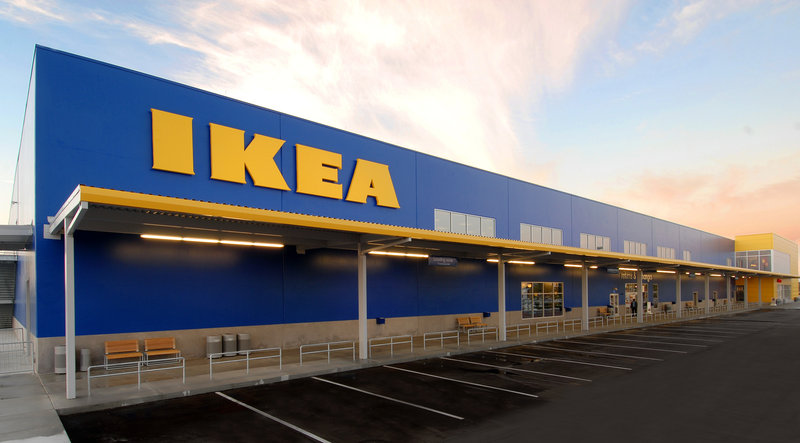 Courtesy of Ikea
More than 250 shops occupy one of the largest malls in Florida, so it's the perfect destination for shoppers who value variety. The Florida Mall , 8001 S. Orange Blossom Tr. in south Orlando, is anchored by major retailers Dillard's, JCPenney, Macy's and Sears. A number of smaller stores impress as well, including apparel store BoxLunch, where every purchase above $10 goes toward feeding a hungry person through Feeding America. American Girl's specialty doll store, and The Crayola Store with its accompanying Crayola Experience, add even more kid-friendly options. That's why international tourists arrive by the busful, joining the sea of shoppers who invade this mall regularly. There's also an attached hotel, so intrepid bargain hunters can drop bags off in their rooms and stay overnight.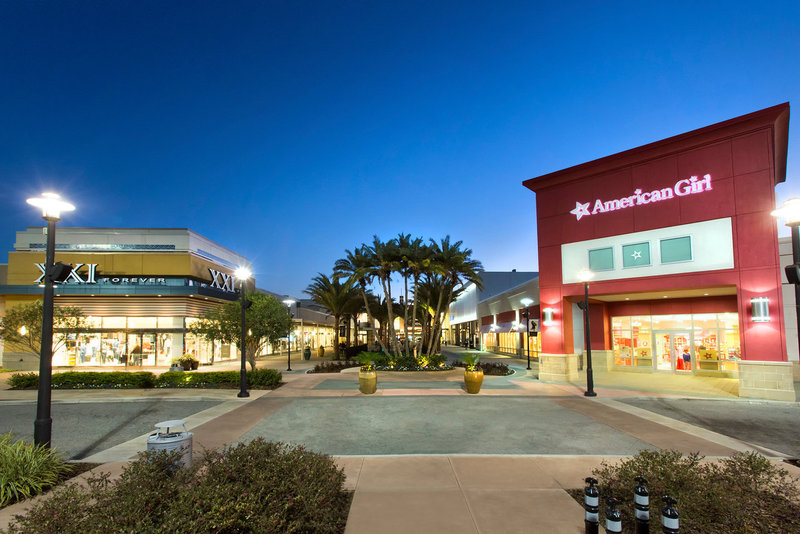 The Florida Mall
Not enough malls for you? Shop all you want: Greater Orlando's got more. Most malls contain an assortment of heavyweight anchors such as Belk, Dillard's, JCPenney, Macy's and Sears as well as mall stalwarts including Aéropostale, Banana Republic and Gap—with food courts to provide fuel for more shopping. Take your pick from the following list.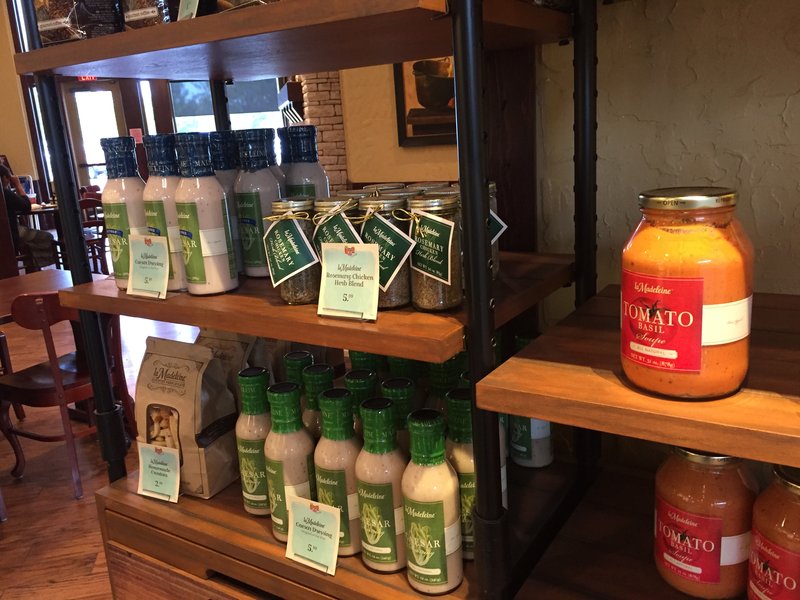 AAA/Sherry
Altamonte Mall , on 451 E. Altamonte Dr. in Altamonte Springs, offers 2 floors containing 150 boutiques. To the east is Oviedo Mall , 1700 Oviedo Mall Blvd., with more than 50 retailers and services as well as a kid's learning and entertainment center. Northeast of Orlando's downtown is Orlando Fashion Square , 3201 E. Colonial Dr.; it houses dozens of shops and services. Sanford's Seminole Towne Center , 200 Towne Center Cir., is the northernmost of the malls, while west of downtown in Ocoee is West Oaks Mall at 9401 W. Colonial Dr. (SR 50); both have more than 100 businesses.
OutletsLooking for cheap things to do? International Drive is a mecca for bargain hunters and fashionistas. Souvenir shops abound, of course, especially in this part of Orlando, but the outlet stores are the true treasure troves. It's not a boast to say that whatever you're looking for, you'll find it at one of the outlet malls, and you'll save a bundle. From electronics to cookware and designer fashions to luggage, you won't be able to leave Orlando empty-handed.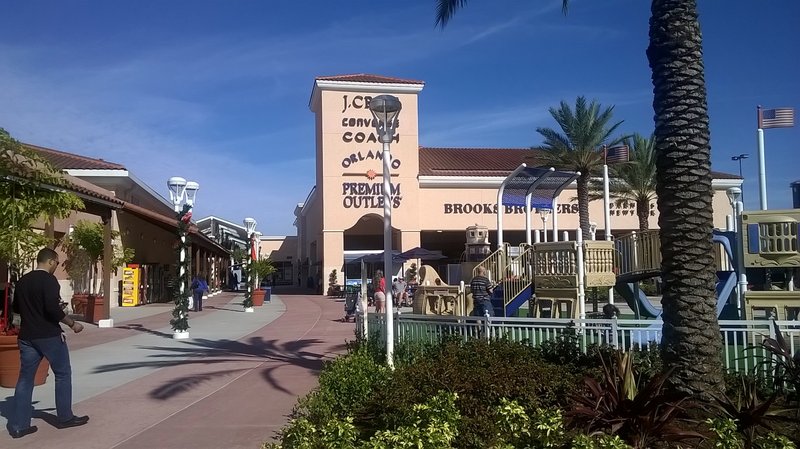 AAA
Orlando Premium Outlets—Vineland Avenue offers name brand and luxury brand shops in a Mediterranean village atmosphere at 8200 Vineland Ave., which connects International Drive and SR 535 (or off I-4 exit 68). The lineup of 160 outlet stores includes Banana Republic, Burberry, DKNY, Forever 21, Motherhood Maternity, Nike, OshKosh B'gosh, Polo Ralph Lauren, Prada, Steve Madden and Tommy Hilfiger. Covered outdoor walkways offer protection from the Florida sun. Amenities include parcel lockers and a currency exchange. Note: Premium parking, such as the on-site garage, costs $10.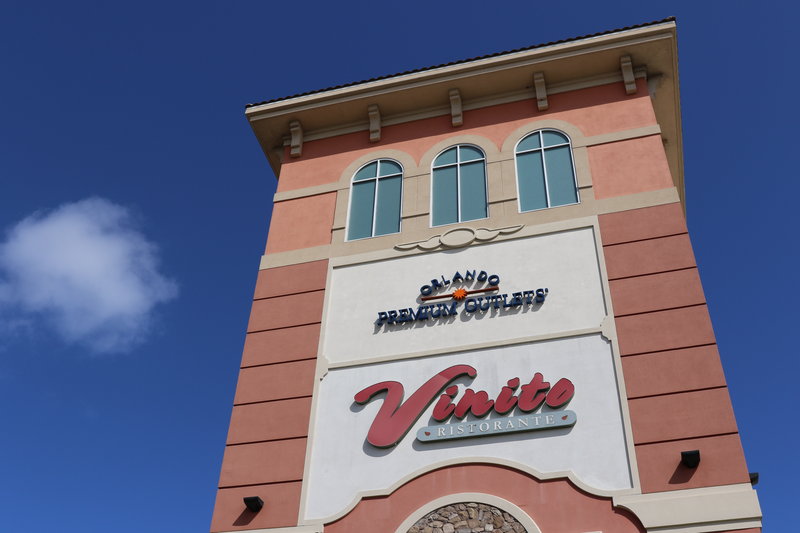 AAA/Gareth Bafaty
At 4951 International Dr. is Orlando International Premium Outlets , featuring apparel, electronics, fine jewelry, shoes, housewares and other items from 180 vendors, including BCBG Max Azria, Carter's, Kitchen Collection, Michael Kors, Saks Fifth Avenue OFF 5th, Skechers, Sunglass Hut, Swarovski and Vera Bradley. Not your ordinary outlet mall, the center is an elegant outdoor marketplace with beautiful landscaping and Mediterranean styling. Both Premium Outlets locations offer many of the same stores. Note: Premium parking spaces cost $10.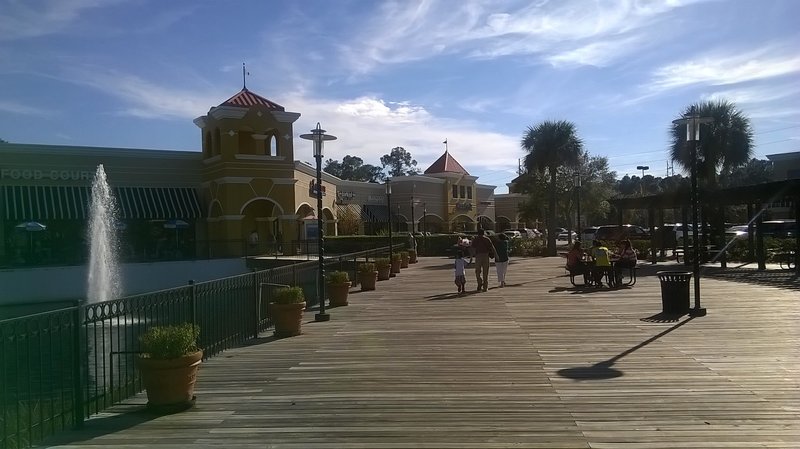 AAA/Sherry Mims
Lake Buena Vista Factory Stores , 15657 S. Apopka Vineland Rd. (SR 535), is a rare jewel in the crown of Orlando outlets. With roughly 50 stores and a new expansion, this venue offers a much different shopping experience compared to the Premium outlets but still features bargains galore. You'll find Aéropostale, Crocs, Eddie Bauer, Gap, Levi's, Old Navy, Reebok and Under Armour. There are shops that cater to both men and women, so shopping here is one of the most enjoyable things for couples to do.
Specialty Districts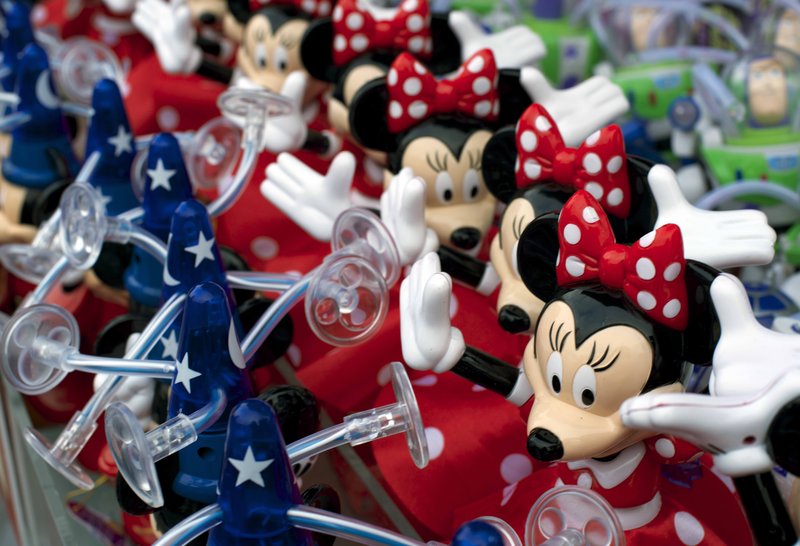 AAA/Thuyvi Gates
Large malls and outlets aren't the only games in town—follow the lead of Orlandoans and check out the following independent and themed shopping districts. Some are tucked in among the nightclubs, business offices and local restaurants in Downtown Orlando within a few blocks of Lake Eola Park.
The Orange County Regional History Center Emporium at 65 E. Central Blvd., is a fun place to go for gifts thanks to its shelves stocked with toys and books as well as items representative of Central Florida history.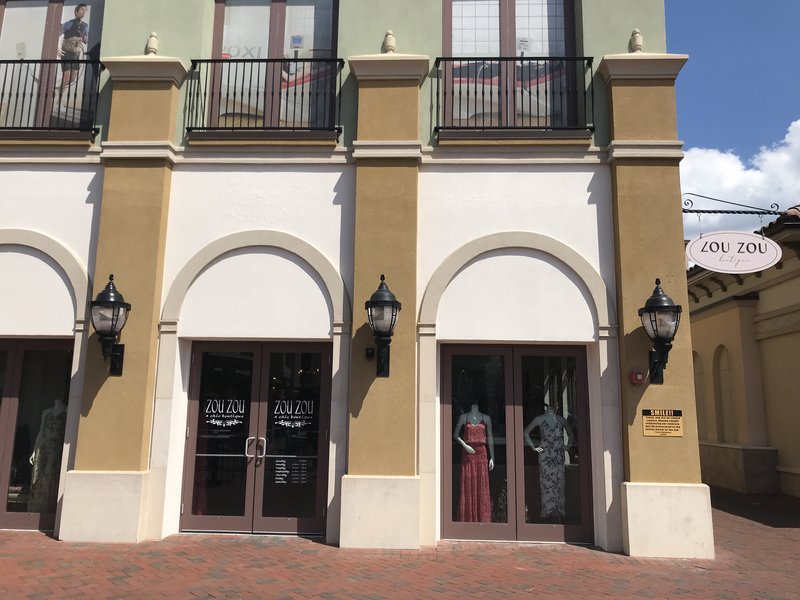 AAA/Thuyvi Gates
Gentlemen can check out Siegel's Clothing Co. , 130 S. Orange Ave., for fine suits and sportswear; they also carry a good selection of attire for women. (A second location for Siegel's can be found on Winter Park's Park Avenue.) When only the most current styles will do, head a few blocks east to Zou Zou Boutique , 2 N. Summerlin Ave. (near the Thornton Park neighborhood), for designer fashions by the likes of Ella Moss, Milly, J Brand jeans and Sam Edelman shoes; this trés chic women's shop has another location at 7988 Via Dellagio Way in the Bay Hill area.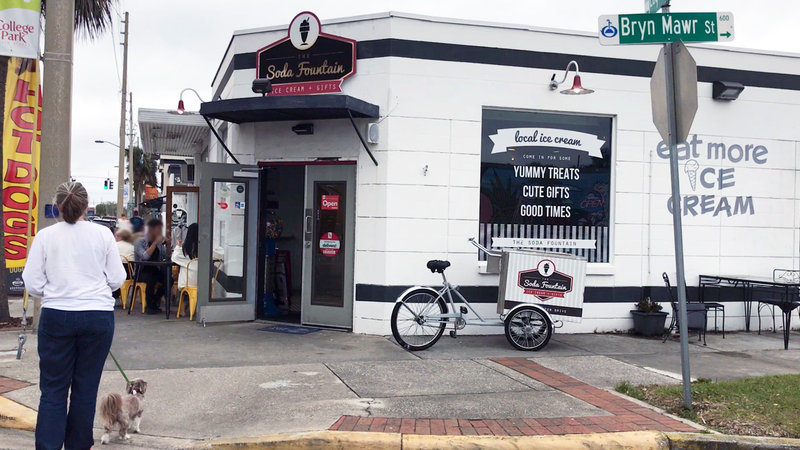 AAA/Thuyvi Gates
The College Park neighborhood, located near the intersection of Edgewater Drive and Princeton Street, offers a small selection of stores and is a nice location for browsing. If you're on the hunt for home décor, a bicycle, jewelry, a new outfit or a gift, try College Park. The dining scene is good as well.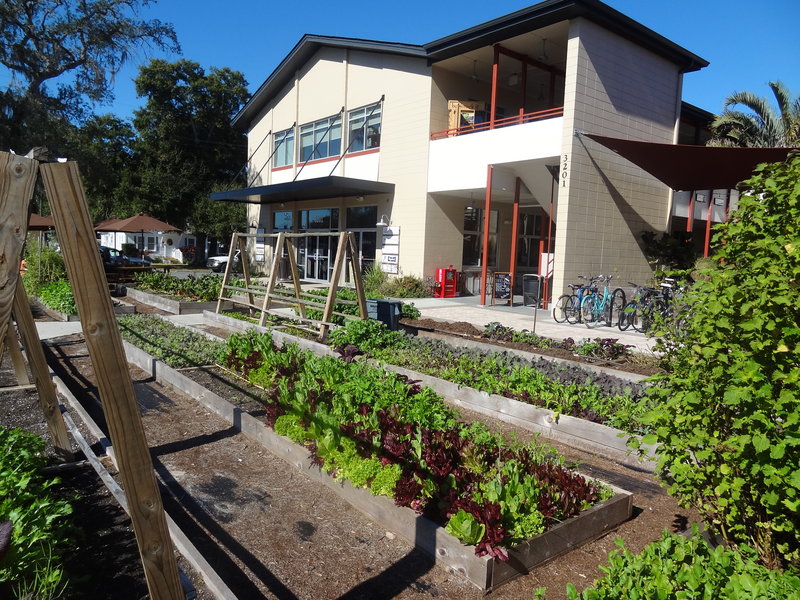 AAA/Sherry Mims
Get your local produce, specialty foods, baking supplies and a foodie education at East End Market , 3201 Corrine Dr. The market—not a typical farmers market but rather a cultural food hub—features a garden, a demonstration kitchen, stores, offices, restaurants and event space in a two-story building in Orlando's Audubon Park Garden District.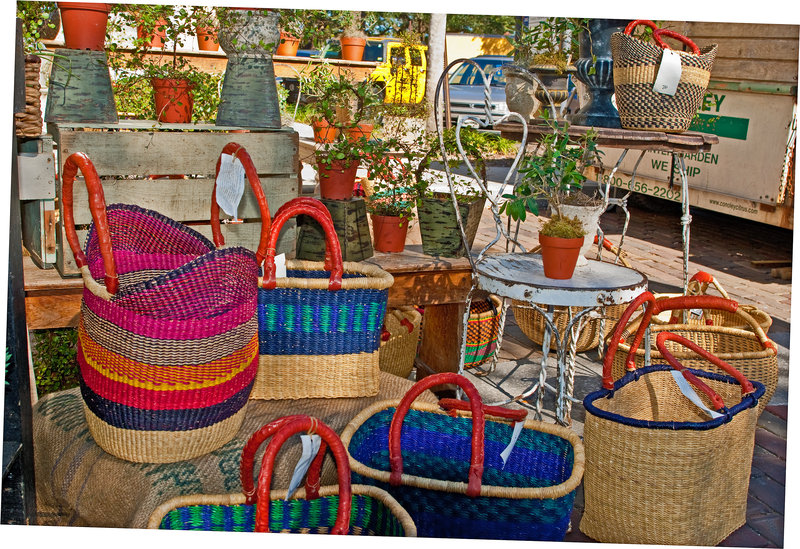 AAA/Thuyvi Gates
There are several other markets worth checking out. Sundays at Lake Eola Park's Orlando Farmers Market, corner at E. Central Blvd. and N. Eola Dr., are especially nice. From 10-4 vendors sell produce, plants, art and handmade crafts, and there often is live entertainment. On Monday nights, head to the parking lot of Stardust Video and Coffee at 1842 E. Winter Park Rd. for the Audubon Park Community Market. This one is small, but hip. Also small but mighty is the monthly Orlando Vegan Market/Orlando Vegan Night Market, often featuring live music and artisanal, plant-based provisions for purchase. The free, family- and pet-friendly markets are held at the Veranda at Thornton Park, 707 E. Washington St.; phone (336) 491-8489 for schedule.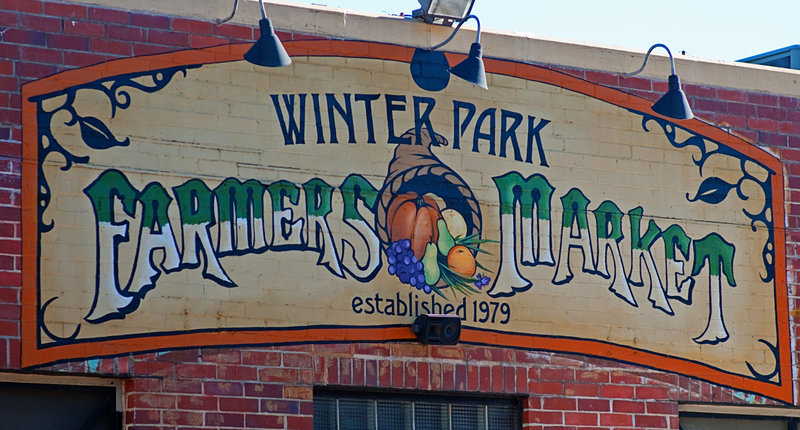 AAA/Thuyvi Gates
Beyond Orlando, there is the Maitland Farmers Market at Lake Lily Park, 701 Lake Lily Dr., in Maitland, which features nearly three dozen vendors and live music every Sunday 9-2. On Saturday mornings, locals make tracks to the Winter Park Farmers Market in a refurbished train depot at 200 W. New England Ave. for the freshest produce, herbs, baked treats and cheeses.
Where to Eat and Shop One block east is Winter Park's heart and soul, Park Avenue. An eclectic assortment of upscale, preppy and trendy boutiques, galleries and bistros line this lengthy European-flavored street near Rollins College, perfect for shopping, people watching or just taking a stroll. Brick-paved alleys provide a taste of the old country with hidden courtyards and gardens. Kathmandu , 352 N. Park Ave., in Winter Park, will ensure you go home with a unique treasure from its collection of items from different countries. When you get hungry, there are plenty of places to eat nearby that will satisfy your appetite and your palate.
Running out of steam? Relax your weary dogs under a century-old oak in shady Central Park, or sip ice-cold chardonnay at a sidewalk café. Speaking of dogs, bring yours or enjoy the parade as locals show off their purebreds; shop owners thoughtfully set out bowls of water for parched pups.
Disney Springs®, centered around 1486 Buena Vista Dr. in Lake Buena Vista, features tons of shopping venues along the shores of Buena Vista Lagoon. In The Landing, you can ease into the charming rustic vibe of the waterside district by shopping at a trendy boutique. In Town Center, you can stroll the day away shopping at boutiques and one-of-a-kind flagship stores along the Mediterranean-inspired Florida streets. Featuring amazing crystal glass coaches to sportswear with a Disney flair, The Marketplace remains one of the hippest shopping experiences around. However, the go-to destination for Disney souvenir gifts remains World of Disney, the world's largest Disney character and memorabilia shop. Another memorable place to shop is M&M'S at Disney Springs®.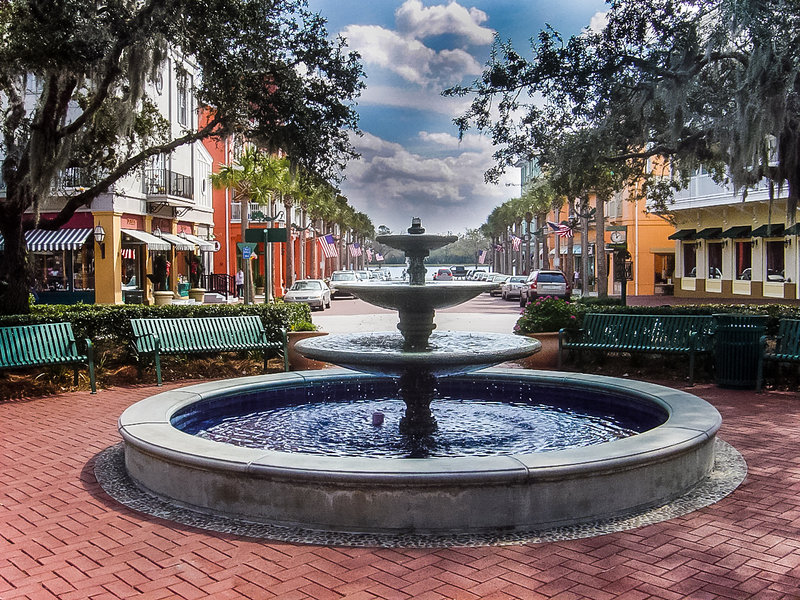 Wikimedia Commons/Bobak Ha Eri
Farther south, near the intersection of I-4 and US 192, is the Town of Celebration; its picturesque downtown offers nearly two dozen shops and restaurants. Celebration evokes a turn-of-the-20th-century small town with brick streets. It's not too old-fashioned, though; you'll still find signs of the 21st century, including the requisite Starbucks.